Houston George Bush Intercontinental Airport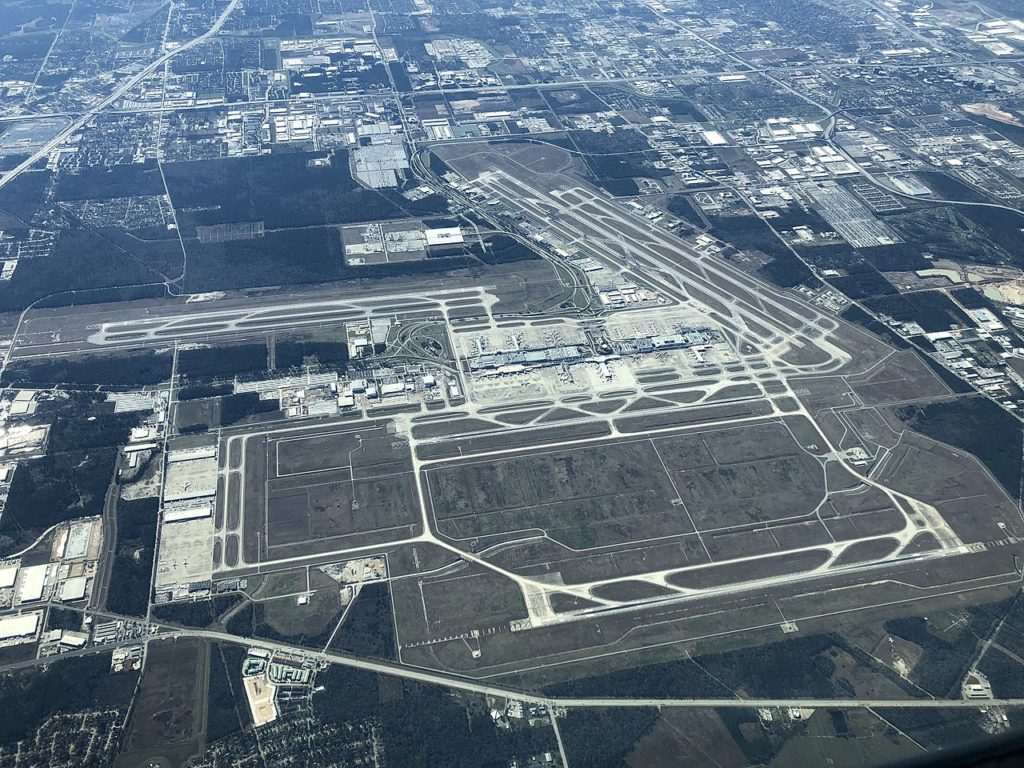 IATA: IAH ICAO: KIAH FAA LID: IAH WMO: 72243
Airport type
Public
Owner
City of Houston
Operator
Houston Airport System
Serves
Greater Houston
Location
Houston, Texas, U.S.
Hub for
United Airlines Cargo Atlas Air
Focus city for
Cargo Volga-Dnepr Airlines
Elevation AMSL
97 ft / 30 m
Coordinates
29°59′04″N 095°20′29″WCoordinates: 29°59′04″N 095°20′29″W
Website
Fly2Houston.com
George Bush Intercontinental Airport (IATA: IAH, ICAO: KIAH, FAA LID: IAH) is an international airport in Houston, Texas, United States, under class B airspace, serving the Greater Houston metropolitan area. Located about 23 miles (37 km) north of Downtown Houston, between Interstate 45 and Interstate 69/U.S. Highway 59 with direct access to the Hardy Toll Road expressway, George Bush Intercontinental Airport has scheduled flights to a large number of domestic destinations, and is the second busiest airport in Texas. The airport, originally named "Houston Intercontinental Airport", was later renamed after George H. W. Bush, the 41st President of the United States.
In 2019, the airport served 45,264,059 passengers, making it the 47th busiest airport in the world, and the 14th busiest airport in the United States. IAH covers 10,000 acres (40.5 km2.) of land and has five runways.
Houston Intercontinental is the second largest passenger hub for United Airlines behind Chicago–O'Hare. Under operations as United Express, ExpressJet, Mesa Airlines, Republic Airways, and SkyWest Airlines operate hub operations from IAH. It served as a hub for Houston-based Texas International Airlines and commuter air carrier Metro Airlines, which was also based in the Houston area and started its first flights when Intercontinental opened in 1969. The airport also serves as a hub for Atlas Air, which hosts a crew base, maintenance, and cargo logistics.
IAH became the first airport in North America to have nonstop flights to every inhabited continent in 2017, with the addition of Air New Zealand, but lost this claim when Atlas Air ended their nonstop flight to Luanda. The airport regained this title in December 2019 when Ethiopian Airlines launched service to Lomé in Togo, Africa.
Portuguese airline TAP Portugal will begin nonstop service from Houston to Lisbon sometime in 2020 making it one of the international airlines that fly to Europe along with KLM, Lufthansa, Air France, British Airways, Turkish Airlines, and Singapore Airlines.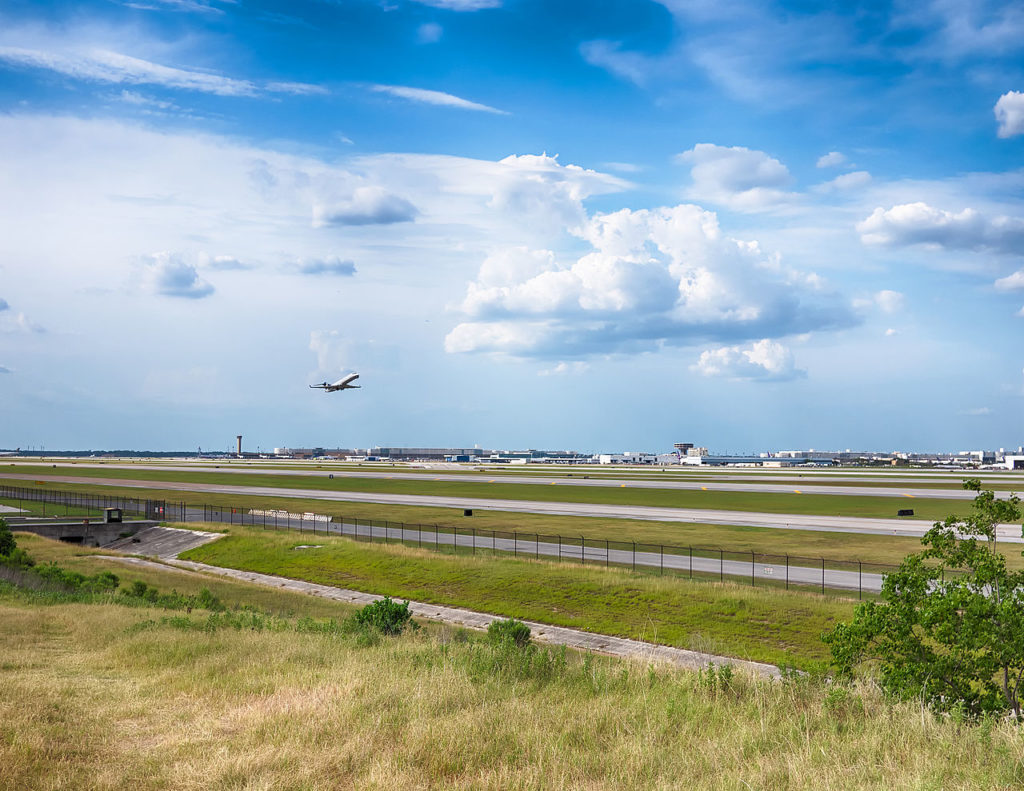 Facilities
There are three main entrances into IAH's terminal areas. John F. Kennedy Boulevard is the main north–south artery into the airport and intersects with Greens Road becoming an expressway leading to the terminals (by traveling west on Greens Road, one can access the nearby Greenspoint business and residential district). Will Clayton Parkway, which runs east to west, is another main road for IAH. Interstate 69/U.S. Highway 59 (I-69/US 59) is connected to IAH by Will Clayton Parkway. The Hardy Tollway Connector runs from west to east connecting JFK Boulevard to the Hardy Toll Road.
The airport has five terminals and 130 gates encompassing 250 acres (1.0 km2),[citation needed] with a 1.5-mile (2.4 km) distance from Terminal A to Terminal D.
Two people movers service the airport. The Skyway (formerly TerminaLink) provides airside connections between all five terminals and the International Arrivals Building. The Subway (formerly inter-terminal train) provides landside connections between the five terminals and the airport hotel. This system is based on the WEDway PeopleMover technology developed by Walt Disney Imagineering.
The airport houses an on-site hotel, a Marriott, between Terminals B and C and is accessible via the inter-terminal train which runs every 3 minutes from 3:30am–12:30am everyday. The hotel has 573 rooms, one restaurant and bar, a concierge lounge, a coffee shop, health club, sundry shop and a conference center.
Terminal A
Terminal A serves all non-United domestic and Canadian operations as well as select United Express domestic operations and international departures.
It was one of the original two terminals to open in 1969 and was designed by Goleman & Rolfe and George Pierce-Abel B. Pierce. Like Terminal B, it originally had four circular modules (called "Flight Stations" locally) at the end of corridors radiating out of the corners of the terminal. However, in the late-1990s and early-2000s, the North and South Concourses were rebuilt into linear facilities to provide a smoother operation within the terminal. The project was completed in 2002 and was designed by Gensler. Terminal A has 20 gates, with 10 gates in the North Concourse and 10 gates in the South Concourse.
Terminal B
Terminal B serves most United Express domestic operations and international departures. As of 2017, United Express is the only tenant of Terminal B. It was one of the original two terminals of the airport to open in 1969 and was designed by Goleman & Rolfe and George Pierce-Abel B. Pierce.[66] It is mostly an unaltered terminal from its original design. For this reason, the jet bridges are considerably lower to the ground than most others. The terminal contains 37 gates and 20 hardstand gates.
The terminal underwent minor renovations from 1997 to 2001, designed by Gensler. In 2011 the City of Houston announced it would demolish the gate areas of Terminal B and rebuild them. The architect for the project is Pierce, Goodwin, Alexander & Linville. The first phase of the terminal's renovation broke ground on January 23, 2012. Phase one of the project was completed in April 2013, and the first 15 gates of the new South Concourse became operational on May 21, 2013. The remaining gates were completed in 2014, bringing the number of gates in the South Concourse to 30 (both types).
Terminal C
Terminal C (also known as Lewis W. Cutrer Terminal) serves as United Airlines' main base of domestic operations at IAH, and serves some United Express domestic operations and international departures.
It was the third terminal to be built at the airport, opening in 1981. It was designed by the Houston firm of Airport Architects, a joint venture of Golemon & Rolfe Architects and Pierce and Pierce Architects. Terminal C has 31 gates. The terminal includes the airport's interfaith chapel. The terminal underwent renovations from 2000 to 2005, designed by Gensler. On May 11, 2015, the airport broke ground on the airport's new Terminal C north concourse, which opened in March 2017. Designed by PGAL, the $170 million new concourse houses 14 gates, a renovated United Club, and numerous passenger amenities. The former northern concourse is currently closed pending demolition and incorporation into the forthcoming Terminal D redevelopment. In March 2017 United also opened a Global Reception area for Global Services and Global First check-in which directly connects to the Premier Access/PreCheck security queue.
Terminal D
Terminal D (known as Mickey Leland Terminal) serves all non-United international operations and some United Express international arrivals.
Opened in 1990 as the International Arrivals Building (IAB) and later renamed the Mickey Leland International Arrivals Building, the US$95 million terminal was designed by Golemon and Rolfe Architects, Pierce Goodwin Alexander, James L. Marshall Associates, and Molina and Associates.The IAB, equipped with a Federal Inspection Facility (FIS) and US Customs services, consolidated all international arrivals into one terminal (until Continental moved its international operations to Terminal E/FIS)
In Terminal D airlines share gates, ticket counters, and terminal equipment, making it a "common use" facility. The Terminal D food court is located in the departures area. In 2007 the airport authority began renovations in which 20 additional common-use ticket counters, upscale retail and restaurant shops, and new on-airport spa/beauty lounge will be added over the next few years. Terminal D has 12 gates and several international lounges, including two separate British Airways Galleries Lounges (First and Club), a KLM Crown Lounge, an Air France Salon Lounge, and an Executive Lounge for Singapore, Emirates, Qatar, and Lufthansa.
On June 18, 2014, Houston City Council unanimously passed a memorandum of agreement establishing plans to demolish the existing Terminal D building and construct a new facility on the same site. Plans call for the terminal to have gates for 15 large wide-body jets, including four Airbus A380 capable gates, as well as a more open design and modern appearance. Re-construction on Terminal D officially began October 18, 2019, starting with the demolition of Old Terminal C North.
Terminal E
Terminal E serves as United Airlines' main base of international operations at IAH, in addition to some United Express international arrivals and some larger mainline domestic operations. (All United international mainline flights arrive at Terminal E while all United Express international flights arrive at Terminals D or E, then depart out of Terminal A, B or C.)
Terminal E is IAH's newest terminal. It was designed by Corgan Associates and Spencer Partnership Architects,[66] and it opened in two phases. The first phase opened in June 2003 with 14 gates, and the second phase added 16 gates in February 2004 for a total of 30 gates.[84] United operates one large, three-floor United Club in Terminal E between Gates E11 and E12. Originally Continental (before merging with United) used the terminal solely for domestic flights, but it relocated international operation to the new terminal after the new Federal Inspection Service (FIS) building opened. The terminal was designed for maximum flexibility, with jetways designed to handle all types of aircraft. It was complete on time and under budget by approximately US$20 million.
Ground transportation
From Downtown Houston one can travel to George Bush Intercontinental by taking Interstate 69/U.S. Route 59 (Eastex Freeway) to Beltway 8 or to Will Clayton Parkway, and access the airport from either road. From Downtown one could also take Interstate 45 (North Freeway), connect to Beltway 8, and enter the airport from the Beltway. The Hardy Toll Road has an exit from the north or south to the airport.
The Metropolitan Transit Authority of Harris County, Texas, or METRO, offers bus services available at the south side of Terminal C. The 102 Bush IAH Express serves the airport. Previously, METRO also operated an express bus service known as Airport Direct, launched in the summer of 2008, which traveled from Downtown Houston to Terminal C via the HOV lane of the Eastex Freeway (I-69)/(US 59). In 2010, in an effort to increase ridership and maximize revenue, METRO reduced the fare of Airport Direct and closed a dedicated passenger plaza for the service in Downtown Houston; instead, the bus stopped at several downtown hotels. The fare each way was reduced from $15 to $4.50. The fare change increased ridership levels but reduced cash flow. METRO consistently provided the service at an operational loss. However, in the summer of 2011, METRO announced it was discontinuing the Airport Direct service, while the Route 102 local service (which serves the greater Greenspoint business and residential district before traveling on I-45 to access downtown) continued to operate.
As of 2016 the Taiwanese airline EVA Air operates a shuttle bus service from Bush IAH to Richardson in the Dallas-Fort Worth area so Dallas-based customers may fly on its services to and from Houston. Previously China Airlines, also a Taiwanese carrier, provided a shuttle bus service to Sugar Land and the Southwest Houston Chinatown. It ended in 2008 when China Airlines ended its Houston passenger service.
Carriers provide scheduled bus and shuttle services to locations from IAH to NRG Park/NRG Astrodome, Downtown Houston, Uptown, Greenway Plaza, the Texas Medical Center, hotels in the Westchase and Energy Corridor business districts, the city of College Station and William P. Hobby Airport. Super Shuttle uses shared vans to provide services from George Bush Intercontinental Airport to the surrounding communities.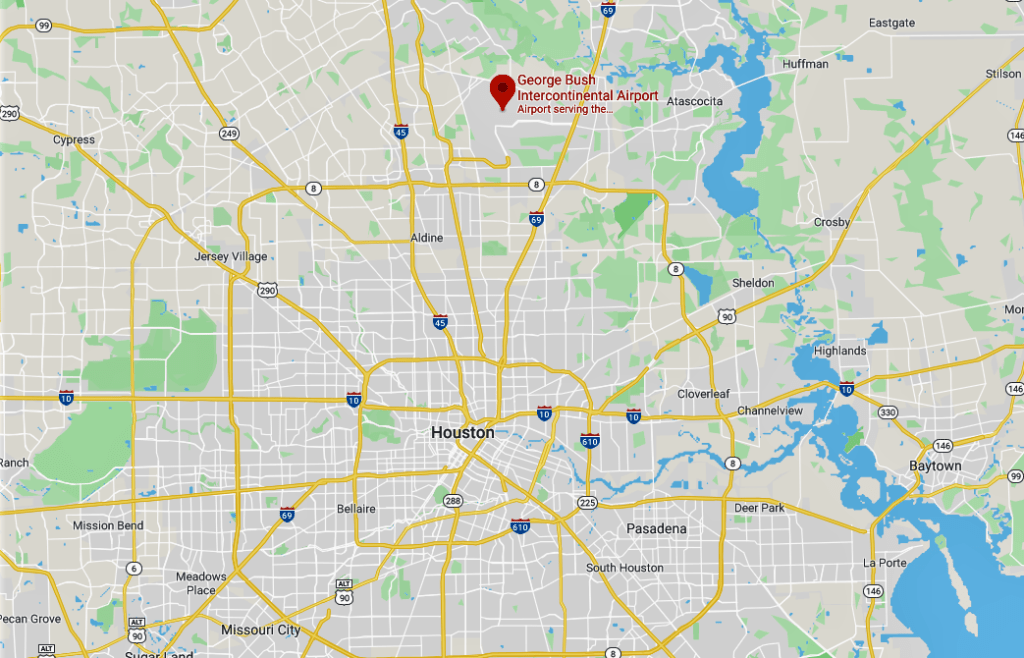 Airlines and destinations
Passenger
Airlines
Destinations
Aeroméxico Connect
Mexico City
Air Canada
Toronto–Pearson
Air Canada Express
Calgary, Montréal–Trudeau
Air China
Beijing–Capital, Panama City
Air France
Paris–Charles de Gaulle
Air New Zealand
Auckland
Alaska Airlines
Seattle/Tacoma
All Nippon Airways
Tokyo–Haneda
American Airlines
Charlotte, Chicago–O'Hare, Dallas/Fort Worth, Los Angeles, Miami, Philadelphia, Phoenix–Sky Harbor
American Eagle
Chicago–O'Hare, Dallas/Fort Worth, Los Angeles, Miami, Philadelphia, Phoenix–Sky Harbor
Avianca El Salvador
San Salvador
Boutique Air
Victoria (TX)
British Airways
London–Heathrow
Delta Air Lines
Atlanta, Detroit, Minneapolis/St. Paul, New York–JFK, New York–LaGuardia, Salt Lake City
Delta Connection
Cincinnati, Detroit, Minneapolis/St. Paul
Emirates
Dubai–International
Ethiopian Airlines
Addis Ababa, Lomé
EVA Air
Taipei–Taoyuan
Frontier Airlines
Denver, Las Vegas, Orlando
Seasonal: Philadelphia, Raleigh/Durham
Interjet
Mexico City, Monterrey
JetBlue
Boston, New York–JFK
KLM
Amsterdam
Lufthansa
Frankfurt
Qatar Airways
Doha
Singapore Airlines
Manchester (UK), Singapore
Spirit Airlines
Atlanta, Baltimore, Cancún, Chicago–O'Hare, Denver, Detroit, Fort Lauderdale, Guatemala City, Las Vegas, Los Angeles, Myrtle Beach, Newark, New Orleans, Orlando, San Diego, San Pedro Sula, San Salvador, Tampa
Seasonal: Oakland, San José del Cabo, Seattle/Tacoma
Turkish Airlines
Istanbul
United Airlines
Amsterdam, Aruba, Austin, Baltimore, Belize City, Bogotá, Bonaire, Boston, Buenos Aires–Ezeiza (resumes July 6, 2020), Calgary, Cancún, Chicago–O'Hare, Cleveland, Cozumel, Dallas/Fort Worth, Denver, Edmonton, Fort Lauderdale, Fort Myers, Frankfurt (resumes July 6, 2020), Grand Cayman, Guadalajara, Guatemala City, Havana, Honolulu, Jacksonville (FL), Kansas City, Las Vegas, Liberia (Costa Rica), Lima (resumes July 6, 2020), London–Heathrow, Los Angeles, Managua, McAllen, Memphis, Mérida, Mexico City, Miami, Midland/Odessa, Montego Bay, Munich (resumes July 6, 2020), Nashville, New Orleans, Newark, New York–LaGuardia, Orange County (CA), Orlando, Panama City, Philadelphia, Phoenix–Sky Harbor, Portland (OR), Port of Spain, Puerto Vallarta, Punta Cana, Quito, Raleigh/Durham, Rio de Janeiro–Galeão (resumes July 6, 2020), Roatán, Sacramento, Salt Lake City, San Antonio, San Diego, San Francisco, San Jose (CA), San José de Costa Rica, San José del Cabo, San Juan, San Pedro Sula, San Salvador, Santiago de Chile, São Paulo–Guarulhos, Seattle/Tacoma, Sydney, Tampa, Tegucigalpa, Tokyo–Narita (resumes September 8, 2020), Toronto–Pearson, Vancouver, Washington–Dulles, Washington–National, West Palm Beach
Seasonal: Anchorage, Charleston (SC), Eagle/Vail, Hayden/Steamboat Springs, Jackson Hole, Nassau, Omaha, Palm Springs, Providenciales, St. Thomas, Tucson, Tulsa
United Express
Acapulco, Aguascalientes, Albuquerque, Alexandria, Amarillo, Atlanta, Austin, Baton Rouge, Birmingham (AL), Boise, Brownsville, Charleston (SC), Charlotte, Chihuahua, Cincinnati, Cleveland, College Station, Colorado Springs, Columbia (SC), Columbus–Glenn, Corpus Christi, Dallas/Fort Worth, Des Moines, Destin/Fort Walton Beach, Detroit, El Paso, Fayetteville/Bentonville, Grand Rapids, Greenville/Spartanburg, Guadalajara, Gulfport/Biloxi, Harlingen, Hartford, Hattiesburg/Laurel (MS) (begins July 1, 2020), Havana, Hobbs, Huntsville, Indianapolis, Ixtapa/Zihuatanejo, Jackson (MS), Jacksonville (FL), Kansas City, Killeen/Fort Hood, Knoxville, Lafayette, Lake Charles, Laredo, León/Del Bajío, Lexington, Little Rock, Louisville, Lubbock, Manzanillo, McAllen, Memphis, Meridian (MS) (begins July 1, 2020), Midland/Odessa, Milwaukee, Minneapolis/St. Paul, Mobile, Monroe, Monterrey, Morelia, Nashville,
New Orleans, New York–LaGuardia, Norfolk, Oaxaca, Oklahoma City, Omaha, Ontario, Panama City (FL), Pensacola, Pittsburgh, Puebla, Querétaro, Raleigh/Durham, Reno/Tahoe, Richmond, Salt Lake City, San Antonio, San Luis Potosí, Savannah, Shreveport, Springfield/Branson, St. Louis, Tampico, Toronto–Pearson, Tucson, Tulsa, Veracruz, Washington–National, Wichita
Seasonal: Aspen, Bozeman, Durango (CO), Gunnison/Crested Butte, Mazatlán, Miami, Montrose, Nassau, Palm Springs, Philadelphia, Phoenix–Sky Harbor, Puerto Vallarta, Rapid City, San José del Cabo, Spokane (begins July 6, 2020)
VivaAerobus
Monterrey
Seasonal: Guadalajara
Volaris
Guadalajara
WestJet
Calgary
Cargo
Airlines
Destinations
Refs
Aerologic
Frankfurt, Toronto


AirBridgeCargo Airlines
Anchorage, Amsterdam, Chicago–O'Hare, Los Angeles, Moscow–Sheremetyevo, Shanghai–Pudong


Air France Cargo
Paris–Charles de Gaulle, Mexico City


Amazon Air
Baltimore, Cincinnati, Miami, Portland (OR), Riverside


Ameristar Air Cargo
Laredo, Minneapolis/St. Paul


Baron Aviation Services
College Station


CAL Cargo Airlines
Atlanta, Liège
CargoLogicAir
Abu Dhabi, Frankfurt, Mexico City
Cargolux
Atlanta, Dallas/Fort Worth, Guadalajara, Luxembourg, Mexico City, Miami, New York–JFK, Prestwick


Cathay Pacific Cargo
Anchorage, Dallas/Fort Worth, Hong Kong, Miami


China Airlines Cargo
Anchorage, Chicago–O'Hare, Miami


DHL Aviation
Cincinnati, Huntsville, New Orleans


Emirates SkyCargo
Amsterdam, Copenhagen, Dubai–Al Maktoum, Mexico City, Zaragoza


FedEx Express
El Paso, Fort Worth/Alliance, Indianapolis, Memphis


Kalitta Air
Miami


Lufthansa Cargo
Frankfurt, Toronto


Martinaire
Addison, San Antonio


Qatar Airways Cargo
Doha, Liège, Luxembourg City, Macau, Mexico City


Turkish Airlines Cargo
Istanbul–Atatürk, Madrid, Miami
UPS Airlines
Austin, Chicago/Rockford, Dallas/Forth Worth, Louisville, San Antonio
Seasonal: Ontario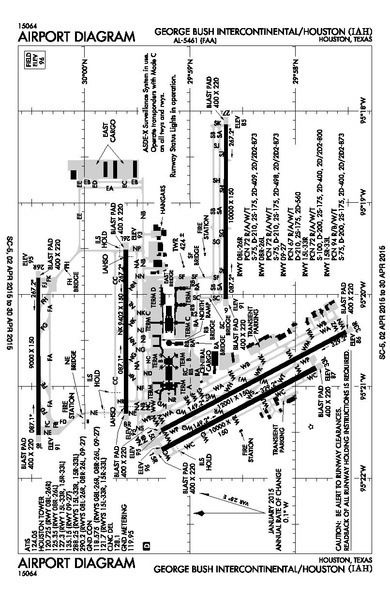 Artwork
Ed Carpenter's "Light Wings", a multicolored glass sculpture suspended below a skylight, adorns the Terminal A North Concourse. In Terminal A, South Concourse stands Terry Allen's "Countree Music." Allen's piece is a cast bronze tree that plays instrumental music by Joe Ely and David Byrne, though the music is normally turned off. The corridor leading to Terminal A displays Leamon Green's "Passing Through," a 200-foot (61 m) etched glass wall depicting airport travelers.
The elevators in Terminal B are cased in stainless steel accordion shaped structures designed by Rachel Hecker. The corridor leading to Terminal B has Dixie Friend Gay's "Houston Bayou." This work is composed of an 8 ft × 75 ft (2.4 m × 22.9 m) Byzantine glass mosaic mural depicting scenes from Houston's bayous and wetlands, several bronze animals embedded in the floor, and five mosaic columns.
"Lights Spikes" was created for the 1990 G7 Summit when it was hosted by President George H. W. Bush in Houston. The sculpture was relocated to the airport outside E Terminal after the meetings, from its original location in front of the George R. Brown Convention Center. The columns lean at a ten-degree angle toward a central point that represents Houston. The distance between each "spike" and this point is relative to the distance between Houston and the capitals of the countries the flags represent. The countries represented are the United States, the United Kingdom, France, Japan, Canada, Italy and Germany, as well as the European community. The airport has a display of lighted modern sculptures between terminals C and D.
Master plan
The city of Houston presented its master plan update for IAH in 2005. The near-term plan calls for Terminal B's circular flight stations to be rebuilt into linear facilities similar to Terminal A. Construction of a new 155,000-square-foot (14,400 m2) pier at Terminal D, capable of handling six additional wide body aircraft, was slated for completion in 2016.
The long-term plans call for the unit terminals to be demolished and the North and South Concourses to be linked midway. Soon after, the facilities in the North and South Concourses will be linked to form two long continuous facilities. In addition, a new Central Passenger Processing facility will also be built, called the East Terminal, along with an underground people mover.
Airfield improvements include two new runways, 8C-26C and 9R-27L, a perimeter taxiway, and access roadways. If the Federal Aviation Administration selects new sites for runways, it may buy land from the Glen Lee Place and Heather Ridge Village subdivisions, which are off of Lee Road.
Accidents and incidents
February 1, 1975: Douglas DC-3 N15HC of Horizon Properties crashed on approach when the port wing collided with an electricity pylon. The aircraft was on a domestic non-scheduled passenger flight from Lawton Municipal Airport, Oklahoma to Huntsville Regional Airport, Texas. Due to weather conditions, the flight was diverted to Houston. Of the 16 occupants, two crew and three passengers were killed.
August 23, 1990: Grumman Gulfstream I operated by Rowan Drilling Company; power loss in an engine after take-off resulted in a failed attempt to regain altitude en route to New Orleans International Airport. The aircraft crashed on departure from Runway 15L and came to rest midfield along a parallel taxiway. There were three fatalities.
February 19, 1996: Continental Airlines McDonnell Douglas DC-9-32 operating as Continental Airlines Flight 1943 from Ronald Reagan National Airport arriving in Houston, Texas landed with its landing gear in the stowed position on Runway 27. The aircraft slid for 6,915 feet (2,108 m) on its belly before stopping on the runway 140 feet (43 m) left of the runway centerline approximately at the departure end of the runway. There were no fatalities and only minor injuries. The aircraft was written off.
January 13, 1998, a Learjet 25 operated by American Corporate Aviation crashed 2 miles (3.2 km) east of IAH descending below the glideslope. Both occupants were killed.
February 23, 2019: Atlas Air Flight 3591, a Boeing 767-300ERF operated for Amazon Air crashed into Trinity Bay while on approach, 30 miles (48 km) southeast of the airport. All three crew members were killed.
Source: .wikipedia