Philadelphia International Airport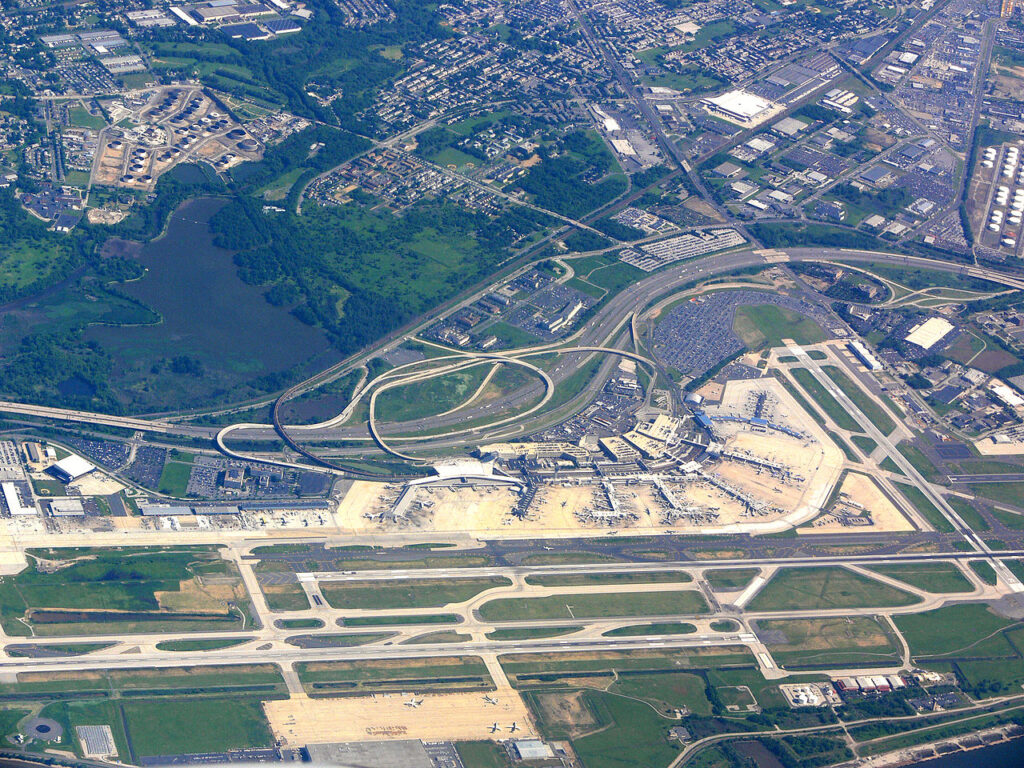 IATA: PHL ICAO: KPHL FAA LID: PHL WMO: 72408
Airport type
Public
Owner
City of Philadelphia
Operator
Philadelphia Department of Commerce, Division of Aviation
Serves
Delaware Valley
Location
Philadelphia / Tinicum Township, Pennsylvania, United States
Hub for
American Airlines UPS Airlines
Focus city for
Frontier Airlines
Time zone
Eastern (UTC−05:00)
• Summer (DST)
Eastern Daylight Time (UTC−04:00)
Elevation AMSL
36 ft / 11 m
Coordinates
39°52′19″N 075°14′28″WCoordinates: 39°52′19″N 075°14′28″W
Website
www.phl.org
Philadelphia International Airport (IATA: PHL, ICAO: KPHL, FAA LID: PHL) is the primary airport serving Philadelphia. The airport serves 31.7 million passengers annually, making it the 20th busiest airport in the United States. In 2019, PHL served 33,018,886 passengers, the most in the airport's history. The airport is located 7 miles (11 km) from the city's downtown area and has 25 airlines that offer nearly 500 daily departures to more than 130 destinations worldwide.
Philadelphia International Airport (PHL) is located in Philadelphia, Pennsylvania, and is the largest airport in the state. It is the fifth-largest hub for American Airlines and its primary hub for the Northeastern United States, as well as its primary European and transatlantic gateway. Additionally, the airport is a regional cargo hub for UPS Airlines and a focus city for the ultra low-cost airline Frontier Airlines.
The airport has service to cities in the United States, Canada, the Caribbean, Latin America, Europe, and the Middle East. As of summer 2019, there are flights from the airport to 140 destinations, 102 domestic and 38 international. Most of the airport property is in Philadelphia proper. The international terminal and the western end of the airfield are in Tinicum Township, Delaware County. PHL covers 2,302 acres (932 ha) and has 4 runways.
Philadelphia International Airport is important to Philadelphia, its metropolitan region and the Commonwealth of Pennsylvania. The Commonwealth's Aviation Bureau reported in its Pennsylvania Air Service Monitor that the total economic impact made by the state's airports in 2004 was $22 billion. In 2017 PHL commissioned a new economic impact report. The report found PHL alone accounted for $15.4 billion in activity with over 96,000 direct and indirect jobs with $5.4 Billion in total earnings. In 2018, the airport was ranked by J.D. Power as one of the "worst large airports in the U.S."

Airline use
Philadelphia Municipal became Philadelphia International in 1945, when American Overseas Airlines began direct flights to Europe. (For a short time AOA's flights skipped the New York stop; that was probably Philadelphia's only international nonstop until Pan Am tried nonstops to Europe in 1961.) A new terminal opened in December 1953; the oldest parts of the present terminal complex (B and C) were built in the late '50s.
The April 1957 OAG shows 30 weekday departures on Eastern, 24 TWA, 24 United, 18 American, 16 National, 14 Capital, 6 Allegheny and 3 Delta. To Europe, five Pan Am DC-6Bs a week via Idlewild and Boston and two TWA 749As a week via Idlewild; one TWA flight continued to Ceylon. Eastern and National had nonstops to Miami, but the TWA 1049G to LAX that started in 1956 was the only nonstop beyond Chicago. The first scheduled jets were TWA 707s in summer 1959.
Terminal B/C modernization was completed in 1970, Terminal D opened in 1973 and Terminal E in 1977; the $300 million expansion was designed by Arnold Thompson Associates, Inc. and Vincent G. Kling & Associates.
In the 1980s PHL hosted several hubs. The Airline Deregulation Act of 1978 allowed regional carrier Altair Airlines to create a small hub at PHL using Fokker F-28s. Altair began in 1967 with flights to cities such as Rochester, New York, Hartford, Connecticut and to Florida until it ceased operations in November 1982. In the mid-1980s Eastern Air Lines opened a hub in Concourse C. The airline declined in the late 1980s and sold aircraft and gate leases to Chicago-based Midway Airlines. Midway operated its Philadelphia hub until it ceased operation in 1991. During the 1980s US Airways (then called USAir) built a hub at PHL.
US Airways became the dominant carrier at PHL in the 1980s and 1990s and shifted most of its hub operations from Pittsburgh to Philadelphia in 2003. As of 2013 PHL was US Airways' largest international hub and its second-largest hub overall behind Charlotte.[14] PHL became an American Airlines hub after it completed its merger with US Airways in 2015 and remains one of the airline's biggest hubs, offering an average of 420 departing flights per day to over 100 destinations. In recent years, American has opted to continue expanding at PHL while downsizing its hub at JFK in New York due to greater slot availability, lower operation costs in Philadelphia, and its greater network of connecting flights.
In July 1999 the Pennsylvania Department of Transportation (PennDOT) and several U.S. federal government agencies selected a route for the connecting ramps from Interstate 95 to the Terminal A-West complex, then under development; the agency tried to avoid the John Heinz National Wildlife Refuge at Tinicum. K/B Fund II, the owner of the International Plaza complex, formerly the Scott Paper headquarters Scott Plaza, objected to the proposed routing, saying it would interfere with International Plaza development. It entered a filing in the U.S. Court of Appeals for the Third Circuit to challenge the proposed routing. In 2000, the airport attempted to acquire the complex for $90 million but Tinicum Township commissioners stopped the deal from going forward, citing concerns of a loss of tax revenue for the township and the Interboro School District, which serves Tinicum, as well as noise pollution concerns.
In 2002 construction on the controversial new entrance ramps went forward. The new ramps eliminated the traffic signal and stop intersections previously encountered by northbound I-95 motorists who had to use Route 291 to the airport. The project consisted of six new bridges, more than 4,300 linear feet of retaining walls, and 7.7 lane miles of new pavement. The project also included new highway lighting, overhead sign structures, landscaping and the paving of Bartram Avenue. Also under the project, PennDOT resurfaced I-95 between Route 420 and Island Avenue and built a truck enforcement and park-and-ride facility. In 2003 Terminal A-West opened, with a 1,500-space parking garage. Construction of the terminal was funded by airport revenue bonds sold by the Philadelphia Authority for Industrial Development.
By 2005 two studies dealt with expanding runway capacity at PHL: the Runway 17–35 Extension Project EIS[citation needed] and the PHL Capacity Enhancement Program EIS. Completed in May 2009, the Runway 17-35 Extension Project extended runway 17–35 to a length of 6,500 ft (2,000 m), extending it at both ends and incorporating the proper runway safety areas. Other changes made with the Runway 17–35 Extension Project included additional taxiways and aprons, relocation of perimeter service roads, and modifications to nearby public roads.
The status of Philadelphia as an international gateway and major hub for American Airlines and the growth of Southwest Airlines and other low-cost carriers have increased passenger traffic to record levels in the mid-2000s; in 2004 28,507,420 passengers flew through Philadelphia, up 15.5% over 2003. In 2005, 31,502,855 passengers flew through PHL, marking a 10% increase since 2004. In 2006, 31,768,272 passengers travelled through PHL, a 0.9% increase.
At 12,000 feet (3,658 meters) in length, runway 9R/27L (previously 10,506 feet) is the longest civil runway in Pennsylvania.
Facilities
Philadelphia International Airport has seven terminal buildings, divided into six lettered concourses, with 126 gates total. As of late November 2015, it is possible to walk to each terminal post security without leaving the secure side. A shuttle bus, located post security, transport passengers from terminal F to terminal c, and terminal A. The shuttle transfers passengers from terminal A to terminal F, or terminal C to Terminal F. There is a large shopping/dining area between Concourses B and C. There are no luggage storage facilities at the airport. PHL offers over 120 shopping and dining locations throughout its facilities. There are options ranging from grab and go food to sit down restaurants.
Terminal A
Terminal A is divided into two sections, east and west. Terminal A West has 13 gates, whilst Terminal A East has 11 gates. Terminal A West has a modern and innovative design, made by Kohn Pedersen Fox, Pierce Goodwin Alexander & Linville and Kelly/Maiello. Opened in 2003 as the new international terminal, it is now home to American (domestic and international), British Airways, Lufthansa, Icelandair and Qatar Airways. It offers a variety of international dining options. International Arrivals (except from locations with Customs preclearance) arrive at gates in both Terminal A east and west and are processed at the Terminal A West arrival building.
Terminal A East, originally the airport's international terminal, is now used by Aer Lingus and American domestic and international flights as well as international arrivals for Frontier Airlines. A-East is well maintained and recently received an upgrade to its baggage claim facilities. Most of the gates in this terminal are equipped to handle international arrivals and the passengers are led to the customs facility in Terminal A West. It opened in 1990. The security entrance was significantly enlarged in 2012.
There are 3 lounges along the corridor between Terminal A East and A West; an American Airlines Admirals Club, British Airways Galleries Lounge and American Express Centurion Lounge. The east terminal also contains an Admirals Club. There is also a children's play area located in the east terminal.
Terminals B and C
Terminals B and C have 15 and 14 gates respectively. They are the two main terminals used by American. They were renovated at a cost of $135 million in 1998, which was designed by DPK&A Architects, LLP. They are connected by a shopping mall and food court named the Philadelphia Marketplace. Remodeling has begun in the gate areas, although these cosmetic changes will not solve the space problems at many of the gates. Overall, the facilities are fairly modern and dining options on the concourses are also available. They are the oldest terminals and opened in 1953. There is an American Airlines Admirals Club located in the B/C connector.
Terminal D
Terminal D has 16 gates; it opened in 1973. The terminal was upgraded in late 2008 with a new concourse connecting to Terminal E while providing combined security, a variety of shops and restaurants and a link between Baggage Claims D and E. This is the inverse of the connector between Terminals B and C, which comprises a combined ticket hall but separate security facilities. Terminal D is home to Air Canada, Alaska Airlines, Delta, and United. This terminal is connected to the shopping area of Terminals B/C through a post-security walkway. The terminal contains a United Club and a Delta Sky Club.
Terminal E
Terminal E has 17 gates. It is home to Frontier, JetBlue, Southwest, and Spirit. It opened in 1977. Terminal E houses a USO lounge available for all members of the military and their family.
Terminal F
Terminal F has 38 gates. The terminal is a regional terminal used by American Eagle flights. It includes special jet bridges that allow passengers to board regional jets without walking on the apron. Opened in 2001, Terminal F is the second newest terminal building at PHL. It was designed by Odell Associates, Inc. and The Sheward Partnership. An American Airlines Admirals Club is located above the central foodcourt area of Terminal F.
When Terminal F opened in 2001, it had 10,000 sq ft (930 m2) of space for concessions.
Ground transportation
SEPTA Regional Rail's Airport Line serves stations at Terminals A, B, C, D, and E. The four stations are Airport Terminal A East/West, Airport Terminal B, Airport Terminals C & D, and Airport Terminals E & F. The stations are next to the baggage claim at each terminal with escalator and elevator access from each terminal's skywalk. The Airport Line connects to Center City Philadelphia, other SEPTA trains, Amtrak trains, and NJ Transit trains at 30th Street Station. The Airport Line runs through Center City Philadelphia to Glenside, PA; many weekday trains and half of the weekend trains continue to Warminster, PA on the Warminster Line. The Airport Line runs 5:00 a.m. to 12:00 a.m. daily, with trains every 30 minutes. The ride from the airport to Center City Philadelphia takes 25 minutes.
Philadelphia International Airport has road access from an interchange with I-95, which heads north toward Center City Philadelphia and south into Delaware County. PA 291 heads northeast from the airport area and provides access to and from I-76 (Schuylkill Expressway). Rental cars are available through a number of companies; each operates a shuttle bus between its facility and the terminals. As part of the airport's expansion plan, the airport plans to construct a consolidated rental car facility. Taxis and ride-sharing services both serve the airport
SEPTA has various bus routes to the airport: Route 37 (serving South Philadelphia and Chester Transportation Center), Route 108 (serving 69th Street Transportation Center and the UPS air hub), and Route 115 (serving Delaware County Community College and Darby Transportation Center). As a benefit to students, local schools including The University of Pennsylvania, Villanova University, Swarthmore College, Haverford College and Saint Joseph's University traditionally operate transportation shuttles to the airport during heavy travel periods such as spring and Thanksgiving breaks.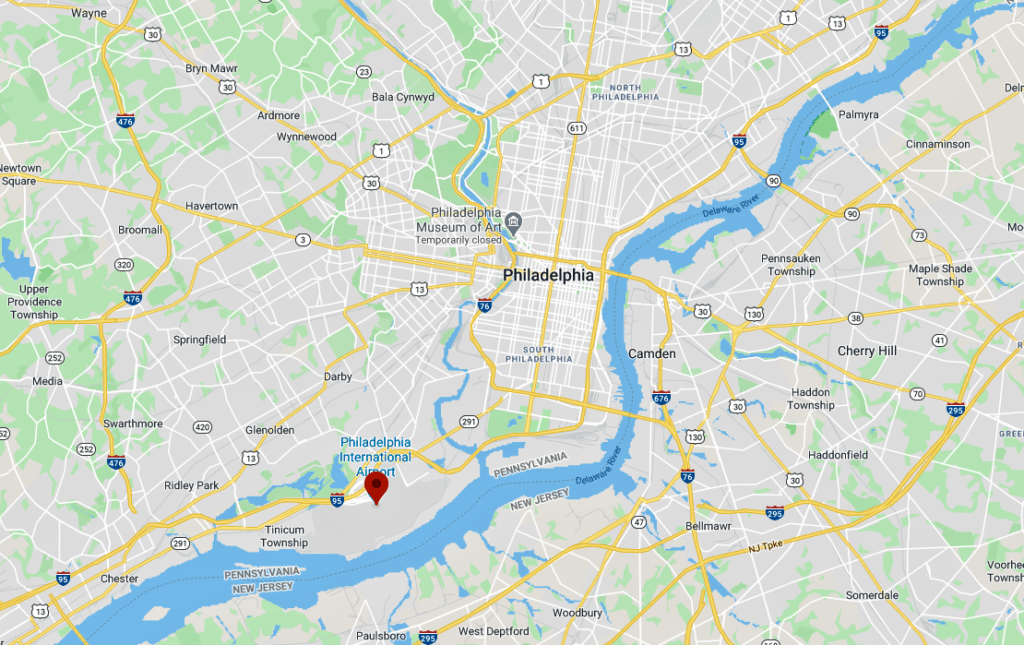 Airlines and destinations
Passenger
Airlines
Destinations
Aer Lingus
Dublin


Air Canada Express
Montréal–Trudeau, Toronto–Pearson
Alaska Airlines
San Francisco, Seattle/Tacoma
American Airlines
Amsterdam, Aruba, Atlanta, Austin, Bermuda, Boston, Burlington (VT), Cancún, Charleston (SC), Charlotte, Chicago–O'Hare, Cleveland, Dallas/Fort Worth, Denver, Detroit, Dublin, Fort Lauderdale, Fort Myers, Hartford, Houston–Intercontinental, Jacksonville (FL), Kansas City, Las Vegas, London–Heathrow, Los Angeles, Madrid, Manchester (UK), Miami, Minneapolis/St. Paul, Montego Bay, Nashville, Nassau, New Orleans, New York–LaGuardia, Orlando, Paris–Charles de Gaulle, Phoenix–Sky Harbor, Pittsburgh, Portland (ME), Providence, Punta Cana, Raleigh/Durham, Rome–Fiumicino, St. Louis, St. Maarten, St. Thomas, San Antonio, San Diego, San Francisco, San Juan, Santo Domingo–Las Américas, Seattle/Tacoma, Tampa, Washington–National, West Palm Beach, Zurich
Seasonal: Athens, Barcelona, Bozeman, Buffalo, Columbus–Glenn, Eagle/Vail, Edinburgh, Grand Cayman, Indianapolis, Lisbon, Manchester (NH), Portland (OR), Prague, Providenciales, Reykjavík–Keflavík (begins June 3, 2021), St. Lucia–Hewanorra, Shannon, Venice
American Eagle
Akron/Canton, Albany, Allentown, Asheville, Atlanta, Baltimore, Bangor, Birmingham (AL), Buffalo, Burlington (VT), Charleston (SC), Charleston (WV), Charlottesville (VA), Chattanooga, Cincinnati, Cleveland, Columbia (SC), Columbus–Glenn, Dayton, Des Moines, Detroit, Fayetteville/Bentonville, Fort Wayne, Grand Rapids, Greensboro, Greenville/Spartanburg, Harrisburg, Hartford, Houston–Intercontinental, Indianapolis, Ithaca, Jacksonville (FL), Kansas City, Knoxville, Lexington, Long Island/Islip, Louisville, Madison, Manchester (NH), Melbourne (FL), Memphis, Milwaukee, Minneapolis/St. Paul, Montréal–Trudeau, Myrtle Beach, Nashville, Newburgh, New Haven, Newport News, New York–JFK, New York–LaGuardia, Norfolk, Oklahoma City, Omaha, Ottawa, Pensacola, Pittsburgh, Portland (ME), Providence, Raleigh/Durham, Richmond, Roanoke, Rochester (NY), St. Louis, Salisbury (MD), Savannah, State College, Syracuse, Toronto–Pearson, Washington–National, Watertown (NY), Wilkes-Barre/Scranton, Williamsport (ends August 17, 2020), Wilmington (NC)
Seasonal: Halifax, Hilton Head, Key West, Martha's Vineyard, Nantucket, Nassau, Québec City, Sarasota, Traverse City
British Airways
London–Heathrow
Delta Air Lines
Atlanta, Detroit, Minneapolis/St. Paul, Salt Lake City
Delta Connection
Boston, Cincinnati, Detroit, Minneapolis/St. Paul, Raleigh/Durham
Frontier Airlines
Atlanta, Boston, Cancún, Charlotte, Chicago–O'Hare, Cincinnati (resumes April 12, 2021), Dallas/Fort Worth, Denver, Fort Myers, Jacksonville (FL), Las Vegas, Miami, Nashville, New Orleans, Orlando, Phoenix–Sky Harbor (begins November 12, 2020), Punta Cana, Raleigh/Durham, San Juan, Tampa
Seasonal: Austin, Charleston (SC), Houston–Intercontinental, Los Angeles (begins April 12, 2021), Montego Bay, Myrtle Beach, Sarasota, Savannah, West Palm Beach
Icelandair
Seasonal: Reykjavík–Keflavík
JetBlue
Boston, Fort Lauderdale, Fort Myers (begins August 6, 2020), Orlando (begins August 6, 2020), San Juan (begins August 6, 2020), Tampa (begins August 6, 2020), West Palm Beach (begins August 6, 2020)
Lufthansa
Frankfurt
Qatar Airways
Doha
Southwest Airlines
Atlanta, Chicago–Midway, Dallas–Love, Denver, Fort Lauderdale, Houston–Hobby, Nashville, Orlando, St. Louis, Tampa
Seasonal: Las Vegas, Phoenix–Sky Harbor, West Palm Beach
Spirit Airlines
Atlanta, Cancún, Dallas/Fort Worth, Fort Lauderdale, Las Vegas, Los Angeles, Orlando, San Juan
Seasonal: Detroit, Fort Myers, Myrtle Beach, New Orleans, Tampa
Sun Country Airlines
Seasonal: Minneapolis/St. Paul
United Airlines
Chicago–O'Hare, Denver, Houston–Intercontinental, San Francisco
United Express
Chicago–O'Hare, Houston–Intercontinental, Washington–Dulles
Cargo
Airlines
Destinations
21 Air
Miami, Orlando


Amerijet International
Sacramento


DHL Aviation
Cincinnati


FedEx Express
Boston, Indianapolis, Memphis, Pittsburgh, Washington–Dulles
Seasonal: Hartford


FedEx Feeder
Newark


Kalitta Air
Seasonal: Ontario


UPS Airlines
Albany, Albany (GA), Atlanta, Boston, Buffalo, Chicago–O'Hare, Chicago/Rockford, Cologne/Bonn, Columbia (SC), Des Moines, Detroit, East Midlands, Harrisburg, Hartford, Hong Kong, London–Stansted, Louisville, Manchester (NH), Miami, Minneapolis/St. Paul, New York–JFK, Oakland, Ontario, Orlando, Paris–Charles de Gaulle, Pittsburgh, Portland (OR), Raleigh/Durham, Richmond, San Jose (CA), Tampa
Seasonal: Providence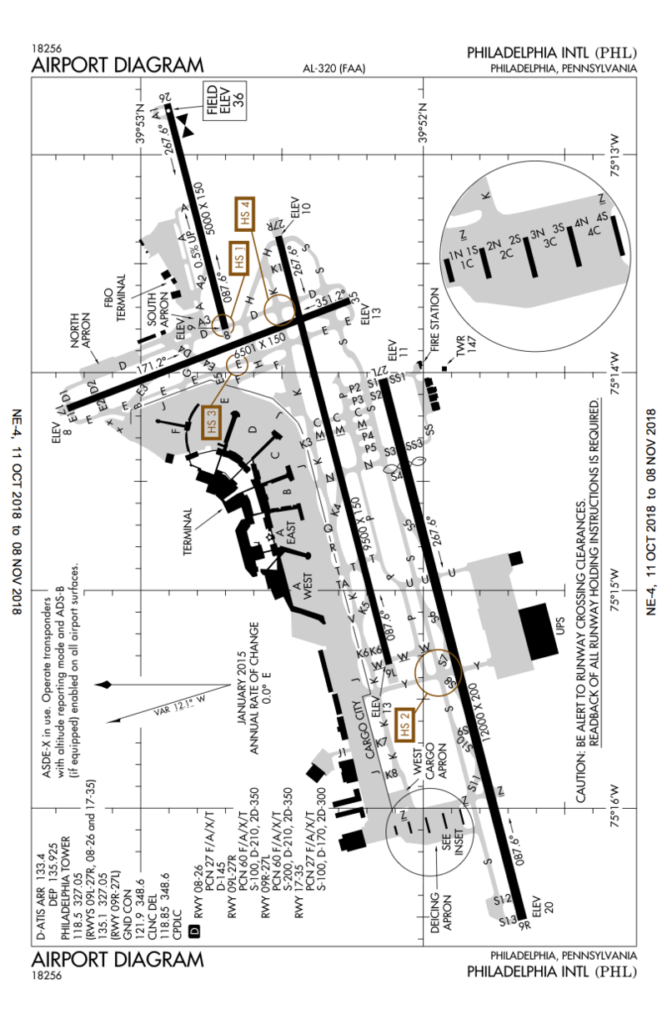 Accidents and incidents
On January 14, 1951, Flight 83 crashed upon landing at Philadelphia from Newark. The aircraft skidded off the runway, crashed through a fence and came to rest in a ditch. During the incident, the left wing broke off, rupturing the gas tanks and setting the plane on fire. There were seven fatalities in all. Frankie Housley, the lone stewardess on Flight 83, led ten passengers to safety but lost her life trying to save an infant.
On February 7, 2006, a UPS Airlines Douglas DC-8 cargo plane suffered an in-flight cargo fire and made an emergency landing at Philadelphia International Airport after filling with smoke. There were no injuries other than smoke inhalation affecting the crew, but the plane burned on the ground for hours into the night, though most of the cargo survived, the aircraft was a total loss, with multiple holes burned through the roof skin. According to the NTSB, the firefighting crew did not have adequate training on using their skin-piercing extinguishing equipment and not knowing how to open the main cargo door, attempted to force the handle and broke the latch, rendering the door unopenable. There were also difficulties in obtaining the cargo manifest to determine what if any hazardous materials were on board, due to confusion about protocol. However, despite these failings, the airport staff, including the firefighting staff, managed the incident successfully without injury or major disruption of the airport. The NTSB suspected lithium ion batteries were the source of ignition and made recommendations for more stringent rules and restrictions on their air transport, especially on passenger aircraft (unlike this one). For a cause of the incident, the NTSB focused on the delayed indication of fire by the required onboard fire detection system and criticized the standards to which such systems are tested, noting that the tests use an empty cargo hold and do not represent the real-world performance of the detection systems with the hold full of cargo, which significantly changes the flow patterns of hot air and smoke. The crew and air traffic control personnel were found to have behaved properly (with minor exceptions) and not to be at fault for the incident or its outcome.
On March 13, 2014, US Airways Flight 1702, an Airbus A320-214, rotated then aborted takeoff and as a result suffered a tailstrike and a nose landing gear collapse. The aircraft then continued down runway 27L coming to a stop off to the left of the runway. None of the 149 passengers and 5 crew members suffered life-threatening injuries. However the aircraft saw substantial damage and was later written off and scrapped. The accident was found to be pilot error and since neither the captain nor first officer has flown commercially.
On April 17, 2018, Southwest Airlines Flight 1380, a Boeing 737-700 en route from New York to Dallas, suffered an engine failure on its left engine. Debris from the engine struck the aircraft's fuselage and a side window. The window failed, causing a rapid depressurization of the aircraft, which made an emergency descent and diverted to land at Philadelphia International Airport. One passenger died after being partially ejected from the failed window. Seven others were injured and treated locally at the airport.
Potential Impacts of Climate Change
Located near the water in a tidal estuary of the Delaware River, Philadelphia International Airport is considered highly vulnerable to future flooding as a consequence of sea level rise caused by global climate change. A 2015 report by the Philadelphia Mayor's Office of Sustainability projected sea level rise of approximately two feet by 2050. Combined with an increased frequency of extreme weather events like hurricanes and storm surges, there is a high likelihood of the airport being inundated in the coming years. Some have advocated for relocating the airport entirely.
Source: wikipedia