Frankfurt Airport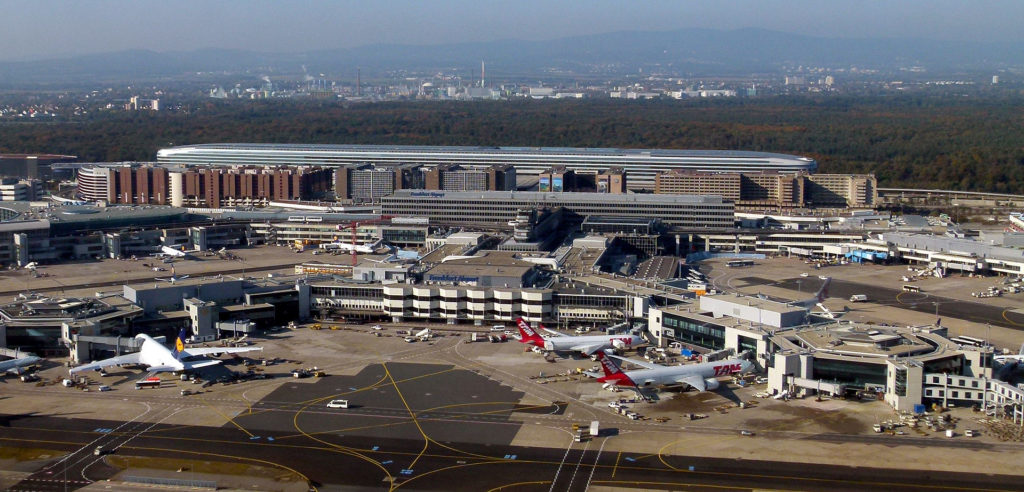 IATA: FRA ICAO: EDDF
Airport type
Public
Owner/Operator
Fraport
Serves
Frankfurt, Germany
Location
Near Kelsterbach, Frankfurt
Hub for
AeroLogic Condor Lufthansa Lufthansa CityLine Lufthansa Cargo
Focus city for
Ryanair SunExpress Deutschland TUI fly Deutschland
Elevation AMSL
364 ft / 111 m
Coordinates
50°02′00″N 008°34′14″ECoordinates: 50°02′00″N 008°34′14″E
Website
frankfurt-airport.com
Frankfurt am Main Airport (IATA: FRA, ICAO: EDDF) (German: Flughafen Frankfurt am Main [ˈfluːkhaːfn̩ ˌfʁaŋkfʊʁt ʔam ˈmaɪn], also known as Rhein-Main-Flughafen) is a major international airport located in Frankfurt, the fifth-largest city of Germany and one of the world's leading financial centres. It is operated by Fraport and serves as the main hub for Lufthansa including Lufthansa CityLine and Lufthansa Cargo as well as Condor and AeroLogic. The airport covers an area of 2,300 hectares (5,683 acres) of land and features two passenger terminals with a capacity of approximately 65 million passengers per year, four runways and extensive logistics and maintenance facilities.
Frankfurt Airport is the busiest airport by passenger traffic in Germany as well as the 4th busiest in Europe after London Heathrow Airport, Paris–Charles de Gaulle Airport and Amsterdam Airport Schiphol. The airport is also the 13th busiest worldwide by total number of passengers in 2016, with 60.786 million passengers using the airport in 2016. In 2017 Frankfurt Airport handled 64.5 million passengers and in 2018 nearly 70 million. It also had a freight throughput of 2.076 million metric tonnes in 2015 and is the busiest airport in Europe by cargo traffic. As of summer 2017, Frankfurt Airport serves more than 300 destinations in 5 continents, making it the airport with the most direct routes in the world.
The southern side of the airport ground was home to the Rhein-Main Air Base, which was a major air base for the United States from 1947 until 2005, when the air base was closed and the property was acquired by Fraport. In 2017, passengers at the airport increased by 6.1% to 64,500,386 compared to 2016. The airport celebrated its 80th anniversary in July 2016.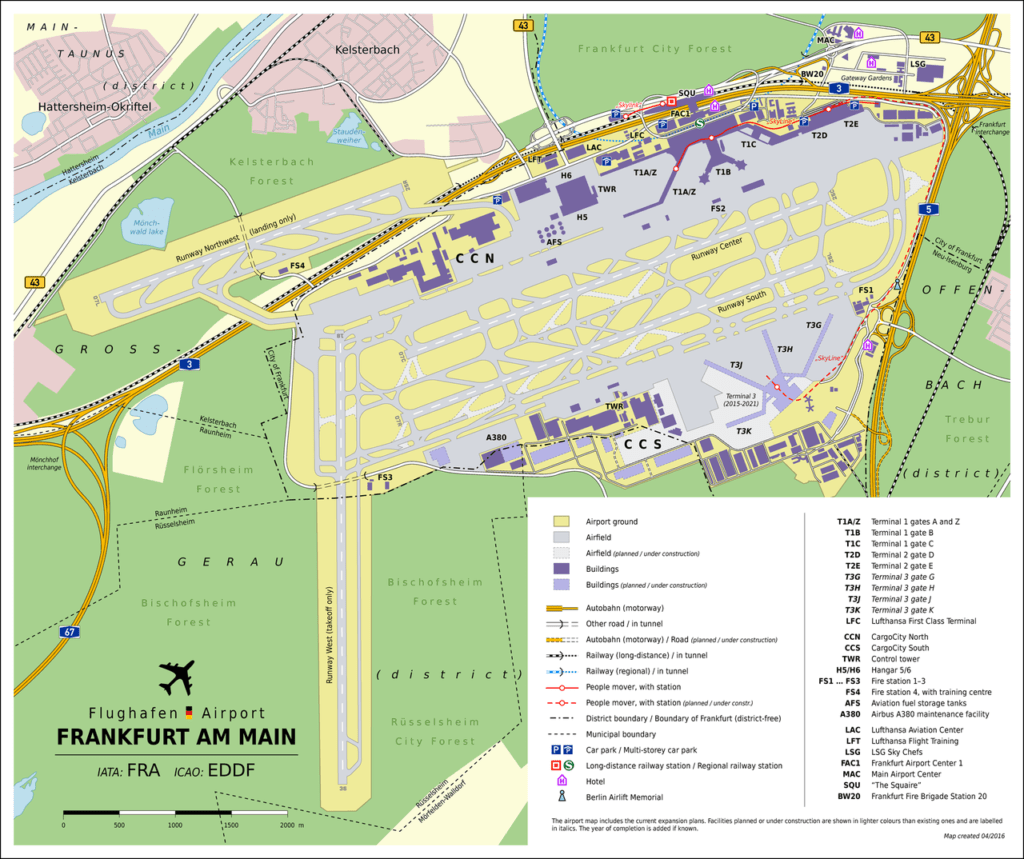 Location
Frankfurt Airport lies 12 km (7.5 mi) southwest of central Frankfurt, near the Autobahn intersection Frankfurter Kreuz, where two of the most heavily used motorways in Europe (A3 and A5) meet. The airport grounds, which form a city district of Frankfurt named Frankfurt-Flughafen, are surrounded by the Frankfurt City Forest. The southern portion of the airport grounds extend partially into the cities of Rüsselsheim am Main and Mörfelden-Walldorf, and a western portion of the grounds lie within the city of Kelsterbach.
The airport is centrally located in the Frankfurt/Rhine-Main region, Germany's third-largest metropolitan region, which itself has a central location in the densely populated region of the west-central European megalopolis. Thereby, along with a strong rail and motorway connection, the airport serves as a major transport node for the greater region, less than two hours by ground to Cologne, the Ruhr Area, and Stuttgart.
Facilities
Terminals
Frankfurt Airport has two large main passenger terminals (1 and 2) and a much smaller dedicated First Class Terminal which is operated and exclusively used by Lufthansa. As is the case at London Heathrow Airport, Los Angeles International Airport (bar the Tom Bradley International Terminal) and O'Hare Airport's's future Global Terminal, terminal operations are grouped for airlines and airline alliances rather than into domestic and international routes.
Terminal 1
Terminal 1 is the older and larger one of the two passenger terminals. The landside is 420 metres long. It has been enlarged several times and is divided into concourses A, B, C and Z and has a capacity of approximately 50 million passengers per year. Terminal 1 is functionally divided into three levels, the departures level on the upper floor with check-in counters, the arrivals level with baggage claim areas on the ground floor and, underneath, a distribution floor with access to the regional station and underground and multilevel parking. Departures and arrivals levels each have separate street approaches. A bus station is located at arrivals level. Terminal 1 has a total of 103 gates, which include 54 gates equipped with jetways (25 in Concourse A, 18 in Concourse B, 11 in Concourse C). Concourse Z sits on top of Concourse A sharing the same jet bridges between both concourses. Flights to non-Schengen destinations depart from the Z gates and Schengen flights depart from the A gates.
Pier A was extended by 500 metres in 2000, and a link between Terminal 1 and Terminal 2, as well as the Hall C extension opened in 2008.
On 10 October 2012, an 800-metre-long westward expansion of Terminal 1 called Pier A-Plus went into operation. It provides more stands for wide-body aircraft like the Airbus A380.
Terminal 1 is primarily used by Lufthansa, its associated companies (Brussels Airlines, Eurowings, Swiss International Air Lines and Austrian Airlines) and its Star Alliance partners (e.g. Aegean Airlines, Air Canada, Air China, Air India, All Nippon Airways, Asiana Airlines, Croatia Airlines, LOT Polish Airlines, Scandinavian Airlines, Singapore Airlines, South African Airways, TAP Air Portugal, Thai Airways, Turkish Airlines and United Airlines).
Some airlines that are not part of the Lufthansa Group or Star Alliance also use Terminal 1. They include Air Malta, Bulgaria Air, Iran Air, Oman Air and Tunisair among others.
SkyTeam member airlines Alitalia and Middle East Airlines also use Terminal 1 (Concourses B and C).
Terminal 2
Terminal 2, which has a capacity of 15 million passengers a year, was opened in 1994 and is divided into concourses D and E. A continuous concourse between Terminal 1C and 2D provides direct, but non-public access between the two terminals. It has eight gates with jetways and 34 apron stands, a total of 42 gates and is able to handle wide-body aircraft such as the Airbus A380.
Terminal 2 is primarily used by airlines of the oneworld (e.g. American Airlines, British Airways, Cathay Pacific, Finnair, Iberia, Japan Airlines, LATAM Airlines, Malaysia Airlines, Royal Jordanian and S7 Airlines) and SkyTeam alliances (e.g. Aeroflot, Air France, China Airlines, China Eastern Airlines, Czech Airlines, Delta Air Lines, KLM, Korean Air, Saudia, TAROM and Vietnam Airlines; note that SkyTeam members Alitalia and Middle East Airlines operate out of Terminal 1, in concourses B and C).
Terminal overview

Lufthansa First Class Terminal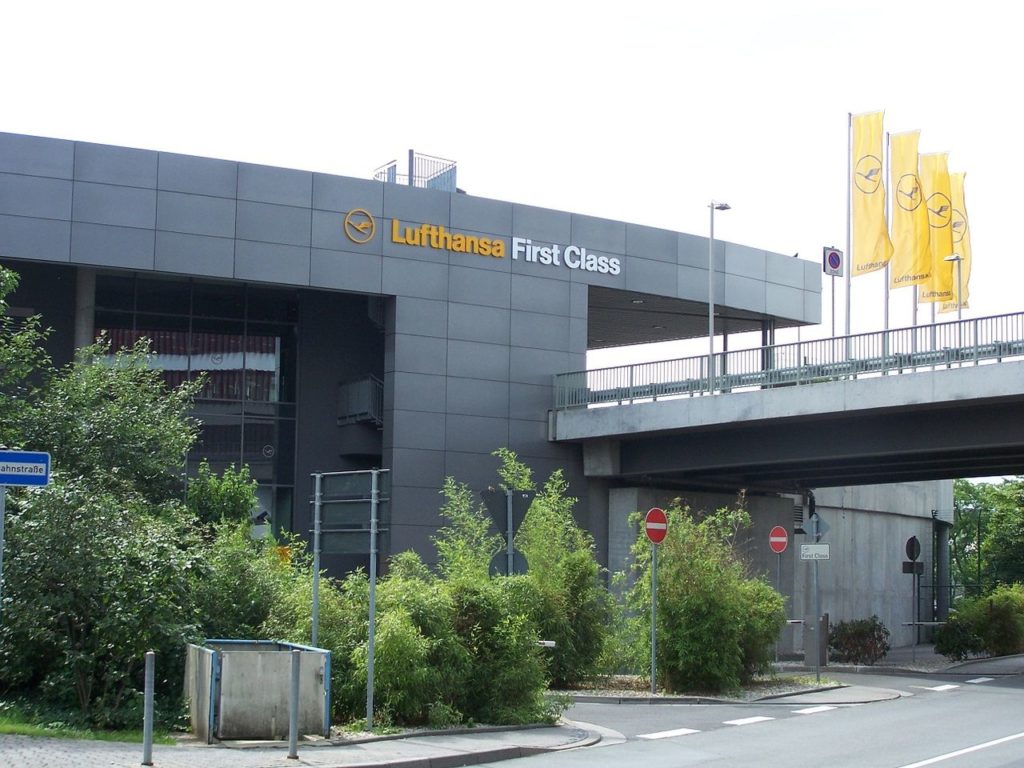 Lufthansa operates a small terminal near Terminal 1 for Lufthansa first class passengers and HON Circle frequent flyer members only. Other first class passengers must use the first class lounges within the main terminals. The facility has 200 staff and is used by about 300 passengers daily. It provides "individualised" security screening and customs facilities. Amenities include valet parking, a white-linen restaurant, lounge and office areas, a cigar room and bubble baths. Passengers are transported directly from the terminal to the plane by luxury car.
SkyLine
Passengers and visitors can change terminals with the people mover system SkyLine which has the following stops: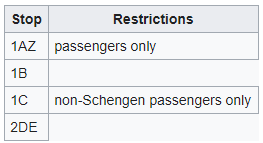 The travel time between the terminals is 2 minutes with trains arriving every 2–3 minutes during the day. Additionally there is regular bus service between the terminals.
Runways
Frankfurt Airport has four runways of which three are arranged parallel in east–west direction and one in north–south direction. In 2010 three runways (Runways North, South and West) handled 464,432 aircraft movements, which equated to 83 movements per hour. With the start of operation of the Northwest Runway in October 2011 the airport was predicted to be able to handle 126 movements per hour. It is predicted that aircraft movements will increase up to 700,000 in the year 2020. By using the fourth runway, Frankfurt Airport is able for the first time to handle simultaneous parallel landings, because the distance between the north and the north-west runways is 1,400 m (4,593 ft). Simultaneous parallel landings were not possible with the north and south runway pairing, because the separation distance did not meet the safety standards.

During normal operation the two outer parallel runways (07L/25R and 07R/25L) are used for landings and the central parallel runway (07C/25C) and the Runway West (18) for take-offs. The three parallel runways have two markings because they can be operated in two directions while the Runway West can only be used in one direction.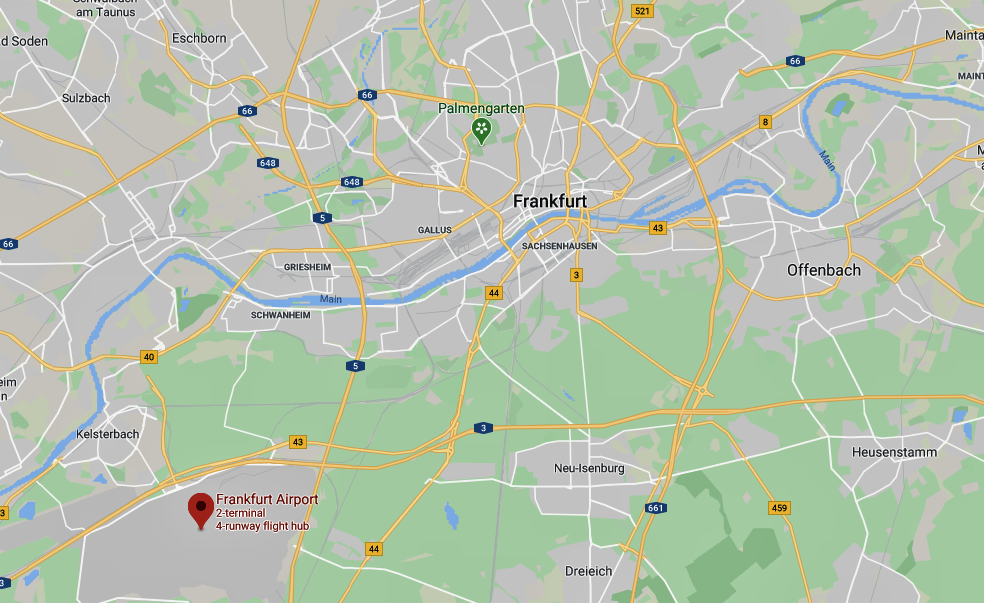 Future expansions
Terminal 3 (under construction)
In 2009, the German government decided to create third terminals for both Frankfurt Airport and Munich Airport in order to handle expected passenger flows of 90 million in Frankfurt by 2020 and 50 million in Munich by 2017. The new terminal is scheduled to be built by Fraport, south of the existing terminals on the grounds of the former Rhein-Main Air Base. The new Terminal 3 is to accommodate up to 25 million passengers and will feature 75 new aircraft positions when completely constructed. An extension of the SkyLine people mover system is planned to connect the new terminal to Terminals 1 and 2 and the airport train stations.
In August 2014, the city of Frankfurt granted building permission for the first phase of Terminal 3. The groundbreaking for the new terminal took place on 5 October 2015. Its first phase, consisting of the main building and two of the planned four piers (concourses 3H and 3J), is planned to open by 2023 and will be able to handle 15 million additional passengers per year. Total costs are estimated at 3 billion euros.
In 2017, Frankfurt Airport indicated that the second-phase construction of the eastern-most pier (concourse 3G) could be moved forward so that low-cost carriers can use this pier from 2021. After approval by municipal authorities in 2018, the piers will be constructed and used according to the following timetable:
Concourse 3G (eastern-most pier):
Construction of first twelve bus gates, reachable via shuttle buses from terminals 1/2, in use by 2021
Construction of additional twelve bus gates by 2023/2024
Construction of passenger bridges by 2025/2026
Check-in area, concourses 3H and 3J (central piers): Construction by 2023 including transport systems for visitors, passengers and luggage to the other terminals
Concourse 3H is planned for Schengen flights
Concourse 3J is planned for non-Schengen flights
Concourse 3K (western-most pier): Possible third-phase expansion depending on development of passenger numbers
Passenger Transport System
A new passenger transport system is planned for the connection of the new terminal 3 and the existing terminals 1 and 2. It will use a track which is separate from the existing SkyLine people mover but will allow for interchanges between them. It is scheduled to have four stops in the final stage:

Passenger airlines and destinations
Lufthansa and their Star Alliance partners account for 77% of all passengers at Frankfurt Airport.[27] 65% of all intercontinental flights in Germany are operated at Frankfurt Airport, followed by Munich Airport with 17%. The following airlines offer year-round and seasonal scheduled and charter flights at Frankfurt Airport:
Aegean Airlines
Athens, Thessaloniki
Seasonal: Corfu, Heraklion, Rhodes
Aer Lingus
Dublin
Aeroflot
Kazan, Moscow–Sheremetyevo
Air Algérie
Algiers
Seasonal: Oran
Air Arabia Maroc
Marrakesh
Air Astana
Atyrau, Nur-Sultan, Oral
airBaltic
Riga
Air Canada
Calgary, Montréal–Trudeau, Toronto–Pearson
Seasonal: Vancouver
Air China
Beijing–Capital, Chengdu, Shanghai–Pudong, Shenzhen
Air Dolomiti
Linz, Florence, Turin, Verona
Air Europa
Madrid
Air France
Paris–Charles de Gaulle
Air India
Delhi, Mumbai
Air Malta
Malta
Air Moldova
Chişinău
Air Namibia
Windhoek–Hosea Kutako
Air Serbia
Belgrade
Albawings
Tirana (begins 8 June 2020)[33]
Alitalia
Milan–Linate, Rome–Fiumicino
All Nippon Airways
Tokyo–Haneda
American Airlines
Charlotte, Dallas/Fort Worth
AnadoluJet
Ankara, Istanbul–Sabiha Gökçen
Asiana Airlines
Seoul–Incheon
Austrian Airlines
Innsbruck, Vienna
Azores Airlines
Ponta Delgada
Belavia
Minsk
British Airways
London–City, London–Heathrow
Bulgaria Air
Sofia
Cathay Pacific
Hong Kong
China Airlines
Taipei–Taoyuan
China Eastern Airlines
Shanghai–Pudong
China Southern Airlines
Guangzhou
Condor
Agadir, Barbados, Cancún, Fuerteventura, Funchal, Havana, Holguín, Hurghada, Kilimanjaro, Lanzarote, La Palma, Las Vegas, Mahé, Malé, Mauritius, Mombasa, Montego Bay, Palma de Mallorca, Paphos, Puerto Plata, Punta Cana, San José (CR), San Juan, Santo Domingo, Seattle/Tacoma, Tenerife–South, Tobago, Varadero, Windhoek–Hosea Kutako, Zanzibar
Seasonal: Anchorage, Antalya, Baltimore, Cagliari, Calgary, Cape Town, Catania, Chania, Corfu, Curaçao, Dalaman, Dubrovnik, Edmonton (begins 1 June 2020), Fairbanks, Grenada, Halifax, Heraklion, Ibiza, Jerez de la Frontera, Kalamata, Kavala, Kos, Lamezia Terme, Larnaca, Minneapolis/St. Paul, Mykonos, New Orleans, Olbia, Phoenix–Sky Harbor, Pittsburgh, Portland (OR), Preveza/Lefkada, Rhodes, Samos, Santorini, Skiathos, Split, Thessaloniki, Tivat, Toronto–Pearson, Toulon (begins 20 May 2020), Vancouver, Whitehorse, Zadar, Zakynthos
Seasonal charter: La Romana, Samaná
Corendon Airlines
Antalya, Izmir
Seasonal: Bodrum (begins 30 May 2020), Gazipaşa, Kayseri (begins 25 May 2020)
Corendon Airlines Europe
Seasonal charter: Banjul
Croatia Airlines
Dubrovnik, Split, Zagreb
Seasonal: Pula, Zadar
Czech Airlines
Prague
Delta Air Lines
Atlanta, Detroit, New York–JFK
EgyptAir
Cairo
El Al
Tel Aviv
Emirates
Dubai–International
Ethiopian Airlines
Addis Ababa
Etihad Airways
Abu Dhabi
Eurowings
Las Vegas, Pristina, Windhoek–Hosea Kutako
Seasonal: Barbados, Mauritius
Finnair
Helsinki
Gulf Air
Bahrain
Holiday Europe
Seasonal charter: Fuerteventura, Hurghada, Marsa Alam, Sharm El Sheikh
Iberia
Madrid
Iberia Regional
Madrid
Icelandair
Reykjavík–Keflavík
Iran Air
Tehran–Imam Khomeini
Iraqi Airways
Baghdad, Sulaymaniyah
Japan Airlines
Tokyo–Narita
KLM
Amsterdam
Korean Air
Seoul–Incheon
Kuwait Airways
Kuwait
LATAM Brasil
São Paulo–Guarulhos
LATAM Chile
Madrid (ends 30 June 2020), Santiago de Chile
Lauda
Seasonal: Palma de Mallorca
LOT Polish Airlines
Warsaw–Chopin
Lufthansa
Abuja, Addis Ababa, Agadir, Alicante, Algiers, Almaty, Amman–Queen Alia, Amsterdam, Antalya, Athens, Atlanta, Austin, Bahrain, Baku, Bangkok–Suvarnabhumi, Barcelona, Bari, Basel/Mulhouse, Beijing–Capital, Beirut, Belgrade, Bangalore, Berlin–Tegel, Bilbao, Billund, Birmingham, Bogotá, Bologna, Bordeaux, Boston, Bremen, Brussels, Bucharest, Budapest, Buenos Aires–Ezeiza, Bydgoszcz, Cairo, Cancún, Cape Town, Casablanca, Catania, Chennai, Chicago–O'Hare, Chișinău, Cluj-Napoca, Copenhagen, Dallas/Fort Worth, Dammam, Delhi, Denver, Detroit, Dresden, Dubai–International, Dublin, Düsseldorf, Edinburgh, Erbil, Faro, Friedrichshafen, Funchal, Gdańsk, Geneva, Glasgow, Gothenburg, Graz, Hamburg, Hanover, Helsinki, Hong Kong, Houston–Intercontinental, Istanbul, Johannesburg–O. R. Tambo, Katowice, Kiev–Boryspil, Kraków, Kuwait, Lagos, Larnaca, Leipzig/Halle, Linz, Lisbon, Ljubljana, London–City, London–Heathrow, Los Angeles, Luanda, Luxembourg, Lyon, Madrid, Malabo, Málaga, Malta, Manchester, Marrakesh, Marseille, Mexico City, Miami, Milan–Linate, Milan–Malpensa, Minsk, Moscow–Domodedovo, Mumbai, Munich, Münster/Osnabrück, Nairobi–Jomo Kenyatta, Nagoya–Centrair, Nanjing, Naples, Newark, New York–JFK, Nice, Nuremberg, Nur-Sultan, Orlando, Oslo–Gardermoen, Palermo, Pamplona, Panama City, Paris–Charles de Gaulle, Philadelphia, Port Harcourt, Porto, Poznań, Prague, Qingdao, Reykjavík–Keflavík, Riga, Rio de Janeiro–Galeão, Riyadh, Rome–Fiumicino, Saint Petersburg, Salzburg, San Diego, San Francisco, San Jose (CR), Santiago de Compostela, São Paulo–Guarulhos, Seattle/Tacoma, Seoul–Incheon, Seville, Shanghai–Pudong, Shenyang, Singapore, Sofia, Stockholm–Arlanda, Stuttgart, Sylt, Tallinn, Tampa, Tehran–Imam Khomeini, Tel Aviv, Thessaloniki, Timișoara, Tirana, Tokyo–Haneda, Toronto–Pearson, Toulouse, Trieste, Tunis, Valencia, Vancouver, Venice, Vienna, Vilnius, Warsaw–Chopin, Washington–Dulles, Wrocław, Zagreb, Zurich
Seasonal: Bastia, Bodrum, Cagliari, Dubrovnik, Eilat, Heraklion, Heringsdorf, Hévíz–Balaton, Ibiza, Ivalo, Kuusamo, Malé, Menorca, Montréal–Trudeau, Olbia, Palma de Mallorca, Pula, Rennes , Santorini, Shannon, Split, Tivat, Tromsø, Zadar
MIAT Mongolian Airlines
Seasonal: Ulaanbaatar
Middle East Airlines
Beirut
Montenegro Airlines
Podgorica
Oman Air
Muscat
Onur Air
Antalya
Seasonal: Istanbul
Pegasus Airlines
Antalya (resumes 9 June 2020),[56] Istanbul–Sabiha Gökçen
Qatar Airways
Doha
Royal Air Maroc
Casablanca, Nador
Royal Jordanian
Amman–Queen Alia
Ryanair
Alicante, Barcelona, Bergamo, Brindisi, Catania, Dublin, Faro, Kraków, Lanzarote, London–Stansted, Málaga, Palma de Mallorca, Porto, Tenerife–South, Valencia
Seasonal: Athens, Chania, Corfu, Kefalonia, Mykonos, Pisa, Seville
S7 Airlines
Seasonal: Novosibirsk
Saudia
Jeddah, Riyadh
Seasonal: Medina
Scandinavian Airlines
Copenhagen, Oslo–Gardermoen, Stockholm–Arlanda
Singapore Airlines
New York–JFK, Singapore
Somon Air
Dushanbe
South African Airways
Johannesburg–O. R. Tambo
SunExpress
Antalya, Dalaman, İzmir
Seasonal: Ordu–Giresun
SunExpress Deutschland
Adana, Agadir, Ankara, Antalya, Chania, Gazipaşa, Hurghada, Ibiza, İzmir, Lamezia Terme, Lanzarote, Luxor, Marsa Alam, Palma de Mallorca, Sharm El Sheikh
Seasonal: Burgas, Corfu, Heraklion, Malatya (begins 23 June 2020), Samsun, Varna
Swiss International Air Lines
Geneva, Zurich
TAP Air Portugal
Lisbon
TAROM
Bucharest
Thai Airways
Bangkok–Suvarnabhumi
Seasonal: Phuket
TUI fly Deutschland
Agadir, Barcelona, Boa Vista, Fuerteventura, Gran Canaria, Hurghada, Lanzarote, Marsa Alam, Sal, Tenerife–South
Seasonal: Antalya, Corfu, Dalaman, Djerba, Enfidha, Faro, Funchal, Heraklion, Ibiza, Jerez de la Frontera, Kos, Lamezia Terme, Larnaca, Menorca, Palma de Mallorca, Patras, Rhodes
Tunisair
Djerba, Tunis
Turkish Airlines
Istanbul
Seasonal: Adana, Antalya (resumes 4 June 2020), Kayseri, Izmir
Turkmenistan Airlines
Ashgabat
Ukraine International Airlines
Kiev–Boryspil
United Airlines
Chicago–O'Hare (resumes July 6, 2020), Denver (resumes July 6, 2020), Houston–Intercontinental (resumes July 6, 2020), Newark, San Francisco (resumes June 4, 2020), Washington–Dulles
Ural Airlines
Moscow–Domodedovo, Saint Petersburg
Uzbekistan Airways
Tashkent
Seasonal: Urgench
Vietnam Airlines
Hanoi, Ho Chi Minh City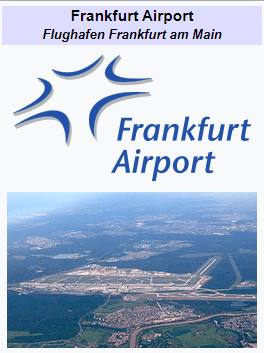 Cargo airlines and destinations
Frankfurt Airport is the second-largest multimodal transport airport in Europe and has several logistics facilities. These facilities are grouped at two areas at the airport ground: In the north (CargoCity Nord) and in the south (CargoCity Süd). In 2010 it was the second-busiest airport by cargo traffic in Europe after Paris–Charles de Gaulle Airport, handling 2,231,348 metric tonnes of loaded and unloaded freight.[citation needed]
The following airlines operate regular scheduled cargo operations at Frankfurt Airport:
| | |
| --- | --- |
| Air ACT | Istanbul–Sabiha Gökçen |
| Air Algérie Cargo | Algiers |
| Air China Cargo | Beijing–Capital, Shanghai–Pudong |
| AirBridgeCargo | Dallas/Fort Worth, Helsinki, Los Angeles, Moscow–Domodedovo, Moscow–Sheremetyevo, Yekaterinburg |
| Asiana Cargo | Göteborg, Moscow–Domodedovo, Seoul–Incheon, Vienna |
| ASL Airlines Belgium | Dubai–International, Liège |
| Cathay Pacific Cargo | Amsterdam, Chennai, Dubai–International, Hong Kong, Manchester, Mumbai, Paris–Charles de Gaulle |
| China Airlines | Abu Dhabi, Prague, Taipei–Taoyuan |
| China Cargo Airlines | Shanghai–Pudong |
| China Southern Airlines | Guangzhou, Shanghai–Pudong |
| DHL Aviation | Ashgabat, Hong Kong, Leipzig/Halle, London–Heathrow, Tehran–Imam Khomeini |
| Emirates SkyCargo | Cairo, Campinas–Viracopos, Dakar–Senghor, Dubai–Al Maktoum, Mexico City, Tripoli |
| Etihad Cargo | Abu Dhabi, Bogotá, Bridgetown |
| FedEx Express | Cologne/Bonn, Memphis |
| FedEx Feeder | Paris–Charles de Gaulle |
| Iran Air Cargo | Tehran-Mehrabad |
| Korean Air Cargo | Brussels, Moscow–Sheremetyevo, Navoi, Seoul–Incheon, Stockholm–Arlanda, Tel Aviv |
| LATAM Cargo Chile | Amsterdam, Campinas–Viracopos |
| Lufthansa Cargo | Aguadilla, Almaty, Amsterdam, Atlanta, Bahrain, Bangalore, Bangkok–Suvarnabhumi, Beijing–Capital, Bogotá, Boston, Buenos Aires, Cairo, Campinas, Chennai, Chicago–O'Hare, Chongqing, Cologne/Bonn, Curitiba, Dakar–Senghor, Dallas/Fort Worth, Delhi, Dhaka, Guangzhou, Hong Kong, Houston, Hyderabad, Istanbul–Atatürk, Jakarta–Soekarno–Hatta, Jeddah, Johannesburg–O. R. Tambo, Kaunas, Los Angeles, Manaus, Manchester, Mexico City, Miami, Moscow–Sheremetyevo, Mumbai, Nairobi, New York–JFK, Novosibirsk, Osaka–Kansai, Quito, Rio de Janeiro–Galeão, Riyadh, Seoul–Incheon, Shanghai–Pudong, Shannon, Sharjah, Shenyang, Shenzhen, Tehran–Imam Khomeini, Tel Aviv, Tokyo–Narita, Toronto–Pearson, Tucumán |
| Maximus Air Cargo | Sharjah |
| National Airlines | Doha, Hong Kong, Karaganda, Kuwait, Quetta |
| Qatar Airways Cargo | Doha |
| RAM Cargo | London–Gatwick, Madrid |
| Saudia Cargo | Dammam, Riyadh |
| Turkish Cargo | Istanbul–Atatürk, Lagos |
CargoCity
CargoCity is the name of the two large main areas featuring most of the airport's freight handling facilities:
The 98 hectare large CargoCity Süd (South) is home to a cargo centre for dispatch service providers and freight forwarding businesses. Several transport companies like DHL Global Forwarding, Air China, Emirates, Japan Airlines, Cathay Pacific, Korean Air and Fraport Cargo Services are based here.
CargoCity Nord (North) is the headquarters of Lufthansa Cargo. Additional facilities here are a Perishables Centre for fresh produced goods and the Frankfurt Animal Lounge for the transport of living animals.
Other facilities
Airport City
The airport ground and the surrounding area of Frankfurt Airport offer a large variety of on-airport businesses as well as airport-related businesses, including office space, hotels, shopping areas, conference rooms and car parks. The development of an airport city has significantly accelerated in recent years.
Frankfurt Airport Centres
The Frankfurt Airport Centre 1 (FAC 1) near Terminal 1 offers office and conference facilities, the newer FAC 2 is located within Terminal 2 and offers office space for airlines.
Airport City Mall
The Airport City Mall is located on the landside of Terminal 1, departure hall B. It offers national and international retailers and label stores, a supermarket and several restaurants.
The Squaire
The Squaire is an office building with a total floor area of 140,000 m2 (1,506,900 sq ft). It is directly connected to Terminal 1 through a connecting corridor for pedestrians. The accounting firm KPMG, Lufthansa and two Hilton Hotels (Hilton Garden Inn Frankfurt Airport with 334 rooms and Hilton Frankfurt Airport with 249 rooms) occupy space in The Squaire.
Main Airport Centre
The Main Airport Centre, named after the Main river, is an office building with ten floors and about 51,000 m2 (549,000 sq ft) of office space. It is located at the edge of the Frankfurt City Forest near Terminal 2.
Sheraton Hotel & Conference Centre
Sheraton Hotels and Resorts offers 1,008 guest rooms adjacent to Terminal 1 and a conference centre for up to 200 delegates.
Gateway Gardens
Gateway Gardens is a former housing area for the US Air Force personnel based at the Rhein-Main Air Base, close to Terminal 2. Like the air base, the housing area was closed in 2005. Since then the area is being developed into a business location for airport-related companies. Lufthansa moved its airline catering subsidiary LSG Sky Chefs to Gateway Gardens, Condor and SunExpress are headquartered here. DB Schenker, the logistics company of Deutsche Bahn, have built a 66 m (217 ft) high-rise building.
In December 2019, local trains were re-routed to run via Gateway Gardens station. The new stop for S-Bahn trains is located between Frankfurt Airport Regional Station and Frankfurt-Stadion station. The journey time will increase by 4 minutes but Deutsche Bahn have stated that they will use new trains (ET423) which will be faster and have more capacity.
Further users
Fraport's facilities are on the property of Frankfurt Airport. Its head office building is by Gate 3. The newly constructed headquarters were inaugurated there in 2012. The Fraport Driving School (Fraport Fahrschule) is in Building 501 of CargoCity South (CargoCity Süd).
Lufthansa's main building, where the board of directors is seated, is called Lufthansa Aviation Centre (LAC). Lufthansa operates the Lufthansa Aviation Center (LAC), Building 366 at Frankfurt Airport. Several company departments, including Corporate Communications, Investor Relations, and Media Relations, are based at the LAC. Lufthansa also uses several other buildings in the area, including the Lufthansa Flight Training Center for flight training operations and the Lufthansa Basis BG2 as a central base and for crew briefing. As of 2011 Lufthansa Cargo has been headquartered in Building 451 of the Frankfurt Airport area. As of 2012 Lufthansa Cargo is located at Gate 25 in the CargoCity Nord area, Lufthansa Technik is located at Gate 23 and in the CargoCity Süd area.
Star Alliance, an airline alliance, has its headquarters at the Frankfurt Airport Centre 1 (FAC 1) adjacent to Terminal 1.
Airmail Centre Frankfurt, a joint venture of Lufthansa Cargo, Fraport, and Deutsche Post for airmail transport, has its head office in Building 189, between Terminals 1 and 2.
Aero Lloyd previously had its head office in Building 182.
Ground transport
Frankfurt Airport can easily be accessed by car, taxi, train or bus as it features an extensive transport network. There are two railway stations at the airport: one for suburban/regional trains and one for long-distance trains.
Rail
Regional station
Frankfurt Airport regional station (Frankfurt Flughafen Regionalbahnhof) at Terminal 1, concourse B, provides access to the S-Bahn commuter rail lines S8 and S9. Each of these lines have trains departing every 15 minutes during daytime to Hanau Central Station eastwards via Frankfurt Central Station and Offenbach East Station or Wiesbaden Central Station westwards via Rüsselsheim or Mainz Central Station (line S8) or Mainz-Kastel Station (line S9).
The journey time to Frankfurt Central Station is 10–12 minutes.
Regional Express (RE) trains to Saarbrücken, Koblenz or Würzburg call at this station. These trains provide less frequent but additional connections between Frankfurt Airport and the Central Station.
Long-distance station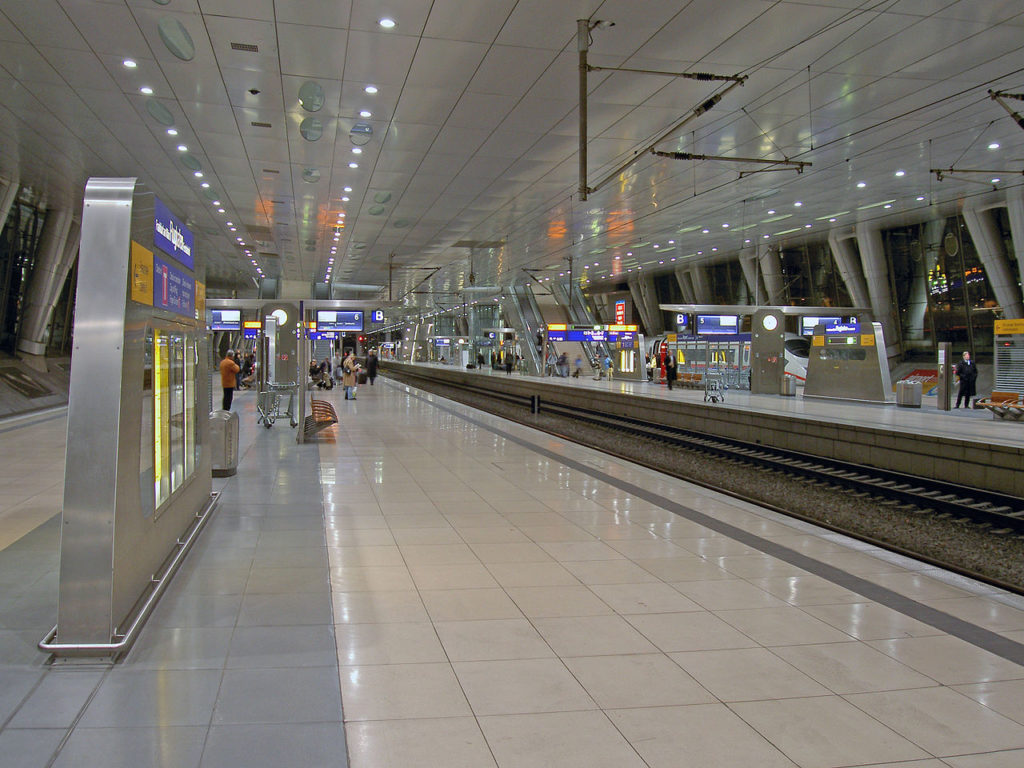 Frankfurt Airport long-distance station (Frankfurt Flughafen Fernbahnhof) was opened in 1999. The station is squeezed in between the motorway A 3 and the four-lane Bundesstraße B43, linked to Terminal 1 by a connecting corridor for pedestrians that bridges the Autobahn. It is the end point of the newly built Cologne–Frankfurt high-speed rail line, which links southern Germany to the Rhine-Ruhr metropolitan area, the Netherlands and Belgium via Cologne at speeds up to 300 km/h (190 mph). About 10 trains per hour depart in all directions.
Deutsche Bahn operates the AIRail Service in conjunction with Lufthansa, American Airlines and Emirates. The service operates to the central stations of Bonn, Cologne, Düsseldorf, Freiburg, Karlsruhe, Leipzig, Hamburg, Hannover, Mannheim, Munich, Nuremberg, Stuttgart and to Kassel-Wilhelmshöhe.
Car
Frankfurt Airport is located in the Frankfurt City Forest and directly connected to an Autobahn intersection called Frankfurter Kreuz where the A3 and A5 meet. It takes a 10–15 minutes by car or taxi to get to Frankfurt Central Station or the centre of the city.
Passengers driving their own cars can park in multilevel parking garages (mostly underground) along the terminals. A long term holiday parking lot is located south of the runways and connected by shuttle bus to the terminals.
Bus and coaches
Various transport companies provide bus services to the airport from the surrounding areas as well as by coach to long-distance destinations.
Ground transport statistics
In 2006, 29.5% of the 12,299,192 passengers whose air travel originated in Frankfurt came by private car, 27.9% came by rail, 20.4% by taxi, 11.1% parked their car at the airport for the duration of their trip, 5.3% came by bus, and 4.6% arrived with a rental car.
Incidents and accidents
On 22 May 1983, during an air show at Rhein-Main Air Base, a Canadian RCAF Lockheed F-104 Starfighter crashed into a nearby road, hitting a car and killing all passengers, a vicar's family of five. The pilot was able to eject.
On 19 June 1985, a bomb cloaked in a canvas bag was detonated approx at 14:42 in the afternoon in Hall B of the Rhein Main Frankfurt Airport, decimating that section of the airport. The blast resulted in 3 deaths and 32 injuries, of which 4 were considered serious.
In September 2007, German authorities arrested three suspected terrorists for plotting a "massive" terror attack, which posed "an imminent threat" to Frankfurt Airport and the US Air Force base in Ramstein.
On 2 March 2011, a gunman opened fire on a bus carrying US Air Force personnel at Frankfurt Airport, killing two and wounding two others.
In media
Frankfurt Airport is featured in the Discovery Channel series X-Ray Mega Airport (also known as Inside Frankfurt Airport).
Jinder Mahal Pinned R-Truth at the Frankfurt Airport for the 24/7 Championship. This title change was shown on WWE.com and WWE's official social media accounts.