Newark Liberty International Airport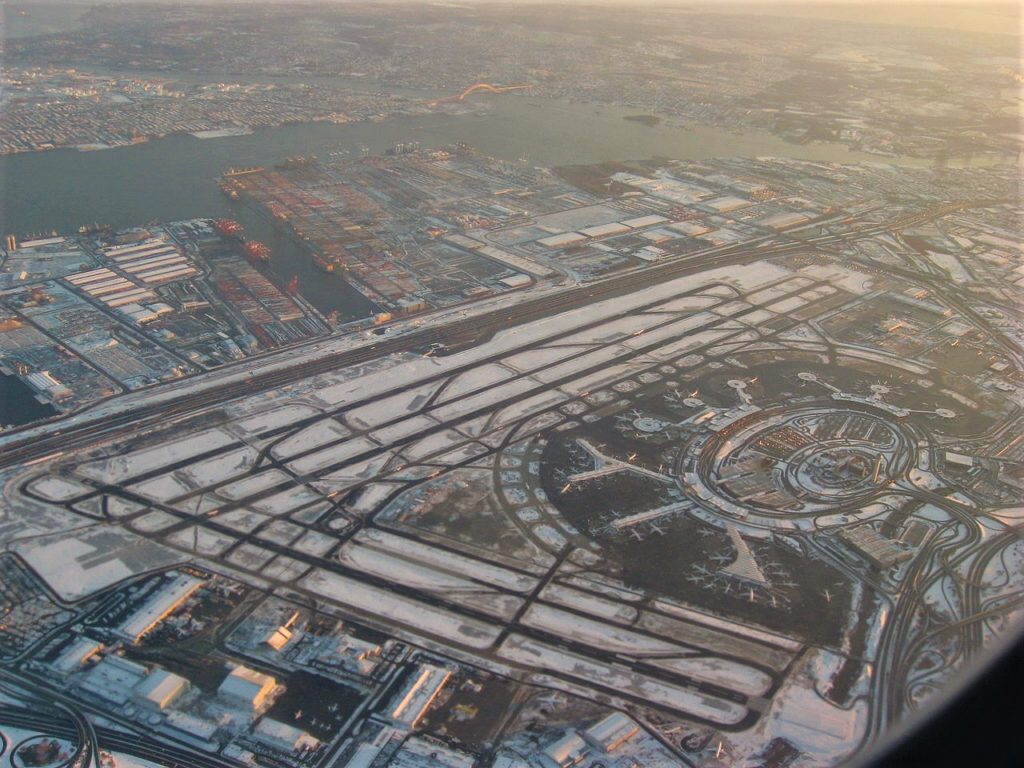 IATA: EWR ICAO: KEWR FAA LID: EWR WMO: 72502
Summary
Airport type
Public
Owner
Newark and Elizabeth, New Jersey
Operator
Port Authority of New York and New Jersey
Serves
New York metropolitan area, and Philadelphia metropolitan area
Location
Newark and Elizabeth, New Jersey, U.S.
Hub for
FedEx Express United Airlines
Focus city for
Frontier Airlines
Elevation AMSL
17.4 ft / 5 m
Coordinates
40°41′33″N 074°10′07″WCoordinates: 40°41′33″N 074°10′07″W
Website
newarkairport.com
Newark Liberty International Airport (IATA: EWR, ICAO: KEWR, FAA LID: EWR), originally Newark Metropolitan Airport and later Newark International Airport, is an international airport straddling the boundary between the cities of Newark and Elizabeth in Essex County and Union County, New Jersey. It is one of the major airports of the New York metropolitan area. The airport is currently owned jointly by the cities of Elizabeth and Newark and leased to and operated by the Port Authority of New York and New Jersey.
Newark Airport is located 3 miles (4.8 km) south of Downtown Newark, and 9 miles (14 km) west-southwest of the borough of Manhattan. It is one of three major airports serving the New York metropolitan area; the others are John F. Kennedy International Airport and LaGuardia Airport, which are also operated by the Port Authority.
Sandwiched between Interstate 95 and Interstate 78 (both components of the New Jersey Turnpike), as well as U.S. Routes 1 and 9, the airport handles more flights (though not as many passengers) than John F. Kennedy International Airport (JFK), despite being 40 percent of JFK's land size. The City of Newark built the airport on 68 acres (28 ha) of marshland in 1928 and the Army Air Corps operated the facility during World War II. After the Port Authority took it over in 1948, an instrument runway, a terminal building, a control tower and an air cargo center were added. The airport's original 1935 central terminal building is a National Historic Landmark. EWR employs more than 24,000 people.
In 2017, EWR was the sixth busiest airport in the United States by international passenger traffic and fifteenth busiest airport in the country. It served 43,393,499 passengers in 2017, which made EWR the forty-third busiest airport in the world by passenger traffic. In 2019, the airport saw 46,336,452 passengers, the most in its history.
Newark serves 50 carriers and is the third-largest hub for United Airlines, the airport's largest tenant (operating in all three of Newark's terminals), and FedEx Express, its second-largest tenant (operating in three buildings on two million square feet of airport property). During the 12-month period ending in July 2014, over 68% of all passengers at the airport were carried by United Airlines.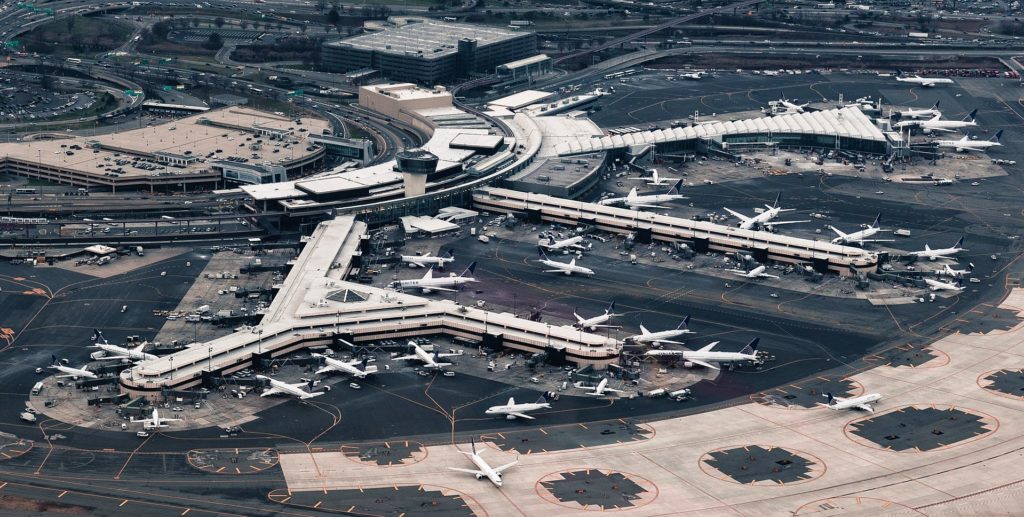 Facilities
Runways
The airport covers 2,027 acres (820 ha) and has three runways and one helipad:
4L/22R: 11,000 by 150 feet (3,353 m × 46 m), asphalt/concrete, grooved
4R/22L: 10,000 by 150 feet (3,048 m × 46 m), asphalt, grooved
11/29: 6,726 by 150 feet (2,050 m × 46 m), asphalt, grooved
Helipad H1: 54 by 54 feet (16 m × 16 m), asphalt
Runway 11/29 is one of the three runways built during World War II. In 1952 Runways 1/19 and 6/24 were closed and a new Runway 4/22 (now 4R/22L) opened at a length of 7,000 ft (2,100 m). After 1970 this runway was extended to 9,800 feet (3,000 m), shortened for a while to 9,300 ft (2,800 m) and finally reached its present length by 2000. Runway 4L/22R opened in 1970 at a length of 8,200 ft (2,500 m) and was extended to its current length by 2000.
All approaches except Runway 29 have Instrument Landing Systems and Runway 4R is certified for Category III approaches. Runway 22L had been upgraded to CAT III approach capability.
Runway 4L/22R is primarily used for takeoffs while 4R/22L is primarily used for landings and 11/29 is used by smaller aircraft or when there are strong crosswinds on the two main runways. Newark's parallel runways (4L and 4R) are 950 feet (290 m) apart, the fourth smallest separation of major airports in the U.S., after San Francisco International Airport, Los Angeles International Airport and Seattle–Tacoma International Airport.
Unlike the other two major New York-area airports, JFK and LaGuardia, which are located directly next to large bodies of water (Jamaica Bay and the East River, respectively) and whose runways extend at least partially out into them, Newark Liberty, while located just across Interstate 95 from Newark Bay and not far from the Hudson River, does not directly front upon either body of water, so the airport and its runways are completely land-locked.
All of Newark's runways have displaced thresholds. Runways 4L/22R and 4R/22L have long displaced thresholds and often passenger aircraft will take off just at the threshold of the runway.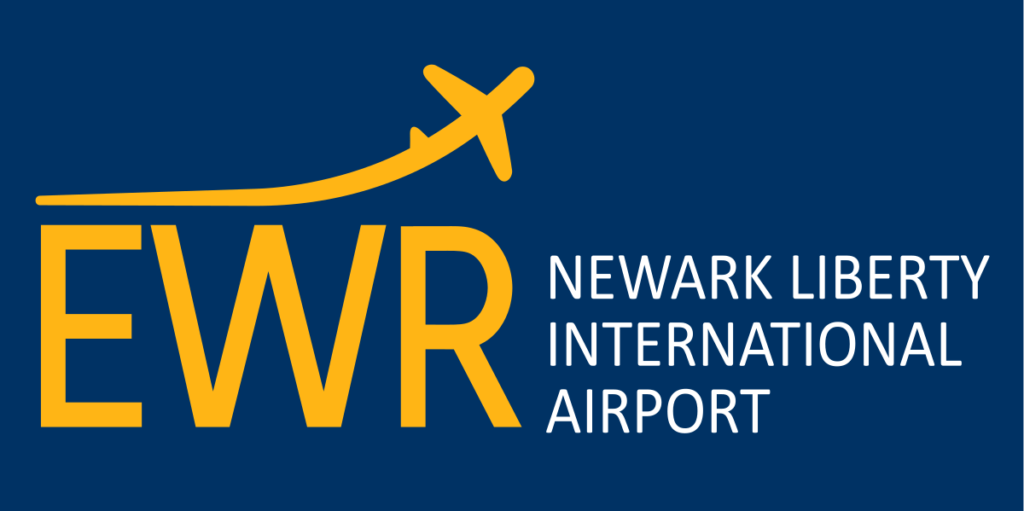 Terminals
Terminals A and B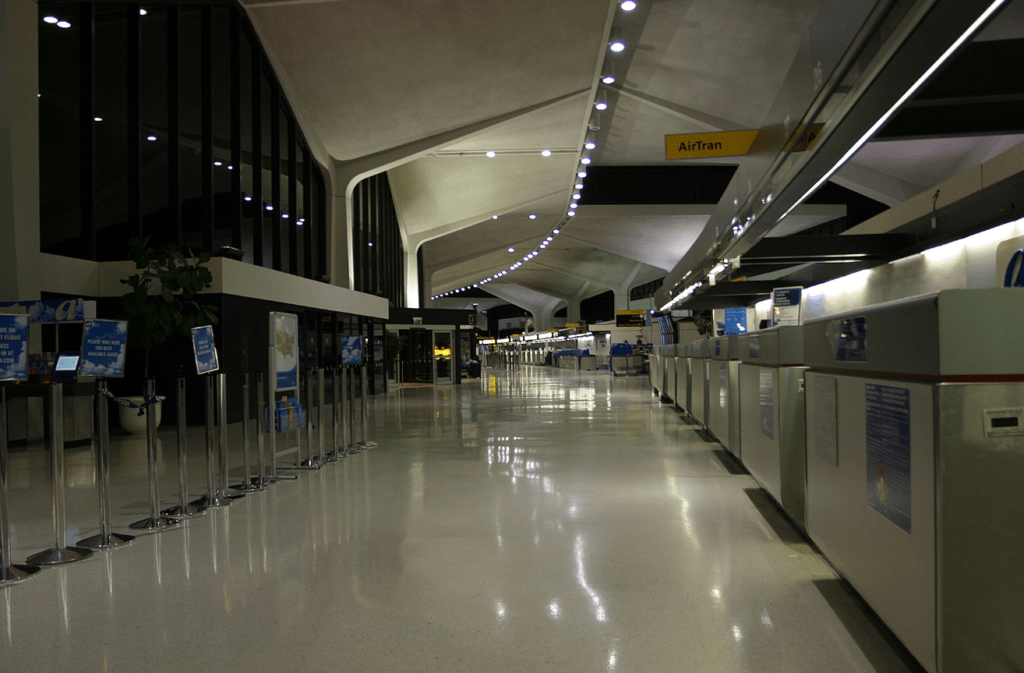 Newark Liberty has three passenger terminals with a total of 110 gates. Terminal A and Terminal B were completed in 1973 and have four levels. In terminal A, ticket counters are on the top floor, baggage carousels are on the second floor and parking is on the first floor. In Terminal B ticket counters are on the top floor, except for the second-floor Aer Lingus, Delta Air Lines and Icelandair counters and first-floor British Airways, Level, and Spirit Airlines. Baggage carousels are on the first floor for domestic arrivals and on the second floor for international arrivals. Terminal B also has an international arrivals lounge on the second floor. Finally, gates and shops are on the third floor of both terminals. There is one United Club in Terminal A's second concourse.
Terminal A handles only domestic and Canadian flights served by JetBlue (including flights to the Caribbean), Air Canada, Air Canada Express, Alaska Airlines, American Airlines, American Eagle; and some United Express (i.e., ultra-short haul) flights.
Terminal B exclusively handles foreign carriers; and also handles flights from the Caribbean through JetBlue, other carriers, such as Delta Airlines, Delta Connection, Sun Country, Elite Airways, Allegiant Air, Frontier Airlines and Spirit Airlines flights, and some of United's international arrivals.
On March 18, 2020, Virgin Atlantic abruptly terminated flights to Newark amid the amid the outbreak of COVID-19. This is significant as their first route was from London to Newark, marking the end of an era. The Virgin Atlantic clubhouse also closed its doors leaving room for a new carrier to come in and build a lounge in Concourse B2.
Terminal C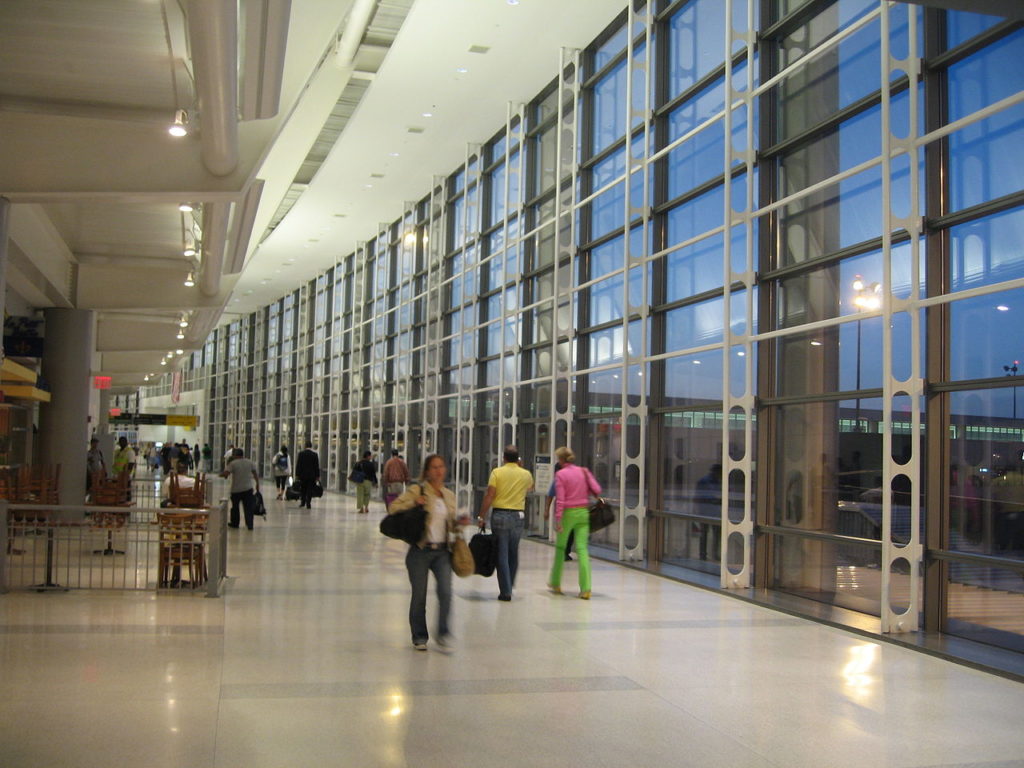 Terminal C, designed by Grad Associates and completed in 1988, has two ticketing levels, one for international check-in and one for domestic check-in. The main terminal building for Terminal C was built alongside Terminals A and B in the 1970s, but lay dormant until People Express Airlines took it over as a replacement for the former North Terminal when the airline's hub there outgrew the old facility. Upon opening, Terminal C had 41 gates, one departures level, one arrivals level, and an underground parking garage. The gates, and food and shopping outlets are located on a mezzanine level between the two check-in floors. Terminal C has multiple gates that can handle wide-body aircraft and narrow body aircraft. Gates C123 and C138 have two jet bridges, often used for Boeing 787 Dreamliner and Boeing 777 aircraft. During peak hours between 4-9pm, all gates are full and completely scheduled. During this time gate availability often becomes scarce leading to delays for arriving and departing aircraft. When departing flights don't have a gate due to their wingspan, United will often put the flight at a smaller gate for the time during the delay, then move the flight to a wide-body gate once it becomes available.
Terminal C has 1 United Club and 1 "pop-up" United Club located throughout the terminal, and one United Polaris Lounge located in between Concourse C2 and Concourse C3. United is currently in the process of building the largest United Club in their network at Newark Airport. The club will be located in Concourse C3 on the upper level next to Gate C123.
Terminal C is exclusively for United Airlines and its regional carrier United Express for their global hub.
More Information on the terminals
From 1998 to 2003, Terminal C was rebuilt and expanded in a $1.2 billion program known as the Continental Airlines Global Gateway Project. The project, which was designed by Skidmore, Owings & Merrill, doubled the available space for outbound travelers as the former baggage claim/arrivals hall was remodeled and turned into a second departures level. Probably most significant was the addition of International Concourse C-3, a spacious and airy new facility with capacity for a maximum of 19 narrowbody aircraft (or 12 widebody planes). Completion of this new concourse increased Terminal C's mainline jet gates to 57. Concomitant with Concourse C-3 is a new international arrivals facility. Also included in the project: a 3,400-space parking garage constructed in front of the terminal, a new airside corridor connecting Concourses C-1, C-2 and C-3, a new President's Club — now called United Polaris Lounge — for international Polaris Business and Polaris First flights between C-2 and C-3, and all-new baggage processing facilities, including reconstruction of the former underground parking area into a new baggage claim and arrivals hall.
In 2008, Terminal B was renovated to increase capacity for departing passengers and passenger comfort. The renovations included expanding and updating the ticketing areas, building a new departure level for domestic flights and building a new arrivals hall.
Each terminal has three concourses: Terminal A, for instance, is divided into concourses A1, A2 and A3. Gate numbering starts in Terminal A with Gate 10 and ends in Terminal C with Gate 139. Wayfinding signage throughout the terminals was designed by Paul Mijksenaar, who also designed signage for LaGuardia and JFK Airports.
Terminal A is the only terminal that has no immigration facilities: flights arriving from other countries cannot use Terminal A (except countries with US customs preclearance), although some departing international flights use the terminal.
Following the business model of the Port Authority's other facilities, in some cases entire terminals are operated by terminal operators and not by the Port Authority directly. At Newark Liberty, Terminal C is operated by United Airlines. Terminal B is the only passenger terminal directly operated by the Port Authority. Terminal A is operated by EWR Terminal One LLC, part of Flughafen München GmbH.
In January 2012, Port Authority executive director Patrick Foye said $350 million would be spent on Terminal B, addressing complaints by passengers that they cannot move freely. That renovation is currently underway. Foye also said a new Terminal A may be built.
Further developments were made in Terminal B when the Port Authority installed new LED fixtures in 2014. The LED fixtures developed by Sensity Systems, use wireless network capabilities to collect and feed data into the software that can spot long lines, recognize license plates, and identify suspicious activity and alert the appropriate staff.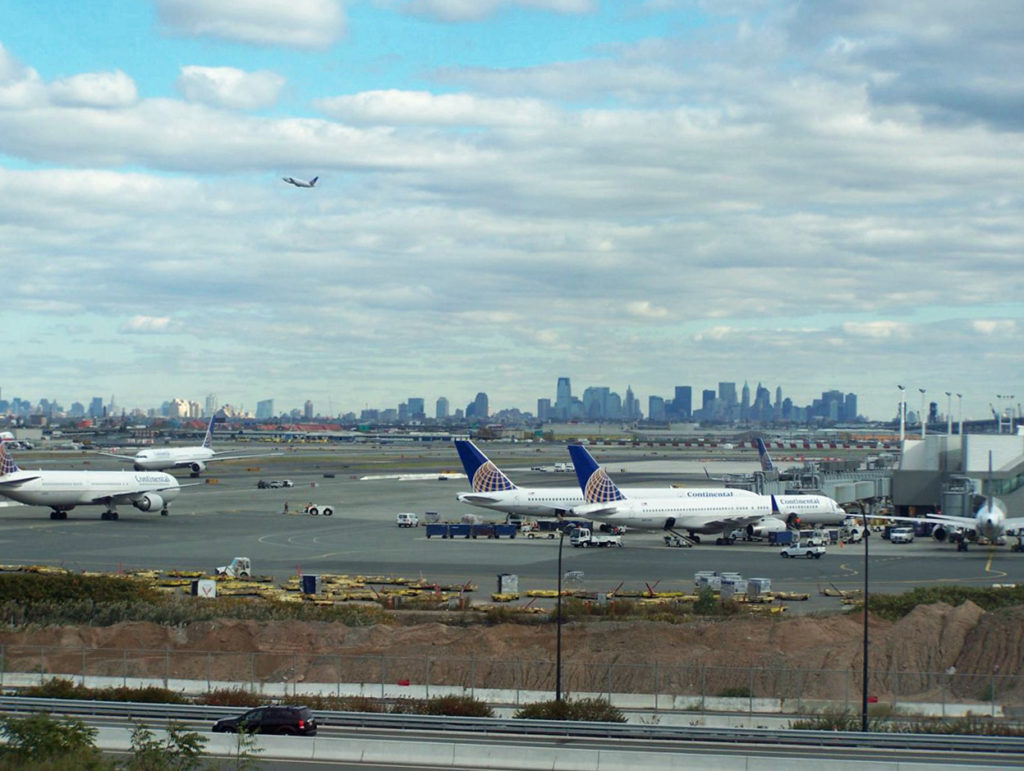 In November 2014, airport amenity manager OTG announced a new $120 million renovation plan for terminal C that includes installing 6,000 iPads and 55 new restaurants headed by celebrity chefs, with the first new restaurants opening in summer of 2015 and the whole project completed in 2016.
The airport has 121 gates in the three terminals. Terminal A has 29 gates, Terminal B has 24 gates, and Terminal C has 68 gates.
Each terminal has three concourses. Terminal A concourse one is used by Air Canada and JetBlue. Gates A10, A14, and A15 are common use gates. Airlines likely that use the gates are JetBlue and Air Canada. Concourse two is used exclusively by United Express, and Concourse three is used by Alaska Airlines and American Airlines. Gate A30 in this concourse is used by JetBlue. Terminal B Concourse B1 has 9 gates, Six used by Delta Air Lines, two used by Spirit, and one common use gate, Gate B40 which is also a tow gate. The other two concourses in Terminal B consist of 15 common use gates that feed out into the Customs facilities. Most airlines usually use the same gates however gate assignments change on occasion. Concourse B2 has 5 gates capable of handling wide body aircraft. Gate B51 which is a tow gate can handle up to a Boeing 767-300/400ER aircraft. Gate 52 can handle up to a 737-900ER aircraft. Gates 53, 54, and 55 can handle up to a 747 sized aircraft. Gate 56 can handle up to a 767-300/400ER aircraft. Gate 57 is also a tow gate and can handle up to a 757-200/300 aircraft. Concourse B3 has 8 gates and 5 wide body gates. Gate B60 can handle up to a 767-300ER aircraft. Gate B61 can handle up to a 757-200/300 aircraft. Gate 62 is the largest gate available in Terminal B, Lufthansa uses this gate to accommodate their daily 747-8 flight. Gate 63, 65, 67, and 68 are all wide body gates. When gate 67 is in use for a wide body aircraft, gate 66 is not available. Gate 68 is a tight tow gate and can handle up to an Airbus A330-300/Boeing 787-8/9 aircraft. Terminal C also has three concourses which are all connected and can be accessed post-security. It is used exclusively by United Airlines. All concourses have wide body gates (71, 74, 75, 90, 98, 102, 108, 110, 120, 121, 123, 125, 126, 128, 135, 136, and 138). United Airlines recently installed dual jet bridges on Gates C123 and C138 to accommodate the Boeing 777-300ER and Boeing 787-10 aircraft. Gates 120-138 can handle international arrivals. Gate 120 is a tow gate.
As of 2019, a new terminal, Terminal One, is in the process of being built. It will be situated on the south end of the airport and will consist of one large departure area. New roadways will be built as well as a new air train, which will connect Terminal One to Terminals B and C. Terminal One will consist of 33 common-use gates, meaning no gate will be exclusively used by a single air carrier. There are discussions as to whether to build a federal inspections facility in the terminal. This would also include dual jet bridges on at least three wide body gates. The new terminal will be managed by Munich Airport Group through EWR Terminal One LLC, though it is being built as a Port Authority project. Air carriers that will utilize Terminal One include Air Canada operating E-175, Airbus A319/A320, and Boeing 787-9 aircraft, Alaska Airlines operating Boeing 737-900ER aircraft, American Airlines operating a mix of 737 and Airbus aircraft, Frontier Airlines operating Airbus A320 aircraft, Jetblue Airways operating A320 aircraft, and United Express. A new Terminal B may be built as well, being named Terminal Two.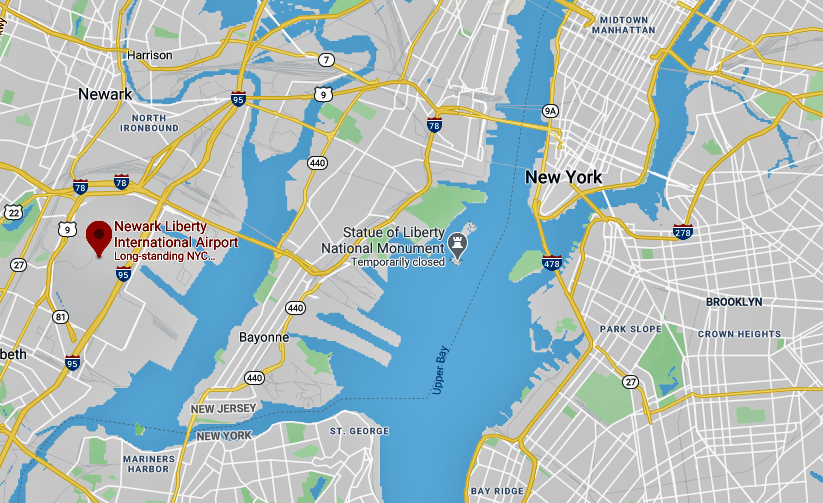 Airlines and destinations
Passenger
Airlines
Destinations
Aer Lingus
Dublin
Air Canada
Calgary, Vancouver
Air Canada Express
Montréal–Trudeau, Ottawa, Toronto–Pearson
Air China
Beijing–Capital
Air India
Delhi, Mumbai
Alaska Airlines
Los Angeles, Portland (OR), San Diego, San Francisco, San Jose (CA), Seattle/Tacoma
Allegiant Air
Asheville, Cincinnati, Destin/Fort Walton Beach, Savannah
Seasonal: Knoxville
American Airlines
Charlotte, Chicago–O'Hare, Dallas/Fort Worth, Miami, Phoenix–Sky Harbor
American Eagle
Chicago–O'Hare
Austrian Airlines
Vienna
Avianca El Salvador
San Salvador
British Airways
London–Heathrow
Cathay Pacific
Hong Kong
Delta Air Lines
Atlanta, Detroit, Minneapolis/St. Paul, Salt Lake City
Delta Connection
Boston, Cincinnati, Detroit, Minneapolis/St. Paul, Raleigh/Durham
El Al
Tel Aviv
Elite Airways
Seasonal: Vero Beach (FL)
Emirates
Athens, Dubai–International
Ethiopian Airlines
Addis Ababa, Lomé
Eurowings
Düsseldorf
French Bee
Paris–Orly (begins June 10, 2020)
Frontier Airlines
Atlanta (Resumes June 18, 2020), Cancún (Resumes June 25, 2020), Chicago–O'Hare (begins June 18, 2020), Denver (begins June 18, 2020), Fort Myers (begins July 2, 2020), Las Vegas (Resumes June 18th, 2020), Miami, Myrtle Beach (begins July 2, 2020), Orlando, Phoenix–Sky Harbor (Resumes November 12, 2020), Raleigh/Durham (begins June 19, 2020), San Juan (Resumes June 18, 2020), Tampa (Resumes June 18, 2020), West Palm Beach (begins July 16, 2020),
Icelandair
Reykjavík–Keflavík
JetBlue
Barbados, Boston, Fort Lauderdale, Fort Myers, Orlando, San Juan, Santiago de los Caballeros, Santo Domingo–Las Américas, Tampa, West Palm Beach
Jet2.com
Seasonal: Birmingham, East Midlands, Glasgow, Leeds/Bradford, Manchester (UK), Newcastle upon Tyne
La Compagnie
Paris–Orly
Seasonal: Nice
Level
Paris–Orly
LOT Polish Airlines
Warsaw–Chopin
Seasonal: Rzeszów
Lufthansa
Frankfurt, Munich
Porter Airlines
Toronto–Billy Bishop
Scandinavian Airlines
Copenhagen, Oslo–Gardermoen, Stockholm–Arlanda
Singapore Airlines
Singapore
Spirit Airlines
Atlanta, Austin, Charlotte, Fort Lauderdale, Fort Myers, Houston–Intercontinental, Las Vegas, Myrtle Beach, Nashville,[93] New Orleans, Orlando, San Juan, Tampa
Sun Country Airlines
Minneapolis/St. Paul
Seasonal: Madison
Swiss International Air Lines
Zurich
TAP Air Portugal
Lisbon, Porto
Turkish Airlines
Istanbul (begins June 26, 2020)


United Airlines
Aguadilla, Amsterdam, Antigua, Aruba, Atlanta, Austin, Barcelona, Beijing–Capital (resumes July 6, 2020), Berlin–Brandenburg (begins November 9, 2020), Berlin–Tegel, Bogotá, Bonaire, Boston, Brussels (resumes July 6, 2020), Cancún, Charleston (SC), Charlotte, Chicago–O'Hare, Cleveland, Dallas/Fort Worth, Delhi (resumes July 6, 2020), Denver, Dublin (resumes July 6, 2020),] Edinburgh, Fort Lauderdale, Fort Myers, Frankfurt, Geneva, Guatemala City, Hong Kong (resumes August 3, 2020), Honolulu, Houston–Intercontinental, Las Vegas, Lima, Lisbon, London–Heathrow, Los Angeles, Madrid, Manchester (UK), Mexico City, Miami, Milan–Malpensa, Montego Bay, Mumbai (resumes September 8, 2020), Munich (resumes August 3, 2020), Nashville, Nassau, New Orleans, Orange County, Orlando, Panama City–Tocumen, Paris–Charles de Gaulle (resumes June 5, 2020), Phoenix–Sky Harbor, Pittsburgh, Portland (OR), Port of Spain, Providenciales, Puerto Plata, Puerto Vallarta, Punta Cana, Raleigh/Durham, Rome–Fiumicino, St. Maarten, Salt Lake City, San Antonio, San Diego, San Francisco, San José de Costa Rica, San José del Cabo, San Juan, San Pedro Sula, Santiago de los Caballeros, Santo Domingo–Las Américas, São Paulo–Guarulhos (resumes July 6, 2020), Sarasota, Seattle/Tacoma, Shanghai–Pudong (resumes June 4, 2020), Tampa, Tel Aviv, Tokyo–Haneda (begins August 3, 2020), Tokyo–Narita (resumes June 5, 2020), Washington–Dulles, West Palm Beach, Zurich
Seasonal: Anchorage, Athens, Belize City, Bermuda, Bozeman, Cape Town, Cozumel, Curaçao, Eagle/Vail, Glasgow, Grand Cayman, Hayden/Steamboat Springs, Jackson Hole, Jacksonville (FL), Kansas City, Liberia (CR), Montrose, Myrtle Beach, Naples, Nice (begins July 1, 2020), Palermo, Porto, Prague, Reykjavík–Keflavík, St. Kitts, St. Thomas, Sacramento, San Salvador, Shannon, Stockholm–Arlanda, Vancouver, Venice
United Express
Albany, Atlanta, Austin, Bangor, Boston, Buffalo, Burlington (VT), Charleston (SC), Charlotte, Cincinnati, Cleveland, Columbus–Glenn, Dallas/Fort Worth, Detroit, Fayetteville/Bentonville, Grand Rapids, Greensboro, Greenville/Spartanburg, Halifax, Havana, Indianapolis, Jacksonville (FL), Kansas City, Key West, Knoxville, Louisville, Madison, Memphis, Milwaukee, Minneapolis/St. Paul, Montréal–Trudeau, Nashville, New Orleans, Norfolk, Omaha, Pittsburgh, Portland (ME), Presque Isle, Providence, Québec City, Raleigh/Durham, Richmond, Rochester (NY), St. Louis, Sarasota, Savannah, Syracuse, Toronto–Pearson, Washington–Dulles, Washington–National, West Palm Beach
Seasonal: Asheville, Hilton Head, Miami, Myrtle Beach, Nantucket, Oklahoma City, Pensacola, Rapid City, Traverse City
VivaAerobus
Seasonal: Cancún
Cargo
| Airlines | Destinations |
| --- | --- |
| Amerijet International | Orlando, San Juan |
| Cargojet | Bermuda |
| DHL Aviation | Cincinnati |
| FedEx Express | Allentown, Anchorage, Atlanta, Boston, Charlotte, Chicago–O'Hare, Cleveland, Detroit, Fort Lauderdale, Greensboro, Indianapolis, Los Angeles, Memphis, Miami, Nashville, Norfolk, Paris–Charles de Gaulle, Pittsburgh, Washington–Dulles |
| FedEx Feeder | Albany (NY), Baltimore, Boston, Buffalo, Harrisburg, Plattsburgh, Providence, Syracuse, Washington–Dulles |
| UPS Airlines | Anchorage, Chicago/Rockford, Dallas/Fort Worth, Des Moines, Hartford, London–Stansted, Louisville, Ontario, Tokyo–Narita |
Airport information
Newark Airport, along with LaGuardia and Kennedy airports, uses a uniform style of signage throughout the airport properties. Yellow signs direct passengers to airline gates, ticketing and other flight services; green signs direct passengers to ground transportation services and black signs lead to restrooms, telephones and other passenger amenities. New York City traffic reporter Bernie Wagenblast provides the voice for the airport's radio station and curbside announcements, as well as the messages heard onboard AirTrain Newark and in its stations.
The airport has the IATA designation EWR, rather than a designation that begins with the letter 'N' because the designator of "NEW" is already assigned to Lakefront Airport in New Orleans, LA, and because the Department of the Navy uses three-letter identifiers beginning with N for its purposes. The airport has no official area to view flight traffic, but the IKEA of Elizabeth (located on the East side of the New Jersey Turnpike) may be used as an unofficial vantage point for aircraft both departing and landing.
Accommodations
Within the Newark Liberty International Airport complex is a Marriott hotel, the only hotel located on airport property. Shuttle vans operate between the hotel and terminals because the Marriott is not serviced by the monorail and there is no official walking route to the terminals, despite the Marriott's immediate proximity to the main parking lot between the terminals.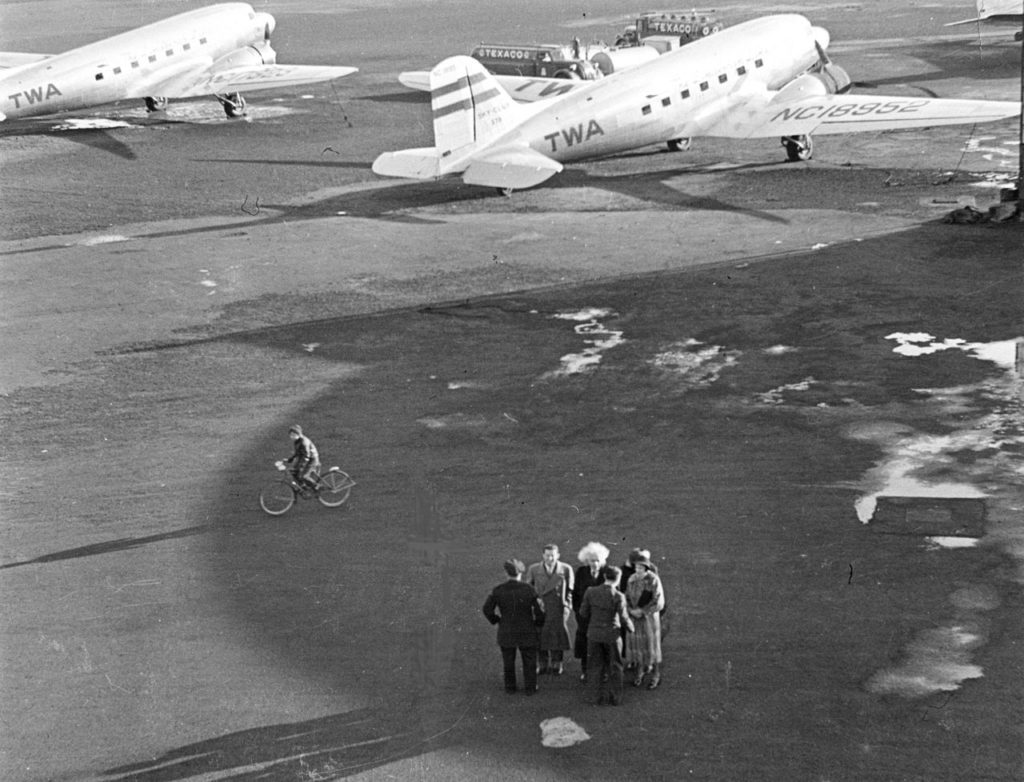 Accidents and incidents
On March 17, 1929, a Colonial Western Airlines Ford Tri-Motor suffered a double engine failure during its initial climb after takeoff, failed to gain height, and crashed into a railroad freight car loaded with sand, killing 14 of the 15 people on board. At the time, it was the deadliest aviation accident in American history.
On January 14, 1933, Eastern Air Transport, a Curtiss Condor, crashed at Newark; two crewmembers were killed.
On May 4, 1947, Union Southern Airlines, a Douglas DC-3 with 12 passengers and crew, crashed on landing at Newark after overrunning the runway and into a ditch where it burned. Two crewmembers were killed.
On December 16, 1951, a Miami Airlines C-46 Commando (converted for passenger use) lost a cylinder on takeoff from Runway 28 and crashed in Elizabeth, killing 56.
On January 22, 1952, American Airlines Flight 6780, a Convair 240, crashed in Elizabeth on approach to Runway 6, killing 30.
On February 11, 1952, National Airlines Flight 101, a Douglas DC-6, crashed in Elizabeth after takeoff from Runway 24, killing 33.
On April 18, 1979, a New York Airways commuter helicopter on a routine flight to LaGuardia Airport and John F. Kennedy International Airport plunged 150 feet (46 m) into the area between Runways 4L/22R and 4R/22L, killing three passengers and injuring 15. It was later determined the crash was due to a failure in the helicopter's tail rotor.
On March 30, 1983, a Learjet 23 operated by Hughes Charter Air, a night check courier flight, crashed on landing at EWR during an unstabilized approach. Both crewmembers were killed. Marijuana was later found in their systems, impairing judgement.
On July 31, 1997, FedEx Flight 14, a McDonnell Douglas MD-11, crashed while landing after a flight from Anchorage International Airport. The Number 3 engine contacted the runway during a rough landing, which caused the aircraft to flip upside down. The aircraft was destroyed by fire. The two crewmembers and three passengers escaped uninjured.
On September 11, 2001, United Airlines Flight 93 took off from Newark. It was hijacked by four al-Qaeda terrorists and diverted towards Washington DC, with the intent of crashing the plane into either The Capitol or the White House. After learning of the previous attacks on the World Trade Center and The Pentagon, the passengers attempted to retake control of the plane. The hijackers crashed the plane in a field in Pennsylvania.
On January 10, 2010, United Airlines Flight 634, an Airbus A319, made an emergency landing after the aircraft's right main landing gear failed to deploy. No passengers or crew members were injured during the landing. The aircraft sustained substantial damage in the accident.
On May 1, 2013, Scandinavian Airlines Flight 908, an A330-300 that was cleared for takeoff, collided with an ExpressJet Embraer ERJ-145 aircraft on the taxiway. The ERJ-145 lost its tail in the accident.
On May 18, 2013, a malfunctioning landing gear forced US Airways Flight 4560, a de Havilland Canada Dash 8-100, to make a belly landing. None of the passengers or crew were injured.
On March 2, 2019, Southwest Airlines Flight 6, a Boeing 737-700 registration N918WN, struck the tail of Southwest Flight 3133, a Boeing 737-700 parked at Gate A15 bound for Nashville, while taxiing to the runway. The incident is under review and both Southwest planes (N493WN and N918WN) were taken out of service for review. There were no injuries reported.
On June 15, 2019, United Airlines Flight 627, a Boeing 757-200 registration N26123, suffered fuselage damage on the nose landing gear from a hard landing. The aircraft reportedly skidded to the left side of runway 22L and the left main landing gear veered into the grass. Although no notable injuries were reported, the airport went into a complete ground stop, and flights were diverted to other airports. The Federal Aviation Administration is reviewing the incident.
On February 15, 2020, an alarm went off at Terminal A for unknown reasons. The incident is pending investigation.
Source: wikipedia