Sint Maarten Princess Juliana International Airport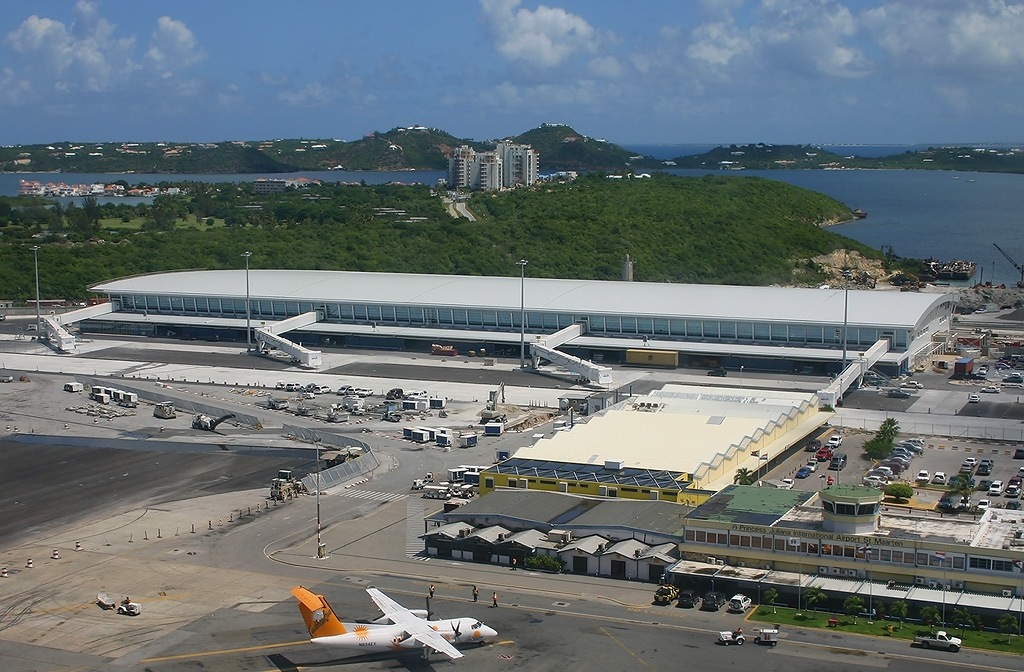 IATA: SXM ICAO: TNCM
Airport type
Public
Owner
Princess Juliana Int'l Airport Holding Company N.V.
Location
Sint Maarten (Saint-Martin)
Hub for
Winair
Elevation AMSL
14 ft / 4 m
Coordinates
18°02′27″N 063°06′34″WCoordinates: 18°02′27″N 063°06′34″W
Website
sxmairport.com
Princess Juliana International Airport (IATA: SXM, ICAO: TNCM) is the main airport on the Caribbean island of Saint Martin/Sint Maarten. The airport is located on the Dutch side of the island, in the country of Sint Maarten. In 2015, the airport handled 1,829,543 passengers and around 60,000 aircraft movements. The airport serves as a hub for Windward Islands Airways and is the major gateway for the smaller Leeward Islands, including Anguilla, Saba, St. Barthélemy and St. Eustatius. It is named after Queen Juliana, who landed here while still only heir presumptive in 1944, the year after the airport opened. The airport has very low-altitude flyover landing approaches, owing to one end of its runway being extremely close to the shore and Maho Beach. There is also an airport on the French side of the island, in the French Collectivity of Saint Martin, called Aéroport de Grand Case or L'Espérance Airport.

Facilities
Runway
The airport has a single runway numbered 10/28, measuring 7,546 ft x 148 ft (2,300 m x 45 m). It was renumbered from 09/27 in late 2008.
Pilots guided by GPS take a more efficient approach than those operating under VFR. Local airport rules prohibit aircraft from flying lower than 500 feet (150 m)
Arriving aircraft approach the island on the last section of the final approach for Runway 10, following a 3° glide slope flying low over the famous Maho Beach. The proximity of Maho Beach to the runway has made the airport one of the world's favorite places among planespotters despite the dangers. In 2017 a New Zealand woman died from injuries sustained by jet blast from a departing aircraft. Tourists have been often criticised for dangerous behavior on the beach.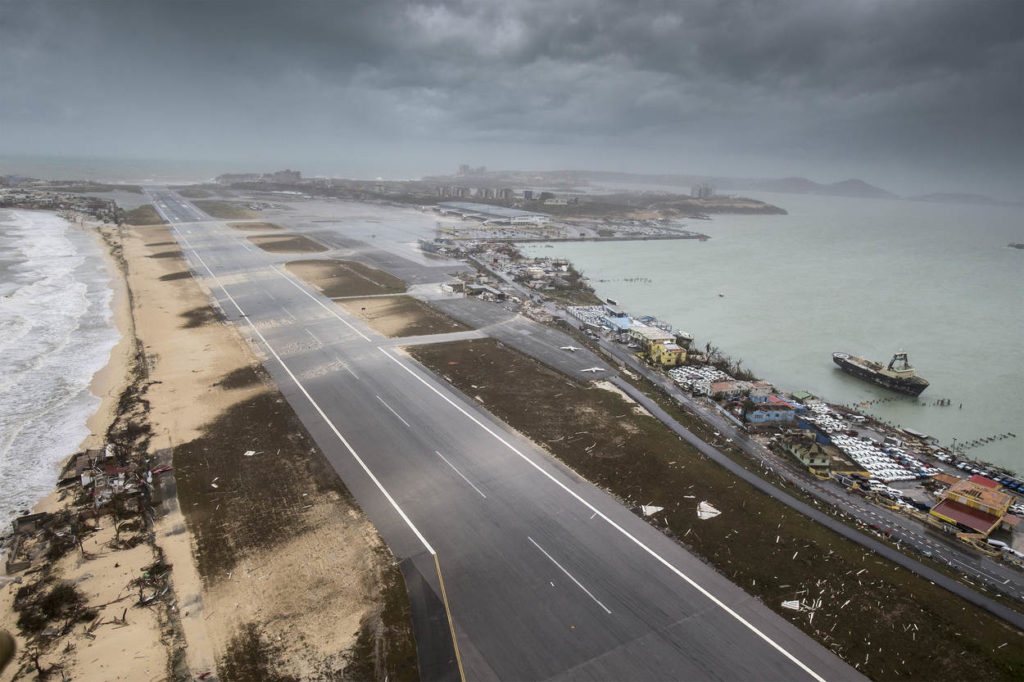 Apron
The main apron measures 72,500 square metres (780,000 sq ft) with another 5,000 square metres (54,000 sq ft) on Eastern apron. For freight handling a dedicated apron of 7,000 square metres (75,000 sq ft) is available.
Terminal
Designed to handle some 2.5 million passengers annually, the new four-story terminal building offered (at least until the arrival of Hurricane Irma) 30,500 square metres (328,000 sq ft) of floor space and was fully air-conditioned. Available facilities included 46 check-in desks, 10 transit desks and 13 boarding gates. There were 20 immigration booths for arriving passengers and five exit-control booths for departing passengers. The building also featured 40 shops and food & beverage units—some unique to St. Maarten—promoted under the retail theme 'So Much More'.
General aviation
To accommodate the growing international and local traffic of private aircraft, PJIA has a fixed-base operator building, offering office space and private lounges with dedicated customs.
Tower
Since official opening of the new control tower, PJIA air traffic controllers have two radar systems at their disposal with ranges of 50 nautical miles (93 km) and 250 nautical miles (460 km). PJIA controllers manage 4,000 square NM of airspace known as the Juliana TCA around the airport, roughly between 25 nautical miles (46 km) and 42 nautical miles (78 km) of the St Maarten VOR-DME. Besides providing approach, tower and ground control at PJIA, these controllers also provide approach control for Clayton J. Lloyd International Airport (Anguilla), L'Espérance Airport (French Saint Martin), Gustaf III Airport (St. Barths), F.D. Roosevelt Airport (St. Eustatius) and Juancho E. Yrausquin Airport (Saba).
Navigation
PJIA is equipped with VOR/DME and NDB. The airport's official operating hours are 07:00–21:00.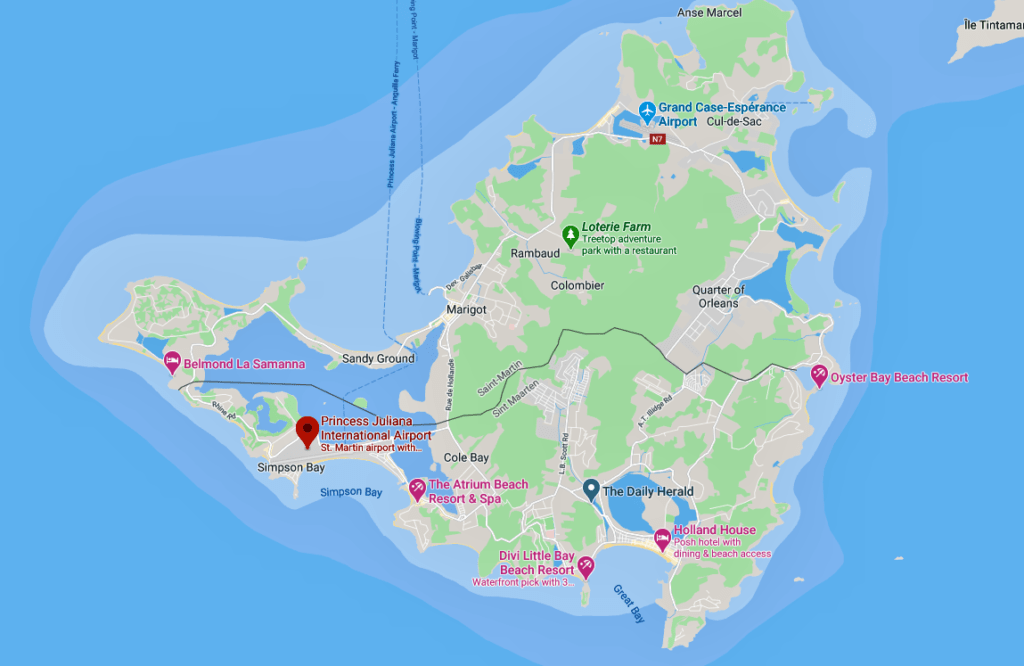 Airlines and destinations
Passenger
Airlines
Destinations
Air Canada
Seasonal: Toronto–Pearson
Air Caraïbes
Paris–Orly
Air Century
Santo Domingo–La Isabela
Air France
Paris–Charles de Gaulle
Air Sunshine
Anguilla, Dominica–Douglas-Charles, Nevis, St. Thomas, San Juan, Tortola, Virgin Gorda
Air Transat
Seasonal: Montréal–Trudeau, Toronto–Pearson
American Airlines
Charlotte, Miami, Philadelphia
Seasonal: New York–JFK
Caribbean Airlines
Kingston–Norman Manley, Port of Spain
Coastal Air
Anguilla, Dominica–Canefield, Nevis, St. Croix, St. Eustatius
Copa Airlines
Panama City–Tocumen
Delta Air Lines
Atlanta, New York–JFK
Divi Divi Air
Curaçao
Fly All Ways
Curaçao
Seasonal charter: Paramaribo
InterCaribbean Airways
Tortola
JetBlue
Fort Lauderdale, New York–JFK
Seasonal: Boston
KLM
Amsterdam
LIAT
Antigua, St. Kitts, Tortola
Seaborne Airlines
San Juan
Sky High Aviation Services
Santiago de los Caballeros, Santo Domingo–Las Américas
Spirit Airlines
Fort Lauderdale
St Barth Commuter
St. Barthélemy
Sunwing Airlines
Montréal–Trudeau, Toronto–Pearson
Trans Anguilla Airways
Anguilla
United Airlines
Newark
Seasonal: Chicago–O'Hare, Washington–Dulles
WestJet
Toronto–Pearson
Winair
Antigua, Aruba1, Bonaire2, Curaçao, Dominica–Canefield, Dominica–Douglas-Charles, Nevis, Pointe-à-Pitre, Port-au-Prince, Saba, St. Barthélemy, St. Eustatius, St. Kitts, San Juan, Santo Domingo–Las Américas, Tortola
Cargo
| Airlines | Destinations |
| --- | --- |
| Air Cargo Carriers | San Juan |
| Ameriflight | San Juan |
| Amerijet International | Miami, Santiago de los Caballeros, Santo Domingo |
| DHL Aviation | Antigua |
| FedEx Feeder | San Juan |
Accidents and incidents
On 21 December 1972, a De Havilland Canada Twin Otter operated by Air Guadeloupe on behalf of Air France crashed at night into the ocean near Sint Maarten, en route from Guadeloupe; all 11 passengers on board, along with both pilots, died.
On 30 October 2014, Skyway Enterprises Flight 7101, a Shorts SD-360 on behalf of FedEx, registration N380MQ performing flight SKZ-7101 from Sint Maarten (Dutch Caribbean) to San Juan (Puerto Rico) with 2 crew, was climbing out of Sint Maarten's runway 28 when the aircraft lost height and impacted waters about 2 nautical miles (3.7 km; 2.3 mi) off the coast (end of runway) at about 18:35L (22:35Z). Both pilots died.
On July 12 2017 a Caribbean Airline departing 737 took off from runway 10. A New Zealand woman was holding the fence while the 737 was departing. The force of the jet blast caused the woman to lose her grip and went head first into the concrete barrier. She was transported to the nearby hospital however she later died as a result of her injuries
In popular culture
Princess Juliana International Airport is the airport featured in the free demo version of Microsoft Flight Simulator X. In the full version of the program, it is the destination on the mission called "Caribbean Landing" where you land a Bombardier CRJ-700 on runway 10.
The History Channel program Most Extreme Airports ranks Princess Juliana Airport as the 4th most dangerous airport in the world.
Source: wikipedia