Denver International Airport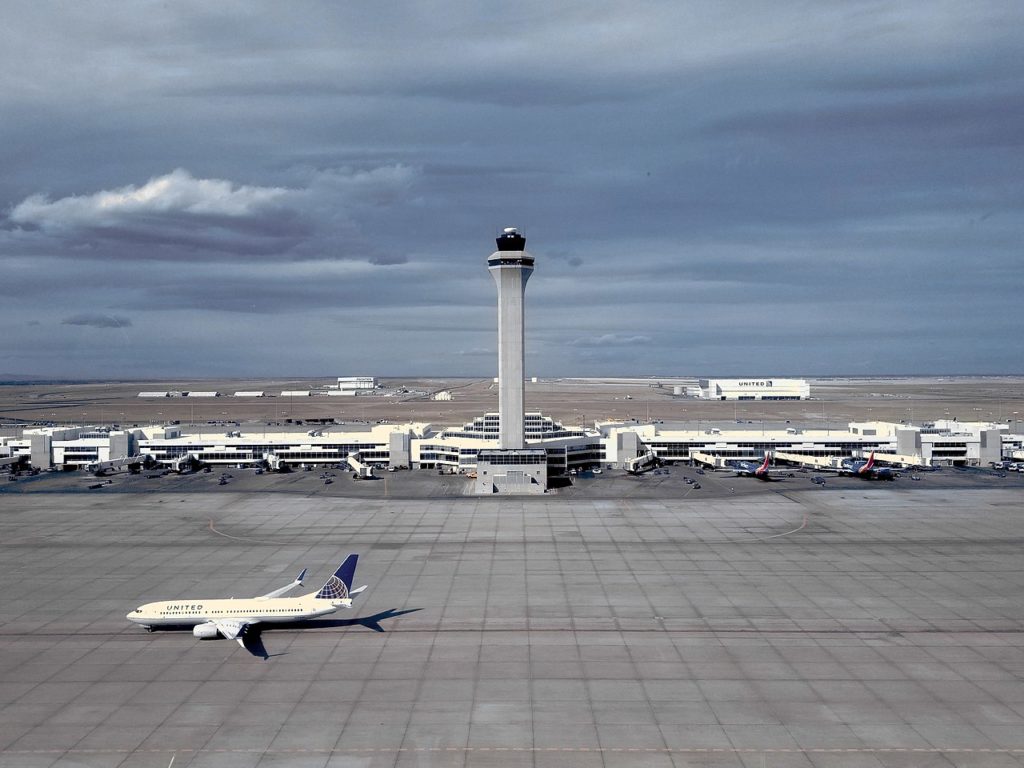 IATA: DEN ICAO: KDEN FAA LID: DEN WMO: 72565
Summary
Airport type
Public
Owner
City & County of Denver Department of Aviation
Operator
City & County of Denver Department of Aviation
Serves
Denver,
Front Range Urban Corridor
Location
Northeast Denver, Colorado, U.S.
Opened
February 28, 1995; 25 years ago
Hub for
Frontier Airlines United Airlines
Focus city for
Southwest Airlines
Elevation AMSL
5,434 ft / 1,656 m
Coordinates
39°51′42″N 104°40′23″WCoordinates: 39°51′42″N 104°40′23″W
Website
flydenver.com
Denver International Airport (IATA: DEN, ICAO: KDEN, FAA LID: DEN), locally known as DIA, is an international airport in the Western United States, primarily serving metropolitan Denver, Colorado, as well as the greater Front Range Urban Corridor. At 33,531 acres (52.4 sq mi; 135.7 km2] it is the largest airport in North America by land area and the second largest in the world, behind King Fahd International Airport. Runway 16R/34L, with a length of 16,000 feet (3.03 mi; 4.88 km), is the longest public use runway in North America and the seventh longest in the world. With over 35,000 employees, the airport is the largest employer in Colorado. The airport is located on the western edge of the Great Plains and within sight of the Front Range of the Rocky Mountains.
Opened in 1995, DEN currently has non-stop service to 215 destinations amongst 23 different airlines throughout North America, Latin America, Europe, and Asia; it is the fourth airport in the U.S. to exceed 200 destinations.[4] It has the second-largest domestic network, with 189 U.S. destinations. As of 2019, DEN is the 18th busiest airport in the world — the fifth busiest in the U.S. In 2019, the airport served 69,015,703 passengers, the most in its history. It is also the busiest airport in the Interior-West United States. The airport is a hub for both United Airlines and Frontier Airlines and is also a main operating base for Southwest Airlines. These three airlines' combined operations made up about 85% of the total passenger traffic at DIA as of December 2018.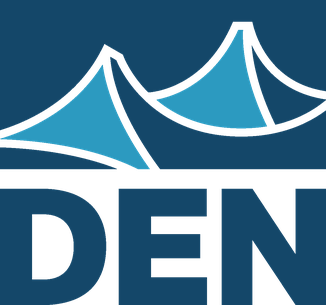 Geography
The airport is 25 miles (40 km) driving distance from Downtown Denver, which is 19 miles (31 km) farther away than Stapleton International Airport, the airport DIA replaced. The distant location was chosen to avoid aircraft noise affecting developed areas, to accommodate a generous runway layout that would not be compromised by blizzards, and to allow for future expansion.
The 52.4 square miles (136 km2; 33,500 acres)[2] of land occupied by the airport is more than one and a half times the size of Manhattan (33.6 square miles or 87 square kilometres). DIA occupies the largest amount of commercial airport land area in the United States and in North America, by a great extent. Dallas/Fort Worth International Airport is a distant second at 27.0 square miles (70 km2). The land was transferred from Adams County to Denver after a 1989 vote, increasing the city's size by 50 percent and bifurcating the western portion of the neighboring county. As a result, the Adams County cities of Aurora, Brighton, and Commerce City are actually closer to the airport than much of Denver. All freeway traffic accessing the airport from central Denver leaves the city and passes through Aurora for just shy of two miles (3.2 km), making the airport a practical exclave. Similarly, the A Line rail service connecting the airport with downtown Denver has two intervening stations in Aurora.
Facilities
Jeppesen Terminal
Jeppesen Terminal, named after aviation safety pioneer Elrey Borge Jeppesen, is the land side of the airport. Road traffic accesses the airport directly off of Peña Boulevard, which in turn is fed by Interstate 70 and E-470. Two covered and uncovered parking areas are directly attached to the terminal – four garages and an economy parking lot on the east side; and four garages and an economy lot on the west side.
The main terminal has six official floors, connected by elevators and escalators. Floors 1–3 comprise the lowest levels of the parking garages as well as the economy lots on both sides of the terminal. Floor 4 contains passenger pickup, as well as short-term and long-term parking. Floor 5 is used for parking as well as drop offs and pickups for taxis and shuttles to rental car lots and off-site parking. The fifth floor also contains the baggage carousels and security checkpoints. Floor 6 is used for passenger drop off and check-in counters. Passengers are routed first to airline ticket counters or kiosks on the sixth floor for checking in.
DIA has three midfield concourses, spaced far apart. Concourse A is accessible via a pedestrian bridge directly from the terminal building, as well as via the underground train system that services all three concourses. For access to Concourses B and C, passengers must utilize the train. Once in 1998 and again once in 2012, the train system encountered technical problems and shut down for several hours, creating tremendous back-logs of passengers in the main terminal since no pedestrian walkways exist between the terminal and the B and C Concourses. On both occasions, buses had to be used because of the train problems.
Concourse A has 51 gates, which includes several "ground load positions" requiring passengers to exit the main concourse through shared doors to access their aircraft. Twelve of the dedicated gates are currently equipped to handle international arrivals, and five gates are equipped to handle wide-body aircraft, of which four (A33, A37, A41 and A45) have twin jet bridges labeled A and B, and Gates A35, A39 and A43 and A47 can be extended to provide a third jetway for A33, A37 and A41 and A45 respectively, so that they can handle an Airbus A380. Concourse A handles all international arrivals (excluding airports with border preclearance) and departures as well as all domestic airlines except Alaska, Southwest, and Spirit.
At the time of the airport's opening, Concourse A was to be solely used by Continental Airlines for its Denver hub. However, due to its emergence from bankruptcy, as well as fierce competition from United, Continental chose to dismantle its hub just prior to the opening and only operated a handful of gates on A, before eventually moving to Concourse B prior to its merger with United.
Two airline lounges are currently located on the top floor of the central section of Concourse A: the shared American Airlines Admirals Club/British Airways Executive Club Lounge, and a Delta Air Lines Sky Club, the latter of which opened in 2016 in the location of the former USO lounge which relocated to a larger space nearby.
Concourse B has 70 gates.[19] United Airlines is the sole occupant of Concourse B. Mainline United flights operate from the main concourse building, whereas United Express operations are primarily handled at the east end of the concourse, which currently includes two concourse extensions for smaller regional planes. Four B gates (B32, B36, B38 & B42) near the center of the concourse are equipped to handle wide-body aircraft and each have twin jet bridges labeled A and B. There are two United Clubs on the second floor of Concourse B, situated about an equal distance away from the people mover station: one near gate B32 and the other near gate B44.
Former tenants of Concourse B include Continental Airlines and US Airways. Both airlines relocated there in November 2009 after United reached an agreement with DIA to allocate five gates at the western end of the concourse for use by its domestic Star Alliance partners. United would regain control of the three Continental gates after the merger between the two airlines. In February 2015, US Airways relocated the operations of their two gates to Concourse A as part of its merger process with American Airlines.
Concourse C has 29 gates. Southwest Airlines is the primary occupant of the concourse with only two other airlines, Alaska Airlines and Spirit Airlines, utilizing the concourse. A 2014 expansion added five new gates to the west end of the concourse. The expansion, at a cost of $46 million, allowed Southwest to consolidate all of its operations into Concourse C (prior to the expansion, Southwest was using two gates on Concourse A, which it had inherited from its merger with AirTran Airways).
American Express recently began construction on a 14,650-square-foot (1,361 m2) Centurion Lounge in the upper level of the eastern wing of Concourse C. The lounge is expected to open in mid-2020, and will be the second largest of its kind.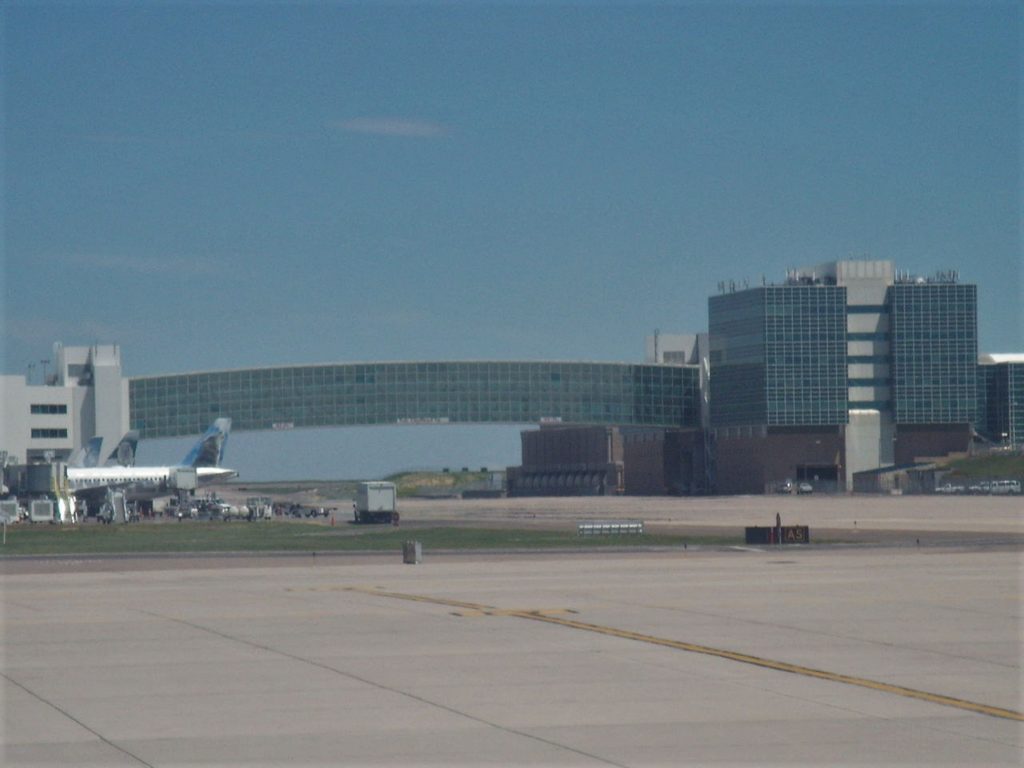 2018–2025 terminal renovation and concourse expansions
In 2018, work began on a major interior renovation and reconfiguration including the beginning phases of construction to relocate two out of the three TSA security checkpoints from the Great Hall on Level 5 to Level 6 (East & West) while simultaneously updating and consolidating airline ticket counters/check-in for all airlines. Eventually, both pre and post security gathering and leisure areas will be incorporated into the spaces where both expansive TSA security areas on Level 5 are currently located. The third TSA security checkpoint currently accessible via the Concourse A bridge is expected to be removed. The renovation and reconfiguration will bring back the original intent and use of the Great Hall as a large commons area for airport patrons and visitors to enjoy. This phased terminal project is expected to be completed by 2025.
Additionally, work is underway on expanding all three concourses, with 12 new gates being added to A (including several gates with direct access to U.S. Customs and Border Protection), 11 to B and 16 to C for a total of 39 gates. Following the completion of this project, United Airlines will lease 24 additional gates on both A and B (bringing its total gate count at DEN to around 90), as well as build a new United Club in A and expand their existing clubs in B. Southwest Airlines will lease 16 of the new gates on C bringing its total gate count at DEN to 40. Due to high demand from the airlines resulting in all the proposed and under construction new gates having now been leased out, an additional gate expansion project is under consideration. When both the ongoing terminal and concourse projects are completed, the airport will be able to handle upwards of 90 million passengers per year.
Hotel and Transit Center
The DIA Hotel and Transit Center is made up of three integrated functional areas: hotel, public ground transportation, and public plaza. Construction of the $544 million project began on October 5, 2011,and was completed April 2016. The project directly connects a hotel and transit center to the Jeppesen terminal and includes a commuter rail train station, run by Regional Transportation District (RTD), and a 519-room hotel and conference center, run by Westin Hotels & Resorts. The hotel opened November 19, 2015,[30] and the commuter rail service began on April 22, 2016. Gensler and Anderson Mason Dale Architects were the project architects. The project builder was MHS, a tri-venture composed of Mortenson Construction, Hunt Construction, and Saunders Construction.The rail station is located underneath the hotel with a weather-protection canopy extending 150 foot (46 m) south from the hotel and over the tracks. The rail service provides a direct connection between downtown Denver Union Station and the airport. There is also room for additional future rail lines. Ten bus bays are located under the hotel and adjacent to the transit center/rail lines providing connections for RTD regional buses to Aurora, Boulder, and Westminster as well as shuttle bus service for economy lots and airport employees. The plaza is operated by Denver Arts and Venues, the City and County of Denver agency that operates Denver-owned entertainment venues.
Ground transportation
The Regional Transportation District (RTD) operates three bus routes under the frequent airport express bus service called skyRide, as well as one Express bus route and one Limited bus route, between DIA and various locations throughout the Denver-Aurora and Boulder metropolitan areas. RTD also operates the University of Colorado A Line, a commuter rail line that runs between the airport and Denver Union Station in downtown Denver.
Scheduled bus service is also available to points such as Fort Collins, and van services stretch into Nebraska, Wyoming, and Colorado summer and ski resort areas. Amtrak offers a Fly-Rail plan for ticketing with United Airlines for trips into scenic areas in the Western U.S. via a Denver stopover.
The Regional Transportation District's airport rail link is an electric commuter rail line that runs from Denver Union Station to the DIA Hotel and Transit Center. The A Line, sometimes called the East Rail Line, and under a sponsorship agreement called "University of Colorado A Line", connects passengers between downtown Denver and Denver International Airport in about 37 minutes. The line connects to RTD's rail service that runs throughout the metro area. The A Line is a 22.8-mile commuter rail transit corridor connecting these two important areas while serving adjacent employment centers, neighborhoods and development areas in Denver and Aurora. The A Line was constructed and funded as part of the Eagle P3 public-private partnership and opened for service on April 22, 2016.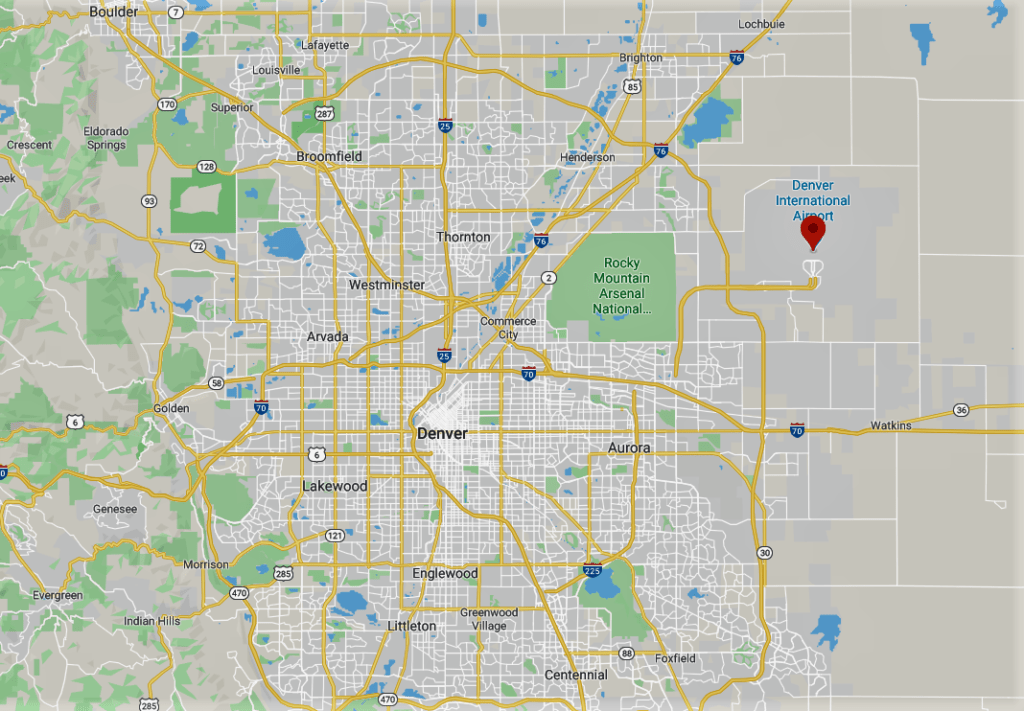 Airlines and destinations
Passenger
Aeroméxico
Mexico City
Aeroméxico Connect
Seasonal: Monterrey
Air Canada
Montréal–Trudeau, Toronto–Pearson
Air Canada Express
Vancouver
Alaska Airlines
Seattle/Tacoma
Allegiant Air
Cincinnati
Seasonal: Asheville, Knoxville
American Airlines
Charlotte, Chicago–O'Hare, Dallas/Fort Worth, Los Angeles, Miami, Philadelphia, Phoenix–Sky Harbor
American Eagle
Los Angeles
Boutique Air
Alamosa (CO), Chadron, Cortez, McCook
Seasonal: Telluride (CO)
British Airways
London–Heathrow
Cayman Airways
Seasonal: Grand Cayman
Copa Airlines
Panama City
Delta Air Lines
Atlanta, Cincinnati, Detroit, Los Angeles, Minneapolis/St. Paul, New York–JFK, New York–LaGuardia, Salt Lake City, Seattle/Tacoma
Denver Air Connection
Alliance, Clovis (NM), Telluride (CO)
Edelweiss Air
Seasonal: Zurich
Frontier Airlines
Albuquerque, Atlanta, Austin, Billings, Buffalo, Calgary, Cancún, Charlotte, Chicago–O'Hare, Cincinnati, Cleveland, Columbus–Glenn, Dallas/Fort Worth, Des Moines, El Paso, Fayetteville/Bentonville, Greenville/Spartanburg, Harlingen, Houston–Intercontinental, Indianapolis, Kansas City, Las Vegas, Little Rock, Los Angeles, Louisville, Madison, Memphis, Miami, Milwaukee, Minneapolis/St. Paul, Nashville, Newark, New Orleans, Norfolk, Oklahoma City, Omaha, Ontario, Orange County, Orlando, Pensacola, Philadelphia, Phoenix–Sky Harbor, Portland (OR), Raleigh/Durham, Reno/Tahoe, Sacramento, St. Louis, Salt Lake City, San Antonio, San Diego, San Jose (CA), San Francisco, Seattle/Tacoma, Tampa, Tucson, Washington–Dulles, Washington–National, Wichita
Seasonal: Albany, Baltimore, Bismarck, Bloomington/Normal, Boise, Boston, Bozeman, Branson, Burlington (VT), Cedar Rapids/Iowa City, Charleston (SC), Detroit, Fargo, Fort Lauderdale, Fort Myers, Fresno, Grand Rapids, Green Bay, Harrisburg, Hartford, Huntsville, Jackson (MS), Jackson Hole, Jacksonville (FL), Lafayette (LA), Knoxville, Missoula, Myrtle Beach, New York–LaGuardia, Palm Springs, Portland (ME), Puerto Vallarta, Santa Barbara, Sioux Falls, Savannah, Spokane, Syracuse, Tulsa
Icelandair
Reykjavík–Keflavík
JetBlue
Boston, New York–JFK
Lufthansa
Frankfurt, Munich
Norwegian Air Shuttle
Seasonal: London–Gatwick, Paris–Charles de Gaulle, Rome–Fiumicino
Southwest Airlines
Albany, Albuquerque, Atlanta, Austin, Baltimore, Boise, Boston, Buffalo, Burbank, Cancún (resumes June 7, 2020), Chicago–Midway, Cincinnati, Cleveland, Columbus–Glenn, Dallas–Love, Des Moines, Detroit, El Paso, Fort Lauderdale, Grand Rapids, Hartford, Houston–Hobby, Indianapolis, Jacksonville (FL), Kansas City, Las Vegas, Long Beach, Louisville, Los Angeles, Lubbock, Memphis, Milwaukee, Minneapolis/St. Paul, Nashville, New Orleans, New York–LaGuardia, Oakland, Oklahoma City, Omaha, Ontario, Orange County (CA), Orlando, Philadelphia, Phoenix–Sky Harbor, Pittsburgh, Puerto Vallarta, Portland (OR), Raleigh/Durham, Reno/Tahoe, Sacramento, St. Louis, Salt Lake City, San Antonio, San Diego, San Francisco, San Jose (CA), San José del Cabo (resumes June 7, 2020), Seattle/Tacoma, Spokane, Tampa, Tucson, Tulsa, Wahington–Dulles
: Belize City, Charleston (SC), Fort Myers, Norfolk, Panama City (FL), Pensacola
Spirit Airlines
Austin, Baltimore, Chicago–O'Hare, Detroit, Fort Lauderdale, Houston–Intercontinental, Las Vegas, Orlando
Seasonal: Los Angeles, Minneapolis/St. Paul
Sun Country Airlines
Seasonal: Minneapolis/St. Paul
United Airlines
Albuquerque, Anchorage, Atlanta, Austin, Baltimore, Billings, Boise, Boston, Bozeman, Burbank, Calgary, Cancún, Cedar Rapids/Iowa City, Chicago–O'Hare, Cincinnati, Cleveland, Colorado Springs, Columbus–Glenn, Dallas/Fort Worth, Des Moines, Detroit, Eugene, Fort Lauderdale, Fort Myers, Frankfurt (resumes July 6, 2020), Grand Rapids, Hartford, Honolulu, Houston–Intercontinental, Indianapolis, Jacksonville (FL), Kahului, Kailua–Kona, Kansas City, Las Vegas, Lihue, London–Heathrow, Los Angeles, Madison, Medford, Memphis, Milwaukee, Minneapolis/St. Paul, Missoula, Nashville, Newark, New Orleans, New York–LaGuardia, Norfolk, Oklahoma City, Omaha, Ontario, Orange County, Orlando, Philadelphia, Phoenix–Sky Harbor, Pittsburgh, Portland (OR), Puerto Vallarta, Raleigh/Durham, Reno/Tahoe, Richmond, Sacramento, St. Louis, Salt Lake City, San Antonio, San Diego, San Francisco, San Jose (CA), San José del Cabo, Santa Barbara, Seattle/Tacoma, Sioux Falls, Spokane, Tampa, Tokyo–Narita (resumes July 6, 2020), Toronto–Pearson, Tulsa, Vancouver, Washington–Dulles, Washington–National, Wichita
Seasonal: Burlington (VT), Charlotte, Cozumel, Fairbanks, Jackson Hole, Kalispell, Liberia (CR), Miami, Nassau, Palm Springs, Portland (ME), Sarasota, Tucson
United Express
Albuquerque, Amarillo, Appleton, Aspen, Atlanta, Austin, Bakersfield, Billings, Birmingham (AL), Bismarck, Boise, Bozeman, Burbank, Calgary, Casper, Cedar Rapids/Iowa City, Charleston (SC), Charlotte, Cody, Colorado Springs, Columbia (MO), Dallas/Fort Worth, Dayton, Des Moines, Devils Lake, Dickinson, Dodge City, Durango (CO), Eagle/Vail, Edmonton, El Paso, Eugene, Eureka, Everett, Fargo, Fayetteville/Bentonville, Flagstaff, Fresno, Gillette, Grand Junction, Grand Rapids, Great Falls, Greenville/Spartanburg, Gunnison/Crested Butte, Hayden/Steamboat Springs, Hays, Helena, Hobbs, Huntsville, Idaho Falls, Indianapolis, Jackson Hole, Jamestown (ND), Kalispell, Kansas City, Kearney, Knoxville, Laramie, Liberal, Lincoln, Little Rock, Louisville, Lubbock, Madison, Medford, Memphis, Midland/Odessa, Minot, Missoula, Moab, Monterey, Moline/Quad Cities, Montrose, Nashville, New Orleans, North Platte, Oklahoma City, Omaha, Palm Springs, Pierre, Phoenix–Sky Harbor, Prescott, Pueblo, Rapid City, Redmond/Bend, Reno/Tahoe, Richmond, Riverton, Rock Springs, Sacramento, St. George (UT), St. Louis, Salt Lake City, Salina, San Antonio, San Diego, San Jose (CA), San Luis Obispo, Santa Barbara, Santa Fe, Santa Maria (CA) (begins October 1, 2020), Santa Rosa, Savannah, Scottsbluff, Sheridan (WY), Shreveport, Sioux Falls, Spokane, Springfield/Branson, Syracuse, Toronto–Pearson, Tri-Cities (WA), Tucson, Tulsa, Vernal, Watertown (SD), Wichita, Williston (ND), Winnipeg
Seasonal: Destin/Fort Walton Beach, Mammoth Lakes, Norfolk, North Bend/Coos Bay, Panama City (FL), Pensacola, Sun Valley, Traverse City
Volaris
Chihuahua, Guadalajara, Mexico City (all suspended)
WestJet
Calgary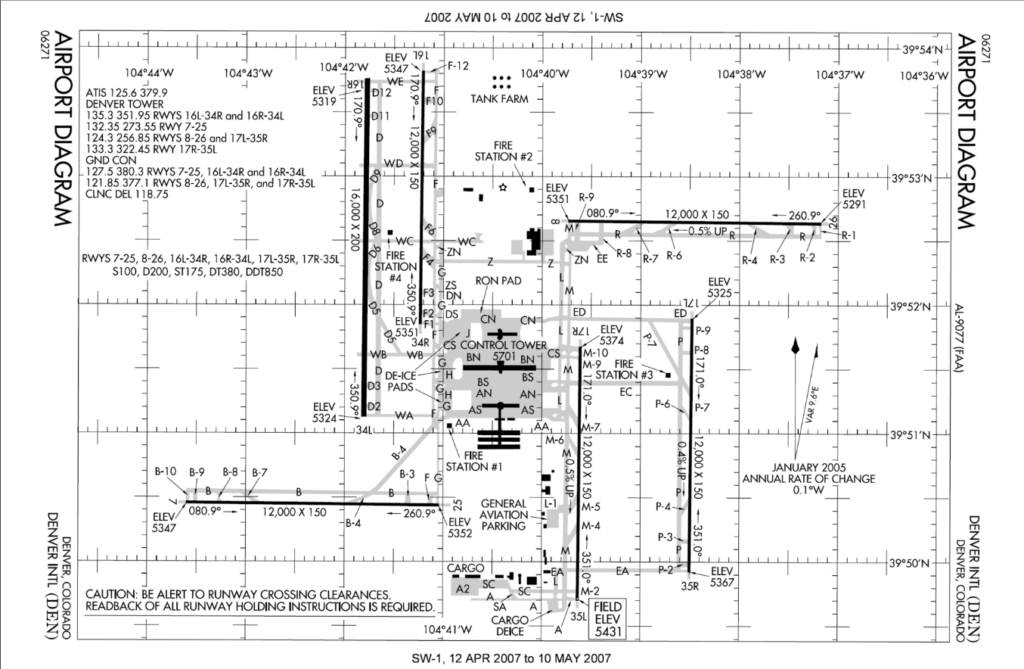 Cargo
Airlines
Destinations
AirNet Express
Columbus–Rickenbacker
Amazon Air
Cincinnati, Ontario
Bemidji Airlines
Colby, Goodland, McCook, North Platte, Sidney, Trinidad
DHL Aviation
Cincinnati, Reno/Tahoe
FedEx Express
Billings, Fort Worth/Alliance, Fresno, Indianapolis, Los Angeles, Memphis, Oakland, Phoenix–Sky Harbor, San Jose
Seasonal: Houston– Intercontinental
IAG Cargo
London–Heathrow
Lufthansa Cargo
Frankfurt, Munich
UPS Airlines
Billings, Burbank, Chicago/Rockford, Louisville, Ontario, Reno/Tahoe, Salt Lake City, Everett-Paine Field-Boeing
Seasonal: Hartford
Features
Aesthetics
The Jeppesen Terminal's internationally recognized peaked roof, designed by Fentress Bradburn Architects, resembles snow-capped mountains and evokes the early history of Colorado when Native American teepees were located across the Great Plains. The catenary steel cable system, similar to the Brooklyn Bridge design, supports the fabric roof. DIA is also known for a pedestrian bridge connecting the terminal to Concourse A that allows travelers to walk from the main Terminal to Concourse A, while viewing planes taxiing beneath them. It offers views of the Rocky Mountains to the west and the high plains to the east.
Art
Both during construction and after opening, DIA has set aside a portion of its construction and operation budgets for art. The corridor from the main terminal and Concourse A frequently displays temporary art exhibits. A number of public art works are present in the underground train that links the main terminal with concourses, including art pieces from the history of Colorado.
The airport features a bronze statue of Denver native Jack Swigert in Concourse B. Swigert flew on Apollo 13 as Command Module Pilot, and was elected to the House of Representatives in 1982, but died of cancer before he was sworn in. The statue is dressed in an A7L pressure suit, and is posed holding a gold-plated helmet. It is a duplicate of a statue placed at the United States Capitol in 1997.
In March 2019 the airport unveiled an animated, talking gargoyle in the middle of one of the concourses. The gargoyle interacts with passengers and jokes about the supposed conspiracies connected to the airport.
Other DIA Art Commissions have been awarded to artists Leo Tanguma, Gary Sweeney, and Gary Yazzie.
In 2013 the DIA was honored by USA Today for having one of the ten best airports for public art in the United States.
Blue Mustang
Blue Mustang, by El Paso-born artist Luis Jiménez, was one of the earliest public art commissions for Denver International Airport in 1993. The 32-foot-tall (9.8 m) Blue Mustang is a bright blue cast-fiberglass sculpture with glowing red eyes located between the inbound and outbound lanes of Peña Boulevard. Jiménez was killed in 2006 at age 65 while creating the sculpture when the head fell on him and severed an artery in his leg. At the time of his death, Jiménez had completed painting the head of the mustang. Blue Mustang was completed by others, and unveiled at the airport on February 11, 2008. The statue has been the subject of considerable controversy, and has acquired the nickname Blucifer for its demonic appearance. The sculpture has been defended and disparaged by many people; one incident involved the vandalizing of the sculpture's hooves with orange paint. It is believed that the vandals's actions may have been driven by wanting to include the color orange as an homage to the Denver Broncos' team colors, orange and blue. This crime was responded to with outrage from the locals who saw the sculpture as "a beloved piece of art, not just for the airport but for the whole city of Denver."
Denver Airport Murals
The Denver International Airport has four murals, all of which have been the topic of conspiracy theorists and debate. The murals are very ambiguous in meaning, depicting scenes including caged animals, fires, suffering people, and a soldier with a blade and a gas mask. They have been interpreted in the past by onlookers to represent war, hope, and even the New World Order.
Solar energy system
Denver International Airport currently has four solar photovoltaic arrays on airport property, with a total capacity of 10 megawatts or 16 million kilowatt-hours of solar electricity annually.
Partial view of the solar farm under construction, leaving the airport, July 1, 2008
Solar I
In mid-2008, Denver International Airport inaugurated a $13 million (equivalent to $15.4 million today) solar farm situated on 7.5 acres (330,000 sq ft; 30,000 m2) directly south of Jeppesen Terminal between Peña Boulevard's inbound and outbound lanes. The solar farm consists of more than 9,200 solar panels that follow the sun to maximize efficient energy production and generate more than 3.4 million kilowatt hours of electricity per year. Owned and run by a specialist independent energy company, Fotowatio Renewable Ventures, its annual output amounts to around 50% of the electricity required to operate the train system that runs between the airport's terminal and gate areas. By using this solar-generated power, DEN will reduce its carbon emissions as much as five million pounds each year.
Solar II
In December 2009, a $7 million ($8.3 million today), 1.6-megawatt solar project on approximately nine acres (390,000 sq ft; 36,000 m2) north of the airport's airfield went into operation. The array is a project that involves MP2 Capital and Oak Leaf Energy Partners generating over 2.7 million kilowatt-hours of clean energy annually and provides approximately 100% of the airport's fuel farm's electricity consumption.
Solar III
A third solar installation situated on 28 acres (1,200,000 sq ft; 110,000 m2), dedicated in July 2011, is a 4.4MW complex, expected to generate 6.9 million kilowatt-hours of energy. Intermountain Electric Inc. built the system, with solar panels provided by Yingli Green Energy. The power array will reportedly reduce CO2 emissions by 5,000 metric tons per year.
Solar IV
The airport added its fourth solar power array in June 2014. The $6 million system can generate up to 2MW, or 3.1 million kilowatt-hours of solar electricity annually. It is located north of the airfield and provides electricity directly to the Denver Fire Department's Aircraft Rescue and Fire Fighting (ARFF) Training Academy.
Denver International Airport's four solar array systems now produce approximately six percent of the airport's total power requirements. The output makes DEN the largest distributed generation photovoltaic energy producer in the state of Colorado, and the second-largest solar array among U.S. airports.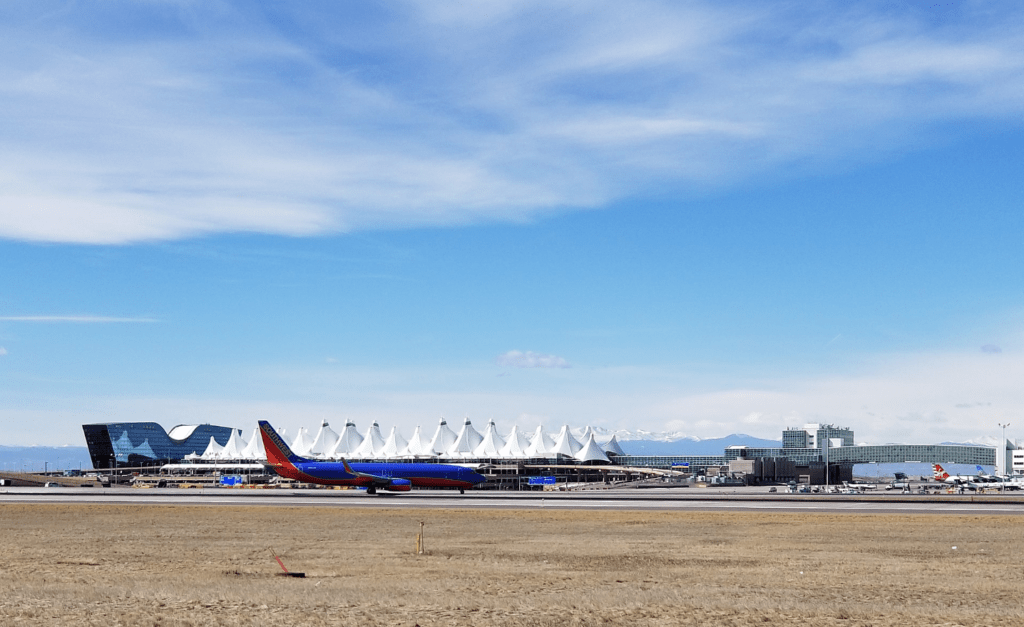 Accidents and incidents
On September 5, 2001, a British Airways Boeing 777 caught on fire while it was being refueled at the gate. None of the deplaning passengers or crew were injured, but the refueler servicing the aircraft died from his injuries six days after the fire. The NTSB found that the accident occurred due to a failure of the aircraft's refueling ring when the fuel hose was disconnected at an improper angle.
On February 16, 2007, 14 aircraft suffered windshield failures within a three-and-a-half-hour period at the airport. A total of 26 windshields on these aircraft failed. The NTSB opened an investigation, determining that foreign object damage was the cause, possibly the sharp sand used earlier that winter for traction purposes combined with wind gusts of 48 mph (77 km/h).
On December 20, 2008, a Continental Airlines Boeing 737-500 operating as Flight 1404 to Houston–Intercontinental Airport veered off the left side of runway 34R and caught fire during its takeoff roll at DIA. There was no snow or ice on the runway, however there were 31-knot (36 mph; 57 km/h) crosswinds at the time of the accident. On July 13, 2010, the NTSB published that the probable cause of this accident was the captain's cessation of right rudder input, which was needed to maintain directional control of the airplane. Of the 115 people on board, at least 38 sustained injuries, at least two critically.
On April 3, 2012, an ExpressJet Embraer ERJ-145, registration N15973, operating as Flight UA/EV-5912 from Peoria, IL to Denver, was landing on 34R when the aircraft hit the approach lights and stopped on the runway. Smoke developed inside the aircraft and passengers were evacuated onto the runway. One passenger was taken to hospital for treatment of his injuries.
Controversy
Land dispute
Denver and jurisdictions surrounding the airport are involved in a protracted dispute over how to develop land around the facility. Denver Mayor Michael Hancock wants to add commercial development around the airport, but officials in Adams County believe doing so violates the original agreement that allowed Denver to annex the land on which the airport sits.
Source: https://en.wikipedia.org/wiki/Denver_International_Airport