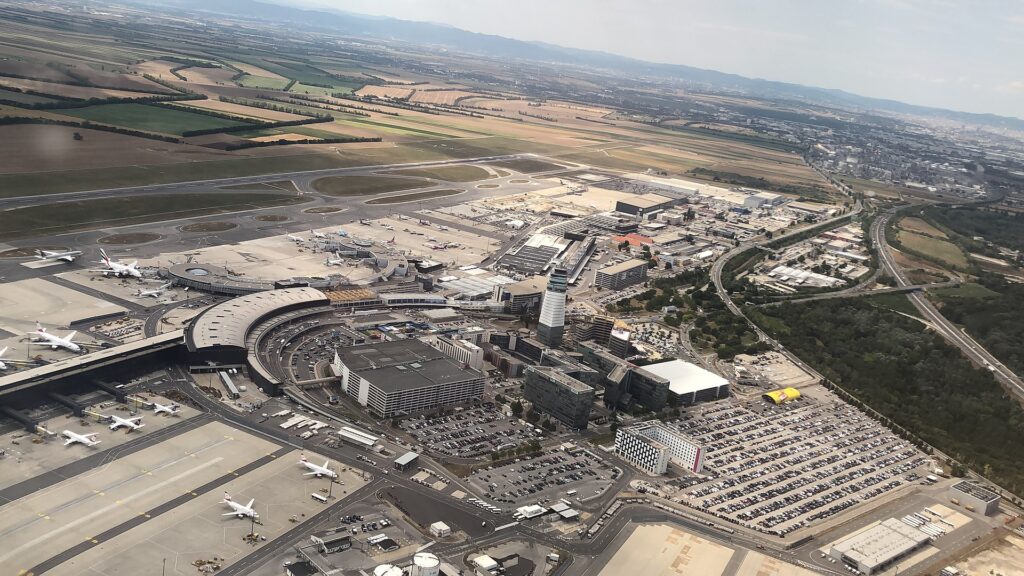 IATA: VIE ICAO: LOWW
Airport type
Public
Operator
Flughafen Wien AG
Serves
Vienna, Austria and
Bratislava, Slovakia
Location
Schwechat, Austria
Hub for
Austrian Airlines
Focus city for
Eurowings Europe Korean Air Cargo Ryanair Wizz Air
Elevation AMSL
183 m / 600 ft
Coordinates
48°06′39″N 016°34′15″ECoordinates: 48°06′39″N 016°34′15″E
Website
viennaairport.com
Vienna International Airport (German: Flughafen Wien-Schwechat, Slovak: Letisko Viedeň-Schwechat; IATA: VIE, ICAO: LOWW) is the international airport of Vienna, the capital of Austria, located in Schwechat, 18 km (11 mi) southeast of central Vienna and 57 kilometres (35 mi) west of Bratislava. It is the country's largest airport and serves as the hub for Austrian Airlines and Eurowings Europe as well as a base for low-cost carriers Lauda, Wizz Air and Ryanair. It is capable of handling wide-body aircraft up to the Airbus A380. The airport features a dense network of European destinations as well as long-haul flights to Asia, North America and Africa. In 2018, the airport handled 27 million passengers, a 10.8% increase compared to 2017.

Development since the 2000s
In 2006, the 109 m (358 ft) tall control tower started operating. It allows a free overview of the entire airport area and offers a night laser show, which should welcome the passengers even from the aircraft. From 2004–2007, an Office Park had been erected offering 69,000 m2 (740,000 sq ft) of rentable space. A VIP- and general aviation-terminal, including a separated apron, opened in 2006.
To accommodate future growth, in 1998 Vienna Airport published a master plan that outlined expansion projects until 2015. These projects included a new office park, railway station, cargo center, general aviation center, air traffic control tower, terminal, and runway. Additionally, the plan called for streamlined security control. The centerpiece of the enlargement was the new terminal, dubbed Skylink during its construction. In 2002, the airport's management estimated that building the new terminal will cost €401.79 million. However, costs skyrocketed and in 2009 stood at an estimated €929.5 million. The Austrian Court of Audit then recommended that the airport implement several cost-savings measures, which in the Court's estimate brought down final costs to €849.15 million, still more than double the original plans.
On June 5, 2012, the new Austrian Star Alliance Terminal (Terminal 3, named Skylink during its construction) was opened, which enables the airport to handle up to 30 million passengers per year. Construction started in 2004 and was suspended due to projected cost increases in 2009, but resumed in 2010. The maximum planned costs totaled less than €770 million. Following concerns over the mismanagement of the Skylink project, chief executive Herbert Kaufman agreed to resign at the end of December 2010. The new building with its North Pier has 17 jetbridges and makes the airport capable of handling more aircraft, although the new terminal is not able to handle Airbus A380 aircraft. However, the older Concourse D will see an upgrade to accommodate the A380.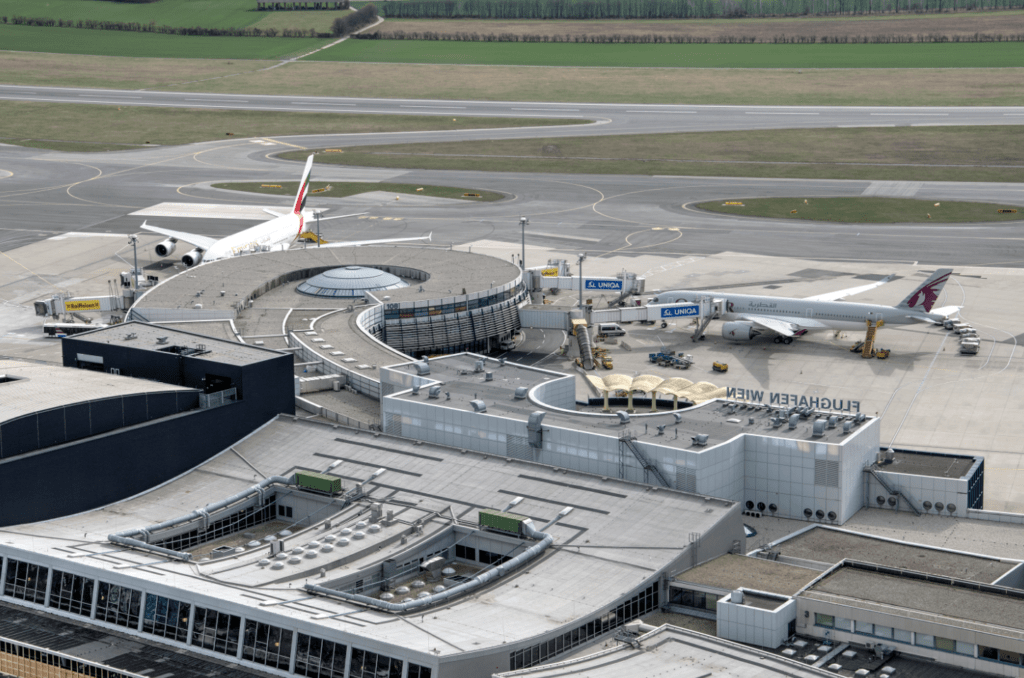 Terminals
The airport has four terminal buildings named Terminal 1, 2 and 3 which are directly built against each other as well as the additional Terminal 1A located opposite Terminal 1. Terminals 1, 2 and 3 connect to the five concourses. The central arrivals hall for all terminal areas is located in Terminal 3.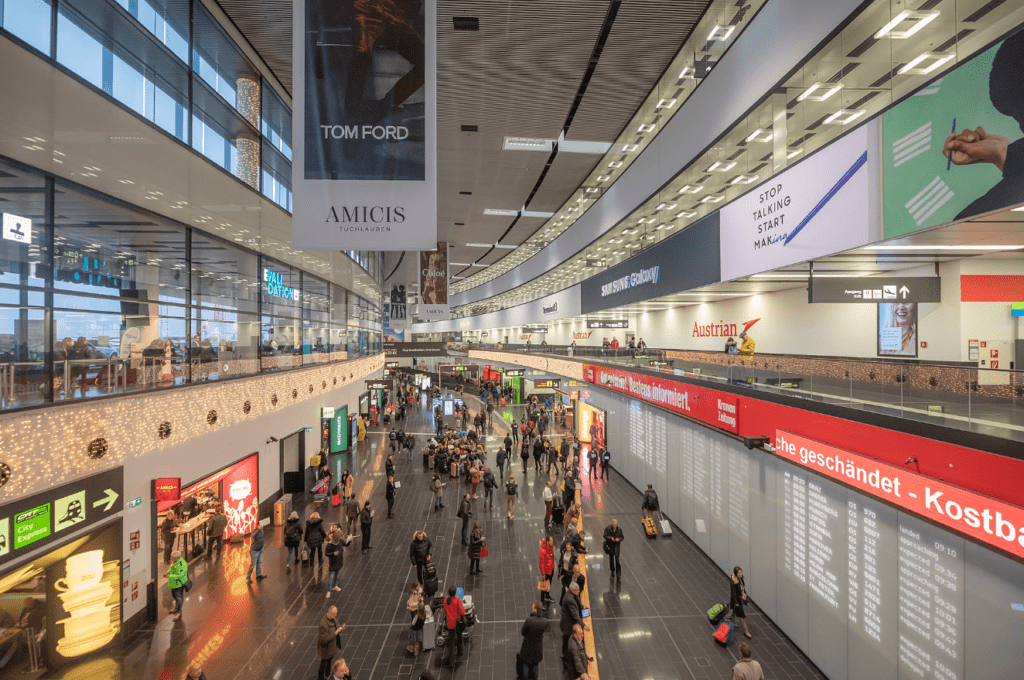 Terminal 1 underwent refurbishment in January 2013 and is now mainly used by some oneworld and SkyTeam airlines.
Terminal 1A, located in a standalone building opposite Terminal 1 hosts check-in facilities for a number of low-cost carriers.
Terminal 2 is currently closed, pending refurbishment.[10] It was used by numerous foreign airlines whose check-in facilities have been primarily relocated to Terminal 1.
Terminal 3, also referred to as the Austrian Star Alliance Terminal, with its adjoining Concourses F and G is the airport's newest facility. It is used by the Austrian Airlines Group, most Star Alliance members, and a number of other carriers including Emirates, El Al, Korean Air, Royal Jordanian and Qatar Airways.
Concourses
Concourse B is in the basement of Concourse C and features Gates B31–B42 (boarding by buses) for Schengen destinations
Concourse C (pier west) for Schengen destinations; features Gates C31–C42 (jetbridges), C71–C75 (buses, Schengen only)
Concourse D (pier east; formerly Concourse A) for non-Schengen destinations with shared passport control at the entrance of pier east; features Gates D21–D29 (boarding via jetbridges), D31–D37 (boarding via buses), D61–D70 (buses). Concourse D will be refurbished and equipped to handle the Airbus A380 as part of the refurbishment programme announced in March 2016.
Concourse F (Level 1 of pier north) is used for Schengen destinations and consists of Gates F01-F37 (jetbridges and buses)
Concourse G (Level 3 and basement of pier north) for non-Schengen destinations; shared passport control at the entrance of Level 3; features Gates G01-G37 (jetbridges and busgates) and G61-67 (boarding via buses)
Expansion projects
Vienna Airport originally projected that it would need a third runway by 2012, or 2016 at the latest, in the event of cooperation with nearby Bratislava Airport. It currently projects that a third runway will be necessary by 2025, however, environmental organizations and some local communities oppose construction. These groups have attacked the decision of Lower Austria (the state in which the airport is located) to move ahead with the first phase of construction; verdict from the administrative court that has taken up the lawsuit was expected later in 2015. As of September 2016, there were ongoing public protests while as no legal decision had been made. On 28 March 2018, the Austrian Federal Administrative Court ruled in favour of a third runway, a decision that may be appealed by opponents within six weeks.
The third runway is planned to be parallel to and south of the existing runway 11/29. It will be designated 11R/29L, with the existing runway being renamed 11L/29R. The new runway is planned to be 3680 m long and 60 m wide, and equipped with a category III instrument landing system in one direction (29L).
In July 2019, the refurbishment of Terminal 2 started. Terminal 2 is planned to reopen in the end of 2020. Once Terminal 2 has been reopened, Concourse D will be closed for reburbishment at the beginning of 2021, it is expected to open again in 2023. In addition to that, a completely new building will be built. It will connect the existing pier east and pier north. The so called T3 Southern Enlargement will be offering 70,000 m2 (750,000 sq ft) of leisure area and new additional bus gates. Opening is set for 2023.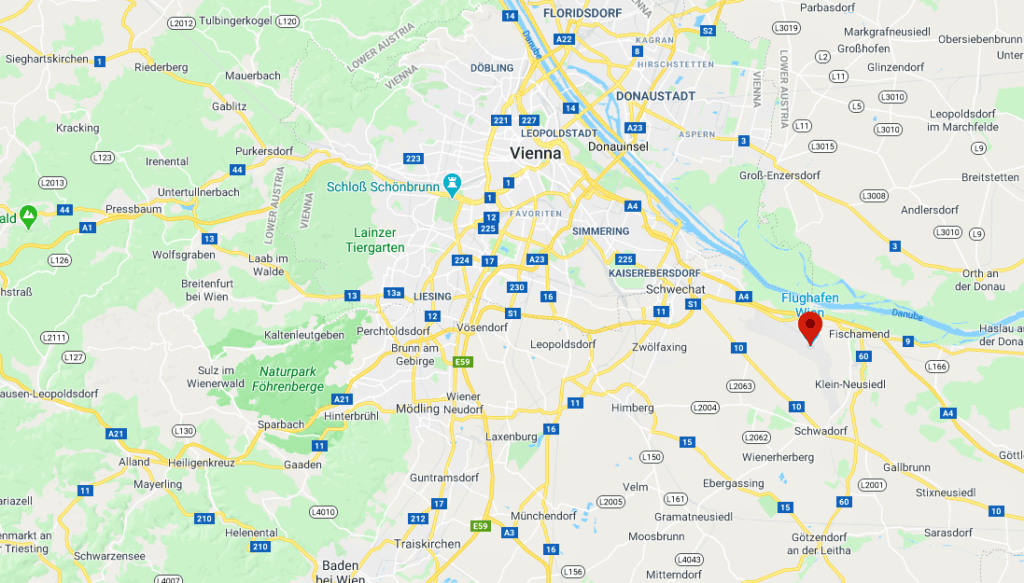 Airlines and destinations
Passenger
The following airlines offer regular scheduled and charter flights at Vienna International Airport:
Airlines
Destinations
Aegean Airlines
Athens
Aer Lingus
Dublin
Aeroflot
Moscow–Sheremetyevo
Air Algerie
Algiers
Air Arabia
Sharjah
Air Arabia Maroc
Marrakesh
airBaltic
Riga, Tallinn
Air Cairo
Seasonal charter: Sharm El Sheikh
Air Canada
Toronto–Pearson
Air China
Beijing–Capital
Air France
Paris–Charles de Gaulle
Air India
Delhi
Air Malta
Catania, Malta
Air Moldova
Chișinău
Air Serbia
Belgrade, Kraljevo
All Nippon Airways
Tokyo–Haneda
AnadoluJet
Istanbul–Sabiha Gökçen
Austrian Airlines
Amman–Queen Alia, Amsterdam, Athens, Bangkok–Suvarnabhumi, Barcelona, Basel/Mulhouse, Beijing–Capital, Belgrade, Berlin–Tegel, Birmingham, Bologna, Brussels, Bucharest, Budapest, Cairo, Chicago–O'Hare, Chișinău, Cologne/Bonn, Copenhagen, Dnipro, Düsseldorf, Erbil, Frankfurt, Geneva, Gran Canaria, Graz, Hamburg, Iași, Innsbruck, Kiev–Boryspil, Klagenfurt, Košice, Kraków, Lanzarote, Larnaca, Leipzig/Halle, London–Heathrow, Lviv, Lyon, Manchester, Marrakesh, Milan–Malpensa, Minsk, Montréal–Trudeau, Moscow–Domodedovo, Munich, Naples, Newark, New York–JFK, Nice, Nuremberg, Odessa, Oslo–Gardermoen, Paris–Charles de Gaulle, Podgorica, Prague, Pristina, Rome–Fiumicino, Salzburg, Sarajevo, Shanghai–Pudong, Sibiu, Skopje, Sofia, Stockholm–Arlanda, Stuttgart, Tehran–Imam Khomeini, Tel Aviv, Tenerife–South, Thessaloniki, Tirana, Tokyo–Narita, Varna, Venice, Vilnius, Warsaw–Chopin, Washington–Dulles, Yerevan, Zagreb, Zurich
Seasonal: Antalya, Bari, Bodrum, Brindisi, Cagliari, Cape Town, Catania, Chania, Corfu, Dalaman, Dubrovnik, Florence, Fuerteventura, Funchal, Gothenburg, Heraklion, Ibiza, Kalamata, Karpathos, Kavala, Kefalonia, Kos, Lamezia Terme, Los Angeles, Malé, Mauritius, Menorca, Mykonos, Mytilene, Olbia, Palermo, Palma de Mallorca (resumes 4 July 2020), Patras, Preveza/Lefkada, Reykjavík–Keflávik, Rhodes, Rostock, Saint Petersburg, Samos, Santorini, Skiathos, Split, Volos, Zadar, Zakynthos
Seasonal charter: Hurghada, Kittilä, Marsa Alam, Tromsø
Belavia
Minsk
BH Air
Seasonal charter: Burgas
Blue Islands
Seasonal charter: Jersey
British Airways
London–Heathrow
Seasonal: London–Gatwick
Brussels Airlines
Brussels
Bulgaria Air
Sofia
Bulgarian Air Charter
Seasonal charter: Burgas, Varna
China Airlines
Taipei–Taoyuan
China Southern Airlines
Guangzhou, Urumqi
Corendon Airlines
Seasonal: Antalya, Bodrum, İzmir
Corendon Airlines Europe[36]
Seasonal: Hurghada
Croatia Airlines
Zagreb
Seasonal: Split
Czech Airlines
Seasonal charter: Brač
easyJet
Amsterdam, Berlin–Schönefeld, Berlin–Tegel, Bristol, Edinburgh, London–Gatwick, Lyon, Manchester, Naples
easyJet Switzerland
Basel/Mulhouse
EgyptAir
Cairo
El Al
Tel Aviv
Emirates
Dubai–International
Enter Air
Seasonal charter: Tbilisi, Yerevan
Etihad Airways
Abu Dhabi (begins 25 October 2020)
Ethiopian Airlines
Addis Ababa
Eurowings
Catania, Cologne/Bonn, Düsseldorf, Faro, Fuerteventura, Gran Canaria, Hamburg, Hannover, Lanzarote, Málaga, Marsa Alam, Pristina, Stuttgart, Tenerife–South
Seasonal: Bastia, Brindisi, Calvi, Chania, Corfu, Heraklion, Ibiza, Kavala, Kos, Lamezia Terme, Mytilene, Nice, Olbia, Pisa, Porto, Rhodes, Samos, Santorini
EVA Air
Bangkok–Suvarnabhumi, Taipei–Taoyuan
Finnair
Helsinki
FlyEgypt
Seasonal charter: Hurghada
Flynas
Seasonal: Riyadh
Georgian Airways
Tbilisi
Hainan Airlines
Shenzhen
Iberia
Madrid
Iran Air
Tehran–Imam Khomeini
Jet2.com
Seasonal: Birmingham, Edinburgh, Leeds/Bradford, Manchester, Newcastle upon Tyne
KLM
Amsterdam
Korean Air
Seoul–Incheon
Kuwait Airways
Seasonal: Kuwait City
Lauda
Tel Aviv
LOT Polish Airlines
Warsaw–Chopin
Lufthansa
Frankfurt, Munich
Luxair
Luxembourg
Montenegro Airlines
Podgorica
Norwegian Air Shuttle
Oslo–Gardermoen
Pegasus Airlines
Ankara, Istanbul–Sabiha Gökçen
Seasonal: Izmir, Kayseri
People's
St. Gallen/Altenrhein
Qatar Airways
Doha
Rossiya
Saint Petersburg
Royal Air Maroc
Casablanca
Royal Jordanian
Amman–Queen Alia
Ryanair
Alicante, Athens, Banja Luka (begins 26 October 2020), Barcelona, Beauvais, Beirut, Bergamo, Billund, Birmingham, Bologna, Bordeaux, Brindisi, Bristol, Bucharest, Catania, Charleroi, Cologne/Bonn (begins 1 August 2020), Copenhagen, Dortmund, Dublin, Edinburgh, Eindhoven (begins 2 August 2020), Faro, Gothenburg, Helsinki, Kherson (begins 26 October 2020), Kiev–Boryspil, Lanzarote, Lappeenranta, Larnaca, Lisbon, Liverpool, London–Stansted, Madrid, Málaga, Malta, Milan–Malpensa, Münster/Osnabrück, Palermo, Palma de Mallorca, Porto, Riga, Rome–Fiumicino, Sandefjord, Santander, Seville, Sofia, Stockholm–Skavsta, Tallinn, Tenerife–South, Thessaloniki, Valencia, Vilnius, Warsaw–Modlin (begins 1 August 2020), Zaragoza
Seasonal: Alghero, Bari (begins 2 August 2020), Burgas, Cagliari, Chania, Corfu, Fuerteventura, Gdańsk (begins 2 August 2020), Gran Canaria, Heraklion, Ibiza, Kalamata, Kefalonia, Kos, Marrakesh, Mykonos, Naples (begins 1 August 2020), Paphos (begins 1 August 2020), Preveza/Lefkada, Rhodes, Santorini, Shannon, Skiathos, Varna, Zadar, Zakynthos
Saudia
Jeddah
Seasonal: Riyadh
Smartwings
Seasonal charter: Boa Vista, Gran Canaria, Sal
SunExpress
Antalya, Izmir
Seasonal: Adana, Ankara, Dalaman
Swiss International Air Lines
Zurich
TAP Air Portugal
Lisbon
TAROM
Bucharest
Thai Airways
Bangkok–Suvarnabhumi
Transavia
Rotterdam
Tunisair
Tunis
Turkish Airlines
Ankara, Istanbul
Seasonal: Gaziantep, Izmir, Kayseri, Samsun
Ukraine International Airlines
Kiev–Boryspil
Utair
Moscow–Vnukovo, Ufa
Volotea
Nantes
Seasonal: Bilbao
Vueling
Barcelona, Florence
Wings of Lebanon
Seasonal charter: Beirut
Wizz Air
Athens, Alicante, Barcelona (begins 15 July 2020), Bari, Billund, Burgas (begins 3 July 2020), Bremen, Bucharest (begins 15 July 2020), Catania, Charleroi (begins 1 July 2020), Chișinău, Cluj-Napoca, Cologne/Bonn, Constanta (begins 3 July 2020), Dortmund, Eindhoven, Faro (begins 4 July 2020), Kharkiv, Kiev–Zhuliany, Kutaisi, Larnaca, Lisbon, London–Luton, Madrid, Málaga, Milan–Malpensa, Naples, Nice, Niš, Ohrid, Oslo–Gardermoen, Podgorica (begins 20 July 2020), Porto, Pristina, Reykjavík–Keflavík, Rome–Fiumicino, Stockholm–Skavsta, Suceava (begins 20 July 2020), Tallinn (begins 2 July 2020), Tel Aviv, Tenerife–South, Thessaloniki, Tirana, Valencia, Varna, Warsaw–Chopin, Yerevan, Zaporizhia
Seasonal: Alghero, Castellón (begins 3 July 2020), Corfu, Eilat, Gdańsk, Heraklion (begins 2 July 2020), Malta, Marrakech (begins 27 October 2020), Menorca (begins 17 July 2020), Rhodes (begins 2 July 2020), Santorini (begins 18 July 2020), Tuzla, Zakynthos (begins 4 July 2020)
Cargo
| Airlines | Destinations |
| --- | --- |
| Asiana Cargo | Seoul–Incheon |
| Cargolux | Luxembourg |
| Korean Air Cargo | Delhi, Frankfurt, Milan–Malpensa, Moscow-Sheremetyevo, Oslo–Gardermoen, Seoul–Incheon |
| Silk Way Airlines | Baku |
| Turkish Cargo | Istanbul–Atatürk, Minsk |
| UPS Airlines | Budapest, Cologne/Bonn |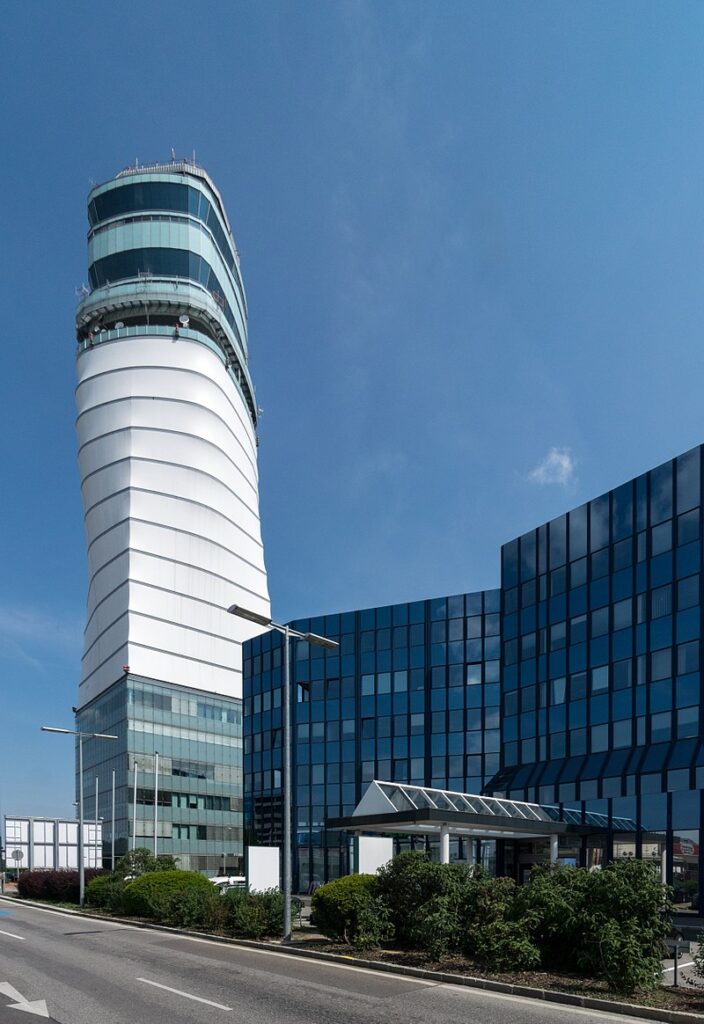 Ground transportation
Train
The Vienna S-Bahn line S7 provides a local service to the city centre taking approx. 25 minutes. The more expensive City Airport Train connects the airport directly to Wien Mitte railway station, close to the city centre, in 16 minutes.
Additionally, the underground railway station has been expanded to accommodate long-distance trains. Since December 2014, the first trains passing Vienna's new main station, ICE services from Germany, terminate at the airport. Since December 2015, ÖBB Railjet services operate to the airport as well. Long-distance train rides between the airport and the main station take approx. 15 minutes.
Car
The airport lies directly adjacent to motorway A4 which leads from central Vienna to Budapest. It has its own exit named Flughafen Wien-Schwechat. Bratislava can be reached via motorway A6 which splits from the A4 in the east. Taxis and car rental facilities are available at the airport. There are also several taxi companies that operate at the airport.
Bus
Buses operate from the airport to various places in Vienna and to other cities including Bratislava, Budapest and Brno.
Accidents and incidents
In 1955, a Convair CV-340 crashed on approach to the airport, killing 7 of the 29 passengers and crew on board. This is the last fatal aviation accident to occur at Wien-Schwechat Airport.
On 27 December 1985, terrorist attacks were carried out at Vienna and Rome Airports. Arab terrorists attacked the airports with assault rifles and hand grenades. In the Vienna attack three people were killed and 44 others were wounded. One terrorist was killed and two captured by police and security guards.
On 12 July 2000, Hapag-Lloyd Flight 3378 crashed short of the runway at the airport on the final approach of its diverted flight due to fuel exhaustion. There were no fatalities, but the aircraft was damaged beyond repair.
Source: wikipedia