Zurich Airport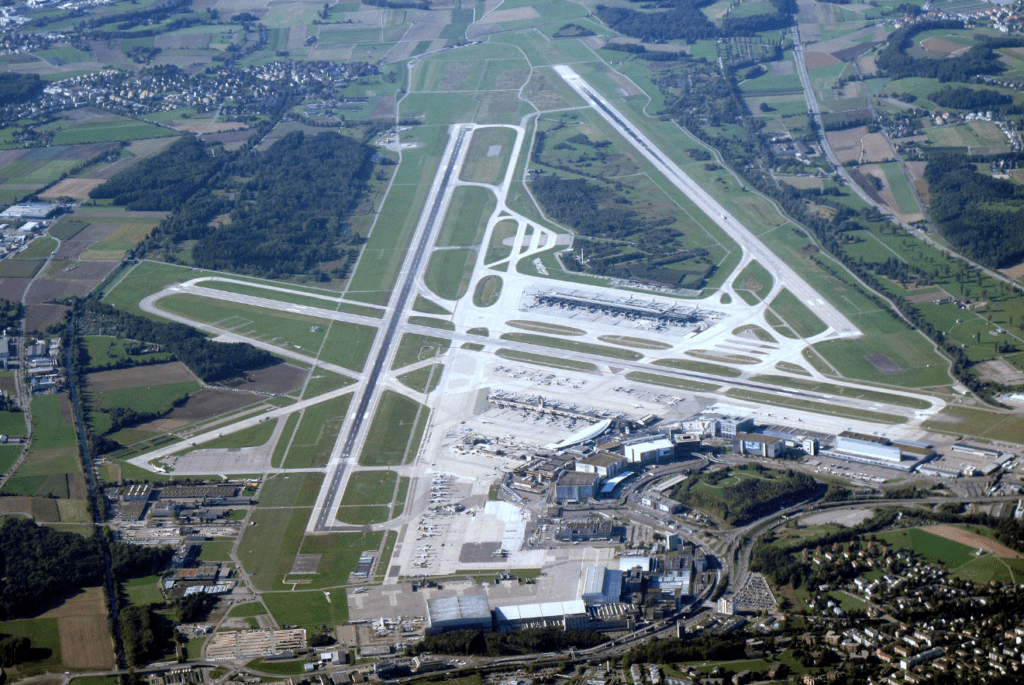 IATA: ZRH ICAO: LSZH
Airport type
Public
Owner
Flughafen Zürich AG
Serves
Zürich, Switzerland
Location
Kloten, Rümlang, Oberglatt, Winkel and Opfikon
Hub for
Edelweiss Air Swiss International Air Lines
Focus city for
Chair Airlines Helvetic Airways
Elevation AMSL
1,416 ft / 432 m
Coordinates
47°27′53″N 008°32′57″ECoordinates: 47°27′53″N 008°32′57″E
Website
zurich-airport.com
Zurich Airport (German: Flughafen Zürich, IATA: ZRH, ICAO: LSZH) is the largest international airport of Switzerland and the principal hub of Swiss International Air Lines. It serves Zürich, Switzerland's largest city, and, with its surface transport links, much of the rest of the country. The airport is located 13 kilometres (8 mi) north of central Zürich, in the municipalities of Kloten, Rümlang, Oberglatt, Winkel, and Opfikon, all of which are within the canton of Zürich.
In 2019, the airport received the World Travel Award in the category "Europe's leading airport" for the 17th time in a row. The Skytrax Award also ranks Zurich Airport among the top 10 airports in the world for millions of travellers each year

Corporate affairs
The airport is owned by Flughafen Zürich AG, a company quoted on the SIX Swiss Exchange. Major shareholders include the canton of Zürich, with 33.33% plus one of the shares, and the city of Zürich, with 5% of the shares. No other shareholder has a holding exceeding 3%. Flughafen Zürich AG used the brand name Unique from 2000 until 2010.
In March 2017, Flughafen Zürich AG announced it had acquired 100% of Brazil's Hercílio Luz International Airport, and will operate it under a concession until 2047. The company also has stakes in the operation of airports in Belo Horizonte, Bogotá, Curaçao, Antofagasta, Iquique, and Bangalore. More recently, the company has also won the concession to operate both Eurico de Aguiar Salles Airport in Vitória and Macaé Airport in Macaé, Brazil.
Infrastructure
Terminal complex
The airport has three airside piers, which are known as terminals A, B, and E (also signposted as Gates A, B/D, and E). These are linked to a central air-side building called Airside Center, built in 2003. Alongside the Airside Center, the ground-side terminal complex named Airport Center comprises several buildings, and includes airline check-in areas, a shopping mall, a railway station, car parks, and a bus and tram terminal. All departing passengers access the same departure level of the Airside Center, which includes duty-free shopping and various bars and restaurants, via airport security. They are then segregated between passengers for Schengen and non-Schengen destinations on the way to the gate lounges, with the latter first passing through emigration controls. Arriving Schengen and non-Schengen passengers are handled in separate areas of the Airside Center and reach the Airport Center by different routes, with non-Schengen passengers first passing through immigration controls. The three airside terminals are:
Terminal A
Terminal A contains gates prefixed A. It opened in 1971, and it is used exclusively by flights to and from destinations inside the Schengen Area, including domestic flights within Switzerland. Since its expansion in 1982-1985, it takes the form of a finger pier, directly connected at one end to the Airside Centre. Terminal A will be torn down and replaced by an entirely new facility from 2021.
Terminal B
Terminal B contains gates prefixed B and D. It opened in 1975 and reopened in November 2011 after an extensive three-year reconstruction. Like terminal A, it takes the form of a finger pier directly connected at one end to the Airside Centre. Since reconstruction, it can accommodate both Schengen and non-Schengen flights at the same gates. Each gate has two numbers, one prefixed B and the other D, but with different passenger routes to and from the gates to separate the flows of Schengen and non-Schengen passengers.
Terminal E
Terminal E contains gates prefixed E, and is also known as the midfield terminal or Dock E. It is a stand-alone satellite terminal located on the opposite side of runway 10/28 from the Airside Center, and is situated between runways 16/34 and 14/32. It is entirely used by non-Schengen international flights and became operational and was opened on September 1, 2003. It is connected to the Airside Center by the Skymetro, an automated underground people mover.
Runways
Zurich Airport has three runways: 16/34 of 3,700 m (12,100 ft) in length, 14/32 of 3,300 m (10,800 ft) in length, and 10/28 of 2,500 m (8,200 ft) in length. For most of the day and in most conditions, runway 14 is used for landings and runways 16 and 28 are used for takeoffs, although different patterns are used early morning and in the evenings.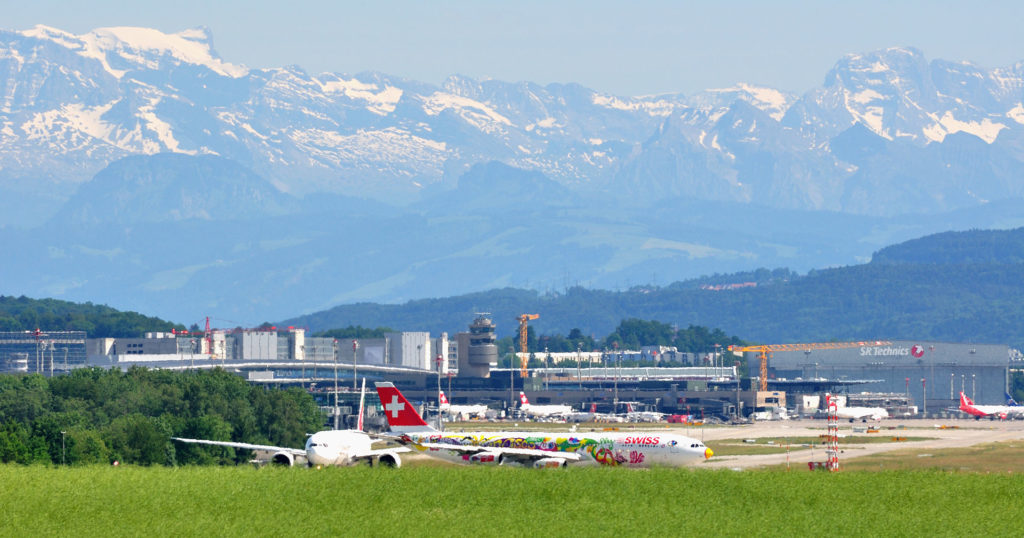 Airlines and destinations
The following airlines offer regular scheduled and charter flights at Zurich Airport:
Airlines
Destinations
Aegean Airlines
Athens
Seasonal: Heraklion, Rhodes, Thessaloniki
Aer Lingus
Dublin
Aeroflot
Moscow–Sheremetyevo
airBaltic
Riga
Air Canada
Toronto–Pearson
Seasonal: Vancouver
Air Europa
Madrid
Air France
Paris–Charles de Gaulle
Air Malta
Malta
Air Serbia
Belgrade
Alitalia
Rome–Fiumicino
AlMasria Universal Airlines
Seasonal charter: Hurghada
American Airlines
Philadelphia
Austrian Airlines
Vienna
BH Air
Seasonal: Burgas, Varna
Blue Islands
Seasonal charter: Guernsey, Jersey
British Airways
London–City, London–Heathrow
Seasonal charter: Edinburgh
Bulgaria Air
Sofia
Cathay Pacific
Hong Kong
Chair Airlines
Beirut, Hurghada, Marsa Alam, Ohrid, Pristina, Sharm El Sheikh, Skopje
Seasonal: Burgas, Calvi, Djerba, Heraklion, Ibiza, Kos, Larnaca, Rhodes, Zadar
Corendon Airlines
Seasonal: Antalya
Croatia Airlines
Zagreb
Seasonal: Dubrovnik, Pula, Split
Cyprus Airways
Seasonal: Larnaca
Delta Air Lines
New York–JFK
Seasonal: Atlanta
easyJet
Amsterdam, Berlin–Schönefeld, Berlin–Tegel, Lisbon, London–Gatwick, London–Luton, Naples, Nice, Porto
Edelweiss Air
Antalya, Buenos Aires–Ezeiza, Cagliari, Cancún, Catania, Edinburgh, Fuerteventura, Funchal, Gran Canaria, Havana, Hurghada, Lamezia Terme, Lanzarote, La Palma, Larnaca, Marsa Alam, Mauritius, Ohrid, Orlando, Palma de Mallorca, Pristina, Punta Cana, Rio de Janeiro–Galeão, San José (CR), Seville, Skopje, Tampa, Tenerife–South
Seasonal: Agadir (begins 3 September 2020), Bodrum, Calgary, Cape Town, Chania, Colombo–Bandaranaike, Corfu, Dalaman, Denver, Djerba, Dubrovnik, Faro, Heraklion, Ho Chi Minh City, Ibiza, Jerez de la Frontera, Kalamata, Kos, Las Vegas, Mahé, Malé, Marrakesh, Menorca, Mykonos, Olbia, Paphos, Phuket, Puerto Plata (resumes 19 January 2021), Pula, Rhodes, Samos, San Diego, Santiago de Compostela (begins 4 July 2020), Santorini, Split, Tirana, Vancouver, Varadero, Varna
Seasonal charter: Kittilä, Reykjavík–Keflavík, Rovaniemi, Tromsø
El Al
Tel Aviv
Emirates
Dubai–International
Etihad Airways
Abu Dhabi
Eurowings
Cologne/Bonn, Düsseldorf, Hamburg
Seasonal: Palma de Mallorca
Finnair
Helsinki
Seasonal: Kittilä
FlyEgypt
Seasonal charter: Hurghada
Hainan Airlines
Shenzhen
Helvetic Airways
Seasonal: Calvi, Kittilä, Kuusamo, Olbia, Tromsø
Seasonal charter: Araxos, Heraklion, Kos, Lourdes/Tarbes, Palma de Mallorca, Rhodes
Iberia
Madrid
Icelandair
Reykjavík–Keflavík
Israir Airlines
Seasonal: Tel Aviv (begins 29 June 2020)
KLM
Amsterdam
Korean Air
Seasonal: Seoul–Incheon
LOT Polish Airlines
Warsaw–Chopin
Lufthansa
Frankfurt, Munich
Montenegro Airlines
Podgorica
Nouvelair
Seasonal charter: Enfidha
Oman Air
Muscat
Onur Air
Antalya
Pegasus Airlines
Istanbul–Sabiha Gökçen
Qatar Airways
Doha
Royal Air Maroc
Casablanca
Royal Jordanian
Amman–Queen Alia
Scandinavian Airlines
Copenhagen, Oslo–Gardermoen, Stockholm–Arlanda
Singapore Airlines
Singapore
SunExpress
Ankara, Antalya, Dalaman, Gaziantep, İzmir
Swiss International Air Lines
Amsterdam, Athens, Bangkok–Suvarnabhumi, Barcelona, Beijing–Daxing, Belgrade, Berlin–Tegel, Bilbao, Birmingham, Bordeaux, Boston, Bremen, Brindisi, Brussels,
Bucharest, Budapest, Cairo, Chicago–O'Hare, Copenhagen, Dar es Salaam, Delhi, Dresden, Dubai–International, Dublin, Düsseldorf, Florence, Frankfurt, Gdańsk, Geneva, Gothenburg, Gran Canaria, Graz, Hamburg, Hanover, Hong Kong, Johannesburg–O. R. Tambo, Kiev–Boryspil, Kraków, Lisbon, Ljubljana, London–City, London–Heathrow, Los Angeles, Luxembourg, Madrid, Málaga, Manchester, Marseille, Miami, Milan–Malpensa, Montreal–Trudeau, Moscow–Domodedovo, Mumbai, Munich, Muscat, Nairobi–Jomo Kenyatta, Naples, Newark, New York–JFK, Nice, Nuremberg, Oslo–Gardermoen, Palma de Mallorca, Paris–Charles de Gaulle, Porto, Prague, Rome–Fiumicino, Saint Petersburg, San Francisco, São Paulo–Guarulhos, Shanghai–Pudong, Singapore, Sofia, Stockholm–Arlanda, Stuttgart, Sylt, Tel Aviv, Tokyo–Narita, Valencia, Venice, Vienna, Warsaw–Chopin, Wrocław
Seasonal: Alicante, Bari, Bergen, Cork, Figari, Heringsdorf, Malta, Palermo, Thessaloniki
Tailwind Airlines
Seasonal charter: Antalya
TAP Air Portugal
Lisbon, Porto
Thai Airways
Bangkok–Suvarnabhumi
Tunisair
Djerba, Tunis
Seasonal: Enfidha
Turkish Airlines
Istanbul
Seasonal: Gaziantep (begins 10 July 2020)
Twin Jet
Lyon
Ukraine International Airlines
Kiev–Boryspil
United Airlines
Chicago–O'Hare (begins 24 October 2020), Newark, Washington–Dulles
Seasonal: San Francisco
Vueling
Alicante, Barcelona, Lanzarote, Málaga, Palma de Mallorca
Seasonal: Santiago de Compostela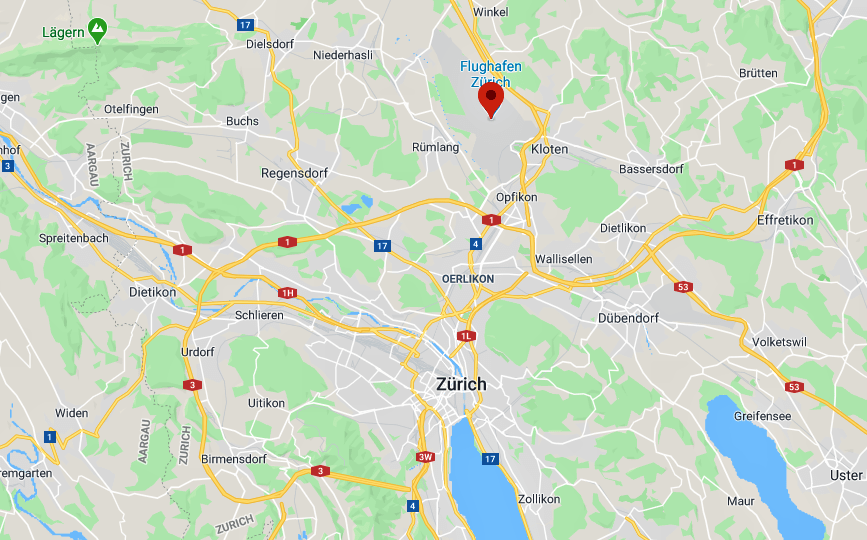 Ground transportation
Train
Zürich Flughafen railway station is located underneath the Airport Centre. The station has frequent Zürich S-Bahn services, plus direct InterRegio, InterCity, and Eurocity services, to many places including Basel, Bern, Biel/Bienne, Brig, Geneva, Konstanz, Lausanne, Lucerne, Munich, Romanshorn, St. Gallen, and Winterthur. There are some 13 trains per hour to Zürich HB (Hauptbahnhof), Zürich's main city centre station, with a journey time of between 9 and 13 minutes. By changing trains there, most other places in Switzerland can be reached in a few hours.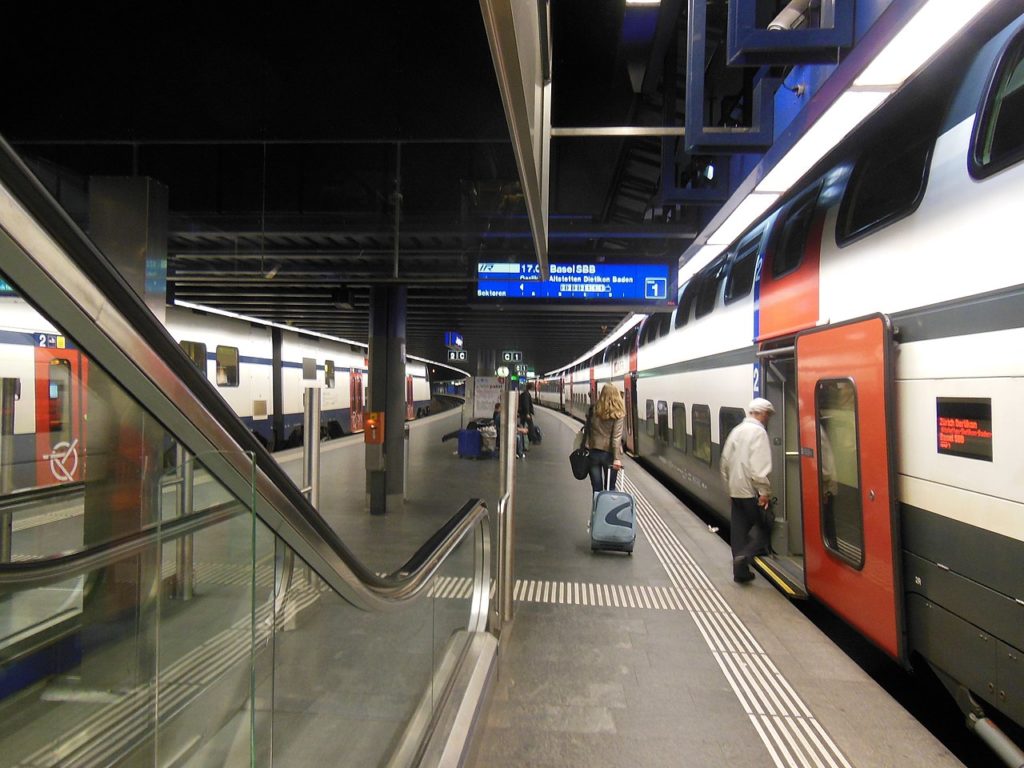 Bus and tram
In front of the Airport Centre is the airport stop of the Stadtbahn Glattal, a light rail system that interworks with the Zürich tram system, together with a regional bus station. Both the bus station and light rail stop provide service to destinations throughout the Glattal region that surrounds the airport, with the light rail stop being served by tram routes 10 and 12. Tram route 10 also provides a link to Zurich Hauptbahnhof, albeit with a rather longer journey time than that of the railway.
Road
The airport is served by the A51 motorway and other main roads, which link to the airport's own road network. Drop-off areas are available by the Airport Centre whilst a total of over 14000 spaces are available in six car parks for short and long term parking. A car hire centre is located in the terminal complex. Theairport is served by a fleet of dedicated airport taxis, which operate from taxi ranks in front of the arrival areas. Alternative chauffeur driven airport limousines can be arranged.
Other facilities
The Circle
The Circle, a complex intended to include a medical center, a conference center, shops, restaurants, offices, and hotels, is under construction opposite the Airport Centre. The complex was designed by Japanese architect Riken Yamamoto and is planned for completion in 2019 with opening for the public in 2020.
Company headquarters
Several companies have their headquarters on or about the airport. These include Swiss International Air Lines, Swiss World Cargo,Swiss AviationTraining, Edelweiss Air, gategroup, Helvetic Airways, Swissôtel, and Rega. Other companies that were formerly based on the airport include Swissair and Crossair.
Accidents and incidents
On 4 September 1963, Swissair Flight 306 experienced an in-flight fire shortly after take-off and crashed, killing all 80 people on board.
On 18 February 1969, four armed members of the Popular Front for the Liberation of Palestine attacked El Al flight 432 whilst it prepared for takeoff. The aircraft's security guard repelled the attack, resulting in the death of one of the terrorists, whilst the Boeing 720's co-pilot subsequently died of his injuries.
On 21 February 1970, a barometrically triggered bomb exploded on Swissair Flight 330 some nine minutes after takeoff from Zurich en route to Tel Aviv and Hong Kong. All 47 occupants were killed. The bombing was attributed to the PFLP-GC.
On 18 January 1971, an inbound Balkan Bulgarian Airlines Il-18D approached Zurich Airport in fog below the glideslope. It crashed and burst into flames, 0.7 kilometres (0.43 mi) north of the airport, when both left wingtip and landing gear contacted the ground. Seven crew members and 38 passengers were killed.
On 24 November 1990, an Alitalia Douglas DC-9 operating Flight 404 crashed on approach to Zurich, killing all 46 passengers and crew on board.
On 10 January 2000, a Crossair Saab 340 operating Flight 498 crashed shortly after takeoff, killing all 10 occupants. The cause of the crash was determined to have been the result of spatial disorientation and pilot errors.
On 24 November 2001, a Crossair Avro RJ100 operating Flight 3597 crashed into hills near Bassersdorf while on approach to Zurich. Twenty-four of the 33 people on board were killed.
Source: wikipedia