Josep Tarradellas Barcelona–El Prat Airport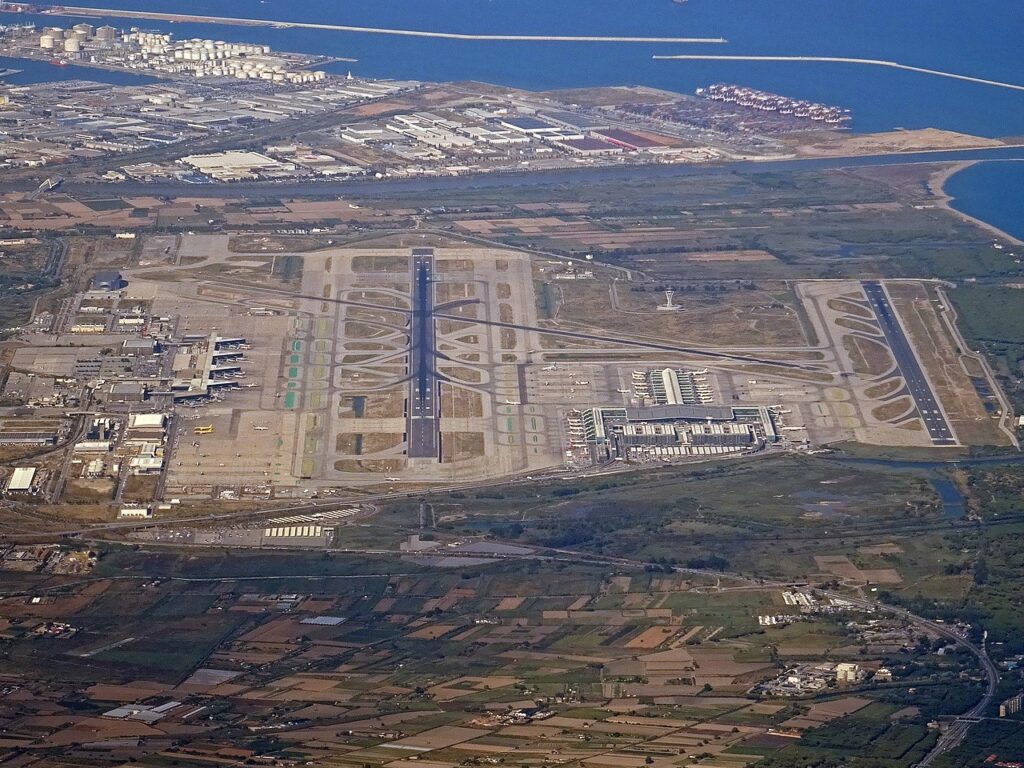 IATA: BCN ICAO: LEBL
Airport type
Public
Owner
ENAIRE
Operator
Aena
Serves
Barcelona, Catalonia, Spain
Location
El Prat de Llobregat
Hub for
Vueling Level
Focus city for
Air Europa EasyJet Norwegian Air Shuttle Ryanair
Elevation AMSL
14 ft / 4 m
Coordinates
41°17′49″N 002°04′42″ECoordinates: 41°17′49″N 002°04′42″E
Website
aena.es
Josep Tarradellas Barcelona–El Prat Airport (IATA: BCN, ICAO: LEBL) (Catalan: Aeroport Josep Tarradellas Barcelona-El Prat, Spanish: Aeropuerto Josep Tarradellas Barcelona-El Prat), previously named Barcelona-El Prat and also known as El Prat Airport, is an international airport located 12 km (7.5 mi) southwest of the centre of Barcelona, lying in the municipalities of El Prat de Llobregat, Viladecans, and Sant Boi, in Catalonia, Spain, Europe. It has been named after a former President of the Generalitat of Catalonia, Josep Tarradellas, since 27 February 2019.
It is the second largest and second busiest airport in Spain, and the sixth busiest in Europe. In 2019, Barcelona Airport handled a record 52,686,314 million passengers, up 5.0% from 2018. It is a hub for Level and Vueling, and a focus city for Air Europa, Iberia, EasyJet, Norwegian and Ryanair.
The Barcelona–Madrid air shuttle service, known as "Pont Aeri" (in Catalan) or "Puente Aéreo" (in Spanish), literally "Air Bridge", was the world's busiest route until 2008, with the highest number of flight operations (971 per week) in 2007. The schedule has been reduced since February 2008, when a Madrid–Barcelona high-speed rail line was opened, covering the distance in 2 hours 30 minutes, and quickly became popular.

Operations
Most of the traffic at Barcelona Airport is domestic and European, in which Vueling has an operational base. Intercontinental connections have not generated a significant amount of passenger traffic during the last years. In the early twenty-first century the airport passenger carried numbers and the number of operations increased significantly.
Low-cost airline traffic grew significantly, especially after the creation of operating bases by Vueling and Clickair at the airport. Vueling and Clickair merged in July 2009, operating under the Vueling name. Other low-cost airlines operate from the airport, including Ryanair, EasyJet, Norwegian Air International, EasyJet Switzerland, Wizz Air and Transavia.com. A new base was established at the airport in September 2010.
The airport has 3 runways, two parallel, nominated 07L/25R and 07R/25L (the later opened in 2004), and a cross runway 02/20. There are two terminals: T2, which is the sum of the previous Terminals A, B and C, located on the north side of the airport and T1, on the west side, which opened on 16 June 2009. As of 2014 the two terminals had a combined total of 268 check-in counters and 64 boarding gates. Operations at the airport are restricted exclusively to Instrument flight rules (IFR) flights, except for sanitary, emergency and government VFR flights.
A plan for expansion (Plan Barcelona) was completed in 2009, adding a third terminal building (also designed by Ricardo Bofill) and control tower. An additional runway (07R/25L) was also built. The airport became capable of handling 55 million passengers annually (up from 33 million in 2007). The airport expanded in area from 8.45 to 15.33 square kilometres (3.26 to 5.92 sq mi). Further expansion was planned to be finished by 2012, with a new satellite terminal to raise capacity to 70 million passengers annually, this is better explained in Terminal T1 section.
The airport is the subject of a political discussion over management and control between the Generalitat of Catalonia and the Spanish Government, which has involved AENA (airport manager) and various airlines, Iberia and Spanair mainly. Part of the controversy is about the benefits that the airport generates, which are used in maintenance and investments in other airports in the network of AENA and government investments in other economic areas.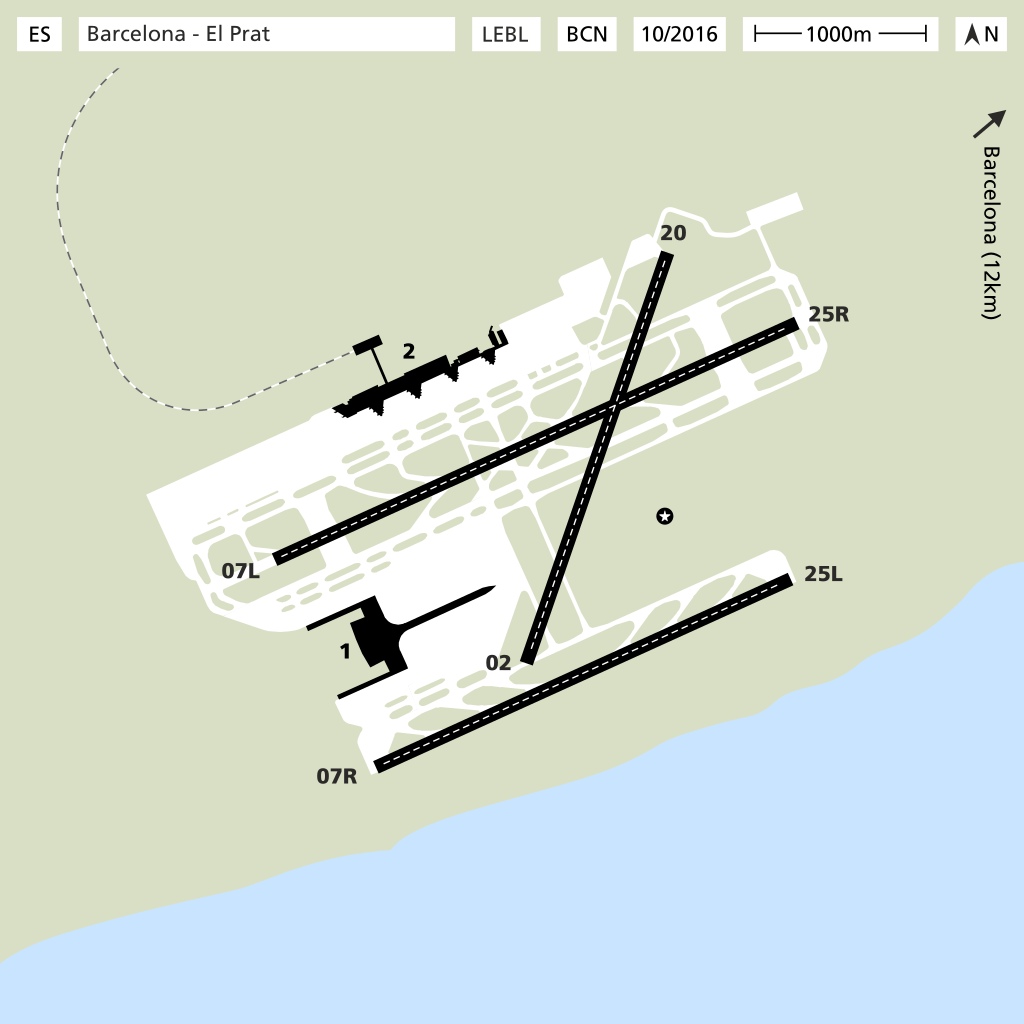 Terminals
Terminal 1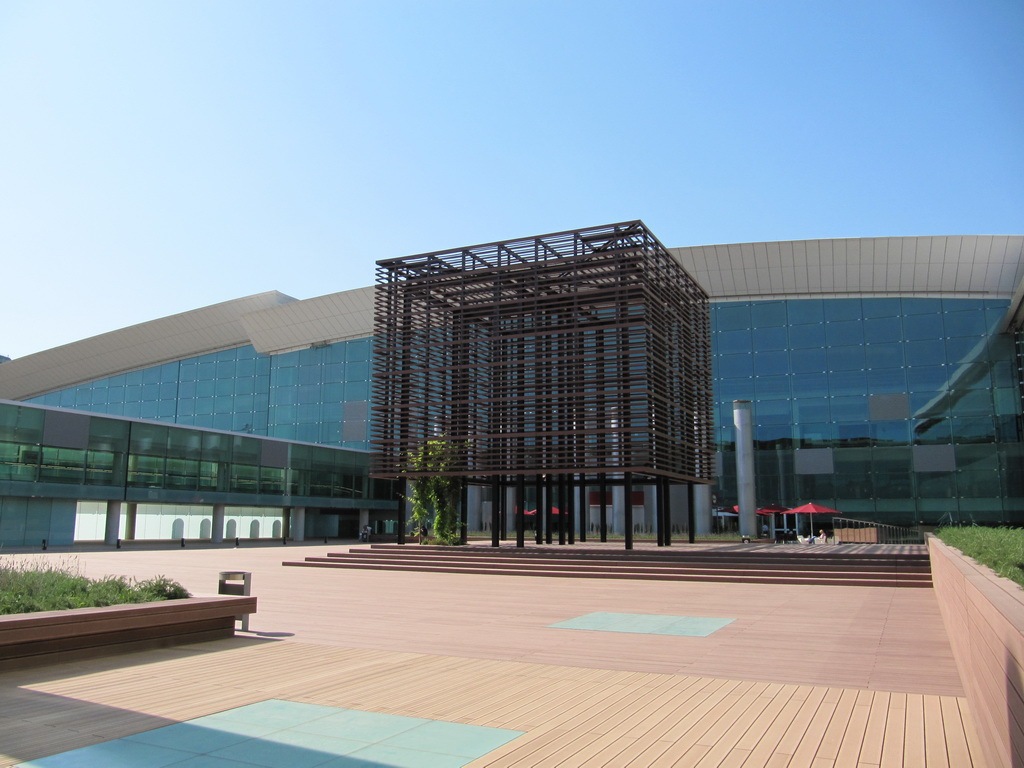 A new Terminal 1, designed by Ricardo Bofill was inaugurated on 16 June 2009. The airport terminal has an area of 548,000 m2 (5,900,000 sq ft), an aircraft ramp of 600,000 m2 (6,500,000 sq ft), 13,000 new parking spaces and 45 new gates expandable to 60. This terminal is also capable of handling large aircraft like the Airbus A380-800 or Boeing 747-8I.
The terminal handles both Schengen and non-Schengen flights. It is split into 5 Modules with Module A handling flights to Madrid, Module B handling Schengen flights, Module C handling Air Nostrum flights, Module D handling non-Schengen European flights and Module E handling non-Schengen non-European flights.
Its facilities include:
258 check-in counters
60 jetways (some are prepared for the A380, with double jetway)
15 baggage carousels (one new carousel is equivalent to 4 carousels in the old terminal) and
12,000 parking spaces, in addition to the 12,000 already in terminal 2.
The forecast is that the airport will be able to handle 55 million passengers annually —as opposed to the 30 million people before its construction— and will reach 90 operations an hour.
The extension of the airport with a total investment of €5.1 billion in the future[ will include a new satellite terminal and refurbishment of existing terminals. The civil engineering phase of the South Terminal had a budget of €1 billion.
It is also planned the construction of a satellite terminal —T1S or Terminal 1 Satèl·lit, in Catalan— considering that the airport is on the verge of overcrowding because terminals cannot handle all passengers because of space shortage. This terminal will be at 1,5 kilometres from the current T1 terminal, behind the 02-20, transversal, runway. With this action, the airport will be able to increase its passenger capacity to 70 million people annually.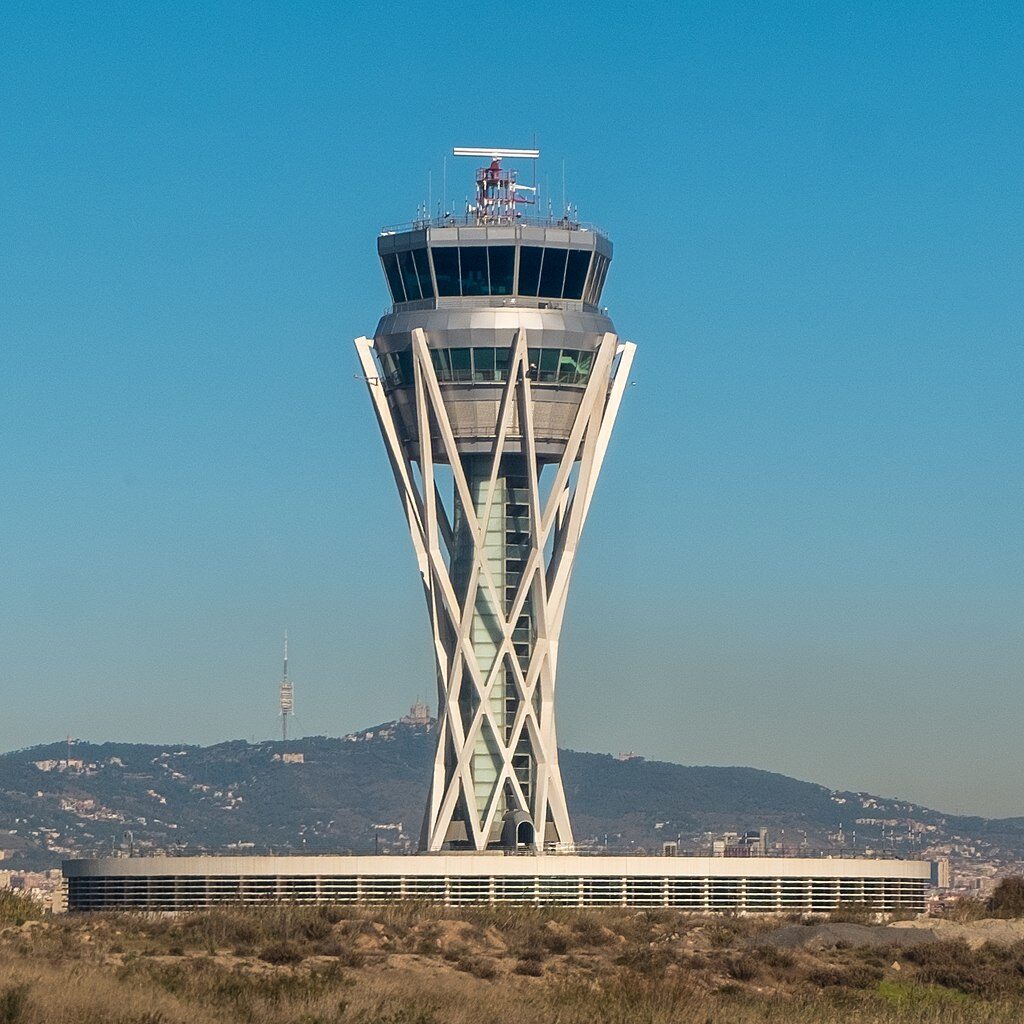 Terminal 2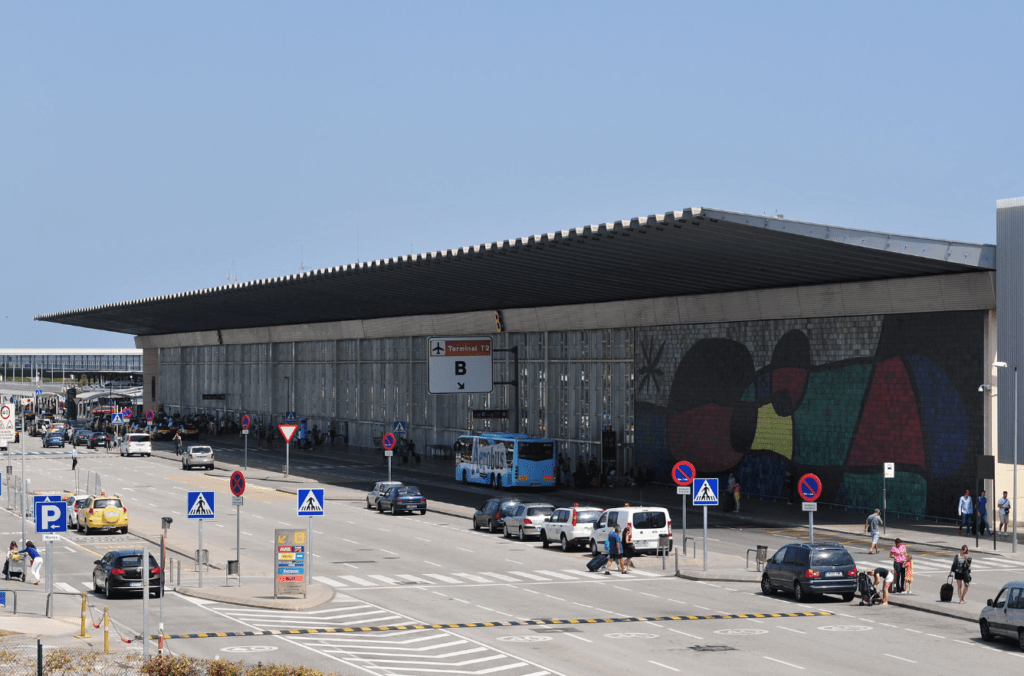 Terminal 2 is divided into three linked sections, known as Terminal 2A, 2B and 2C. Terminal 2B is the oldest part of the complex still in use, dating back to 1968. Terminals 2A and 2C were added in order to expand the airport capacity before the arrival of the 1992 Summer Olympics held in city. This expansion was also designed by Ricardo Bofill Levi.
This terminal is mostly occupied by low-cost airlines, although there are some full-service airlines which also use this terminal.
Following the opening of Terminal 1 in 2009, Terminal 2 became almost empty until the airport authorities lowered landing fees to attract low-cost and regional carriers to fill the terminal. Whilst this has helped, the complex is nowhere near full capacity and Terminal 2A is currently unused for departures. Terminal 2C is used only by EasyJet and EasyJet Switzerland flights, with flights to the UK using module M0, whilst flights to the rest of Europe use module M1. Terminal 2B is mostly used by Ryanair and others, like Transavia. And T2A is adapted for large airplanes, such as B777. The terminal is also split into Modules, where flights to schengen destinations use Module U and flights to non Schengen destinations use Modules W and Y.
Airlines and destinations
Passenger
The following airlines operate regular scheduled flights to and from Barcelona:
Airlines
Destinations
Aegean Airlines
Athens
Seasonal: Thessaloniki
Aer Lingus
Dublin
Seasonal: Cork, Shannon
Aeroflot
Moscow–Sheremetyevo
Aeroméxico
Mexico City
Air Algérie
Algiers, Oran
Air Arabia Maroc
Casablanca, Fez, Nador, Tangier
Air Canada
Seasonal: Toronto–Pearson
Air China
Beijing–Capital, Shanghai–Pudong
Air Europa
Madrid, Palma de Mallorca
Seasonal charter: Tel Aviv
Air France
Paris–Charles de Gaulle
Air Moldova
Chișinău
Air Senegal
Dakar–Diass
Air Serbia
Belgrade
Air Transat
Toronto–Pearson
Seasonal: Montréal–Trudeau
airBaltic
Riga
Aircompany Armenia
Seasonal: Yerevan
Alitalia
Rome–Fiumicino
Amaszonas Uruguay
Montevideo
American Airlines
Miami, New York–JFK
Seasonal: Chicago–O'Hare, Philadelphia
AnadoluJet
Istanbul–Sabiha Gökçen
Arkia
Tel Aviv
Asiana Airlines
Seoul–Incheon
Atlantic Airways
Seasonal: Vágar
Austrian Airlines
Vienna
Avianca
Bogotá
Azerbaijan Airlines
Seasonal: Baku
Azur Air
Charter: Moscow–Vnukovo
Seasonal charter: Kazan, Krasnodar, Novosibirsk, Rostov-on-Don, Saint Petersburg, Samara
Belavia
Minsk
Blue Air
Bucharest, Iași
Bluebird Airways
Tel Aviv
British Airways
London–Heathrow
Brussels Airlines
Brussels
Bulgaria Air
Seasonal: Sofia
Cathay Pacific
Hong Kong
Condor
Seasonal: Düsseldorf
Croatia Airlines
Zagreb
Czech Airlines
Prague
Delta Air Lines
New York–JFK
Seasonal: Atlanta
easyJet
Basel/Mulhouse, Berlin–Schönefeld, Bordeaux, Bristol, Geneva, Glasgow, Liverpool, London–Gatwick, London–Luton, London–Southend, Lyon, Manchester, Milan–Malpensa, Naples, Newcastle upon Tyne, Nice, Paris–Charles de Gaulle
Seasonal: Belfast–International
EgyptAir
Cairo
El Al
Tel Aviv
Emirates
Dubai–International, Mexico City
Etihad Airways
Abu Dhabi
Eurowings
Cologne/Bonn, Düsseldorf, Hamburg, Stuttgart
Evelop Airlines
Tenerife–North
Finnair
Helsinki
Georgian Airways
Seasonal: Tbilisi
GetJet Airlines
Seasonal charter: Vilnius
Iberia
Madrid
Iberia Regional
Badajoz, Burgos, León, Valencia
Seasonal: Funchal, Pamplona
Israir Airlines
Seasonal: Tel Aviv
Jet2.com
Birmingham, Glasgow, Leeds/Bradford, Manchester
KLM
Amsterdam
Korean Air
Seoul–Incheon
LATAM Brasil
São Paulo–Guarulhos
LATAM Perú
Lima
Level
Boston, Buenos Aires–Ezeiza, Miami, New York–JFK, San Francisco, Santiago de Chile
LOT Polish Airlines
Warsaw–Chopin
Seasonal: Gdańsk, Kraków, Poznań, Rzeszów, Wrocław
Lufthansa
Frankfurt, Munich
Luxair
Luxembourg
Norwegian Air Shuttle
Copenhagen, Gothenburg, Helsinki, London–Gatwick, Los Angeles, New York–JFK, Oslo–Gardermoen, Reykjavík–Keflavík, San Francisco, Stockholm–Arlanda, Tel Aviv
Seasonal: Bergen, Fort Lauderdale, Stavanger
Pegasus Airlines
Istanbul–Sabiha Gökçen
Qatar Airways
Doha
Rossiya
Saint Petersburg
Royal Air Maroc
Casablanca
Royal Flight
Seasonal charter: Ufa
Royal Jordanian
Amman–Queen Alia
Ryanair
Athens, Beauvais, Bergamo, Berlin–Schönefeld, Birmingham, Bologna, Brussels, Budapest, Charleroi, Cologne/Bonn, Dublin, Düsseldorf (begins 1 August 2020), Edinburgh, Fez, Frankfurt, Fuerteventura, Gothenburg, Gran Canaria, Hamburg, Ibiza, Jerez de la Frontera, Kiev Boryspil, Krakow, Liverpool, London–Luton, London–Stansted, Luxembourg, Málaga, Malta, Manchester, Marrakesh, Milan–Malpensa (begins 25 October 2020), Nador, Naples, Palma de Mallorca, Podgorica, Porto, Prague, Riga, Rome–Fiumicino, Santander, Santiago de Compostela, Seville, Sofia, Stockholm–Skavsta, Stuttgart, Tenerife–North, Turin, Valladolid, Venice, Vienna, Vilnius, Warsaw–Modlin
Seasonal: Cardiff, East Midlands, Glasgow–Prestwick, Menorca
S7 Airlines
Moscow–Domodedovo
Scandinavian Airlines
Seasonal: Bergen, Copenhagen, Oslo–Gardermoen, Stavanger, Stockholm–Arlanda
Singapore Airlines
Singapore
SkyUp
Kiev–Boryspil
Smartwings
Seasonal: Prague
Sun D'Or
Seasonal: Tel Aviv
Swiss International Air Lines
Geneva, Zürich
TAP Air Portugal
Lisbon
TAROM
Bucharest
Transavia
Amsterdam, Eindhoven, Rotterdam
Transavia France
Paris–Orly
TUI fly Belgium
Seasonal: Casablanca
TUI fly Deutschland
Cologne/Bonn, Frankfurt
Tunisair
Tunis
Turkish Airlines
Istanbul
Ukraine International Airlines
Kiev–Boryspil
Seasonal: Lviv
United Airlines
Newark
Seasonal: Washington–Dulles
Ural Airlines
Seasonal: Moscow–Domodedovo, Saint Petersburg, Yekaterinburg
Utair
Seasonal: Moscow–Vnukovo
Volotea
Nantes, Strasbourg
Vueling
Aalborg, A Coruña, Algiers, Alicante, Almería, Amsterdam, Asturias, Athens, Banjul, Bari, Basel/Mulhouse, Beirut, Berlin–Tegel, Bilbao, Birmingham, Bologna, Bordeaux, Brussels, Budapest, Cagliari, Catania, Copenhagen, Dakar–Diass, Dublin, Dubrovnik, Düsseldorf, Edinburgh, Florence, Fuerteventura, Geneva, Gothenburg, Granada, Gran Canaria, Hamburg, Hannover, Ibiza, Jerez de la Frontera, Lanzarote, La Palma, Lisbon, London–Gatwick, Lyon, Madrid, Málaga, Malta, Manchester, Marrakesh, Marseille, Menorca, Milan–Malpensa, Munich, Murcia, Nantes, Naples, Nice, Nuremberg, Olbia, Oran, Oslo–Gardermoen, Palermo, Palma de Mallorca, Paris–Charles de Gaulle, Paris–Orly, Pisa, Porto, Prague, Rennes, Rome–Fiumicino, Saint Petersburg, San Sebastián, Santander, Santiago de Compostela, Seville, Stockholm–Arlanda, Stuttgart, Tangier, Tel Aviv, Tenerife–North, Tenerife–South, Toulouse, Turin, Valencia, Valladolid, Venice, Vienna, Vigo, Zürich
Seasonal: Alghero, Bergamo, Brest, Bucharest, Faro, Fez, Genoa, Heraklion, Kiev–Zhuliany, Lille, Minsk, Moscow–Domodedovo, Mykonos, Nador, Reykjavík–Keflavík, Santorini, Split, Tunis, Zagreb
WestJet
Seasonal: Toronto–Pearson
Windrose Airlines
Seasonal: Kiev–Boryspil
Wizz Air
Bucharest, Budapest, Chișinău, Cluj-Napoca, Craiova, Iași (begins 1 August 2020), Katowice, Kraków, Skopje, Sofia, Timişoara, Varna (begins 25 July 2020), Vienna, Vilnius, Warsaw–Chopin
Seasonal: Gdańsk
Cargo
| Airlines | Destinations |
| --- | --- |
| DHL Aviation | Vitoria |
| Emirates SkyCargo | Dubai–Al-Maktoum |
| FedEx Express | Paris–Charles de Gaulle |
| MNG Airlines | Istanbul–Atatürk |
| Swiftair | Palma de Mallorca |
| UPS Airlines | Cologne/Bonn |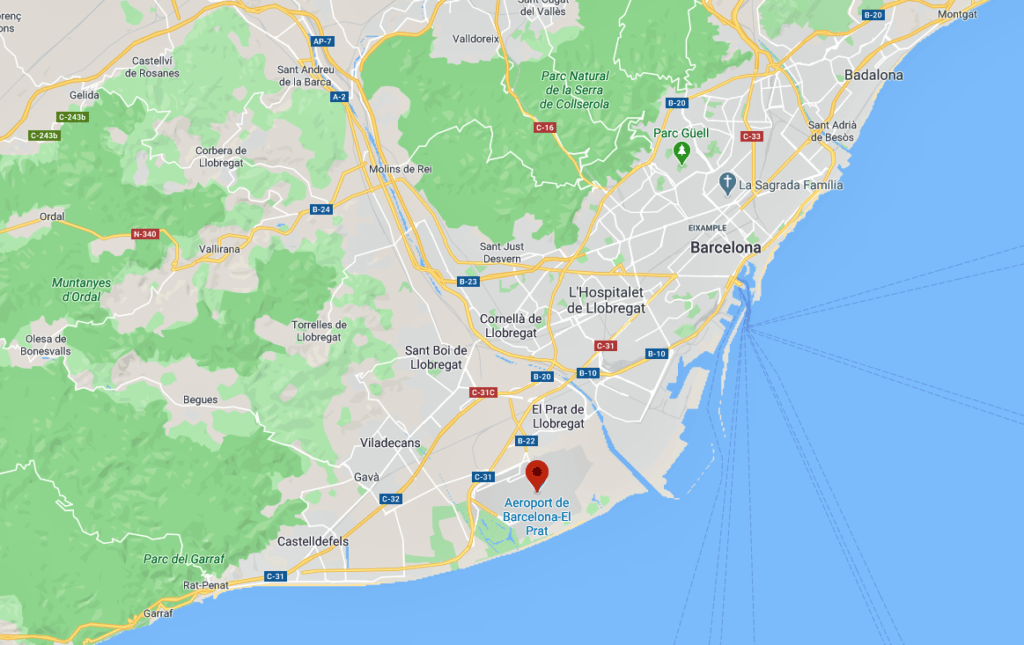 Ground transportation
Rail
Train
Terminal 2 has its own Rodalies Barcelona commuter train station on the line R2, which runs from the Maçanet-Massanes station every 30 minutes, with major stops at Barcelona Sants railway station and the fairly central Passeig de Gràcia railway station to provide transfer to the Barcelona Metro system, also in Clot station. Passengers for T1 must take a connecting bus from Terminal 2B to Terminal 1. As part of the major expansion above, a new shuttle train is going to be built from Terminal 1 to Barcelona Sants (connected with the high speed train, the AVE) and Passeig de Gràcia Stations is expected by the end of 2020.Main article: Airport (Rodalies de Catalunya)
Metro
Also this airport is linked to Barcelona by underground (metro) since 12 February 2016 by Line 9 of the Barcelona Metro with a station in each terminal, the Aeroport T1 station situated directly underneath the airport terminal T1 and the Aeroport T2 station close to the Aeroport rail station at the terminal T2. The line connects with several Barcelona Metro lines to the city center.Main article: Barcelona Metro line 9
Road
The C-32B highway connects the airport to a main traffic interchange between Barcelona's Ronda de Dalt beltway and major motorways. There is provision for parking cars at the airport, with about 24,000 parking spaces.
The Transports Metropolitans de Barcelona (TMB) public bus line 46 runs from Paral·lel Avenue. The Aerobús offers direct transfers from T1 and T2 to the city center at Plaça Catalunya. company offers transfers from Barcelona Airport to nearest airports like Reus Airport or Girona–Costa Brava, provincial and national capitals and links with France or Andorra.
Incidents and accidents
On 21 October 1994, a Falcon 20 cargo aircraft made an emergency landing at the airport after suffering a malfunction in its landing gear; none of the three crewmembers were injured.
On 19 February 1998, two people, the commander and the pilot died in an Ibertrans general aviation plane crash in the borough of Gavà shortly after taking off from El Prat.
On 28 July 1998, a general aviation cargo plane carrying press from Mallorca crashed next to one of the fences surrounding the airport, killing two crew members and co-pilot.
On 24 March 2015, an Airbus A320-211 with registration D-AIPX was operating Germanwings Flight 9525 from Barcelona to Düsseldorf when it crashed in the south of France near Digne-les-Bains, with no survivors. The flight was carrying 144 passengers, two pilots and four cabin crew. German prosecutors decided that nobody other than the 27-year-old co-pilot Andreas Lubitz could be held accountable for the crash. Lubitz took time off from his flight training for several months and informed the Flight Training Pilot School in 2009 of a "previous episode of severe depression". He later completed the training. Prior to his training as a commercial pilot, he was also treated for suicidal tendencies.
Source: wikipedia