Brussels Airport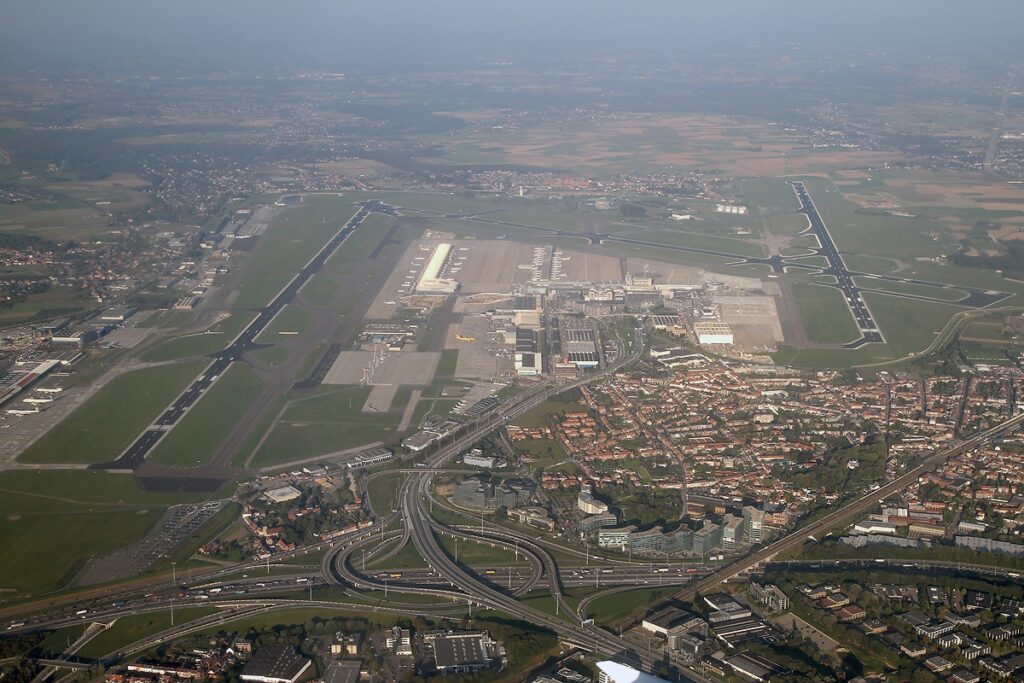 IATA: BRU ICAO: EBBR
Airport type
Military/Public
Operator
Brussels Airport Company
Belgian Air Component
Serves
Brussels, Belgium
Location
Zaventem, Flemish Brabant, Belgium
Hub for
Brussels Airlines TUI fly Belgium Singapore Airlines Cargo
Elevation AMSL
184 ft / 56 m
Coordinates
50°54′05″N 004°29′04″ECoordinates: 50°54′05″N 004°29′04″E
Website
brusselsairport.be
Brussels Airport (IATA: BRU, ICAO: EBBR) (also called Brussel-Nationaal / Bruxelles-National (Brussels-National) or Luchthaven Zaventem) is an international airport 6.5 NM (12.0 km; 7.5 mi) northeast of Brussels, the capital of Belgium. In 2019, more than 26 million passengers arrived or departed at Brussels Airport, making it the 24th busiest airport in Europe. It is located in the municipality of Zaventem in the Province of Flemish Brabant in the Flemish Region of Belgium. It is home to around 260 companies, together directly employing 20,000 people and serves as the home base for Brussels Airlines and TUI fly Belgium.
The company operating the airport is known as The Brussels Airport Company N.V./S.A.; before 19 October 2006, the name was BIAC (Brussels International Airport Company), which was created by Belgian law through a merger of BATC with the ground operations departments of the RLW/RVA. Since 2011, the airport has been owned by the Toronto-based Ontario Teachers' Pension Plan (39%), Macquarie Group (Macquarie European Infrastructure Fund I and Macquarie European Infrastructure Fund III) (36%) and the Belgian State (25%).
On 22 March 2016 the airport's departures hall was severely damaged by two terrorist bomb blasts. The airport was closed until 3 April 2016, when it reopened with temporary facilities at less than 20% of its previous capacity. It has since returned to full operations, with a record of 90,000 passengers on 29 July 2016.

2016 Brussels bombings
On 22 March 2016, two explosions took place in Brussels Airport at 07:58 local time. One occurred near the American Airlines and Brussels Airlines check-in desks and the other next to a Starbucks coffee shop. A third bomb was found in the airport and detonated in a controlled explosion. The airport was closed after the attacks until 3 April, when it reopened with temporary facilities at less than 20% of its previous passenger capacity. Flights bound to Brussels Airport were either canceled or diverted to nearby airports such as Brussels South Charleroi Airport, Ostend–Bruges International Airport, and Schiphol. At 09:11 CET, an explosion took place at Maelbeek/Maalbeek metro station. ISIL claimed responsibility for the attacks as an act of revenge against Belgium for participation in the ongoing Military intervention against ISIL.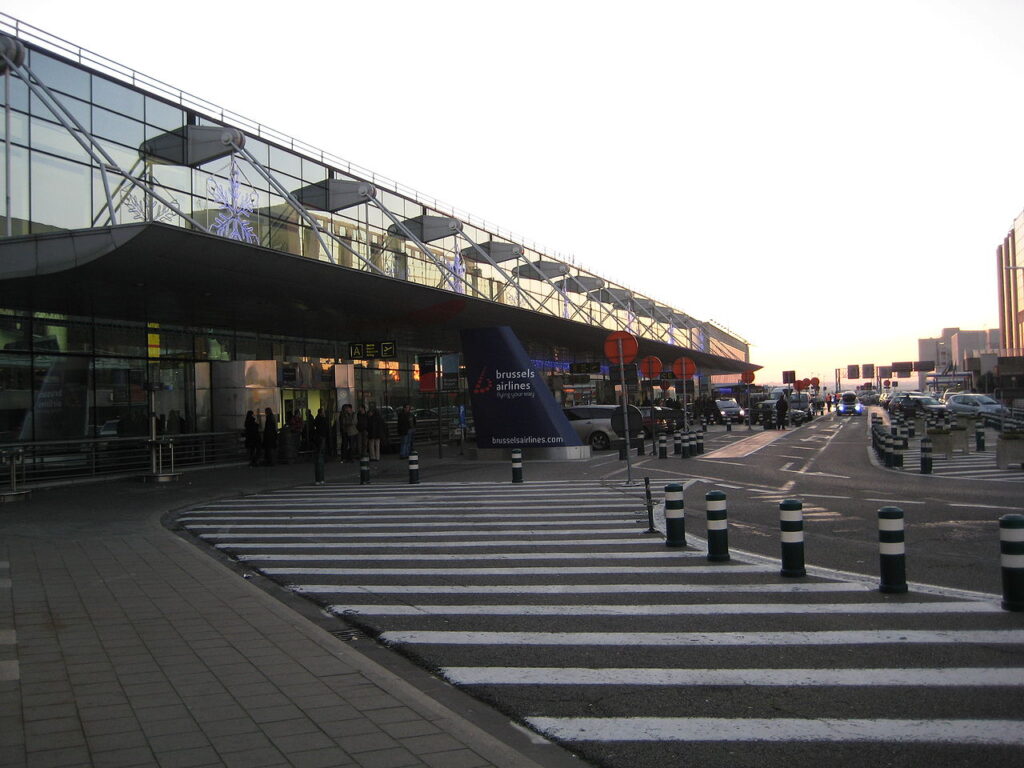 Facilities
Brussels Airport uses a one terminal concept, meaning that all the facilities are located under a single roof. The terminal building consists of several levels. The railway station is located on −1, buses and taxis arrive at 0, arrivals are located on level 2 and departures on level 3. Levels 2 and 3 are connected to the airport's two piers (A and B).
Pier A
Pier A is the newest pier on Brussels Airport and was opened on 15 May 2002. This pier was destined to support flights from and to the Schengen countries (A-gates). However, since 15 October 2008 all Brussels Airlines flights to African destinations are also handled at this pier. Therefore, border control was installed towards the end of the pier in order to create a new pier. As a result, gates A61-72 were renamed T61-72. Later, Brussels Airlines' daily flight to New York was also moved here from pier B.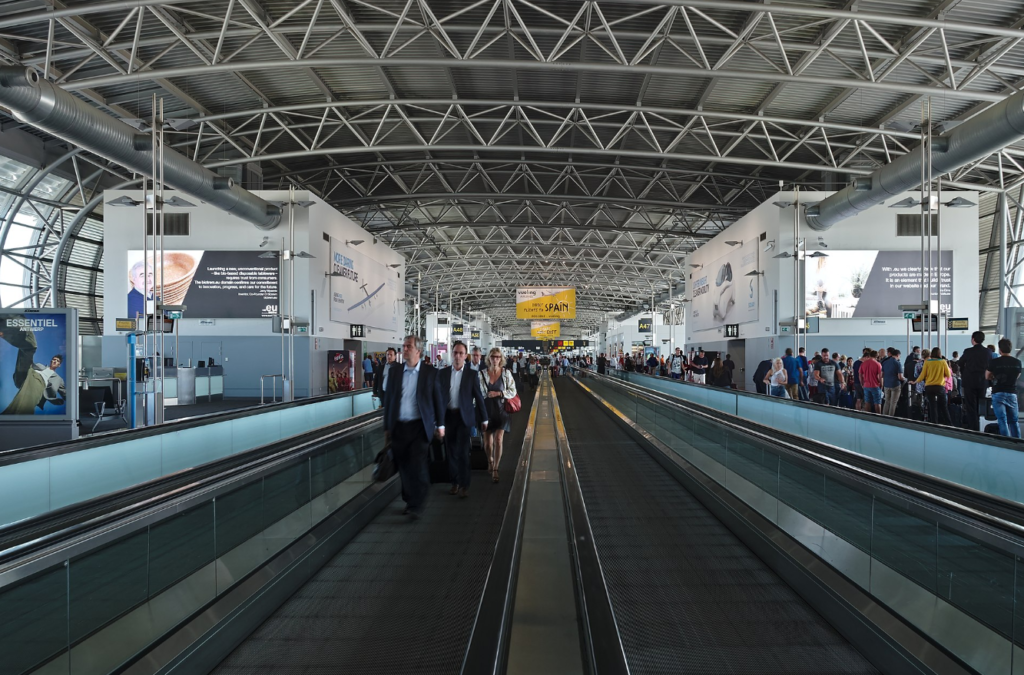 Until 26 March 2015, Pier A was connected to the main building via a 400-metre-long (1,300 ft) tunnel under the apron. Each pier used to have its own security zone, so transfer between the piers involved a security check. This tunnel was replaced by the "Connector", a new building that links both piers above ground and allows passengers to walk straight from the check-in desk to their gate in pier A or B, without changing floors. In the opposite direction, the building provides arriving passengers with a smooth and convenient passage to the baggage reclaim hall and the exit. Furthermore, border control has been relocated behind the 25-lane screening platform (Europe's largest) inside the Connector which means that changing planes no longer requires a security check.
Pier B
Pier B is the oldest pier still in use at Brussels Airport and is only used for flights outside the Schengen Area. Pier B is connected immediately to the main departure hall and consists of two decks. The upper deck (level 3) is at the same level as the departure halls and is used for the departing passengers, whereas the lower deck (level 2) is used for arriving passengers and connects immediately to border control and the baggage claim area.
Planned
Pier A West
Pier A West is a planned expansion of Pier A, and is meant to relieve Pier B by also handling flights from non-Schengen countries. Pier A West was due to open in 2016, but because of the slow passenger growth, Brussels Airport announced in July 2013 that the works would be delayed. However, in November 2015, Brussels Airport announced a major 550 million euro investment and pointed out that within this investment the extension of the pier is included.
Low-cost pier
Just as is the case for Pier A West, the construction of a new low-cost pier is currently on hold. It will be built roughly where the old south pier used to be. At present, several low-cost airlines including Ryanair and Wizz Air fly to Brussels-South Charleroi Airport, 40 km (25 mi) away from Brussels. In autumn 2013, low-cost carrier Pegasus Airlines announced it would end its flights between Brussels Airport and Turkey. The service between Brussels and Istanbul–Sabiha Gökçen would relocate to Brussels-South Charleroi Airport. However, Turkish Airlines announced on 26 November 2013 it would offer one daily flight on the same route, starting one month after Pegasus terminated its operations at the airport. One day later, Ryanair announced the opening of a second Belgian base at Brussels Airport, giving a boost to low-cost traffic at Brussels Airport. Ryanair announced on 27 November 10 new routes from Brussels Airport, although Brussels-South Charleroi Airport will remain the low-cost carrier's primary Belgian base.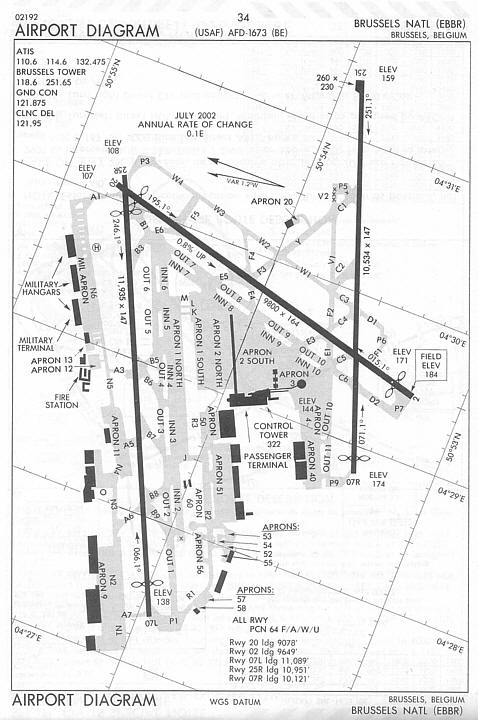 Services
Shops, bars and restaurants are scattered throughout the building. A few facilities are located in the departure area. These are mostly convenience stores and small shops such as the airport shop, a pharmacy, Relay stores and a coffee shop. But most of the facilities can only be accessed after Security control –and are tax free. Several brands and chains have a branch in both piers, however several only operate in pier A. The airport also features places of worship (for Catholics, Jews, Muslims, Orthodox Christians and Protestants), as well as a place for meditation for humanists. The airport provides meeting facilities and can host congresses up to 600 participants, either in the Regus Skyport Meeting Center or in the Sheraton Brussels Airport Hotel. The latter is the only hotel located on the airport grounds, opposite the terminal. Shuttle services are provided to 14 nearby hotels.
All passengers now have unlimited free Wi-Fi access.
There is a small smoking room next to gate A67 in the transfer section of pier A.
Other facilities
Several airlines have or had its head offices at the grounds of Brussels Airport. Brussels Airlines has its corporate head office in the b.house, Airport Building 26, located in Diegem, Machelen. European Air Transport had its head office in Building 4–5, in Zaventem. Before Sabena went out of business, its head office was in the Sabena House on the grounds of Brussels Airport. When it existed, Virgin Express had its head office in Building 116 in Zaventem. SN Brussels, which formed in 2002, had its head office in Airport Building 117 in Zaventem when it existed. Prior to its disestablishment, Sobelair had its head office in Building 45 in Zaventem. CityBird was based in building 117D. The cargo airline Cargo B Airlines had its head office in the Brucarco Building 706 in Zaventem.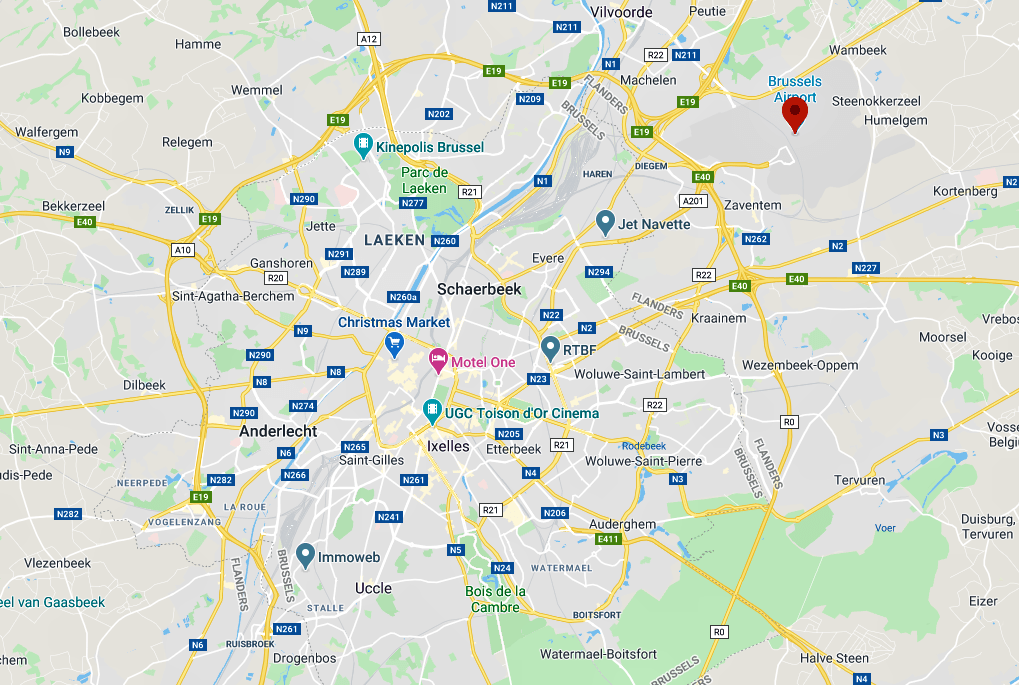 Airlines and destinations
Passenger
The following airlines operate regular scheduled and charter flights to and from Brussels:
Airlines
Destinations
Aegean Airlines
Athens
Seasonal: Thessaloniki
Aer Lingus
Dublin
Aeroflot
Moscow–Sheremetyevo
Air Algérie
Algiers, Oran
Air Arabia Maroc
Casablanca, Fez, Nador, Tangier
airBaltic
Riga, Tallinn
Air Belgium
Mauritius (begins 15 December 2020)
Air Canada
Montréal–Trudeau, Toronto–Pearson (begins 25 October 2020)
Air Europa
Madrid
Air France Hop
Lyon
Seasonal: Calvi
Air Malta
Malta
Air Serbia
Belgrade
Alitalia
Milan–Linate, Rome–Fiumicino
All Nippon Airways
Tokyo–Narita
AnadoluJet
Istanbul–Sabiha Gökçen
Austrian Airlines
Vienna
Blue Air
Bacău, Bucharest, Iași
British Airways
Billund (begins 7 September 2020), London–Heathrow
Brussels Airlines
Abidjan, Accra, Alicante, Banjul, Barcelona, Berlin–Tegel, Bilbao, Budapest, Bujumbura, Copenhagen, Cotonou, Dakar–Diass, Douala, Entebbe, Faro, Geneva, Gran Canaria, Hamburg, Kigali, Kinshasa–N'djili, Lisbon, Ljubljana, Lomé, London–Heathrow, Lyon, Madrid, Málaga, Manchester, Marseille, Milan–Malpensa, Monrovia, Naples, New York–JFK, Nice, Oslo–Gardermoen, Paris–Charles de Gaulle, Porto, Prague, Rome–Fiumicino, Stockholm–Bromma, Tel Aviv, Tenerife–South, Toulouse, Venice, Vienna, Vilnius, Warsaw–Chopin, Yaoundé
Seasonal: Athens, Catania, Dubrovnik, Florence, Heraklion, Hurghada, Ibiza, Kos, Palermo, Palma de Mallorca, Rhodes, Yerevan
Bulgaria Air
Sofia
Cathay Pacific
Hong Kong
Corendon Airlines
Antalya
Seasonal: Bodrum, İzmir
Corendon Dutch Airlines
Burgas, Heraklion, Hurghada, Kos, Rhodes
Croatia Airlines
Zagreb
Czech Airlines
Prague
Delta Air Lines
Atlanta, New York–JFK
easyJet
Berlin–Tegel, Bordeaux, Nice
easyJet Switzerland
Basel/Mulhouse, Geneva
EgyptAir
Cairo
El Al
Tel Aviv
Emirates
Dubai–International
Ethiopian Airlines
Addis Ababa
Etihad Airways
Abu Dhabi
Eurowings
Stuttgart
Finnair
Helsinki
Seasonal: Kittilä (begins 19 December 2020)
Georgian Airways
Seasonal: Tbilisi
Hainan Airlines
Beijing–Capital, Shenzhen
Iberia
Madrid
Icelandair
Reykjavík–Keflavík
KLM
Amsterdam
LOT Polish Airlines
Budapest, Tallinn, Warsaw–Chopin
Lufthansa
Frankfurt, Munich
Middle East Airlines
Beirut
Nouvelair
Seasonal: Tunis
Onur Air
Antalya
Qatar Airways
Doha
Qeshm Air
Tehran–Imam Khomeini
Royal Air Maroc
Casablanca, Nador, Rabat, Tangier
Seasonal: Al Hoceima, Oujda
RwandAir
Kigali
Ryanair
Alicante, Amman–Queen Alia, Barcelona, Berlin–Schönefeld, Catania, Dublin, Essaouira, Kraków, Larnaca, Lisbon, Madrid, Málaga, Marrakesh, Milan–Malpensa, Pisa, Porto, Rome–Fiumicino, Seville, Valencia
Seasonal: Palma de Mallorca
Scandinavian Airlines
Copenhagen, Oslo–Gardermoen, Stockholm–Arlanda
Seasonal: Tromsø
SunExpress
Seasonal: Adana, Ankara, Antalya, Izmir
Swiss International Air Lines
Zürich
TAP Air Portugal
Lisbon, Porto
TAROM
Bucharest
Thai Airways
Bangkok–Suvarnabhumi
TUI fly Belgium
Agadir, Alicante, Almería, Antalya, Banjul, Boa Vista, Cancún, Djerba, Enfidha, Fez, Fuerteventura, Funchal, Gran Canaria, Hurghada, Lanzarote, La Palma, Luxor, Málaga, Marrakesh, Marsa Alam, Miami, Montego Bay, Pristina, Punta Cana, Rabat, Sal, Santo Domingo–Las Americas, Sharm El Sheikh, Tangier, Tenerife–South, Tirana, Varadero
Seasonal: Ajaccio, Athens, Bastia, Bodrum, Brač, Brindisi, Burgas, Catania, Chania, Corfu, Dalaman, Dubrovnik, Eskişehir, Faro, Girona, Heraklion, Ibiza, Izmir, Jerez de la Frontera, Kavala, Kittilä, Kos, Lamezia Terme, Lourdes/Tarbes, Menorca, Mombasa, Mykonos, Mytilene, Naples, Olbia, Palermo, Palma de Mallorca, Paphos, Patras, Ponta Delgada, Puerto Plata, Pula, Reus, Rhodes, Samos, Santorini, Thessaloniki, Tivat, Valencia, Varna, Volos, Zakynthos, Zanzibar
Tunisair
Djerba, Monastir, Tunis
Turkish Airlines
Istanbul
Ukraine International Airlines
Kiev–Boryspil
United Airlines
Chicago–O'Hare, Newark, Washington–Dulles
Vueling
Alicante, Barcelona, Málaga, Valencia
Seasonal: Santiago de Compostela
Cargo
| Airlines | Destinations |
| --- | --- |
| Air Algérie Cargo | Algiers, Casablanca |
| Asiana Cargo | Anchorage, London–Stansted, New York–JFK, Seoul–Incheon |
| ASL Airlines Belgium | Helsinki |
| DHL Aviation | Miami, Bahrain, Barcelona, Bergamo, Bratislava, Budapest, Cincinnati, Copenhagen, East Midlands, Oslo–Gardermoen, Helsinki, Lagos, Leipzig/Halle, Lisbon, London–Heathrow, Madrid, Shanghai, Seoul–Incheon, Vitoria |
| Emirates SkyCargo | Chicago–O'Hare, Dubai–Al Maktoum, Lockbourne |
| Ethiopian Airlines Cargo | Addis Ababa, Dubai–Al Maktoum, Guangzhou, Hong Kong, New York–JFK, Miami, Shanghai, Seoul-Incheon |
| LATAM Cargo Chile | Frankfurt, Campinas–Viracopos, Santiago de Chile |
| Qatar Airways Cargo | Accra, Doha |
| Royal Air Maroc | Casablanca |
| Saudia Cargo | Dammam, Jeddah, Milan–Malpensa, Riyadh, Vienna |
| Sichuan Airlines Cargo | Chengdu, Xi'an |
| Singapore Airlines Cargo | Bangalore, Mumbai, Sharjah, Singapore |
| Suparna Airlines | Moscow, Zhengzhou |
Ground transportation
Road
Brussels Airport can be reached by car via the A201, which is directly connected to the Brussels Ring Road. From there, the main highways of Belgium can directly be accessed. Private partners provide three car parks at the airport, offering in total 10,600 parking spaces. Shell operates a self-service gas station near the exit of the airport complex.
Several car rental services are located in the airport as well. Europcar, Hertz, Sixt and Thrifty all operate at Brussels Airport. DriveNow also offers a car-sharing service at Brussels airport located at P3 Holiday Parking, and Zipcar has parking spaces. Taxi2Share provides sharing cab service from airport.
De Lijn provides bus transportation to and from various cities in Flanders from platforms A and B (via Brucargo). The MIVB/STIB provides transportation into Brussels city centre at Brussels Luxembourg Station via line 12 (weekdays before 8 pm) or line 21 (weekends and evenings after 8 pm) from platform C. Platform E is used by the Hotel Shuttles, offering shuttle services to several hotels near the area.
Taxis are permanently available in front of the arrivals hall. Licensed taxis can be recognized by the blue and yellow emblem.
Rail
The Airport Railway Station is located under the airport building at level −1. The train station has direct services to Antwerp, Brussels, De Panne, Ghent, Hasselt, Landen, Leuven, Mechelen, Nivelles and Quévy. At least four trains per hour serve the most used link to Brussels South Railway Station, where international connections are offered by Eurostar (to London), Thalys (to Amsterdam, Avignon, Cologne, Essen, Lille, Marseille, Paris and Valence), ICE (to Cologne and Frankfurt), and Eurocity (to Basel, Bern, Chur, Luxembourg and Zürich).
A direct train link with Leuven was opened on 12 December 2005. A direct link with Antwerp and Mechelen via the so-called Diabolo line was opened for public service on 10 June 2012. The Diabolo project is a public-private partnership. It has been decided that all rail passengers to the Brussels National Airport railway station pay a "Diabolo supplement" to finance the ongoing and planned work.
As of December 2014, a direct train link between Bruges and the Airport will be offered,[66] just as an Intercity service to Schiphol and Amsterdam.
Since the new Schuman-Josaphat tunnel[68] has been finished, a new connection has been established to connect Brussels Airport directly to the stations of the EU quarter, being Brussels-Schuman and Brussels-Luxembourg. This brought the travel time between the Airport and the EU quarter to 15 minutes. The Belgian Railways announced the line to open as an hourly service. However, the line now sees a train every 30 minutes on weekdays.
Tram
In an attempt to alleviate gridlock around Brussels, the regional transport company De Lijn started the Brabantnet project. Three new lightrail lines will be created, of which 2 will have a stop at Brussels Airport;
The Airport Tram, connecting Brussels Airport to Brussels-North, but taking a different trajectory from the existing railway line.
The Ring Tram, roughly following the northern side of the Brussels Ring and connecting several Brussels suburbs and Vilvoorde to the Airport
The Brabantnet project is scheduled to be finished by 2020.
To speed up the process, testing started in August 2016 with a Trambus, a Bus rapid transit system developed by Belgian bus builder Van Hool. As these require less investment, the Ringtrambus will be able to start service in September 2019. The vehicles will initially be used on bus route 820 between Brussels Airport and the Brussels University Hospital in Jette. They will travel via Brucargo, the station and the centre of Vilvoorde, the Kassei neighbourhood, the employment area around the Medialaan, Strombeek and the Heysel. This solution would be an in-between step until the tram line is finished.
The Airport Tram will be an extension of present Brussels Tram line 55 and line 62, and will roughly follow the A201 Motorway, but will need a large bridge to cross the Brussels Ring into the Airport.
Bicycle
Brussels Airport has a special separated road that provides access to the airport for bikers and pedestrians. There is also a special place to park bikes. Since 2019, the airport has a direct connection from the Bike Highway Brussels – Leuven. In 2016, merely 1% of employees were commuting by bike.. In an effort to further increase this number, bicycle leasing was introduced to employees, and in 2020 almost 10% of the Brussels Airport employees signed up for this.
Accidents and incidents
– On 15 February 1961, Sabena Flight 548, a Boeing 707, crashed during approach on runway 20, killing all 72 people on board and one on the ground. This was the first fatal accident involving a Boeing 707, resulting in the death of the entire United States Figure Skating team on its way to the World Figure Skating Championships in Prague, Czechoslovakia, which the International Skating Union subsequently cancelled out of respect for the team.
– Four aircraft were destroyed on 5 May 2006 when Sabena Technics' hangar 40 burned down. The aircraft were one Lockheed C-130 Hercules (Belgian Air Component) and three Airbus A320 (Armavia, Armenian International Airways and Hellas Jet).
– On 25 May 2008, Kalitta Air Flight 207, a Boeing 747-200F, overran the shorter runway 20, crashed into a field and split in three. Four of the five people on board received minor injuries.
Source: wikipedia