Medan Kualanamu International Airport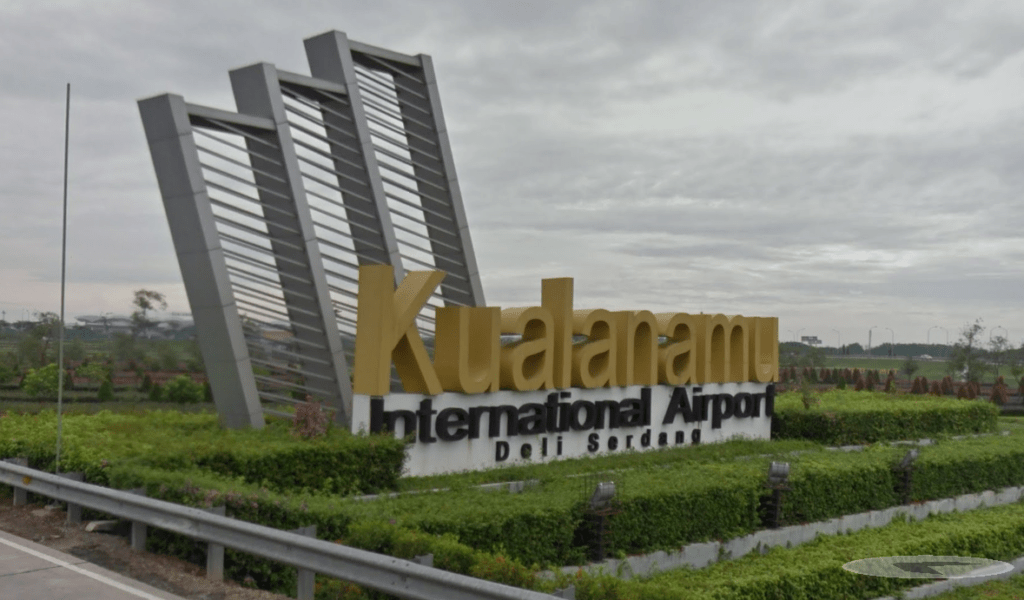 IATA: KNO ICAO: WIMM WMO: 96035
Airport type
Public
Owner
Government of Indonesia
Operator
PT Angkasa Pura II
Serves
Medan
Location
Deli Serdang Regency, North Sumatra, Indonesia
Opened
25 July 2013
Hub for
Garuda Indonesia Indonesia AirAsia Lion Air Susi Air Wings Air Citilink (secondary hub)
Elevation AMSL
7,01 m / 23 ft
Coordinates
03°38′32″N 98°53′7″ECoordinates: 03°38′32″N 98°53′7″E
Website
www.kualanamu-airport.co.id
Kualanamu International Airport (Indonesian: Bandar Udara Internasional Kualanamu) (IATA: KNO, ICAO: WIMM) is an international airport serving Medan, Indonesia. It is located in Deli Serdang regency, 23 km east of downtown Medan. Kualanamu is the third largest airport (after Jakarta Soekarno–Hatta and the new Bandung Kertajati) and the fifth busiest airport in Indonesia in 2017.
The airport opened to public on 25 July 2013, handling all flights and services shifted from Polonia International Airport. The airport was built on the site of what was previously an oil palm plantation of company Perkebunan Nusantara II Tanjung Morawa. The airport is expected to become the new international transit center in Sumatra and the western part of Indonesia. It is part of Indonesia's central government's program under "Masterplan to Accelerate and Expand Economic Development in Indonesia" (MP3EI) and one of the strategies for the ASEAN Single Aviation Market (ASEAN-SAM), an open skies policy among member-countries in the Southeast Asia region starting 2015.

Facilities and infrastructure
The airport is Indonesia's third largest, after Soekarno–Hatta International Airport and the new Kertajati International Airport, with a 224,298 m² passengers terminal and will eventually have a capacity of 50 million passengers (2030), a figure if realised today would place the airport in the top 10 busiest by passenger numbers in the world, although by the time this figure is achieved it is likely that there will be many airports carrying more passengers. Kualanamu Airport has an automatic baggage handling system, thus becoming the first airport in Indonesia which does not need baggage porters.
The airport is equipped with a single 3,750 x 60 meter runway, a 3,750m and 2,000m long parallel taxiway capable of accommodating wide-body aircraft, including category – F jets such as the Airbus A380, Boeing 747-8, and Antonov 225. It also includes an apron area measuring 664 m² capable of handling 33 aircraft. It also has a 13,000 m² cargo area that can handle 3 carriers with 65,000 tonnes/annum and 50,820 m² parking capacity with 405 taxis, 55 busses, and 908 cars. Covering on 1,365 ha of land, 20 km North East of Polonia airport, 3 km from the sea, and on a site of area 6,5 x 2,1 km. Phase 1 of the new airport has a capacity to serve 8 million passengers annually, but at early 2014 has served 8.3 million passengers annualized. Phase 2 will start construction in mid-2015 to serve 25 million passengers. Phase III expansion of the airport will include expansion of the runway to allow the airport to accommodate wide bodied aircraft of Airbus 380-800, and expansion of cargo area to 24,715 square meters from 13,450 square meters at present, and expansion of passenger terminal to 224,256 square meters to increase the capacity from 9 million passengers to 17 million passengers annually, which will start in 2018. The airport operator AP II also planned to develop a 200 hectare plot of land for commercial area outside the passenger terminal. The commercial area will be built with an "airport city" concept with 3, 4 and 5 star hotels, a hypermarket, office building, hospital and movie theater.
Currently, the ILS system in used is ILS CAT I for both Runway 05 and 23. Arrivals and departures are usually directed to Runway 23 while Runway 05 will be used pertaining to wind direction.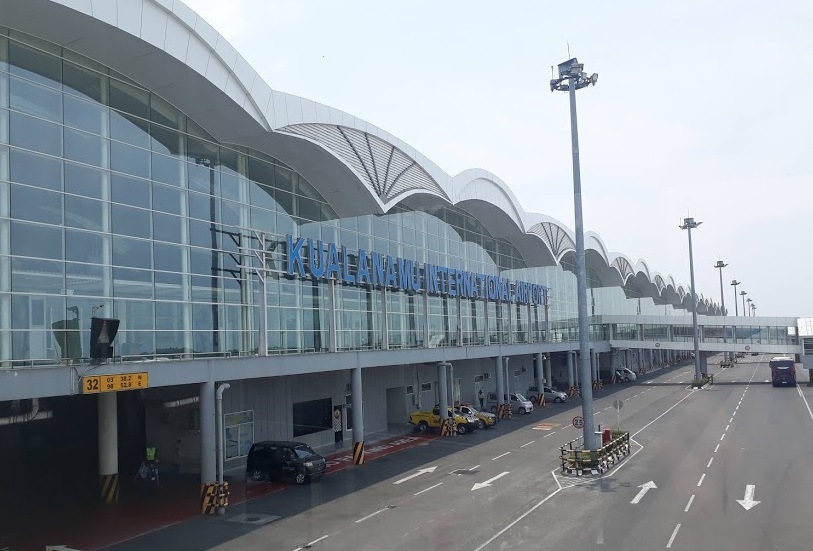 Airport Hotel
The airport is open 24/7. There is hotel which located at 2nd floor and marketed as Horison Sky Kualanamu. The hotel itself is managed by Horison Group. It will be 7,000 square meters area with capacity 140 rooms per se.
Operations
Airside facilities would be controlled by the Indonesian government, while landside facilities would be owned by a joint venture with PT Angkasa Pura II, which is expected to provide $350 million as an initial investment in return for a 30-year lease, after which ownership would revert to PT Angkasa Pura II. The airport will be linked to the city of Medan by a $10.7 million railway project. An 18 km highway is under construction improving the airport's road connection to the city of Medan. It will cost $1.5 billion and will have 4 interchange, 4 underpasses, 7 flyovers, and 3 toll gates.
The airport is the first in Indonesia with a publicly accessible check-in area (current Indonesian airports restrict access to ticket holders with security at the gate). This means a much larger and more spacious check-in area than the existing airport. The airport is designed by Wiratman & Associates, who had also designed several other new airports and office buildings in Indonesia. Computer renderings showing a T-shape design are on the company's website.[19] Another rendering and masterplan can be found in Angkasa Pura II website. Also a visualization of the future airport video.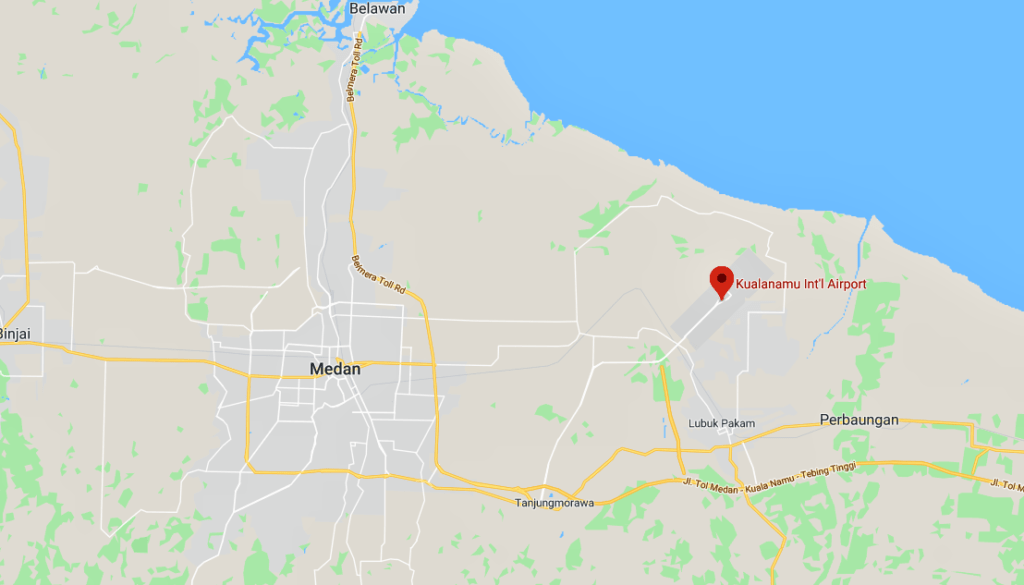 Airlines and destinations
Passenger
| Airlines | Destinations |
| --- | --- |
| AirAsia | Kuala Lumpur–International, Penang |
| Batik Air | Jakarta–Halim Perdanakusuma, Jakarta–Soekarno-Hatta, Medina |
| Cathay Dragon | Hong Kong |
| Citilink | Banda Aceh, Bandung, Batam, Gunungsitoli, Jakarta–Halim Perdanakusuma, Jakarta–Soekarno-Hatta, Lhokseumawe, Padang Sidempuan, Pekanbaru, Sibolga, Yogyakarta–International |
| Flynas | Charter: Jeddah |
| Garuda Indonesia | Gunungsitoli, Jakarta–Soekarno-Hatta, Jeddah, Medina, Palembang |
| Indonesia AirAsia | Bangkok–Don Mueang, Jakarta–Soekarno-Hatta, Kuala Lumpur–International, Penang, Yogyakarta–International |
| Jetstar Asia Airways | Singapore |
| Lion Air | Banda Aceh, Batam, Jakarta–Soekarno-Hatta, Kertajati, Padang, Palembang, Pekanbaru, Penang, Surabaya, Yogyakarta–International |
| Malaysia Airlines | Kuala Lumpur–International |
| Saudia | Jeddah, Medina |
| SilkAir | Singapore |
| Sriwijaya Air | Batam, Jakarta–Soekarno-Hatta, Jambi , Padang, Penang, Surabaya |
| Susi Air | Blangkejeren, Blangpidie, Silangit, Tapaktuan |
| Wings Air | Dumai, Gunungsitoli, Jambi, Lhokseumawe, Meulaboh, Padang Sidempuan, Sibolga, Silangit, Simeulue, Takengon |
Cargo
| Airlines | Destinations |
| --- | --- |
| | Jakarta–Soekarno–Hatta |
Ground transportation
Rail transport
Train services are operated by PT Railink, a joint venture between PT Angkasa Pura II and Indonesian Railway. It is the first integrated airport rail link in Indonesia. The trains were made in South Korea.
The route runs from Medan Main Station beside the Merdeka Square and provides the fastest way to reach the airport, taking 30 minutes, and the return taking 30 to 47 minutes.
In May 2014 double-tracking from Medan to the Airport began this will cut time travel by at least 10 minutes.
Toll Road
The airport is connected by Medan–Kuala Namu–Tebing Tinggi Toll Road.
Bus
A state-owned bus company, Perum DAMRI, operates services to the airport. The DAMRI bus has only two bus shelters in Medan, on Gatot Subroto next to Plaza Medan Fair and at Amplas bus terminal. It takes about approx 60 to 90 minutes to reach the airport (depending on your departure point and based on traffic). 2 hours from more central Plaza Medan Fair are not uncommon. The fare is cheaper than a train ride to city. There is also a sharing cab which carries passengers to several destinations. Paradep and Travel Nice Trans link the airport to Parapat via Pematang Siantar that is main gateway to reach some popular destinations like Samosir Island and Lake Toba.
Service


Destination


Shuttle Airport Bus
Damri
Amplas Bus Terminal
Medan


Damri
Plaza Medan Fair
Medan


ALS
Gagak Hitam (Ringroad)
Medan


Almasar
Kabanjahe
Kabanjahe


Damri
Stabat
Stabat


ALS
Binjai Super Mall
Binjai


Paradep
Sutomo St
Pematang Siantar


Nice Trans
Millenium ICT Center
Medan


Nice Trans
Sutomo St
Parapat via Pematang Siantar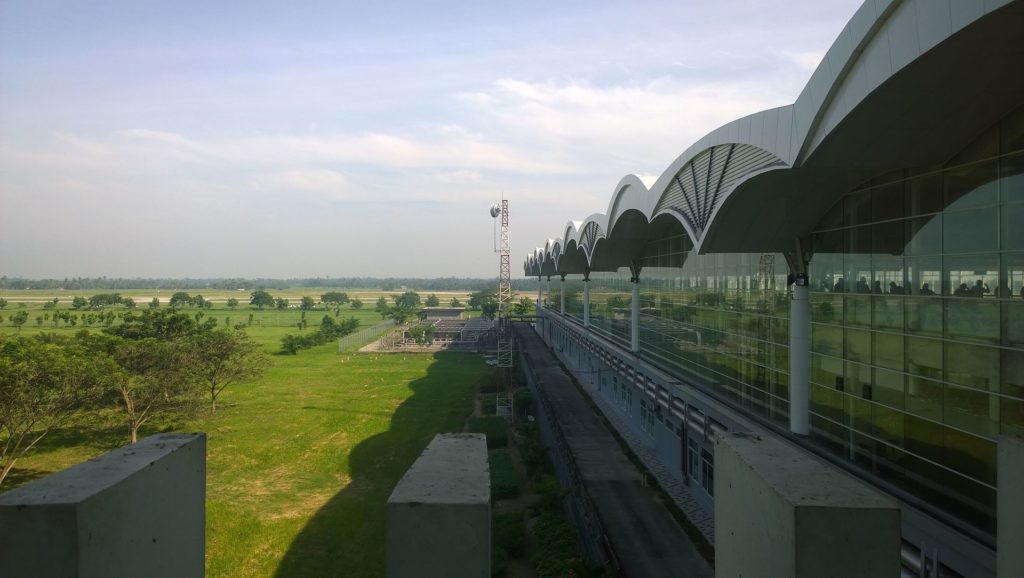 Cars
There is an arterial road connecting the city of Medan and the airport. The Medan-Kuala Namu-Tebing Tinggi Toll Road is currently in the making stage. It is planned that this toll road will be completed by 2017. The toll road is part of the Trans-Sumatera Toll Road. There is car that readily to be rented from several operators such as ASSA, Blue Bird, TRAC and SENA.
Taxis
Taxi costs about twice that of train tickets. Taxi operators that bring passengers to the airport are limited to Blue Bird, KARSA, MATRA, and Nice Trans. Passengers are encouraged to use a taxi with a meter to avoid scams. Transportation network companies Grab and Go-Jek operate inside the airport.
Regional hub
Kualanamu International Airport is plotted to be a Regional Hub as South Korea's Incheon International Airport brother airport, so on June 25, 2012 an agreement has been signed of both party operators. Incheon operator will assist Kualanamu operator to become Regional Hub with world-class standards.
In early 2014, Flying Fox Airways is still processing the hub license. On May 1, 2014 Indonesian Flag Carrier Garuda Indonesia opened flight from Medan to Jeddah as extension of Makassar-Medan.
Accolades
In June 2015, Kuala Namu received a certificate from Skytrax as a "4-Star Airport", the first Indonesian airport to receive such title.
Source: wikipedia