Rio de Janeiro/Galeão International Airport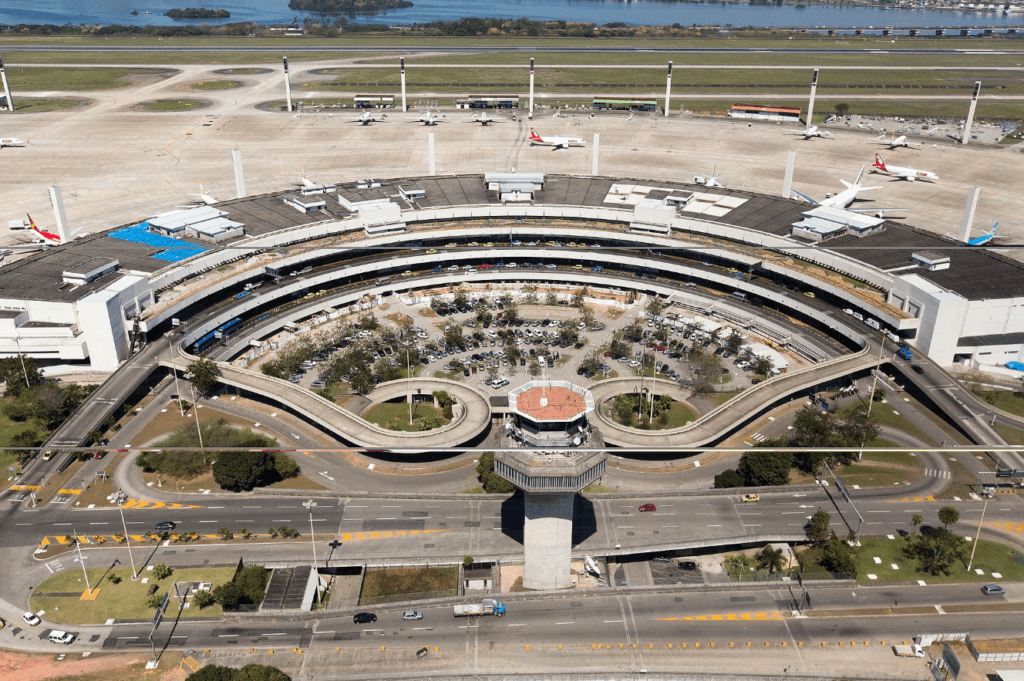 IATA: GIG ICAO: SBGL
Airport type
Public/Military
Operator
RIOGaleão
Serves
Rio de Janeiro
Hub for
Gol Transportes Aéreos
Elevation AMSL
9 m / 28 ft
Coordinates
22°48′36″S 043°15′02″WCoordinates: 22°48′36″S 043°15′02″W
Website
www.riogaleao.com/passageiros
Rio de Janeiro/Galeão – Antonio Carlos Jobim International Airport (IATA: GIG, ICAO: SBGL), popularly known by its original name Galeão International Airport, is the main airport serving Rio de Janeiro, Brazil. In 2019, it was the country's fourth-busiest airport by passenger traffic. It is named after Praia do Galeão (Galleon Beach), located in front of the original passenger terminal (the present passenger terminal of the Brazilian Air Force) and where in 1663 the galleon Padre Eterno was built; and since January 5, 1999 also after the Brazilian musician Antonio Carlos Jobim. Galeão Airport is explicitly mentioned in his composition Samba do avião. It is the largest airport site in terms of area in Brazil.
Since August 12, 2014 it has been operated by the concessionary Rio Galeão, a consortium formed by the Brazilian investor Odebrecht and Changi Airport Group, with a minority participation of the government owned company Infraero, the previous operator. The new concessionary has been using the brand name RIOgaleão – Aeroporto Internacional Tom Jobim.
Some of its facilities are shared with the Galeão Air Force Base of the Brazilian Air Force.

Developments
On August 31, 2009, the previous operator, Infraero, unveiled a R$819 million (US$431 million; €302 million) investment plan to upgrade Galeão International Airport focusing on the preparations for the 2014 FIFA World Cup which was held in Brazil, Rio de Janeiro being one of the venue cities, and the 2016 Summer Olympics, which Rio de Janeiro would host. The investment was supposed to be distributed as follows:
Renovation of Passenger Terminal 1. Completed: 2012
Completion and renovation of Passenger Terminal 2. Completed: June 2012
Construction of further parking. Value 220.0 million. Completed: Late-2013
The new concessionary Rio Galeão has revised, modified and upgraded those plans to include the construction of a new pier with 26 new bridges, a new apron for 97 aircraft, and 2,640 car-parking spaces have been added in 2016–17, which would sum up to R$2 billion reais.
Airlines and destinations
Since March 2020, the check-in and baggage claim areas of Terminal 1 are not in use. All passengers must use Terminal 2 to access the boarding gates of any terminal.
Airlines
Destinations
Aerolíneas Argentinas
Buenos Aires–Ezeiza
Seasonal: Córdoba
Aerolíneas Argentinas
operated by Austral Líneas Aéreas
Seasonal: Rosario
Air France
Paris–Charles de Gaulle
Alitalia
Rome–Fiumicino
Amaszonas
Santa Cruz de la Sierra–Viru Viru
American Airlines
Miami (resumes 5 June 2020)
Seasonal: New York–JFK (resumes 17 December 2020)
Avianca
Bogotá
Azul Brazilian Airlines
Belo Horizonte–Confins, Campinas, Recife, Ribeirão Preto
British Airways
London–Heathrow
Copa Airlines
Panama City–Tocumen
Delta Air Lines
Atlanta
Seasonal: New York–JFK
Edelweiss Air
Zürich (resumes 6 July 2020)
Emirates
Buenos Aires–Ezeiza, Dubai–International, Santiago de Chile
Flybondi
Buenos Aires–El Palomar
Gol Transportes Aéreos
Aracaju, Belém, Belo Horizonte–Confins, Brasília, Buenos Aires–Ezeiza, Campinas, Córdoba, Curitiba, Florianópolis, Fortaleza, Foz do Iguaçu, Goiânia, João Pessoa, Maceió, Manaus, Montevideo, Natal, Navegantes, Porto Alegre, Recife, Rosario, Salvador da Bahia, Santiago de Chile, São Luís, São Paulo–Congonhas, São Paulo–Guarulhos, Vitória
Gol Transportes Aéreos
operated by VoePass
Macaé
Iberia
Madrid
KLM
Amsterdam
LATAM Brasil
Brasília, Buenos Aires–Ezeiza, Fortaleza, Foz do Iguaçu, Montevideo, Natal, Santiago de Chile, São Paulo–Congonhas, São Paulo–Guarulhos
LATAM Chile
Santiago de Chile
LATAM Paraguay
Asunción, Buenos Aires–Ezeiza
LATAM Perú
Lima
Lufthansa
Frankfurt
Norwegian Air UK
London–Gatwick
Paranair
Seasonal: Asunción
Royal Air Maroc
Casablanca (resumes 7 June 2020)
Sky Airline
Santiago de Chile
TAP Air Portugal
Lisbon, Porto
United Airlines
Houston–Intercontinental (resumes 6 July 2020)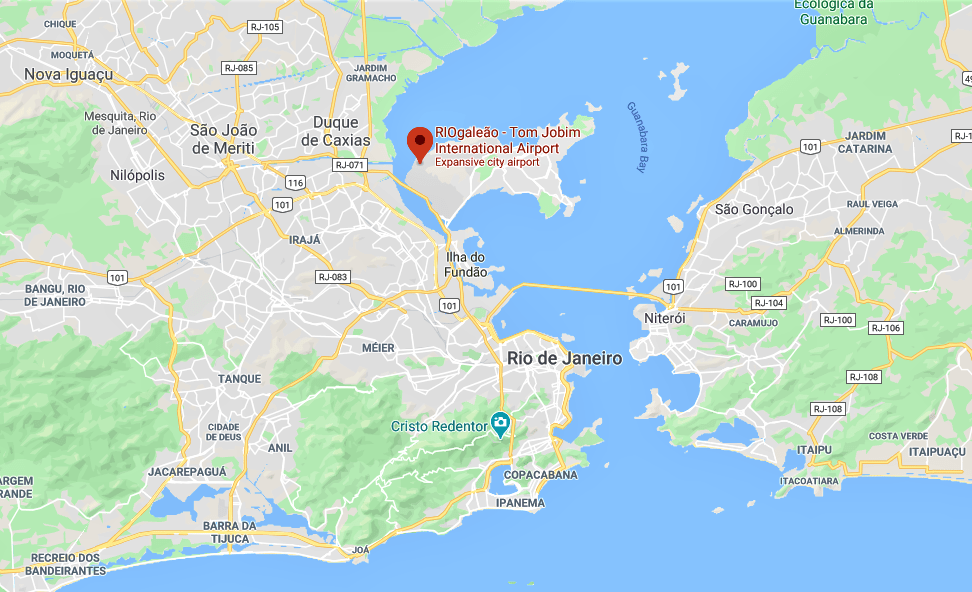 Cargo
| Airlines | Destinations |
| --- | --- |
| Cargolux | Campinas, Luxembourg |
| LATAM Cargo Brasil | Belo Horizonte–Confins, Cabo Frio, Campinas, Ciudad del Este, Curitiba, Manaus, Miami, Porto Alegre, São Paulo–Guarulhos |
| LATAM Cargo Chile | Amsterdam, Buenos Aires–Ezeiza, Frankfurt, Miami, Montevideo, Santiago de Chile |
| LATAM Cargo Colombia | Bogotá, Lima, Miami, Quito |
| Rio Linhas Aéreas | Recife, Salvador da Bahia, São Paulo–Guarulhos |
| Sky Lease Cargo | Miami |
Gallery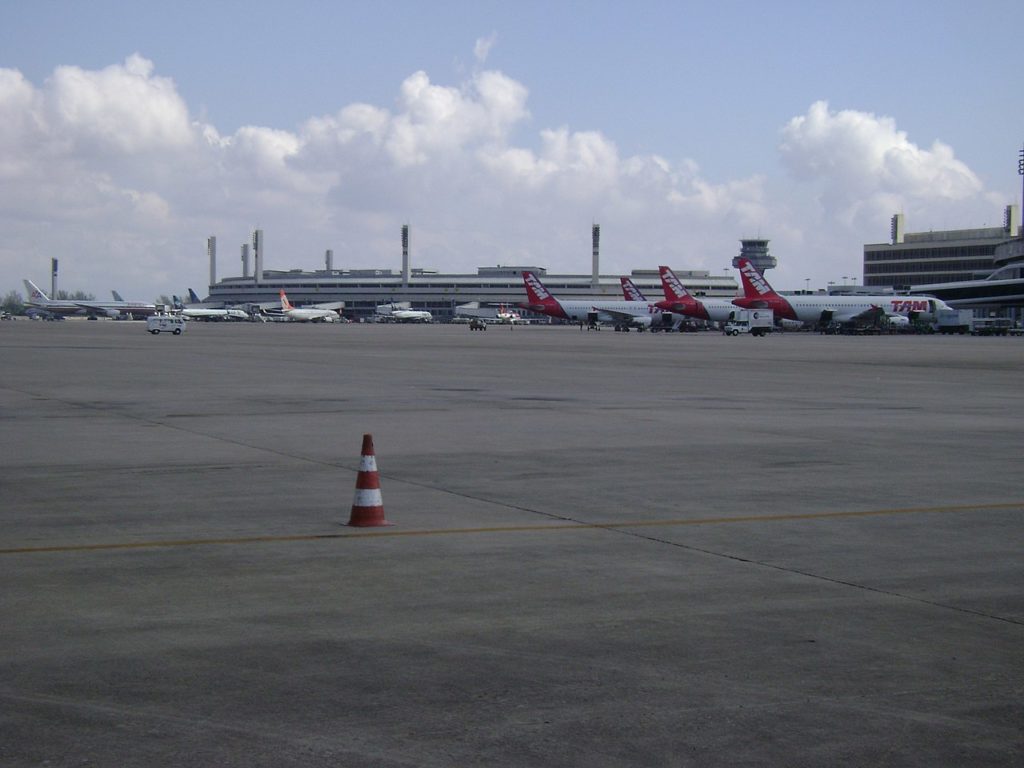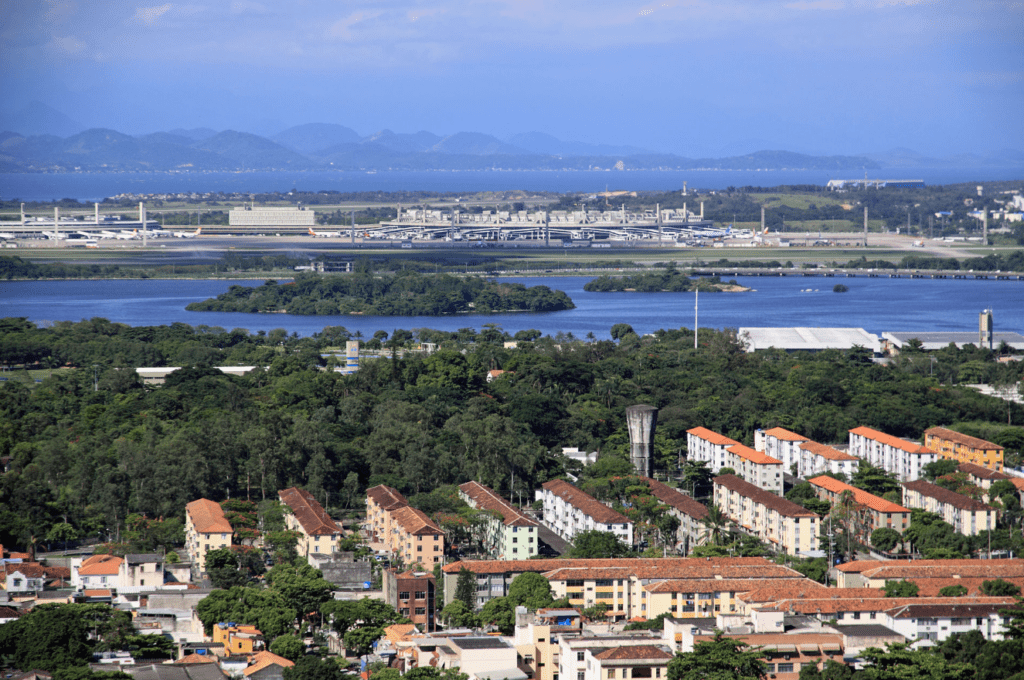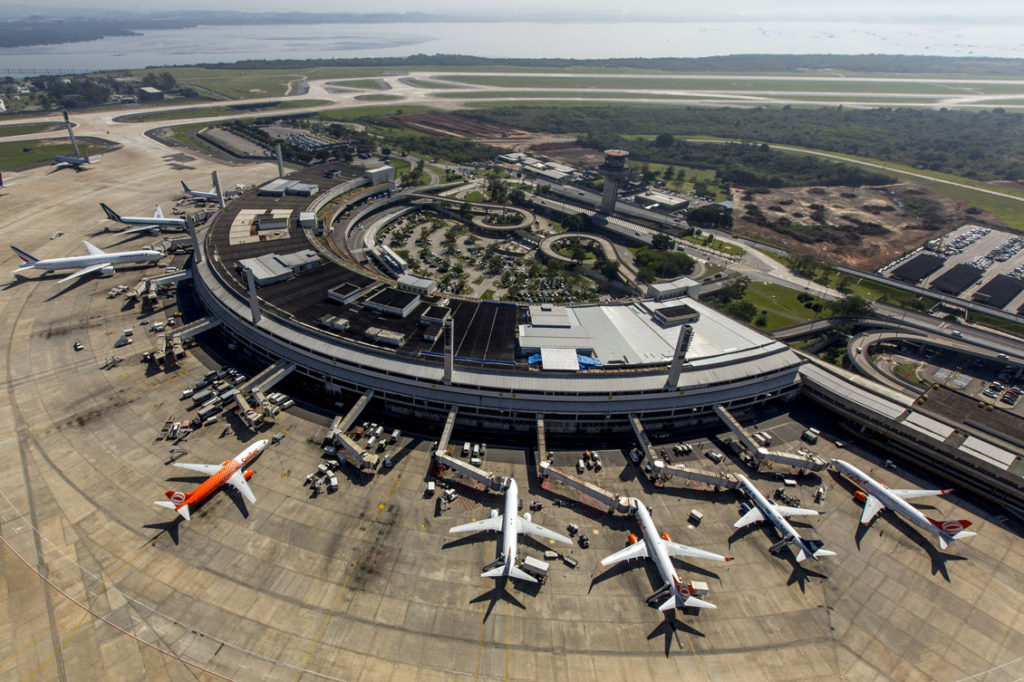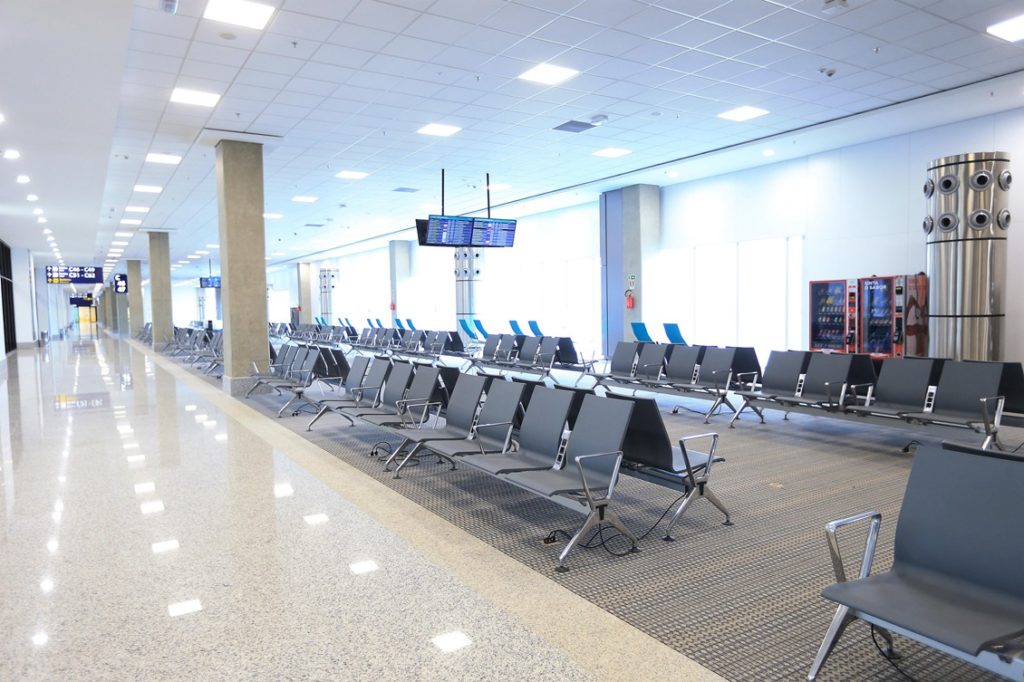 Accidents and incidents
July 27, 1952: a Pan Am Boeing 377 Stratocruiser 10–26 registration N1030V operating flight 201 en route from Rio de Janeiro–Galeão to Buenos Aires–Ezeiza following pressurization problems during climb, a door blew open, a passenger was blown out and the cabin considerably damaged. One passenger died.
January 11, 1959: a Lufthansa Lockheed L-1049G Super Constellation registration D-ALAK operating flight 502 flying from Hamburg to Rio de Janeiro–Galeão via Frankfurt, Paris–Orly and Dakar crashed during approach under heavy rain at Galeão. The crew descended below minimums. Of the 39 passengers and crew aboard, 3 survived. This was the first accident of Lufthansa after it was re-established.
December 22, 1959: a VASP Vickers Viscount 827 registration PP-SRG while on approach to land at Rio de Janeiro–Galeão was involved in a mid-air collision with the Brazilian Air Force Fokker S-11 (T-21) registration FAB0742 in the vicinity of Manguinhos Airport. All 32 people on board the Viscount were killed, as were a further ten on the ground. The T-21 pilot parachuted to safety. This accident eventually led to the closure of Manguinhos Airport.
August 20, 1962: a Panair do Brasil Douglas DC-8-33 registration PP-PDT taking-off from Rio de Janeiro–Galeão to Lisbon overran the runway into the ocean during an aborted operation. Of the 120 passengers and crew aboard 14 died.
January 1, 1970: a Cruzeiro do Sul Sud Aviation SE-210 Caravelle VI R en route from Montevideo to Rio de Janeiro–Galeão with 33 occupants aboard was hijacked by 6 persons who demanded to be flown to Cuba. The flight was diverted to Lima, Panama City and arrived in Havana two days later. There were no victims.
July 1, 1970: a Cruzeiro do Sul Sud Aviation SE-210 Caravelle VI R registration PP-PDX en route from Rio de Janeiro–Galeão to São Paulo with 31 occupants aboard was hijacked by 4 persons who demanded the release of political prisoners that were to be taken to Cuba. The aircraft was stormed and the hijackers arrested. There were no victims and the hijacking lasted less than a day.
June 9, 1973: a Varig cargo Boeing 707-327C registration PP-VJL flying from Campinas to Rio de Janeiro–Galeão while making an instrument approach to Rio de Janeiro–Galeão had technical problems with the spoilers which eventually caused the aircraft to pitch down, descended fast, struck approach lights and ditch. All 6 occupants died.
July 26, 1979: a Lufthansa cargo Boeing 707-330C registration D-ABUY operating flight 527 from Rio de Janeiro–Galeão to Frankfurt via Dakar collided with a mountain 5 minutes after take-off from Galeão. The crew of 3 died.
December 12, 1985: an Air France Boeing 747-228B, registration F-GCBC, arriving from Paris–Charles de Gaulle with 273 passengers and crew, veered off the right side of runway 15 on landing, crossed a ditch and collided with a concrete wall in the cargo apron. There was a fire that totally destroyed the aircraft, but all occupants had been safely evacuated before that, with no victims or serious injuries. The accident was later traced to a ruptured power control cable in engine #1, which made the engine accelerate beyond maximum takeoff power, destabilizing the plane.
Access
The airport is located 20 km (12 mi) north of downtown Rio de Janeiro.
There are executive (blue) and ordinary (yellow) taxis available and bookable on company booths at arrival halls of both terminals.
TransCarioca line of the BRT integrated public transportation system links Terminals 1 and 2 with Terminal Alvorada in Barra da Tijuca with an intermediate stop at the Line 2 subway Vicente de Carvalho station, where one can access the entire subway system. At Alvorada one can transfer between the TransCarioca and TransOeste lines. The system operates 24 hours a day and tickets are sold in the BRT booths on the arrivals level.
Premium Auto Ônibus operates executive bus 2018, that runs half-hourly between 05:30 and 23:30 hours from the airport to Central Bus Station, Rio de Janeiro downtown, Santos Dumont Airport, and the southern parts of the city along the shore, with final stop at Alvorada Bus Terminal in Barra da Tijuca. Bus 2918 follows a similar schedule to Alvorada Bus Terminal, but using a different and more direct route via the Linha Amarela ("Yellow Line") expressway. Bus 2101 is an express link between Galeão and Santos Dumont airports, and bus 2145 is a normal city bus service to the Central Bus Station, downtown, and Santos Dumont Airport. It runs every 20 minutes between 05:30 and 22:30 hours. Ticket counters for these bus services are located at the arrivals area of both terminals.
Viação 1001 operates the urban bus line 761-D from the airport to Niterói. Furthermore, the same company operates an executive service to Armação dos Búzios four times a day. Departure is from the arrivals level of Terminal 1.
Ordinary city busses 924 and 925 operate to the neighborhood of Ilha do Governador, and 915 to Bonsucesso. From both neighborhoods there are connections to the North and South Sides of the city.
Source: wikipedia.