Bangkok Suvarnabhumi Airport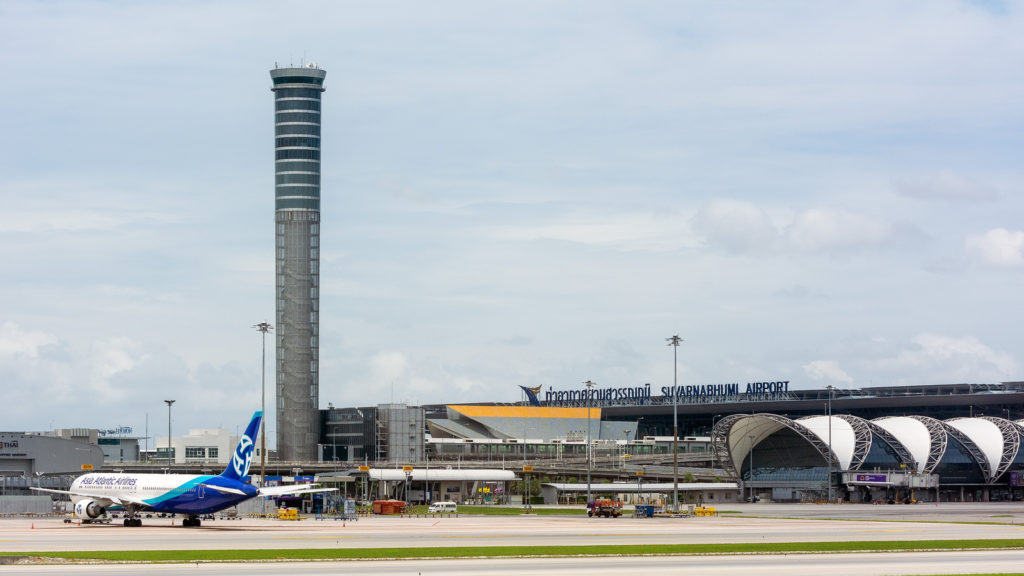 IATA: BKK ICAO: VTBS WMO: 48429
Summary
Airport type
Public
Operator
Airports of Thailand PCL (AOT)
Serves
Bangkok, Pathum Thani, Samut Prakan, Chonburi and Pattaya
Location
Bang Phli, Samut Prakan and Prawet/ Bang Kapi/ Lad Krabang, Bangkok
Hub for
Bangkok Airways Jet Asia Airways Thai Airways Thai Smile Thai Vietjet Air
Elevation AMSL
5 ft / 2 m
Coordinates
13°41′33″N 100°45′00″ECoordinates: 13°41′33″N 100°45′00″E
Website
suvarnabhumi.airportthai.co.th
Suvarnabhumi Airport (Thai: ท่าอากาศยานสุวรรณภูมิ, RTGS: Tha-akatsayan Suwannaphum, pronounced [tʰâː.ʔāː.kàːt̚.sā.jāːn.sùʔ.wān.nā.pʰūːm] (listen); from Sanskrit सुवर्णभूमि (Suvarṇabhūmi), literally 'golden land') (IATA: BKK, ICAO: VTBS), also known unofficially as Bangkok Airport, is one of two international airports serving Bangkok, Thailand. The other one is Don Mueang International Airport, which was the main international airport from 1924 to 2006 and transitioned in 2007 to become the low-cost airlines hub for Bangkok. Suvarnabhumi covers an area of 3,240 ha (32.4 km2; 8,000 acres), making it one of the biggest international airports in Southeast Asia and a regional hub for aviation.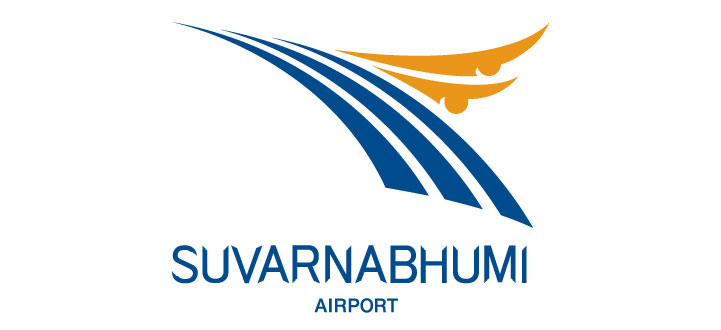 Features
Suvarnabhumi Airport's main terminal roof is designed with structural elements and bays placed in a cantilevered, wavelike form to appear to "float" over the concourse beneath. This overall design principle was to express the former essence of the site, from which water had to be drained before construction could begin. The eight composite 2,710-ton trusses supporting the canopy of the main terminal are essentially diagrams of the bending moments acting on them, with the greatest depth at mid-span and over the supports.
The result of Helmut Jahn's vision is a structure with performance materials serve in their total composition and in use more than in their conventional roles. This maximizes daylight use in comfort with substantial energy life-cycle cost savings. The installed cooling system reduced up to 50 percent compared to a conventional system. A translucent membrane with three layers was developed to mediate between the interior and exterior climate, dealing with noise and temperature transmission, while still allowing natural flow of daylight into building.
Airport ranking
The airport was ranked number 46 among the world's top 100 airports in 2019. Other ASEAN airports in 2019 were ranked: Singapore Changi Airport, 1; Kuala Lumpur International Airport, 54; Jakarta, 40; Hanoi, 86. Suvarnabhumi was ranked 38 in 2017 and 36 in 2016. According to the Thailand Development Research Institute (TDRI) in 2018, the airport's ranking had not improved over the past six years. Customer complaints include: lengthy immigration waiting times; transit day room issues; insufficient numbers of chairs and phone charging points; insufficient English-speaking staff; and poor information displays.
Events
On 25 January 2007, due to work upgrading the taxiways which suffered from small cracks, a few incoming flights were delayed and several flights were safely diverted to U-Tapao International Airport in Rayong Province.
On 26 November 2008, an illegal occupation of the airport took place by People's Alliance for Democracy, closing the departure lounge and blocking exits and leaving almost 3,000 passengers stranded in the main terminal and another 350,000 stranded inside the country, as all flights were grounded. The People's Alliance for Democracy seized the control tower at 12:00. On 2 December 2008, protesters agreed to leave the airport as they had been illegally protesting and permitted the resumption of flights. Security checks, clean-ups, and re-certification once the illegal occupation ended delayed the airport from being fully functional until 5 December 2008.
Predatory irregularities
Petty thieves and confidence men, the majority of them illegal taxi drivers or tour guides, are known to prey on tourists in the arrival hall. They belong to politically-well connected criminal groups: Kamnan Samruay, Boonruang Srisang, Sak Pakphanang, the Pattaya Mafia and Phuyai Daeng. Evicting them has proved difficult as they allegedly are well connected. (The head of the Pirap gang is supposedly related to an Airports of Thailand executive, while the Phuyai Daeng has ties to influential civil servants in Samut Prakan.
On 1 October 2010, two hundred armed men occupied the airport's parking area for an hour, blocking the building's entrances and seizing ticket booths to collect fares from motorists. Airport security personnel failed to respond, reportedly because of an internal dispute within the parking management company, the firm contracted to run the parking facilities.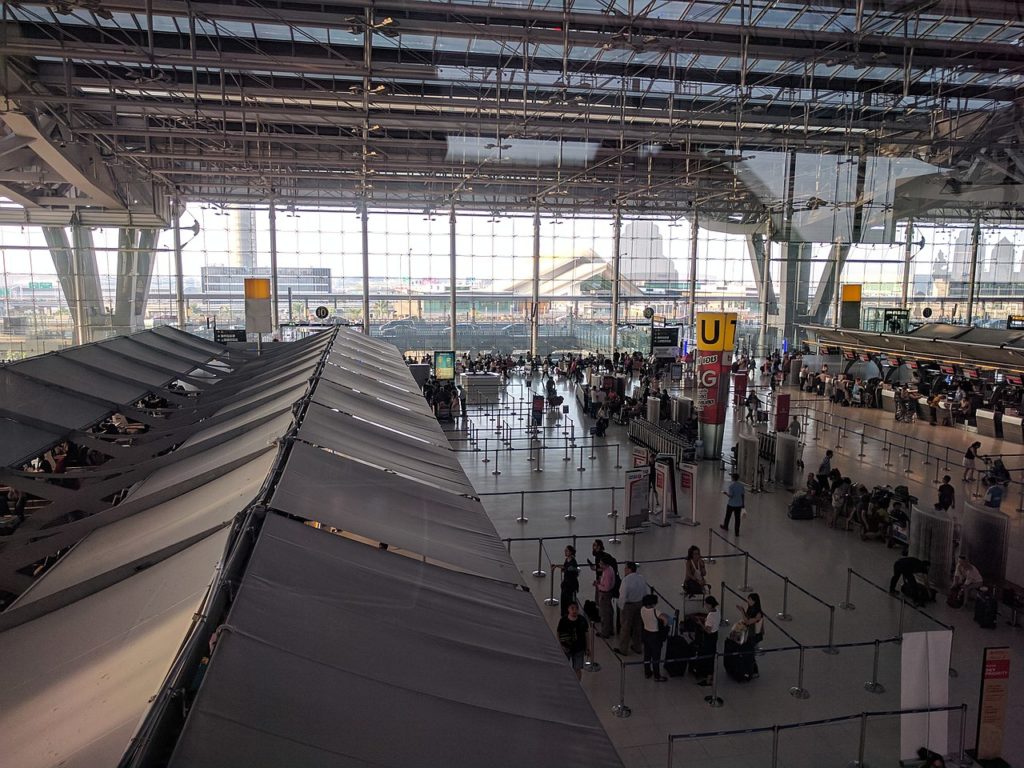 Specifications
Costing an estimated 155 billion baht (US$5 billion), the airport has two parallel runways (60 m wide, 4,000 m and 3,700 m long) and two parallel taxiways to accommodate simultaneous departures and arrivals. It has a total of 120 parking bays (51 with contact gates and 69 remote gates), with five of these capable of accommodating the Airbus A380. Suvarnabhumi Airport has 72 jet bridges and 69 non-jet bridges. Additionally, flights are able to park at remote locations on the ramp, from which airport buses transport passengers to and from the terminal. Suvarnabhumi Airport has 18 jet bridges and 6 non-jet bridges for Airbus 380–800.[citation needed
The airport's two runways can accommodate 64 flights per hour. At peak times the runways average 63 flights per hour. In April 2019 the Thai cabinet approved a sum of 21.8 billion baht for the construction of a third runway. Construction will start in 2019 and be completed in 2021. The third runway will accommodate a maximum of 30 flights per hour. The project will be managed by Airports of Thailand (AOT).
The main passenger terminal building, with a capacity of handling 76 flight operations per hour, co-locates the international and domestic terminals, though assigning them to different parts of the concourse. In the initial phase of construction, it was capable of handling 45 million passengers and three million tonnes of cargo per year. Above the underground rail link station and in front of the passenger terminal building is a 600-room hotel operated by Accor Group under the Novotel brand. The airport's passenger terminal is the world's largest passenger terminal ever constructed in one phase at 563,000 square metres (6,060,000 sq ft), and is also currently the fourth biggest passenger terminal building in the world, after the Hong Kong International Airport (570,000 square metres or 6,100,000 square feet), Beijing Capital International Airport (990,000 square metres or 10,700,000 square feet), with the largest passenger terminal at Dubai International Airport (Terminal 3 is over 1,713,000 square metres or 18,440,000 square feet). The airport air-traffic control tower was the tallest in the world at 135 metres (443 ft) from 2006 to 2014.
From the opening of Suvarnabhumi in 2006 to early 2017, eight people had fallen to their deaths from upper-floor walkways, prompting the airport to spend 33 million baht in 2013 building glass barriers to prevent people from falling and/or taking their lives.
Expansion
By mid-2015, the airport was handling more than 800 flights per day, higher than its 600-flight capacity. It has exceeded its capacity of 45 million passengers per year.
Airports of Thailand (AOT) approved an investment budget for the expansion of Suvarnabhumi Airport and construction began in late 2016 and finish in 2021 or early 2022. The plan was to strengthen Suvarnabhumi Airport's position as a regional aviation hub. Phase Two would raise the airport's capacity to 65 million passengers a year and would be undertaken in parallel with the construction of a new domestic terminal. The new domestic terminal will be intended to accommodate more than 30 million passengers annually.
The two expansion projects are part of the overall airport enlargement that would see Suvarnabhumi raise its annual passenger handling capacity to 125 million passengers, 90 million international and 35 million domestic passengers by 2024 at an estimated cost of 163 billion baht (US$5.25 billion/€3.62 billion). The expansion includes the construction of one additional runway, subsequent enlargement of domestic and international terminals, and improvements to parking bays, car parks, and other airport infrastructure.
An expansion plan to increase the passenger capacity of the airport to 65 million by building an additional satellite passenger concourse linked to the current main terminal via an underground automated people mover (APM) system was set to be voted on by the AOT board during a 17 May 2012 meeting. If the plan gains endorsement by the board it will be able to proceed to appointing a project management consultant (PMC) which will bring it one step closer to commencing construction on the much needed expansion. If all goes to plan the expansion is set to be completed in 2018. The expansion also includes a plan to expand the airport parking garage as well as the expansion of the eastern end of the main passenger terminal by 135 meters along with the construction of a new airline office building. The expansion does include plans to construct a third runway of 3,700 meters. According to the Bangkok Post, the new satellite terminal will have a total of 28 gates, with eight for the Airbus A380 super jumbo jet.
The new passenger terminal will be used only by Bangkok Airways and flag carrier Thai Airways (and its budget subsidiary Thai Smile). Upon completion of the satellite terminal, other Star Alliance members will be given the check-in concourse of Thai Airways.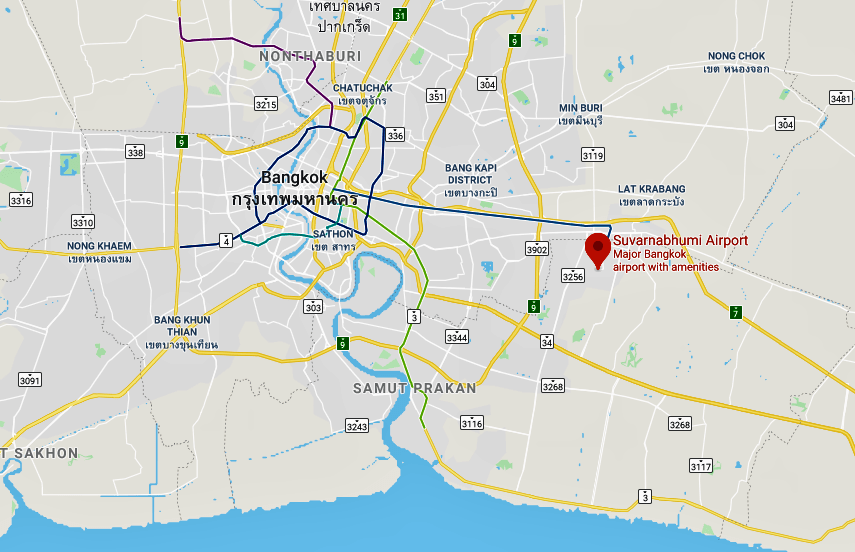 Airlines and destinations
Passenger
This section needs additional citations for verification. Please help improve this article by adding citations to reliable sources. Unsourced material may be challenged and removed.
Find sources: "Suvarnabhumi Airport" – news · newspapers · books · scholar · JSTOR (January 2017) (Learn how and when to remove this template message)
Aeroflot
Moscow–Sheremetyevo
Air Astana
Almaty, Nur-Sultan
Air Austral
Saint–Denis de la Réunion
Air China
Beijing–Capital, Beijing–Daxing, Chengdu, Hangzhou, Shanghai–Pudong, Tianjin, Wenzhou
Air France
Paris–Charles de Gaulle
Air India
Delhi, Mumbai
Air Macau
Macau
All Nippon Airways
Tokyo–Haneda, Tokyo–Narita
Asiana Airlines
Seoul–Incheon
Austrian Airlines
Vienna
Bangkok Airways
Chiang Mai, Chiang Rai, Da Nang, Koh Samui, Krabi, Lampang, Luang Prabang, Malé, Mandalay, Mumbai, Naypyidaw, Nha Trang, Phnom Penh, Phuket, Phu Quoc, Siem Reap, Sihanoukville, Sukhothai, Trat, Vientiane, Yangon
Biman Bangladesh Airlines
Dhaka
Bhutan Airlines
Kolkata, Paro
Seasonal: Gaya
British Airways
London–Heathrow
Cambodia Airways
Phnom Penh, Siem Reap
Cathay Pacific
Hong Kong, Singapore
Cebu Pacific
Manila
China Airlines
Kaohsiung, Taipei–Taoyuan
China Eastern Airlines
Beijing–Capital, Changsha, Chengdu, Guangzhou, Hangzhou, Hefei, Kunming, Lanzhou, Nanchang, Nanjing, Ningbo, Qingdao, Shanghai–Pudong, Shenzhen, Taiyuan, Wenzhou, Wuhan, Wuxi, Xi'an, Xining, Yinchuan
Charter: Xinzhou
China Express Airlines
Zhanjiang
China Southern Airlines
Changsha, Guangzhou, Guilin, Guiyang, Jieyang, Lanzhou, Nanning, Sanya, Shanghai–Pudong, Shenyang, Shenzhen, Urumqi, Wuhan, Zhangjiajie, Zhengzhou
Druk Air
Bagdogra, Dhaka, Gaya, Guwahati, Kolkata, Paro, Singapore, Tokyo–Narita (begins 2 September 2020)
Eastar Jet
Busan, Seoul−Incheon
EgyptAir
Cairo, Hong Kong
El Al
Tel Aviv
Emirates
Dubai–International, Hong Kong, Phnom Penh
Ethiopian Airlines
Addis Ababa, Hong Kong, Kuala Lumpur–Internatio
Etihad Airways
Abu Dhabi
Eurowings
Munich
EVA Air
Amsterdam, London–Heathrow, Taipei–Taoyuan, Vienna
Finnair
Helsinki
Garuda Indonesia
Jakarta–Soekarno-Hatta
GoAir
Delhi, Mumbai
Gulf Air
Bahrain
Hainan Airlines
Beijing–Capital, Haikou
Hebei Airlines
Guiyang, Lianyungang, Shijiazhuang
HK Express
Hong Kong
Hong Kong Airlines
Hong Kong
IndiGo
Bangalore, Chennai, Delhi, Kolkata, Mumbai, Varanasi
Japan Airlines
Osaka–Kansai, Tokyo–Haneda, Tokyo–Narita
JC International Airlines
Phnom Penh, Sihanoukville
Jeju Air
Busan, Jeju, Seoul–Incheon
Jet Asia Airways
Jakarta–Soekarno-Hatta, Tokyo–Narita
Jetstar Airways
Melbourne
Jetstar Asia Airways
Singapore
Jetstar Pacific
Hanoi, Ho Chi Minh City
Jin Air
Busan, Seoul–Incheon
Juneyao Airlines
Shanghai–Pudong, Shenyang
Kenya Airways
Guangzhou, Nairobi–Jomo Kenyatta
KLM
Amsterdam
Korean Air
Busan, Seoul–Incheon
Kunming Airlines
Kunming
Kuwait Airways
Kuwait
Lanmei Airlines
Phnom Penh, Siem Reap
Lao Airlines
Luang Prabang, Pakse, Savannakhet, Vientiane
LOT Polish Airlines
Seasonal charter: Warsaw–Chopin
Lucky Air
Chengdu, Kunming, Zhengzhou
Lufthansa
Frankfurt, Munich
Mahan Air
Tehran–Imam Khomeini
Malaysia Airlines
Kuala Lumpur–International
Maldivian
Malé, Colombo , Chongqing , Chengdu , Hangzhou , Nanjing , Wuhan , Xi'an
MIAT Mongolian Airlines
Seasonal: Ulaanbaatar
Myanmar Airways International
Mandalay, Yangon
Myanmar National Airlines
Mandalay, Yangon
Nepal Airlines
Kathmandu
Norwegian Air Shuttle
Seasonal: Oslo–Gardermoen
Okay Airways
Nanning, Tianjin, Xi'an
Oman Air
Muscat
Peach
Naha
Philippine Airlines
Cebu, Manila
Qantas
Sydney
Qatar Airways
Doha
Qingdao Airlines
Zhengzhou
Rossiya
St. Petersburg
Royal Brunei Airlines
Bandar Seri Begawan
Royal Jordanian
Amman–Queen Alia, Hong Kong, Kuala Lumpur–International
S7 Airlines
Irkutsk, Khabarovsk, Krasnoyarsk–International, Moscow–Domodedovo, Novosibirsk, Ulan-Ude, Vladivostok
Shandong Airlines
Jinan, Kunming, Qingdao, Urumqi, Xiamen
Shenzhen Airlines
Guangzhou, Quanzhou, Shenzhen, Wuxi, Xi'an
Sichuan Airlines
Chengdu, Haikou, Hangzhou, Nanning, Sanya, Wuyishan, Xi'an
Singapore Airlines
Singapore
SpiceJet
Ahmedabad, Delhi, Kolkata, Mumbai
Spring Airlines
Beihai, Changchun, Dalian, Guangzhou, Harbin, Hefei, Hohhot, Jieyang, Lanzhou, Luoyang, Nanchang, Ningbo, Shanghai–Pudong, Shenyang, Xi'an, Xuzhou, Yangzhou
SriLankan Airlines
Colombo–Bandaranaike
Swiss International Air Lines
Zürich
Thai Airways
Auckland, Bangalore, Beijing–Capital, Brisbane, Brussels, Busan, Chengdu, Chennai, Chiang Mai, Colombo–Bandaranaike, Copenhagen, Delhi, Denpasar/Bali, Dhaka, Dubai–International, Frankfurt, Fukuoka, Guangzhou, Hanoi, Ho Chi Minh City, Hong Kong, Hyderabad, Islamabad, Jakarta–Soekarno-Hatta, Karachi, Kathmandu, Kolkata, Krabi, Kuala Lumpur–International, Kunming, Lahore, London–Heathrow, Manila, Melbourne, Milan–Malpensa, Moscow–Domodedovo, Mumbai, Munich, Muscat, Nagoya–Centrair, Osaka–Kansai, Oslo–Gardermoen, Paris–Charles de Gaulle, Perth, Phnom Penh, Phuket, Rome–Fiumicino, Sapporo–Chitose, Sendai, Seoul–Incheon, Shanghai–Pudong, Singapore, Stockholm–Arlanda, Sydney, Taipei–Taoyuan, Tokyo–Haneda, Tokyo–Narita, Vienna, Vientiane, Xiamen (ends 27 March 2021), Yangon, Zürich
Thai Eastar Jet
Kaohsiung
Thai Smile
Ahmedabad, Changsha, Chiang Mai, Chiang Rai, Chongqing, Gaya, Hat Yai, Hong Kong, Jaipur, Kaohsiung, Khon Kaen, Kolkata, Krabi, Kuala Lumpur–International, Kunming (begins 28 March 2021), Luang Prabang, Lucknow, Mandalay, Mumbai, Narathiwat, Penang, Phnom Penh, Phuket, Siem Reap, Surat Thani, Ubon Ratchathani, Udon Thani, Varanasi, Vientiane, Xiamen (begins 28 March 2021), Yangon, Zhengzhou
Thai Vietjet Air
Chiang Mai, Chiang Rai, Da Lat, Da Nang, Haikou (begins 27 October 2020), Hefei (begins 16 June 2020), Krabi, Phuket, Udon Thani
Charter: Can Tho
Turkish Airlines
Istanbul
Turkmenistan Airlines
Ashgabat
T'way Airlines
Daegu, Seoul–Incheon
Ural Airlines
Irkutsk, Moscow–Domodedovo, Ufa, Yekaterinburg
US-Bangla Airlines
Chittagong, Dhaka
Uzbekistan Airways
Tashkent
VietJet Air
Hai Phong, Hanoi, Ho Chi Minh City
Vietnam Airlines
Da Nang, Hanoi, Ho Chi Minh City
Vistara
Delhi
XiamenAir
Beijing–Capital, Dalian, Fuzhou, Xiamen, Xi'an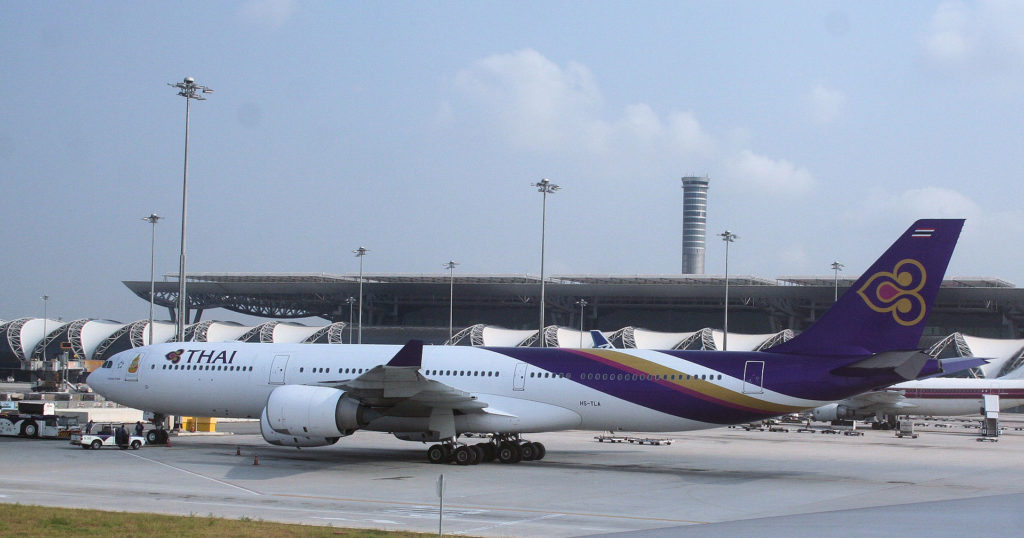 Cargo
| Airlines | Destinations |
| --- | --- |
| ANA Cargo | Osaka–Kansai, Singapore, Taipei–Taoyuan, Tokyo–Narita |
| Asiana Cargo | Seoul–Incheon |
| Cardig Air | Hong Kong, Jakarta–Soekarno–Hatta, Singapore |
| Cargolux | Baku, Luxembourg, Shanghai–Pudong, Xiamen |
| Cathay Pacific Cargo | Hong Kong, Penang, Singapore |
| China Airlines Cargo | Abu Dhabi, Chengdu, Luxembourg, Taipei–Taoyuan |
| China Cargo Airlines | Shanghai–Pudong |
| DHL Aviation | Hong Kong, Leipzig/Halle, Penang |
| EVA Air Cargo | Hanoi, Jakarta–Soekarno–Hatta, Penang, Singapore, Taipei–Taoyuan |
| FedEx Express | Guangzhou, Penang |
| K-Mile Air | Hanoi, Hong Kong, Jakarta–Soekarno–Hatta, Phnom Penh, Singapore |
| Korean Air Cargo | Chennai, Seoul–Incheon, Singapore |
| Lufthansa Cargo | Frankfurt, Mumbai, Sharjah |
| MASKargo | Hong Kong, Kuala Lumpur–International |
| Nippon Cargo Airlines | Singapore, Tokyo–Narita |
| Singapore Airlines Cargo | Shanghai–Pudong, Singapore |
| Turkish Airlines Cargo | Almaty, Delhi, Islamabad, Istanbul–Atatürk, Lahore, Tashkent |
| UPS Airlines | Cologne/Bonn, Mumbai |
| Suparna Airline | Shanghai–Pudong |
Ground transportation
Airport Rail Link
The 30 billion baht Suvarnabhumi Airport Link was opened on 23 August 2010, after multiple delays. The Airport Rail Link (ARL) is operated by SRTET, a subsidiary company of the State Railway of Thailand. The standard gauge line is 28.6 kilometres (17.8 mi) long and is elevated for most of its length, running mostly above existing regional railway lines and parallel to Motorway 7 and Si Rat Expressway. There is a short at-grade/underground segment as the line approaches the passenger terminal building of Suvarnabhumi Airport.
The ARL hours of service are 06:00 to 24:00. The ARL has two interchange stations, namely Phaya Thai (changing for BTS Green Line services) and Makkasan (linking Phetchaburi station of the MRT Blue Line). In the future, the ARL will complement the SRT Red Line commuter service, which comprises two-meter gauge, dual-track lines. The ARL may also be extended from Phaya Thai to Don Mueang via Bang Sue Grand Station, given that the old Don Mueang International Airport has now been reopened for civil aviation under a dual-airport policy.
Regional train
Meanwhile, SRT provides a suburban commuter train service between Lad Krabang (the nearest station to Suvarnabhumi on the East line, one station from the airport by Airport Rail Link) and the northern suburban city of Rangsit via downtown Bangkok and the old Don Mueang Airport. The train also connects with BTS and MRT at Phaya Thai and Phetchaburi stations respectively. A shuttle bus service linking the airport with Hua Takhe railway station is provided by BMTA. The train service is currently not as popular as the bus service because it requires a shuttle bus connection. The service will be stopped when the Airport Express Link is completed.[citation needed
Bus
A free bus service connecting Suvarnabhumi Airport and Don Mueang Airport operates from 05.00 until midnight. Three air-conditioned city bus routes are operated by Bangkok Mass Transit Authority (BMTA) serve the airport's dedicated bus terminal. There are also direct buses between the airports operated by Airport Shuttle Bus.
Car
The airport has five main access routes. Among these the most convenient route is via the Bangkok Chon Buri Motorway (Motorway 7). Another main airport entrance is in Samut Prakan Province via the expressway from Bang Na to Bang Pakong.
The airport has provided five entrance routes. The main route is via the motorway in the north of Bangkok, directly connecting Bangkok's downtown and Chonburi Province, the industrial and harbor city in eastern Thailand. However, another main airport entrance is in Samut Prakan Province, connecting an elevated highway in the south of Bangkok from Bang Na to Bang Pakong.
Sky Lane
In December 2015, Airports of Thailand introduced Sky Lane (Thai: สกายเลน), a cycling track around the Suvarnabhumi airport perimeter. The entrance to Sky Lane is located in the northeastern corner of the airport area. Cyclists can bring their bicycles and bike here for free. The Sky Lane is a controlled-access, one-direction, two-lane track built only for cycling, so the riders can be ensured that they won't be bothered by any vehicle. The Sky Lane's length is 23.5 km, making it the longest in Asia. Sky Lane's facilities, which are specially designed for cyclists, include medical facilities, shops, food & beverage, track, parking lot and a rest area. The entrance gate is open from 06:00 to 18:00.[108] On 23 November 2018, King Rama X presided over the official opening of cycling lane at Suvarnabhumi airport and denominated the track as Happy and Healthy Bike Lane.
Source: wikipedia