Hong Kong International Airport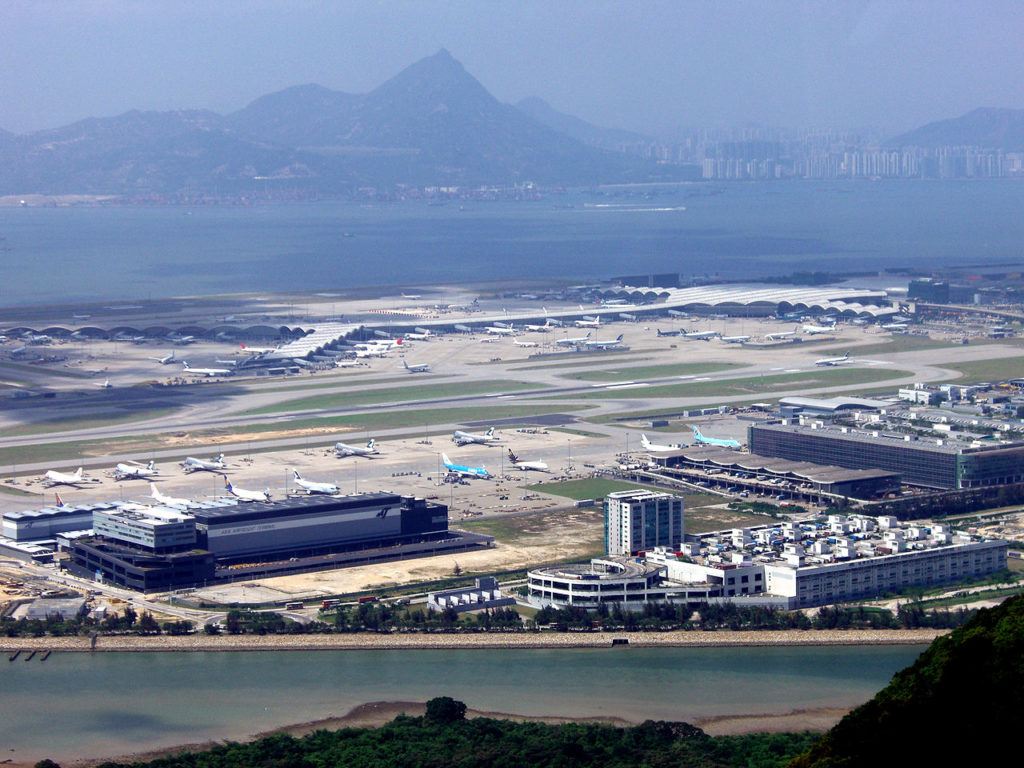 IATA: HKG ICAO: VHHH
Airport type
Public
Owner
Airport Authority Hong Kong (HKSAR Government)
Operator
Airport Authority Hong Kong
Serves
Hong Kong and Pearl River Delta
Location
Chek Lap Kok, Lantau Island, New Territories, Hong Kong
Opened
6 July 1998; 21 years ago
Hub for
PassengerCathay Pacific Cathay Dragon Hong Kong Airlines Hong Kong ExpressCargo Cathay Pacific CargoAir Hong Kong Hong Kong Airlines Cargo UPS Airlines
Elevation AMSL
28 ft / 9 m
Coordinates
22°18′32″N 113°54′52″ECoordinates: 22°18′32″N 113°54′52″E
Website
www.hongkongairport.com
Hong Kong International Airport (IATA: HKG, ICAO: VHHH) is Hong Kong's main airport, built on reclaimed land on the island of Chek Lap Kok. The airport is also referred to as Chek Lap Kok International Airport or Chek Lap Kok Airport, to distinguish it from its predecessor, the former Kai Tak Airport.
Having been in commercial operation since 1998, Chek Lap Kok Airport is an important regional trans-shipment centre, passenger hub and gateway for destinations in China (with 45 destinations) and the rest of Asia. The airport is the world's busiest cargo gateway and one of the world's busiest passenger airports. It is also home to one of the world's largest passenger terminal buildings (the largest when opened in 1998).
The airport is operated by the Airport Authority Hong Kong 24 hours a day and is the primary hub for Cathay Pacific (the flag carrier of Hong Kong), Cathay Dragon, Hong Kong Airlines, HK Express and Air Hong Kong (cargo carrier). The airport is one of the hubs of Oneworld alliance, and also one of the Asia-Pacific cargo hubs for UPS Airlines. It is a focus city for many airlines, including China Airlines and China Eastern Airlines. Singapore Airlines, Ethiopian Airlines and Air India all utilise Hong Kong as a stopover point for their flights.
HKIA is an important contributor to Hong Kong's economy, with approximately 65,000 employees. More than 100 airlines operate flights from the airport to over 180 cities across the globe. In 2015, HKIA handled 68.5 million passengers, making it the 8th busiest airport worldwide by passenger traffic and the 3rd busiest airport worldwide by international passenger traffic. Since 2010, it has also surpassed Memphis International Airport to become the world's busiest airport by cargo traffic.
The airport is managed and operated by the Airport Authority Hong Kong (AA), which was established on 1 December 1995.
To facilitate the increased traffic due to the third runway, Terminal 2 is currently under maintenance of adding a departures and arrivals section with immigration and will not be reopening until at least 2024.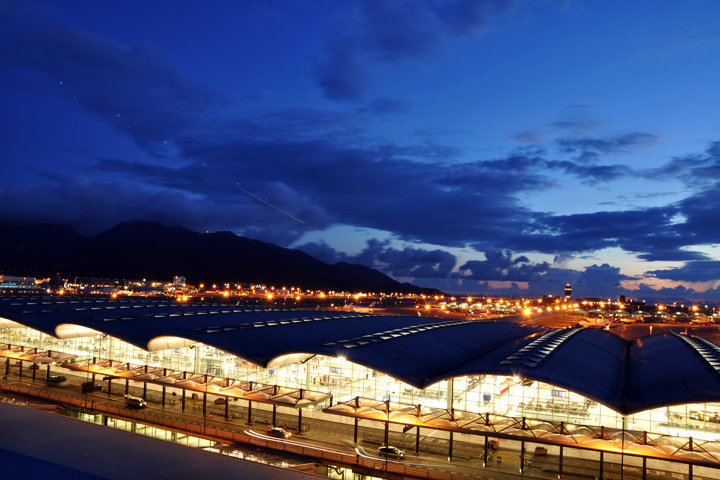 Composition
Hong Kong International Airport covers an area of 1,255 hectares (4.85 sq mi). The airport has a total of 90 boarding gates, with 77 jet bridge gates (1–12, 23–36, 40–50, 60–71, 201–219, 501–506, 508–510) and 12 virtual gates (228–230, 511–513, 520–525) which are used as assembly points for passengers, who are then ferried to the aircraft by apron buses. Of the 66 jet bridges, five (Gates 5,23,60,62,64) are capable of handling the Airbus A380, the current users of which are Singapore Airlines, Emirates, Qantas, British Airways, Asiana Airlines, Thai Airways, Air France and Lufthansa. Korean Air and China Southern Airlines previously operated a route to HKIA from Seoul and Beijing respectively using A380, but the airlines decided to not use the aircraft due to unprofitability.
Terminal 1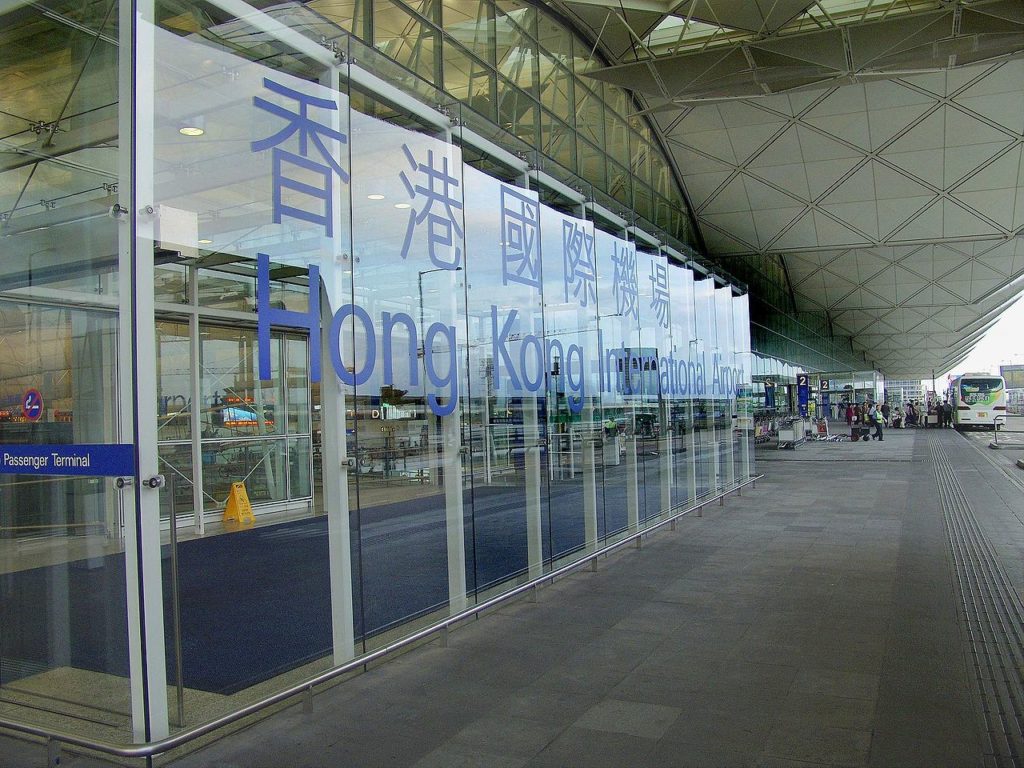 Terminal 1 of the HKIA, with an area measuring 570,000 square metres (6,100,000 sq ft), is the third largest airport passenger terminal building in the world, after Dubai International Airport Terminal 3 and Beijing Capital International Airport Terminal 3.
At its opening, Terminal 1 was the largest airport passenger terminal building, with a total gross floor area of 531,000 square metres (5,720,000 sq ft). It briefly conceded the status to Bangkok's Suvarnabhumi Airport (563,000 m2 (6,060,000 sq ft)) when the latter opened on 15 September 2006, but reclaimed the title when the East Hall was expanded, bringing the total area to its current size of 570,000 square metres (6,100,000 sq ft). Terminal 1's title as the world's largest was surrendered to Beijing Capital International Airport Terminal 3 on 29 February 2008.
Terminal 2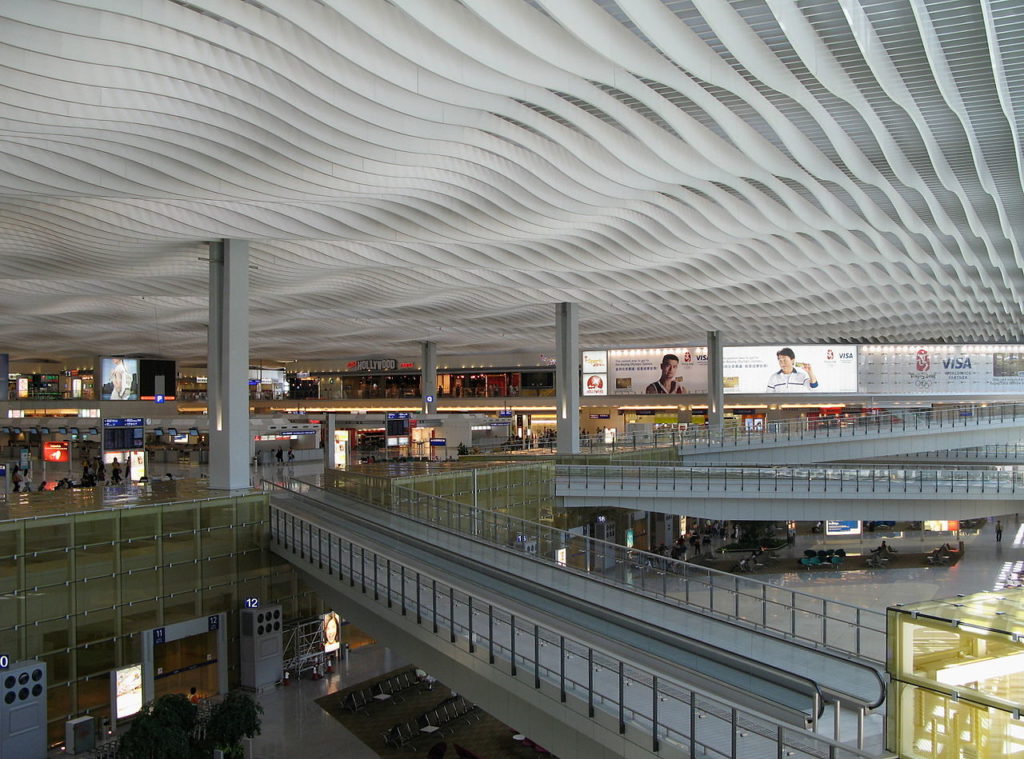 Terminal 2 with an area measuring 140,000 m2 (1,500,000 sq ft), together with the SkyPlaza, opened on 28 February 2007 along with the opening of the Airport Station's Platform 3. It is only a check-in and processing facility for departing passengers with no gates or arrival facilities (passengers are transported underground to gates at Terminal 1). So far most low-cost carriers and some full-service carriers have relocated their check-in operations to T2. The SkyPlaza is situated within Terminal 2. Terminal 2 was closed in November 2019 for expansion to provide departure and arrival facilities for the new satellite terminal from the three-runway system.
North Satellite Concourse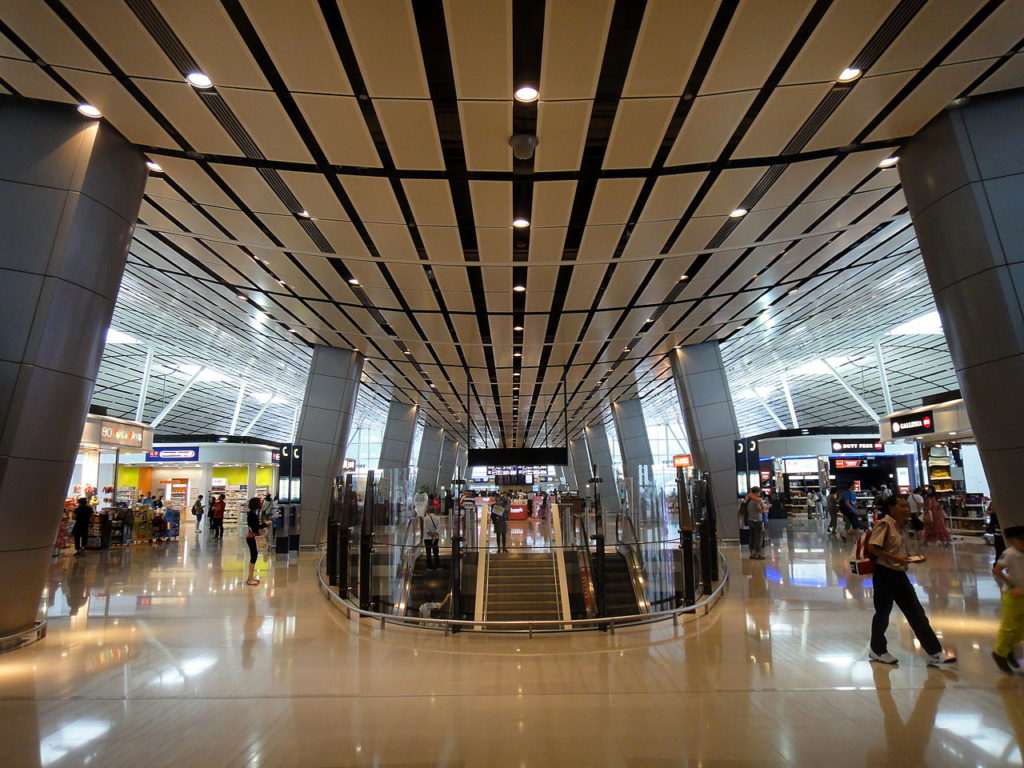 In 2007, HKIA began the construction of a two-storey North Satellite Concourse (NSC), which opened in December 2009. This concourse was designed for narrow-body aircraft and is equipped with 10 jet bridges. The concourse has a floor area of 20,000 square metres (220,000 sq ft) and will be able to serve more than five million passengers annually. There is a shuttle bus service between the NSC and Terminal 1 every four minutes. The North Satellite Concourse was built so the airport could accommodate at least 90 percent of its passengers by aerobridges. It has two levels (one for departures and one for arrivals). A new Sky Bridge connecting Terminal 1 and NSC is expected to be in use in 2020, passengers can then walk to NSC, saving time from taking the airport shuttle bus.
Midfield Concourse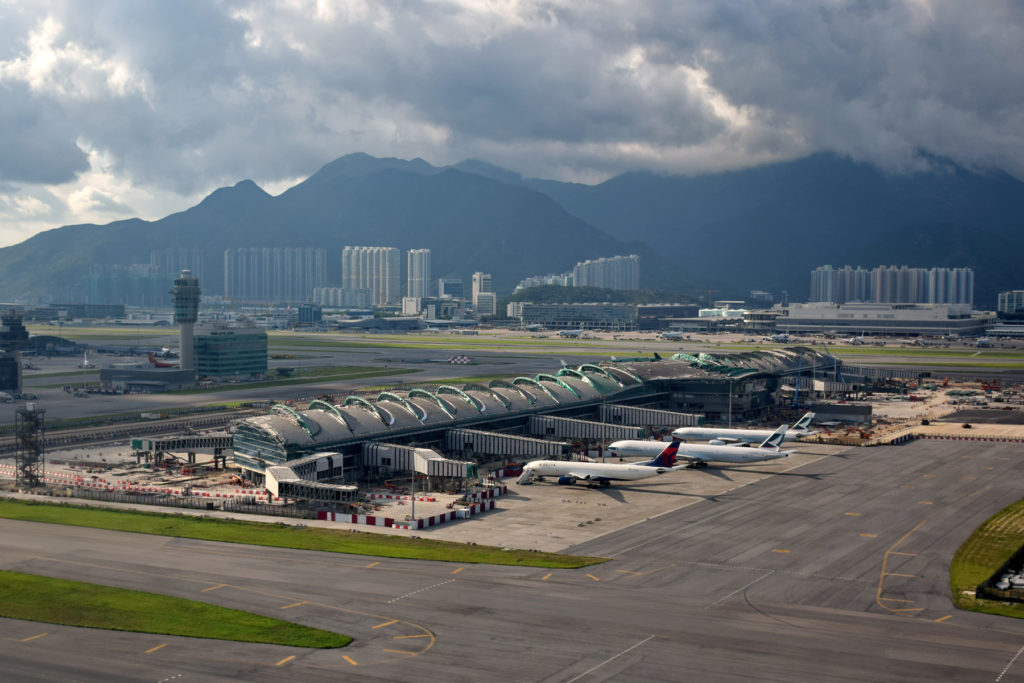 On 25 January 2011, Airport Authority Hong Kong (AA) unveiled phase 1 of its midfield development project which was targeted for completion by the end of 2015. The midfield area is located to the west of Terminal 1 between the two existing runways. It was the then last piece of land on the airport island available for large-scale development. This includes 20 aircraft parking stands, three of these are wide enough to serve the Airbus A380 and cater for an additional 10 million passengers annually. Passengers reach the concourse through an extension of the underground automated people mover. A joint venture of Mott MacDonald and Arup led the design of the project. Gammon Construction undertook the construction work. The Concourse began operations on 28 December 2015, and the first flight that used it was the HX658 operated by the Hong Kong Airlines flying from Hong Kong to Okinawa. On 31 March 2016, the Concourse was officially inaugurated in a ceremony marking its full commissioning.
Other buildings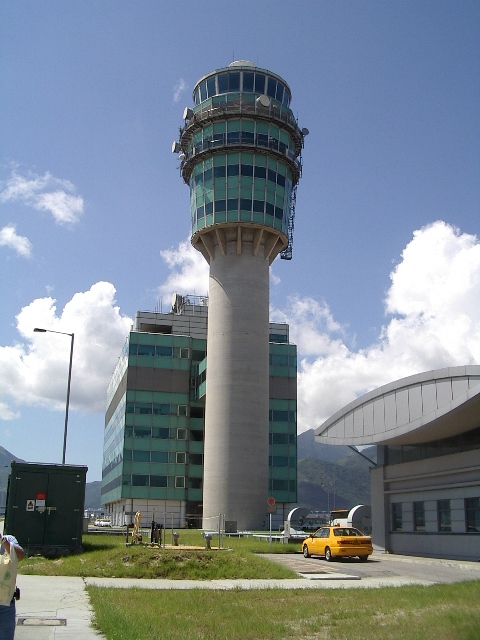 Cathay Pacific City, the head office of Cathay Pacific and Air Hong Kong, is located on the airport island. Cathay Dragon House (國泰港龍大厦), the head office of Cathay Dragon, and CNAC House, the office for Air China are also located in the airport complex, together with the Civil Aviation Department headquarters. HAECO also has its head office on the airport property.
Future development
In June 2010, the Airport Authority unveiled plans to develop in stages the vast midfield site of the airport island. Stage 1 will involve the construction of a new 20 gate passenger concourse to be built in 2 phases (completion 2015 and 2020) with 11 gates in phase 1 growing to 20 gates in phase 2. The configuration of the new concourse is similar to those at Hartsfield-Jackson Atlanta International Airport, Denver International Airport, Salt Lake City International Airport, Los Angeles International Airport (TBIT), Washington Dulles International Airport, Mexico City Texcoco Airport, Mexico City Santa Lucía Airport (Zumpango), Heathrow Airport (Terminal 5 and Terminal 2), Incheon International Airport and Suvarnabhumi Airport. After stage 1 of midfield development is completed in 2020, there will be sufficient lands remaining for further new concourses to be built as and when demand for them materialises.
Master Plan 2030
One year after, on 2 June 2011, the Airport Authority announced and released their latest version of a 20-year blueprint for the airport's development, the Hong Kong International Airport Master Plan 2030. The study took three years and according to the authority, nine consulting organisations have been hired for the research, observation, planning and advice. The main focus is to improve the overall capacity and aircraft handling ability of the airport. Based on this, two options have been developed.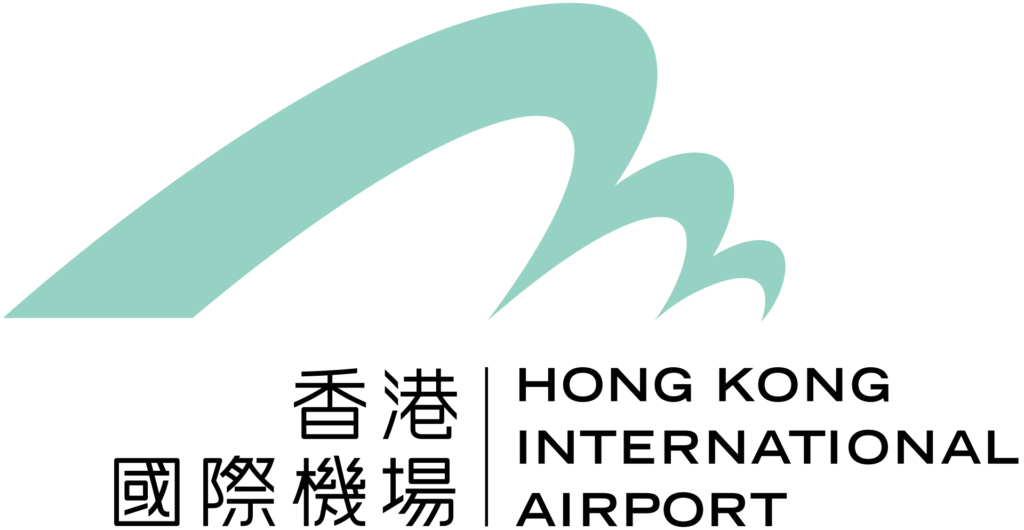 Option 1: Two-runway system
To maintain the current two-runway system, there will be enhancements to the terminal and apron facilities to increase the airport's capacity. This option will enable the airport to handle a maximum of 420,000 flight movements per year, with annual passenger and cargo throughput increased to 74 million and six million tonnes respectively. The approximate cost of this plan is $23.4 billion Hong Kong dollars in 2010 prices, or HK$42.5 billion in money-of-the-day prices. However, the Airport Authority estimates that the airport will reach its maximum runway capacity sometime around 2020 if no extra runway is added.
Option 2: Three-runway system
This plan will focus on adding a third runway to the north of the Chek Lap Kok, the existing island the airport is built on, by land reclamation, using deep cement mixing, of about 650 hectares (1,600 acres). Associated facilities, additional terminals, airfield and apron facilities, will be built as well, and, combined with the new runway, it is estimated that the airport would be able to handle a maximum of 620,000 flights per year (102 per hour, or about one flight every 36 seconds), and meet forecast annual passenger and cargo throughput of about 97 million and 8.9 million tonnes by 2030 respectively.
There are possible drawbacks. Development costs are a concern: although the proposal would increase the number of direct jobs associated with HKIA to 150,000 by 2030 and generate an ENPV of HK$912 billion (in 2009 dollars), the estimated cost is approximately $86.2 billion (2010) Hong Kong Dollars, or HK$141.5 billion (at money-of-the-day prices). There are also environmental and local noise pollution concerns.
On 20 March 2012, the Hong Kong Government adopted this option as the official expansion plan.
The third runway, with its own dedicated passenger concourse, is currently being built parallel to the current two runways on reclaimed land directly north of the existing airport island. It is expected to open by the end of 2024.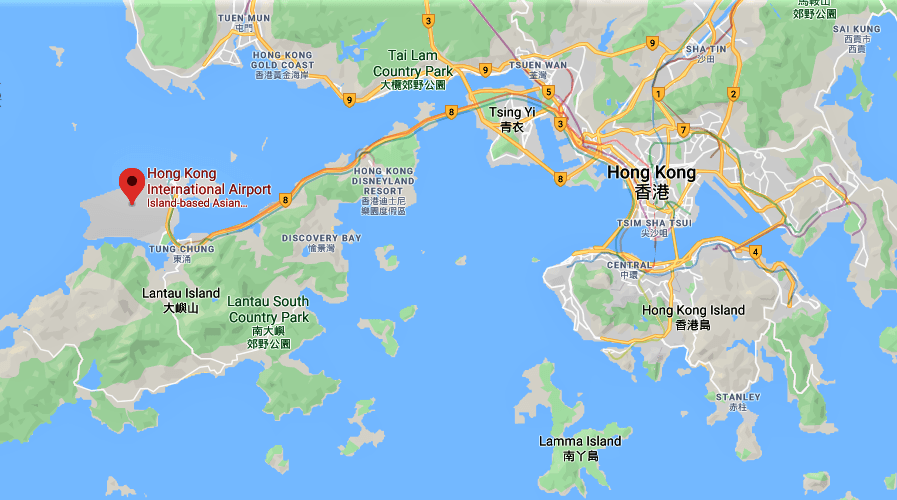 Airlines and destinations
Passenger
Aeroflot
Moscow–Sheremetyevo
AirAsia
Kota Kinabalu, Kuala Lumpur–International
Air Astana
Almaty
Air Busan
Busan
Air Canada
Toronto–Pearson, Vancouver
Air China
Beijing–Capital, Chengdu, Chongqing, Dalian, Tianjin, Yinchuan
Air France
Paris–Charles de Gaulle
Air India
Delhi
Air Mauritius
Mauritius
Air New Zealand
Auckland
Air Niugini
Port Moresby
Air Seoul
Seoul–Incheon
All Nippon Airways
Tokyo-Haneda, Tokyo-Narita, Osaka–Kansai
American Airlines
Dallas/Fort Worth, Los Angeles
Asiana Airlines
Seoul–Incheon
Bangkok Airways
Bangkok–Suvarnabhumi, Koh Samui
British Airways
London–Heathrow
Cambodia Airways
Phnom Penh (begins 3 June 2020)
Cathay Dragon
Bangalore, Beijing–Capital, Busan, Changsha, Chengdu, Chiang Mai, Chongqing, Clark, Da Nang, Davao, Denpasar/Bali, Dhaka, Fukuoka, Fuzhou, Guangzhou, Guilin, Haikou, Hangzhou, Hanoi, Jeju, Jinan, Kaohsiung, Kathmandu, Kolkata, Kuala Lumpur–International, Kunming, Naha, Nanjing, Nanning, Ningbo, Penang, Phnom Penh, Phuket, Qingdao, Sanya, Shanghai–Hongqiao, Shanghai–Pudong, Siem Reap, Taichung, Taipei–Taoyuan, Wenzhou, Wuhan, Xiamen, Xi'an, Yangon, Zhengzhou
Seasonal: Niigata, Tokushima
Charter: Komatsu
Cathay Pacific
Adelaide, Amsterdam, Auckland, Bahrain, Bangkok–Suvarnabhumi, Barcelona, Beijing–Capital, Boston, Brisbane, Brussels, Cebu, Chennai, Chicago–O'Hare, Colombo–Bandaranaike, Delhi, Denpasar/Bali, Dubai–International, Frankfurt, Ho Chi Minh City, Hyderabad, Jakarta–Soekarno-Hatta, Johannesburg–O.R. Tambo, Komatsu, London–Gatwick, London–Heathrow, Los Angeles, Madrid, Malé, Manchester, Manila, Melbourne, Milan–Malpensa, Mumbai, Nagoya–Centrair, Newark, New York–JFK, Osaka–Kansai, Paris–Charles de Gaulle, Perth, Rome–Fiumicino, San Francisco, Sapporo–Chitose, Seattle/Tacoma, Seoul–Incheon, Shanghai–Pudong, Singapore, Surabaya, Sydney, Taipei–Taoyuan, Tel Aviv, Tokyo–Haneda, Tokyo–Narita, Toronto–Pearson, Vancouver, Washington–Dulles, Zurich
Seasonal: Cape Town, Christchurch, Dublin
Cebu Pacific
Cebu, Clark, Iloilo, Manila, Puerto Princesa
China Airlines
Kaohsiung, Tainan, Taipei–Taoyuan
China Eastern Airlines
Hangzhou, Hohhot, Kunming, Nanjing, Shanghai–Hongqiao, Shanghai–Pudong, Taiyuan, Wuxi, Xi'an
Seasonal: Hefei
China Southern Airlines
Beijing–Daxing, Meixian, Wuhan, Yiwu
Seasonal: Shenyang
Eastar Jet
Jeju, Seoul–Incheon
EgyptAir
Bangkok–Suvarnabhumi, Cairo
El Al
Tel Aviv
Emirates
Bangkok–Suvarnabhumi, Dubai–International
Ethiopian Airlines
Addis Ababa, Bangkok–Suvarnabhumi, Manila
Etihad Airways
Abu Dhabi
EVA Air
Taipei–Taoyuan
Eznis Airways
Ulaanbaatar
Fiji Airways
Nadi
Finnair
Helsinki
Garuda Indonesia
Denpasar/Bali, Jakarta–Soekarno-Hatta
HK Express
Bangkok–Suvarnabhumi, Busan, Chiang Mai, Da Nang, Fukuoka, Hiroshima, Ishigaki, Jeju, Kagoshima, Kumamoto, Nagasaki, Nagoya–Centrair, Naha, Nha Trang, Ningbo, Osaka–Kansai, Phuket, Saipan, Seoul–Incheon, Shimojishima, Siem Reap, Taichung, Takamatsu, Tokyo–Haneda, Tokyo–Narita
Hong Kong Airlines
Bangkok–Suvarnabhumi, Beijing–Capital, Chengdu, Chongqing, Denpasar/Bali, Guiyang, Haikou, Hangzhou, Hanoi, Kagoshima, Malé, Manila, Naha, Nanchang, Nanjing, Okayama, Osaka–Kansai, Sanya, Sapporo–Chitose, Seoul–Incheon, Shanghai–Hongqiao, Shanghai–Pudong, Taipei–Taoyuan, Tokyo–Narita, Yonago
IndiGo
Bangalore
Japan Airlines
Tokyo–Haneda, Tokyo–Narita
Jeju Air
Jeju, Seoul–Incheon
Jetstar Japan
Tokyo–Narita
Jetstar Pacific Airlines
Da Nang, Hanoi, Ho Chi Minh City
Jin Air
Seoul–Incheon
KLM
Amsterdam
Korean Air
Seoul–Incheon
Lanmei Airlines
Phnom Penh, Sihanoukville
Lufthansa
Frankfurt, Munich
Malaysia Airlines
Kuala Lumpur–International
Malindo Air
Kuala Lumpur–International
Mandarin Airlines
Kaohsiung, Taichung
MIAT Mongolian Airlines
Ulaanbaatar
Myanmar National Airlines
Yangon
Nepal Airlines
Kathmandu
Peach Aviation
Naha, Osaka–Kansai
Philippine Airlines
Manila
Philippines AirAsia
Manila
Qantas
Brisbane, Melbourne, Sydney
Qatar Airways
Doha
Royal Brunei Airlines
Bandar Seri Begawan
Royal Jordanian
Amman–Queen Alia, Bangkok–Suvarnabhumi
S7 Airlines
Irkutsk, Novosibirsk, Vladivostok
Scandinavian Airlines
Copenhagen
Scoot
Singapore
Shandong Airlines
Jinan, Yantai
Shanghai Airlines
Shanghai–Hongqiao, Shanghai–Pudong, Zhanjiang
Shenzhen Airlines
Quanzhou, Wuxi
Sichuan Airlines
Chengdu
Singapore Airlines
San Francisco, Singapore
SpiceJet
Delhi, Mumbai
Spring Airlines
Shanghai–Pudong
Swiss International Air Lines
Zürich
Thai AirAsia
Bangkok–Don Mueang, Chiang Mai, Phuket
Thai Airways
Bangkok–Suvarnabhumi
Thai Smile
Bangkok–Suvarnabhumi, Phuket
Turkish Airlines
Istanbul
United Airlines
Newark (resumes 6 July 2020), San Francisco (resumes 6 July 2020)
VietJet Air
Ho Chi Minh City, Phu Quoc
Vietnam Airlines
Hanoi, Ho Chi Minh City
Virgin Atlantic
London–Heathrow
XiamenAir
Fuzhou, Xiamen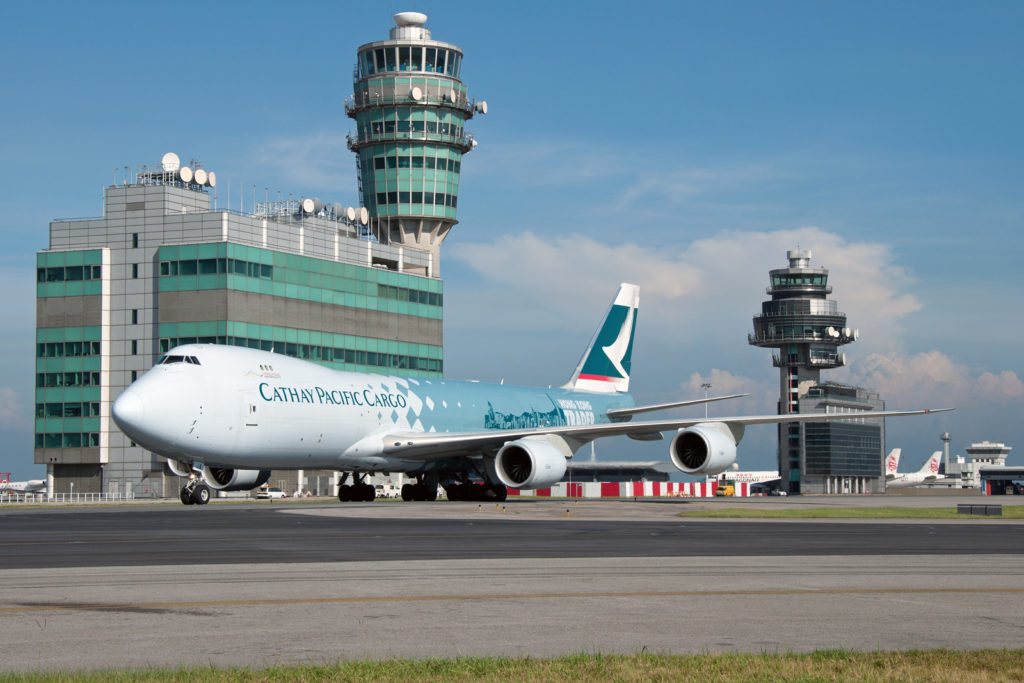 Cargo
Air France Cargo
Bahrain, Dammam, Dubai–International, Jeddah, Kuwait, Paris–Charles de Gaulle
AirBridgeCargo Airlines
Almaty, Amsterdam, Clark, Frankfurt, Krasnoyarsk, Moscow–Domodedovo, Moscow–Sheremetyevo, Moscow–Vnukovo, Singapore, St.Petersburg, Yekaterinburg
ANA Cargo
Nagoya–Centrair, Naha, Osaka–Kansai, Tokyo–Narita
Asiana Cargo
Seoul–Incheon
ASL Airlines Belgium
Dubai–International, Liège
Cargolux
Abu Dhabi, Almaty, Amman–Queen Alia, Baku, Barcelona, Beirut, Budapest, Chennai, Chicago–O'Hare, Columbus–Rickenbacker, Dammam, Doha, Dubai–International, Helsinki, Ho Chi Minh City, Karaganda, Komatsu, Kuwait, London–Stansted, Los Angeles, Luxembourg, New York–JFK, Riyadh, Singapore, Taipei–Taoyuan, Upington, Vienna
Cargolux Italia
Almaty, Dubai–International, Milan–Malpensa, Osaka–Kansai
Cathay Pacific Cargo
Anchorage, Bangalore, Bangkok–Suvarnabhumi, Beijing–Capital, Calgary, Chengdu, Chennai, Chongqing, Colombo–Bandaranaike, Columbus–Rickenbacker, Delhi, Dhaka, Dubai–Al Maktoum, Hanoi, Ho Chi Minh City, Melbourne, Milan–Malpensa, Mumbai, Osaka–Kansai, Penang, Seoul–Incheon, Shanghai–Pudong, Singapore, Sydney, Taipei–Taoyuan, Tokyo–Narita, Toowoomba, Xiamen, Zhengzhou
China Airlines Cargo
Manila, Taipei–Taoyuan
China Cargo Airlines
Qingdao, Shanghai–Hongqiao, Shanghai–Pudong
DHL Aviation
Anchorage, Bagram, Bahrain, Bangkok–Suvarnabhumi, Beijing–Capital, Cincinnati, Delhi, Dubai–International, Ho Chi Minh City, Leipzig/Halle, Los Angeles, Manila, Nagoya–Centrair, Osaka–Kansai, Penang, Seoul–Incheon, Shanghai–Pudong, Singapore, Taipei–Taoyuan, Tokyo–Narita
Donghai Airlines
Chengdu, Shenzhen
Emirates SkyCargo
Delhi, Dubai–Al Maktoum, Kabul, Kochi, Thiruvananthapuram
Ethiopian Airlines Cargo
Addis Ababa, Chennai, Maastricht/Aachen
Etihad Cargo
Abu Dhabi, Amsterdam, Anchorage, Campinas–Viracopos, Chicago–O'Hare, Chittagong, Delhi, Dhaka, Kabul, Lima, Miami, Quito, Sharjah
EVA Air Cargo
Chongqing, Shanghai–Pudong, Taipei–Taoyuan
FedEx Express
Almaty, Anchorage, Delhi, Manila, Memphis, Osaka–Kansai, Paris–Charles de Gaulle, Seoul–Incheon, Taipei–Taoyuan, Tokyo–Narita
Flexport
Los Angeles
Hong Kong Airlines Cargo
Bangkok–Suvarnabhumi, Dhaka, Hanoi, Ho Chi Minh City, Osaka–Kansai, Kuala Lumpur–International, Nanning, Shanghai–Pudong, Singapore, Taipei–Taoyuan, Xiamen, Zhengzhou
IAG Cargo
operated by Qatar Airways Cargo
London–Stansted
KLM Cargo
Amsterdam, Chennai, Dubai–Al Maktoum, Kuwait, Mumbai
Korean Air Cargo
Seoul–Incheon
K-Mile Air
Bangkok–Suvarnabhumi, Hanoi
Lufthansa Cargo
Almaty, Bahrain, Frankfurt, Leipzig/Halle
MASkargo
Bangkok–Suvarnabhumi, Kuala Lumpur–International, Manila, Penang
Nippon Cargo Airlines
Osaka–Kansai, Tokyo–Narita
Qantas Freight
Auckland, Cairns, Sydney
Qatar Airways Cargo
Doha, Tehran–Imam Khomeini
Saudia Cargo
Dammam, Jeddah, Kochi, Riyadh, Thiruvananthapuram
SF Airlines
Ningbo, Xiamen
Silk Way Airlines
Baku
Singapore Airlines Cargo
Anchorage, Seattle/Tacoma, Sharjah, Singapore
SpiceXpress
Guwahati
Suparna Airlines
Chengdu, Hangzhou, Qingdao, Shanghai–Pudong, Tianjin, Zhengzhou
Transmile Air Services
Johor Bahru, Kuala Lumpur–International, Subang
Tri-MG Intra Asia Airlines
Cebu, Clark
Turkish Airlines Cargo
Almaty, Bishkek, Delhi, Istanbul–Atatürk
ULS Cargo
Bangkok–Suvarnabhumi, Beijing–Capital, Manila, Nagoya–Centrair, Osaka–Kansai, Penang, Seoul–Incheon, Shanghai–Pudong, Singapore, Taipei–Taoyuan, Tokyo–Narita
UPS Airlines
Anchorage, Clark, Cologne/Bonn, Dubai–International, Honolulu, Louisville, Mumbai, Ontario, Osaka–Kansai, Philadelphia, Sapporo–Chitose, Seoul–Incheon, Singapore, London–Stansted, Sydney, Taipei–Taoyuan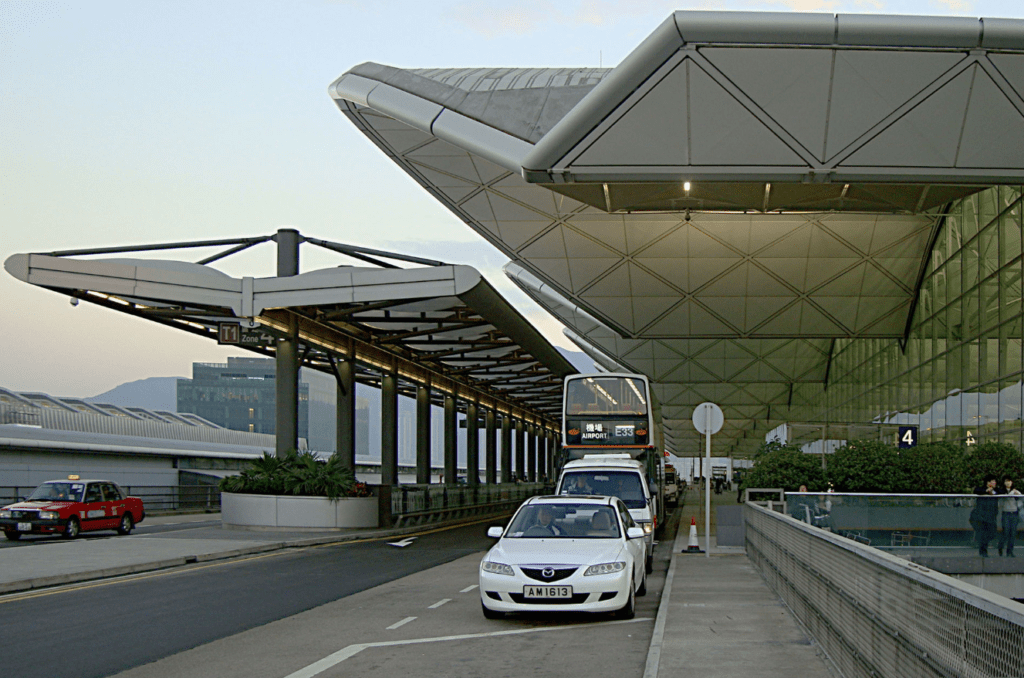 Ground transport
The airport is connected to inner Hong Kong by the North Lantau Highway on Lantau Island.
There is an automated people mover, operated by the Airport Authority and maintained by MTR Corporation, connecting the East Hall to the Midfield Concourse via West Hall and Terminal 2. It was extended to SkyPier in late 2009 and extended to Midfield Concourse in 2015.
Bus
Citybus, New Lantau Bus, Long Win Bus and Discovery Bay Transit Services operate 25 bus routes to the airport from various parts of Hong Kong, available at the Airport Ground Transportation Centre and Cheong Tat Road. The bus companies also offer 10 overnight "N" services.
Passengers can also take bus route number S1 to the Tung Chung MTR Station. From there they can board the MTR Tung Chung line which follows the same route as the MTR Airport Express to Central with cheaper fare but longer journey time.
There is bus service to Hong Kong–Zhuhai–Macau Bridge. Coach services are also available to major cities and towns in Guangdong Province, such as Dongguan, Guangzhou and Shenzhen.
Ferry
Direct ferry services are available from the airport to various destinations throughout the Pearl River Delta via Skypier. Passengers using these services are treated as transit passengers and are not considered to have entered Hong Kong for immigration purposes. For this reason, access to the ferry terminal is before immigration in the airport for arriving passengers. Check-in services are available at these piers. Four ports – Shekou, Shenzhen Airport (Fuyong), Macau and Humen (Dongguan) – were initially served, extending to Guangzhou and Zhongshan at the end of 2003. The Zhuhai service began on 10 July 2007 while a Nansha service started on 14 July 2009.
Rail
The fastest service from the city to the airport is the Airport Express, a dedicated high-speed rail link as part of the MTR rapid transit network. The line makes intermediate stops at Tsing Yi Island, West Kowloon, and terminates at Hong Kong Station at the northern coast of Central and Western District on Hong Kong Island. It takes approximately 24 minutes to reach the airport from Hong Kong station. MTR offers free shuttle bus services between Airport Express stations and hotels in the area, and free transfers are available to and from other MTR lines with a valid Octopus card which is not available to Single Ride Ticket users. Both Hong Kong and Kowloon stations provide in-town check-in services for major airlines.
The Airport Express line originally terminated at Airport station, where trains open doors on both sides, allowing direct access to either Terminal 1 or Terminal 2. It was later extended to AsiaWorld–Expo Station on 20 December 2005 to facilitate the opening of the nearby AsiaWorld-Expo. During events at the station some Tung Chung Line trains, which largely share the same tracks as the Airport Express, serve this station instead of Tung Chung, but these trains do not stop by Airport Station.

Taxi
The airport is served by all three different types of taxi, distinguished by their colour:
RED – Urban taxis connect the Airport with Hong Kong Island, Kowloon and parts of the nine new towns of Tsuen Wan, Sha Tin and Tseung Kwan O (urban taxis can go anywhere in Hong Kong except southern Lantau Island).
GREEN – New Territories taxis connect the airport with the New Territories, except those parts of the Tsuen Wan, Sha Tin and Tseung Kwan O (except parts of Hang Hau) served by urban taxis.
BLUE – Lantau taxis connect the airport with the rest of Lantau Island.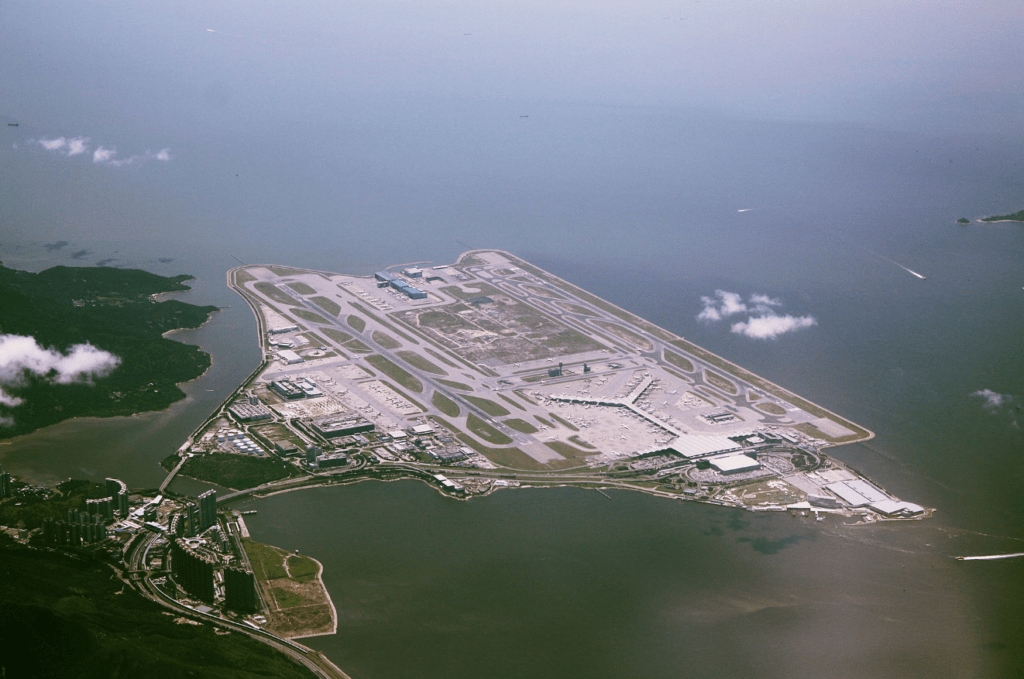 Accidents and incidents
The following are aviation accidents or incidents at the current HKIA (see accidents and incidents at the former HKIA at Kai Tak):
On 22 August 1999, China Airlines Flight 642 (an MD-11 operated by subsidiary Mandarin Airlines), which was landing at Hong Kong International Airport during Typhoon Sam after a flight from Bangkok International Airport (now Bangkok Don Mueang International Airport), rolled over and caught fire, coming to rest upside down beside the runway. Of the 315 passengers and crew on board, 3 people were killed and 219 were injured.
On 13 April 2010, Cathay Pacific Flight 780 from Surabaya Juanda International Airport to Hong Kong landed safely after both engines failed due to contaminated fuel. 57 passengers were injured. Its two pilots received the Polaris Award from the International Federation of Air Line Pilots' Associations for their heroism and airmanship.
Accolades
Skytrax World's Best Airport for Dining (2017)
AETRA Best Airport Worldwide (2005)
Air Cargo News Cargo Airport of the Year (2002–2003)
Air Cargo World Air Cargo Excellence (2007)
Air Transport Research Society Asia Pacific Airport Efficiency Excellence Award (2007)
Asiaweek Asia's Best Airport (2000)
British Constructional Steelwork Association, the Steel Construction Institute and British Steel plc Structural Steel Design Award (1999)
Business Traveller Best Airport in China (2006–2008, 2010–2014)
Centre for Asia Pacific Aviation CAPA International Airport of the Year (2007)
Conde Nast Traveller World's Best Airport (2007)
Construction Industry Manufacturers Association CONEXPO-CON/AGG '99 Top 10 Construction Achievements of the 20th Century – Airport Core Programme (1999)
Federation of Asia Pacific Aircargo Associations Most Friendly Airport for Cargo (2005)
Hong Kong Institute of Architects Silver Medal for Architecture (1999)
Hong Kong Institute of Certified Public Accountants Diamond – Best Corporate Governance Disclosure Awards (2004)
International Air Transport Association (IATA) Eagle Award (2002)
Payload Asia Awards Asia Pacific Airport of the Year – Industry Choice Award (2014–2015)
Raven Fox Award for Travel-Retail Excellence in Asia / Pacific (1999–2000)
Skytrax World's Best Airport (2001–2005, 2007–2008, 2011)
Smart Travel Asia World's Best Airport (2006–2007, 2011, 2014)
SmartTravelAsia.com Best Airport Worldwide (2006–2007)
TravelWeekly Best International Airport (2007)
TravelWeeklyChina Best Airport Facilities (2006)
TTG Best Airport (2002, 2004–2008; Survey was not held in 2003 owing to SARS)
WTA World Travel Awards Asia/ Pacific's Leading Airport (2000)
Source: https://en.wikipedia.org/wiki/Hong_Kong_International_Airport