Kuala Lumpur International Airport
IATA: KUL ICAO: WMKK WMO: 48650
Summary
Airport type
Public
Owner
Khazanah Nasional
Operator
Malaysia Airports
Serves
Greater Kuala Lumpur, Negeri Sembilan, Malacca
Location
Sepang, Selangor, Malaysia
Hub for
AirAsia AirAsia X AsiaCargo Express Malaysia Airlines Malindo Air MASkargo UPS Airlines
Time zone
MST (UTC+08:00)
Elevation AMSL
70 ft / 21 m
Coordinates
02°44′36″N 101°41′53″ECoordinates: 02°44′36″N 101°41′53″E
Website
www.klia.com.my
Kuala Lumpur International Airport (KLIA) (Bahasa Malaysia: Lapangan Terbang Antarabangsa Kuala Lumpur), (IATA: KUL, ICAO: WMKK) is Malaysia's main international airport and one of the major airports in Southeast Asia and worldwide. It is located in Sepang District of Selangor, approximately 45 kilometres (28 mi) south of Kuala Lumpur city centre and serves the Greater Klang Valley conurbation.
KLIA is the largest and busiest airport in Malaysia. In 2018, it handled 59,988,409 passengers, 714,669 tonnes of cargo and 399,827 aircraft movements. It is the world's 23rd-busiest airport by total passenger traffic.
The airport is operated by Malaysia Airports (MAHB) Sepang Sdn Bhd and is the major hub of Malaysia Airlines, MASkargo, AirAsia, AirAsia X, Malindo Air, flyGlobal, UPS Airlines and AsiaCargo Express.

Runways
Kuala Lumpur International Airport has three parallel runways (14L/32R, 14R/32L, 15/33), a first in the region. The aircraft movements on these runways are monitored by two Air Traffic Control (ATC) Towers; Tower East, and Tower West given the span of the airport. ATC Tower West standing at 133.8m, is currently the tallest ATC tower in the world.
The current three runway system is capable of handling 78 landings per hour and is expected to increase to 108 landings per hour once upgrading of the Kuala Lumpur Flight Information Region is completed in 2019. These runways operate on different departure/arrival modes according to the air traffic requirements.
Operations and infrastructure
KLIA features a number of modern design features that assist in the efficient operation of the airport. It is one of the first Asia Pacific airports to become 100% Bar Coded Boarding Pass capable. Malaysia Airlines; AirAsia; MASkargo, a cargo airline and Malaysia Airports, the Malaysian Airports operator and manager; are headquartered on the property of KLIA. Malaysia Airlines also operates its Flight Management Building at KLIA.
Terminals
The airport is part of the KLIA Aeropolis, and is made up of two main terminals; the original terminal, KLIA Main and the new terminal 2, also known as klia2. KLIA Main was designed by Japanese architect Kisho Kurokawa, with an emphasis of natural lighting within the airport complex. Spanning 38.4m along a grid pattern allowing for future expansions, the abstract symbolic architecture by the late Kisho Kurokawa encompasses the Islamic geometry and cutting edge technology with the tropical rainforest in mind.
KLIA
Main Terminal Building
The KLIA Main Terminal Building (MTB) now also referred to as KLIA Main is located in between the two runways. The floor area of the terminal covers 390,000 m2 (4,200,000 sq ft) and the building consists of 39 square roof units, which enables future expansion of the building. There are a total of 216 check-in counters, located in 6 different islands, identified by the letters A – M (excluding I). Multi check-in services are available, designed for the use of all passengers arriving, departing or in transit. Self check in facilities are available in this airport since 2007, and KLM was the first airline to use the Common-use self-service kiosks. The contact pier is an extension of the main terminal building with gates marked with prefix A and B for domestic departures, G and H for international flights. The gate allocation is based on operational requirements, although it has been observed that Malaysia Airlines has been operating most of its operations out from the contact pier.
Satellite terminal A
The 176,000 square metres (1,890,000 sq ft) satellite building accommodates international flights departing and arriving at KLIA. Passengers have to travel to the satellite building via the Aerotrain. There is a wide array of duty-free shops and prestige brand boutiques in the satellite building. This includes international brands such as Burberry, Harrods, Montblanc, Salvatore Ferragamo. Among all international labels available within the terminal, some boutiques such as Harrods are only available in the airport. A number of restaurants and international airlines' lounges are available as well as an Airside Transit Hotel.
Within the terminal, wireless internet (Wi-Fi) is provided free of charge. The terminal also has prayer rooms, showers and massage service. Various lounge areas are provided, some including children's play areas and movie lounge, broadcasting movie and sport channels. The terminal also features a natural rainforest in the middle of the terminal, exhibiting the Malaysian rainforests.
Under Malaysia Airports Berhad retail optimisation plan, the retail space in satellite terminal A will be further optimised to increase its revenue derived from commercial space rental and a percentage of sale receipts to 50% by year 2010 which currently stands at 35%. Some notable improvements that will be seen after the refurbishments will be the Jungle Boardwalk which will be the first of its kind in the world and larger mezzanine floor to accommodate F&B outlets and viewing galleries.
The gates in Satellite Terminal A have the prefix C. The Satellite A terminal has 27 boarding gates altogether.
KL City Air Terminal
KL City Air Terminal, sometimes known as Kuala Lumpur City Air Terminal or KL CAT located at KL Sentral is a virtual extension of KL International Airport where city check-in services are provided. KL City Air Terminal is recognised by the International Air Transport Association (IATA) and carries the IATA designation XKL. Currently there are only three airlines providing city check-in services, they are Cathay Pacific, Malaysia Airlines and Malindo Air.
KLIA2 (Terminal 2)
Built at approximately RM4 billion, it is the largest purpose built terminal optimised for low-cost carriers in response to the exponential growth of low-cost travel in the region. It was built to replace the previous Low Cost Carrier Terminal (LCCT). klia2 started its operations on 2 May 2014 and all flight operations at LCCT were moved to klia2 by 9 May 2014.
As part of its development, a third runway (Runway 15/33) and a new air traffic control tower (Tower West) were built to support its operation. klia2 has an initial capacity of 45 million passengers per year. The terminal has a built-up area of 257,845 sqm with 68 departure gates, 10 remote stands, 80 aerobridges, includes a retail space of 35,000 sqm to accommodate a total of 220 retail outlets. The main terminal building of klia2 is connected with its satellite piers with a skybridge, making it the first airport in Asia with such facility. klia2 is certified with Leadership in Energy & Environmental Design (LEED).
Check-in counters are divided into 8 rows located in 4 islands, each row identified by the letters S – Z. Boarding gates are located in 5 piers, indicated by the letters J and K for domestic flights, and L, P and Q for international flights. Piers J, K and L are connected directly to the main terminal building, while Piers P and Q are accessible via the skybridge. Piers K and L are physically the same pier and share the same gates, but with waiting lounges on different levels (Level 1A for K and Level 2 for L). For international flights, the access door from Pier K is sealed off, while for domestic flights, the access door from Pier L is sealed off instead.
At present, inter-terminal connection is provided on the landside at Gateway@klia2 complex and there are provisions for future airside inter-terminal connection.
Gateway@klia2
Gateway@klia2 is an integrated shopping complex that is connected to the main klia2 terminal building. It has a 350,000 square feet of net lettable space spanning over four levels. The transport hub at Gateway@klia2 links klia2 to the KLIA Ekspres and KLIA Transit service, with allotted pick-up and drop-off areas for coaches, taxis, rented vehicles and private transportation.
Gateway@klia2 hosts an 8-storey car park that directly adjoins klia2. There are 6,000 covered parking lots at Blocks A and B and another 5,500 lots at car park D. Shuttle buses are available to take the public from the car park D to the terminal. The first capsule transit hotel in Asia named as the Capsule by Container Hotel is also located at Gateway@klia2. Gateway@klia2 is managed by WCT Holdings Berhad.
Former low cost carrier terminal (LCCT)
The now defunct 36,000 square metres (390,000 sq ft) low cost carrier terminal (LCCT) was opened at Kuala Lumpur International Airport on 23 March 2006 to cater for the growing number of users of low-cost airlines, especially the passengers of Malaysia's "no-frills" airline, AirAsia. The terminal was designed and built in accordance to the low cost carrier business model, with limited terminal amenities. As requested by the low-cost airline, the terminal does not provide aerobridges, nor are there transfer facilities, rail connections, and other facilities provided in a full-fledged terminal. LCCT is located within the Air Support Zone, and has since ceased operations on 9 May 2014 and all low-cost carrier flights are now operating out of klia2.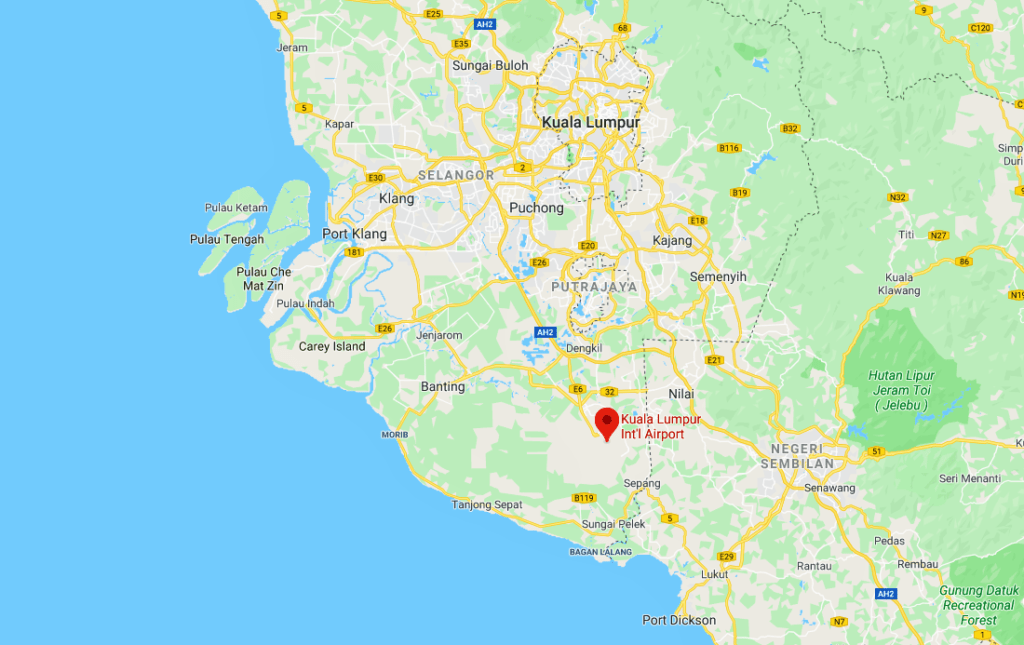 Airlines and destinations
Passenger
Airlines
Destinations
Air Arabia
Sharjah
Air Astana
Almaty
Air China
Beijing–Capital
Air Mauritius
Mauritius, Singapore
AirAsia
Alor Setar, Banda Aceh, Bandar Seri Begawan, Bandung, Bangkok–Don Mueang, Bengaluru, Bhubaneswar, Bintulu, Can Tho, Chennai, Chiang Mai, Colombo–Bandaranaike, Da Lat, Da Nang, Denpasar/Bali, Dhaka, Guangzhou, Guilin, Hanoi, Hat Yai, Ho Chi Minh City, Hong Kong, Hua Hin, Hyderabad, Jakarta–Soekarno-Hatta, Jieyang, Johor Bahru, Kaohsiung, Kochi, Kolkata, Kota Bharu, Kota Kinabalu, Krabi, Kuala Terengganu, Kuantan, Kuching, Kunming, Labuan, Langkawi, Macau, Makassar, Malé, Manila, Medan, Miri, Nanning, Nha Trang, Padang, Palembang, Pattaya–U-Tapao, Pekanbaru, Penang, Phnom Penh, Phuket, Phu Quoc, Pontianak, Quanzhou, Sandakan, Semarang, Shenzhen, Sibu, Siem Reap, Sihanoukville, Silangit, Singapore, Surabaya, Surat Thani, Tawau, Tiruchirapalli, Visakhapatnam, Vientiane, Yangon, Yogyakarta–International
AirAsia X
Ahmedabad, Amritsar, Avalon, Beijing–Capital, Busan, Changsha, Chengdu, Chongqing, Delhi, Denpasar/Bali, Fukuoka, Gold Coast, Hangzhou, Honolulu, Jaipur, Jeju, Lanzhou, Naha, Osaka–Kansai, Perth, Sapporo–Chitose, Seoul–Incheon, Shanghai–Pudong, Singapore, Surabaya, Sydney, Taipei–Taoyuan, Tianjin, Tokyo–Haneda, Tokyo–Narita, Wuhan (suspended), Xi'an
Seasonal: Jeddah, Medina
All Nippon Airways
Tokyo–Haneda, Tokyo–Narita
Bangkok Airways
Koh Samui
Batik Air
Chennai, Denpasar/Bali, Jakarta–Soekarno-Hatta, Medan
Biman Bangladesh Airlines
Dhaka
British Airways
London–Heathrow
Cathay Dragon
Hong Kong
Cebu Pacific
Manila
China Airlines
Taipei–Taoyuan
China Southern Airlines
Changsha, Guangzhou, Xining
Citilink
Bandung, Banyuwangi, Denpasar/Bali, Jakarta–Soekarno-Hatta, Pekanbaru, Surabaya
Emirates
Dubai–International
Ethiopian Airlines
Addis Ababa, Bangkok–Suvarnabhumi, Singapore
Etihad Airways
Abu Dhabi
EVA Air
Taipei–Taoyuan
Garuda Indonesia
Jakarta–Soekarno-Hatta
Himalaya Airlines
Kathmandu
IndiGo
Bengaluru, Chennai, Delhi
Indonesia AirAsia
Banda Aceh, Bandung, Denpasar/Bali, Jakarta–Soekarno-Hatta, Mataram–Lombok, Medan, Pontianak, Surabaya, Tanjung Pandan
Iraqi Airways
Baghdad
Japan Airlines
Tokyo–Narita
Jetstar Asia Airways
Singapore
KLM
Amsterdam, Jakarta–Soekarno-Hatta
Korean Air
Seoul–Incheon
Lanmei Airlines
Phnom Penh
Lion Air
Jakarta–Soekarno-Hatta
Lucky Air
Kunming, Lijiang
Mahan Air
Tehran–Imam Khomeini
Malaysia Airlines
Adelaide, Alor Setar, Auckland, Balikpapan, Bangkok–Suvarnabhumi, Bandar Seri Begawan, Beijing–Daxing, Bengaluru, Bintulu, Brisbane, Chennai, Colombo–Bandaranaike, Delhi, Denpasar/Bali, Dhaka, Guangzhou, Hanoi, Ho Chi Minh City, Hong Kong, Hyderabad, Jakarta–Soekarno-Hatta, Jeddah, Johor Bahru, Kathmandu, Kertajati, Kochi, Kota Bharu, Kota Kinabalu, Kuala Terengganu, Kuantan, Kuching, Labuan, Langkawi, London–Heathrow, Makassar, Manila, Medan, Medina, Melbourne, Miri, Mumbai, Osaka–Kansai, Pekanbaru, Penang, Perth, Phnom Penh, Phuket, Sandakan, Seoul–Incheon, Shanghai–Pudong, Sibu, Singapore, Surabaya, Surakarta/Solo, Sydney, Taipei–Taoyuan, Tawau, Tokyo–Narita, Xiamen, Yangon
Charter: Istanbul–Sabiha Gökçen
Malindo Air
Adelaide, Amritsar, Bangkok–Don Mueang, Bandung, Bengaluru, Brisbane, Chengdu, Colombo–Bandaranaike, Da Nang, Delhi, Denpasar/Bali, Dhaka, Guangzhou, Guiyang, Haikou, Hanoi, Ho Chi Minh City, Hong Kong, Jakarta–Soekarno-Hatta, Johor Bahru, Kathmandu, Kochi, Kolkata, Kota Kinabalu, Kuching, Labuan, Lahore, Langkawi, Melbourne, Mumbai, Penang, Perth, Phnom Penh, Phuket, Sandakan, Sapporo–Chitose, Singapore, Sydney, Taipei–Taoyuan, Tawau, Thiruvananthapuram, Tiruchirapalli, Varanasi,
Wuhan (suspended), Yangon, Zhengzhou
Seasonal charter: Christmas Island
Nepal Airlines
Kathmandu
Oman Air
Muscat
Pakistan International Airlines
Islamabad
Philippine Airlines
Manila
Philippines AirAsia
Cebu, Manila
Qatar Airways
Doha
Regent Airways
Dhaka
Royal Brunei Airlines
Bandar Seri Begawan
Royal Jordanian
Amman–Queen Alia, Bangkok–Suvarnabhumi
Saudia
Jeddah, Medina, Riyadh
Scoot
Singapore
Shanghai Airlines
Shanghai–Pudong
Shenzhen Airlines
Shenzhen
SilkAir
Singapore
Singapore Airlines
Singapore
SriLankan Airlines
Colombo–Bandaranaike
Thai AirAsia
Bangkok–Don Mueang, Hat Yai
Thai Airways
Bangkok–Suvarnabhumi
Thai Smile
Bangkok–Suvarnabhumi
Turkish Airlines
Istanbul
Turkmenistan Airlines
Ashgabat
US-Bangla Airlines
Dhaka
Uzbekistan Airways
Tashkent
VietJet Air
Ho Chi Minh City
Vietnam Airlines
Hanoi, Ho Chi Minh City
XiamenAir
Fuzhou, Xiamen
Cargo
| Airlines | Destinations |
| --- | --- |
| AsiaCargo Express | Kota Kinabalu, Kuching, Miri |
| Cargolux | Baku, Luxembourg, Singapore, Zhengzhou |
| China Airlines Cargo | Taipei–Taoyuan |
| FedEx Express | Guangzhou, Penang |
| Korean Air Cargo | Penang, Seoul–Incheon |
| MASkargo | Amsterdam, Bangkok–Suvarnabhumi, Bengaluru, Chennai, Chongqing, Delhi, Dhaka, Guangzhou, Hanoi, Ho Chi Minh City, Hong Kong, Jakarta–Soekarno–Hatta, Kota Kinabalu, Kuching, Labuan, Macau, Manila, Mumbai, Penang, Shanghai–Pudong, Sydney, Taipei–Taoyuan, Tokyo–Narita |
| My Jet Xpress Airlines | Kota Kinabalu, Singapore |
| Silk Way Airlines | Amsterdam, Baku, Frankfurt, Singapore |
| Turkish Cargo | Ho Chi Minh City, Istanbul-Atatürk |
| UPS Airlines | Penang, Shenzhen |

Ground transportation
Inter-terminal transportation
The Aerotrain is an automated people mover (APM) that connects the airside of KLIA Main Terminal Building (MTB) and the Satellite Building. Each 250-person capacity train can transport 3,000 passengers per hour in each direction at up to 56 km/h (35 mph). These three-car driverless trains run on elevated rail and under the taxiways. The journey takes under two minutes. The Aerotrain operates between three and five-minute intervals between terminal. Automatic train controls manage the operation of the entire Aerotrain system, controlling the speeds, headways, stops and door openings in stations, and integrating functions that enhance the reliability and performance of the system.
External connections
Rail
Main articles: Express Rail Link, KLIA Ekspres, KLIA Transit, Kuala Lumpur International Airport ERL station, and klia2 ERL station
Kuala Lumpur International Airport is linked to the KL Sentral transportation hub in the city centre by the 57 km (35 mi) long Express Rail Link (ERL). There are two ERL stations at the airport: KLIA station at the Main Terminal Building and klia2 station at Gateway@klia2. The airport is served by two rail services on the ERL:
KLIA Ekspres: The dedicated airport rail link which runs non-stop between KL Sentral and KLIA. The journey takes 28 minutes to/from KLIA, and 33 minutes to/from klia2 with a two-minute stop at KLIA. The KLIA Ekspres terminal at KL Sentral is known as the KL City Air Terminal (KL CAT), which has an IATA designation XKL. KL CAT offers in-town flight check-in service up to two hours before flight departure time for passengers travelling on Cathay Pacific, Emirates, Etihad Airways, Malaysia Airlines, Malindo Air and Royal Brunei Airlines.
KLIA Transit: A commuter rail service which stops at three additional stops (Bandar Tasik Selatan, Putrajaya/Cyberjaya and Salak Tinggi) between KL Sentral and KLIA. The journey takes 35 minutes to/from KLIA and 39 minutes to/from klia2. Check-in facilities are only through automated kiosks at KLIA Transit stations.
Taxis and limousine
Airport taxis or airport limousines are provided by Airport Limo. The taxis and limousines are readily available at the Taxi and Limousine counters. They run from airport itself to destinations in Klang Valley and Greater Klang Valley. The fares are to be paid at the counter and are charged according to the destinations' zone. A surcharge is applied for services between 12 am to 5 am
Bus
Both public and private buses connect KLIA and klia2 to several points in Kuala Lumpur and beyond. Direct buses to the city centre take about an hour and run every 10 to 15 minutes during peak hours. All buses are air-conditioned. Bus tickets to KL Sentral transportation hub cost RM11 and to Putra Heights LRT station cost RM4.
Expansion and developments
Plans
With the slight modification of the masterplan, the future Terminal 2's satellite terminal will be combined into one satellite terminal. The expansion of Terminal 2's satellite terminal will be exactly the same as Terminal 1's (the current Main Terminal) satellite terminal, where initially the satellite terminal will have four arms, and another four arms when the terminal reached its capacity. There is sufficient land and capacity to develop facilities to handle up to 97.5 million passengers a year, four runways by the year 2020 and two mega-terminals, each linked with satellite terminals.
A380 upgrades
The operator of Kuala Lumpur International Airport, Malaysia Airports Holding Berhad, had spent about RM135 million (approx) to upgrade facilities at the KL International Airport (KLIA) in Sepang to accommodate the Airbus A380. KLIA is the only airport in Malaysia that accommodate the landing and take off of the A380. Upgrading works started on 3 April 2006, and was completed by 28 May 2007. Works include the provision of shoulders on both sides of the two existing runways of 15 meters as well as the taxiways, building additional aerobridges at the three departure halls, namely C17, C27 and C37, and enhancing the mezzanine lounges for upper deck passengers of the aircraft at the departure halls. Emirates operates flights to Kuala Lumpur with the Airbus A380 commenced on 1 January 2012. Malaysia Airlines also started its A380 services from Kuala Lumpur to London on 1 July 2012.
Source: wikipedia